Unreal Tournament III Review
Review Score
PSU Review Score

8.0

Avg. user review score:

8.5
Summary
This game is without a doubt one of the premier online experiences on the PlayStation 3, and is one of the few must have titles of 2007. It may falter a bit when played offline, but the support of user created mods and maps provides this game with an infinite amount of play time. If you love shooters, pick this one up.
We like
Gorgeous graphics
Great online play
User created content provides endless replay
We dislike
Single player campaign leaves much to be desired
AI is predictable in certain game modes
(continued from previous page) ...modes, but is very polished at the usual ones. You will find several classic modes such as Deathmatch, Team Deathmatch, Capture the Flag and Duel, as well as Warfare and Vehicle Capture the Flag, which are two newer game modes that add a little spice to things.

There should be very little need to explain Deathmatch and Capture the Flag, as they are the same in Unreal as you'd expect in any game, its in some of the other modes that we find some really cool additions. Duel offers a one on one ladder match, so to speak. During this mode, there is a queue of players watching the match as it progresses, and as players get fragged, the recently deceased go to the end of the line and a new opponent spawns, making a round robin of fragging. Warfare, which used to be called Conquest is the combination of the past modes called Onslaught and Assault. In this mode there are several nodes across a larger map that must be taken in order to reveal the enemies Primary target, which must be destroyed in order to win. Vehicle Capture the Flag is basically an altered capture the flag with vehicles on the map.

Being one of the fastest paced games out there, the game runs surprisingly smooth over the network, with almost no lag and very few dips in frame rate. Even with a full room of 16 players, the game holds steady. Epic has opted to add a taunt system to the game, which allows you to belittle your opponent in one of five or six predetermined insults.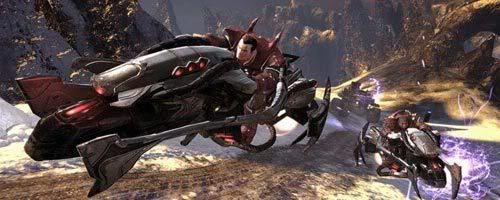 As for downloadable content, there is an endless possibility of new maps and mods, thanks to the compatibility of user created content. At the time of this review, the first maps have become available for download. As long as there is a community of players dedicated to the game, there will be a constant stream of new game modes and environments to give the game replayability and keep things fresh.
UPDATED: Sorry, we were not clear that we were not using a Dualshock 3 controller, thus we mentioned the current lack of rumble support here in North America. Sorry for the trouble. Due to the also constant issue of failed headset usage, at the time this review was being done, the online fix had not been added yet. Thus it was missed from the final entry. Sorry for the confusion.