Electronic Arts publicly confirmed that their rumored Cops vs Robbers shooter, Battlefield: Hardline, is the real deal and even made the game available for pre-order this past week.

As such, it's safe to assume that the weapons, vehicles, and attachments listed on the blog that leaked the game should be accurate. With that in mind, we're going to take a look at how Hardline is taking a unique spin on the Battlefield franchise.
The weapons/gadgets that we know of so far are as follows:
They are, in order from left to right:
AK47
Riot Shield
Baseball Bat
C4
Camera
Epi-Pen
Stinger
G36C
Smoke Grenade
Grappling Hook
M67
HK45C
Uzi
Bayonet
Possible Landmine
M16
M40
M9
G36
P90
G3
Tonfa
RPG
Repairtool
SKS
Double-Barrel Shotgun
Smith & Wesson 640
Taser
Tec-9
UMP
Crossbow
Remington 870
Although there are some familiar faces like the 870, G36, and UMP there are new weapons included too, like the double-barrel shotgun. The equipment is far more diverse however, moving away from the tools you would normally see and expect in Battlefield titles, including the taser and camera, plus fresh melee weapons, the tonfa and baseball bat. Also featured is the grappling hook, which was last seen in Battlefield 2: Special Forces and allows you to scale any building within its reach.
See below for a list of attachements: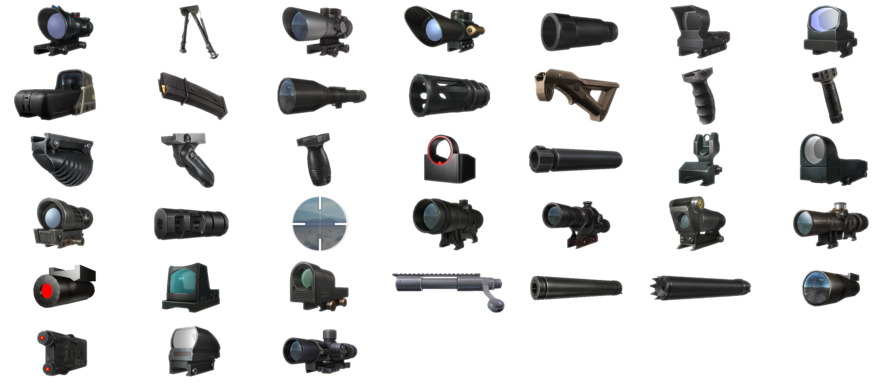 In-game icons for attachements: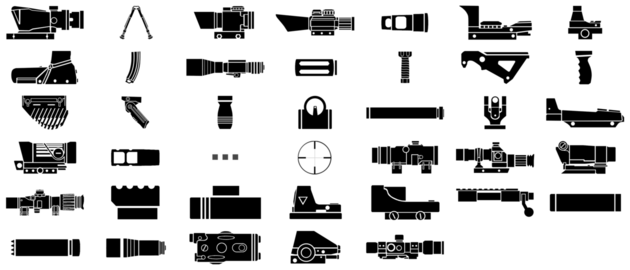 The vehicles may very well be the most significant change for classic Battlefield territory, as seen below:

The new vehicles fit Hardline's theme of Cops vs Robbers with many transport vehicles, including motorcycles, vans, SUVS and cars (normal and patrol car), four varieties of helicopters and even a gas truck. Interestingly, there are a few vehicles with mounted guns, which is very unlike most Battlefield games. Furthermore, with the trailer showing players hanging out of vehicles equipped with firearms, it looks like Hardline's vehicular combat will be more about skill and less about who has the vehicle with the largest weapon.

The vehicle upgrades also seem new and are shown here:

Battlefield Hardline is shaping up to be a very different experience, yet still seems to maintain the core aspects of the franchise. Battlefield Hardline is due for release this year.

You can watch the live stream for EA's press conference on June 9 here. Stay tuned for E3 coverage as PSU brings you the latest and greatest news from the event straight from Los Angeles.