Dataminers were already knocking on The Red Door, Call of Duty: Black Ops Cold War's leaked internal alpha test, but now it seems there's another leak in the Call of Duty: Black Ops Cold War ship, this time courtesy of what is reported to be a Doritos marketing campaign.
While the images are unverified at the time of writing, ModernWarzone reports that snaps of the promotional packaging list its title as Call of Duty: Black Ops Cold War, as Eurogamer sources previously confirmed.
If the promotional launch is anything to go by, it also intimates a potential release window of October 2020, which fits into Activision's typical Call of Duty annual release window quite nicely. The competition small print reveals that the campaign kicks off on 5th October, which is leading some to speculate that that might be the formal release date...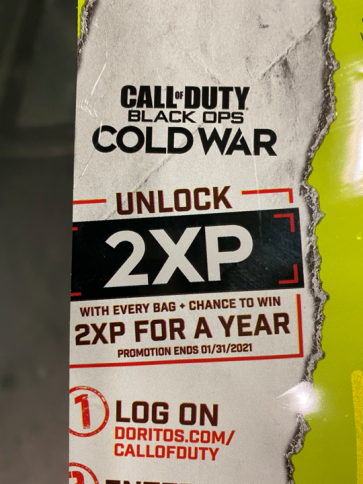 As for the dataminer leaks a few weeks back? Prototype Warehouse unearthed some interesting phrases in the files of the internal alpha, which appeared up on the Microsoft Store earlier this month. Apparent names or codenames for multiplayer maps include "Black Sea", "KGB", "Miami", "Moscow", and "Tank".
As Wes reported at the time, there are apparent campaign mission names or codenames, too, including "Stakeout", "Armada", "Prisoner" and "Revolution". These words are prefaced by the likes of "nam" and "nic". Current speculation suggests "nam" is short for Vietnam, and "nic" is short for "Nicaragua" as previous Black Ops games have seen campaign missions set in both these regions.
https://www.eurogamer.net/articles/...y-been-leaked-by-a-doritos-marketing-campaign
That is a mouthful of a game title, isn't it?