Gamer & Crypto Investor
Staff member
Sep 17, 2005
7,611
1,001
113
Cyberpunk 2077 (PC) - Review / First Impressions
My laptop specs:
MSI G75 Stealth 17.3" 1080p @ 144hz
Intel i7-9750H (6 cores) @ 2.6ghz
16GB of RAM
1TB NVMe SSD
NVIDIA GEFORCE RTX 2070 Max-Q 8GB
Game Settings:
Everything is on High to Ultra, although I turned off Ray Tracing as I was experiencing screen tear / frame pacing issues when it was turned on by default. With ray tracing disabled, the game runs pretty smoothly and the overall graphics and performance are great.
I'm playing via Steam, with a PS4 Dualshock controller setup via bluetooth.
First Impressions:
Character creation seemed somewhat limited, choosing between male or female. Not many color options for hair styles, hair color, eye color, etc. To be honest, despite whatever nose, ear, jaw line, mouth, etc you choose, the overall character still looks kind of the same. I was expecting more options in height, body weight, muscle tone, skin tones, etc. Also, the tattoo options seemed pretty limited. I didn't like any of them, so I had zero tattoos or cyberware aesthetics.
I chose Nomad as my life path. The game kind of throws you right in without too many tutorials on movement, but the first mission is pretty straightforward. Jesse seems to be a pretty cool character, although unfortunately due to previous gameplay trailers released by CD Projekt Red, it kind of spoiled what happens in the near future. After the introduction, I went through all the VR Tutorials that teach you basic melee combat, gunplay, stealth, and hacking. I definitely suggest going through all of them as they don't take very long and teach you some of the basics. After that, I completed the following mission, scanning and picking up any items I came across.
I saved the game once I got to V's apartment and started the next mission. I'm still figuring out inventory and how to equip weapons, clothing, etc. Not sure how to sell my junk yet that I've picked up. The skill tree seems a bit overwhelming. Not really sure what all to put my points into thus far.
UPDATE:
So I'm about 5hrs into the game and just finished The Heist Main Story mission. Basically the end of the prologue. I was able to compete all the side missions and gigs, except three (since they don't show up on the map) before moving onto The Heist. I knew not to move forward with the Heist mission till last due to the spoiler revealed in CD Projekt's earlier story / gameplay reveal trailers. Although, if you don't know what happens, I'm not going to spoil it for you.
So far, not too many noticeable bugs. I've seen some cars clipping through the road and some pathfinding issues on some NPCs. Other than that, most of the visuals hold up. I think with ray tracing turned off and most setting set to just High instead of Ultra, I'm not really experiencing any texture popping or bad frame pacing issues. Game runs pretty smoothly.
I like the Brain Dance stuff where you can remotely watch things play out, investigate stuff, etc. Pretty cool feature.
Here are some screenshots I've taken of my character build, although my equipment is basically set as best "armor /dps," not really built for style or personal preference.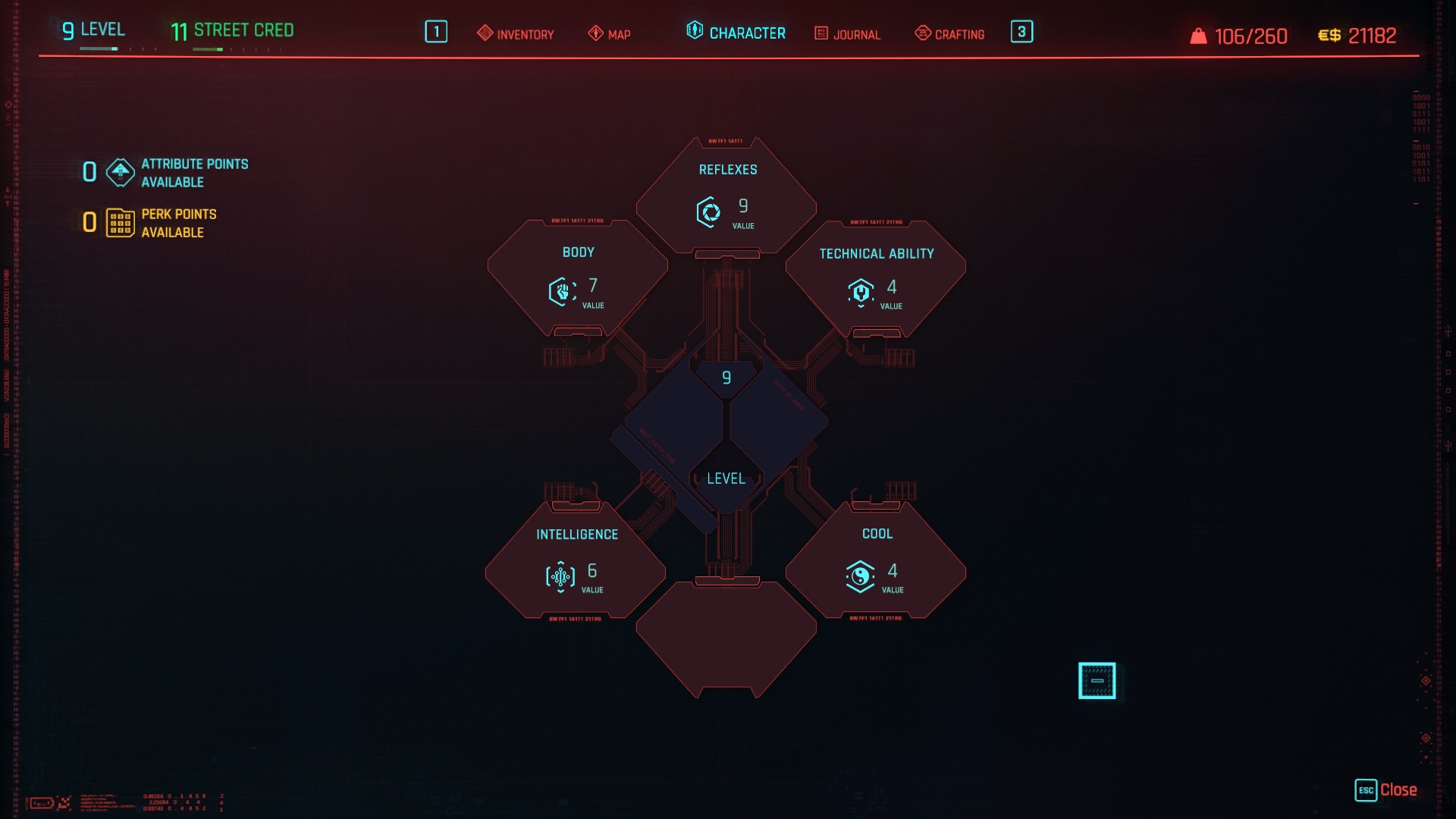 I'm putting points into Reflexes so I can unlock higher headshot damage, critical damage, and stuff for sniper rifles. And then I'm also putting points into Intelligence for hacking, scanning netrunners, etc. The points that are put into body are just for basic things like health points, armor, health & stamina regen, and some points into Annihilation for submachine gun / rifle / shotgun damage.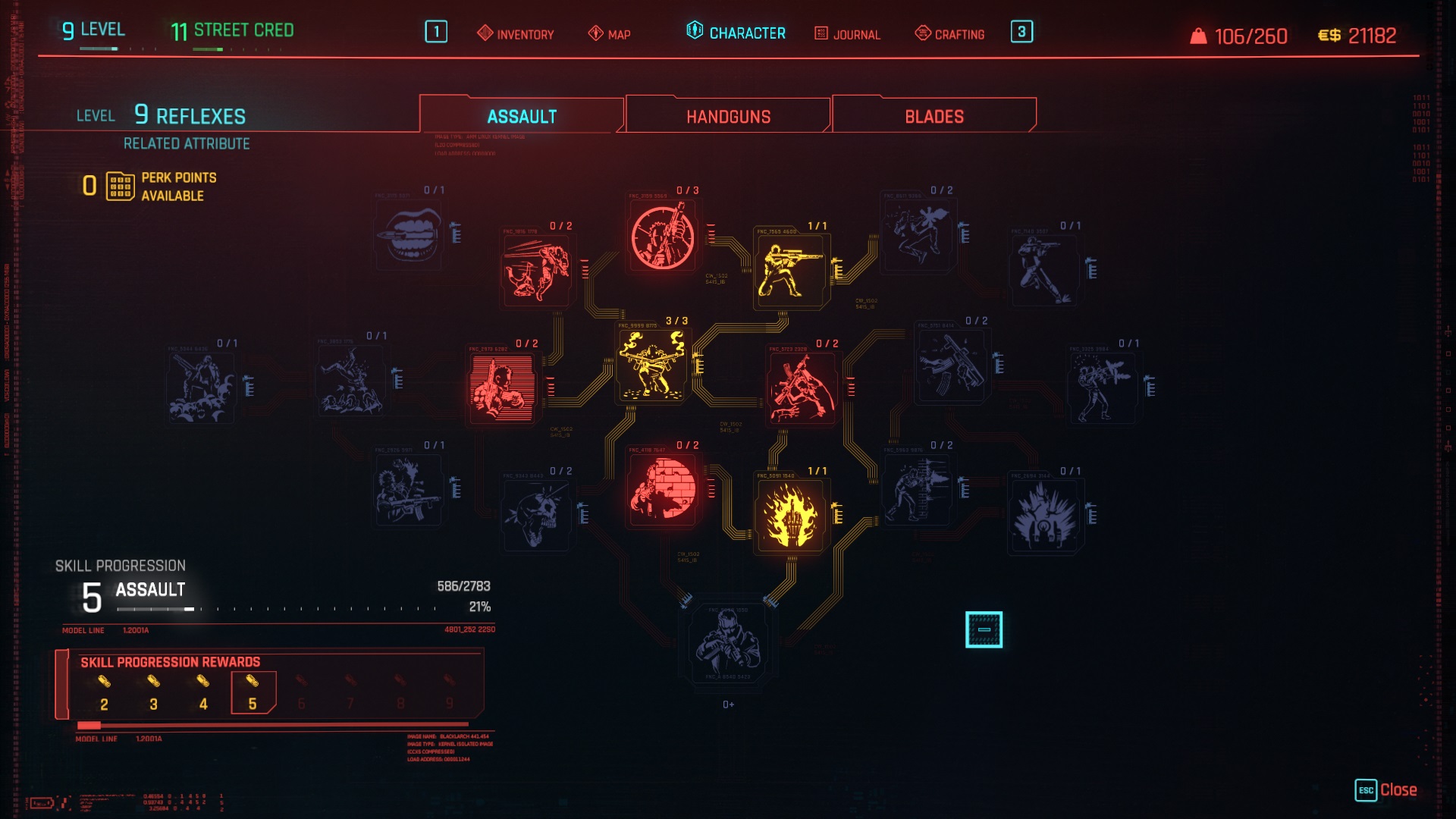 So after completing most of the side missions and finishing the prologue after The Heist, my character level is Level 9, Street Cred 11. With about 21,000 eddies. Again, at this point in the game, my character isn't much to look at.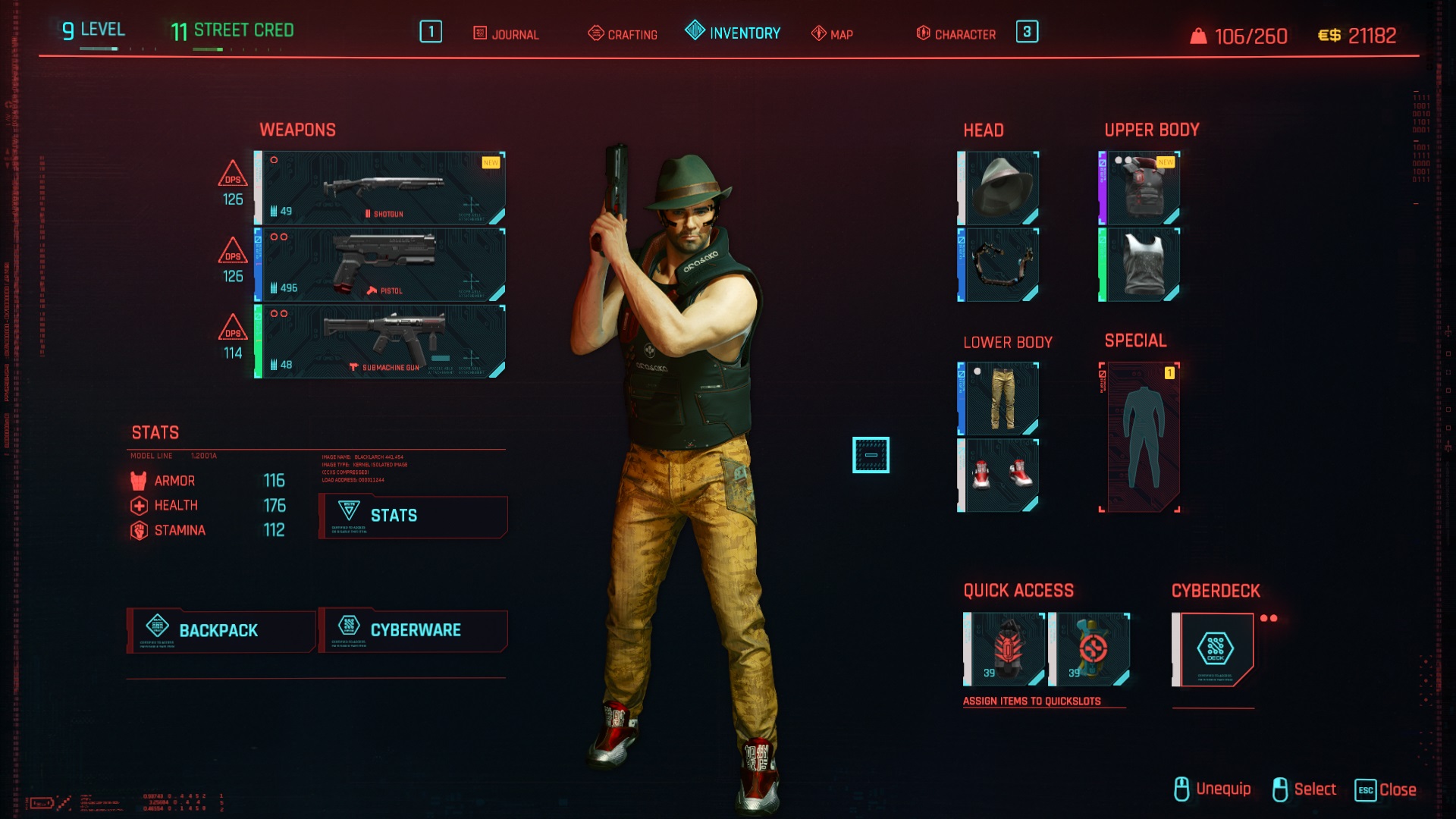 View from V's apartment:
One thing that does bug me about playing this game on Steam, is that it shows Xbox controller layout buttons instead of PlayStation, despite me using a PS4 Dualshock controller and having the correct settings setup on Steam. Basically, CD Projekt needs to release a patch, so you can set your controller button guides in-game.
Beat Cyberpunk 2077 last night. Did the Nomad ending. There is a small section where you can go back to the city to wrap up any remaining gigs/side jobs, or you can play through till the final bits /credits roll, and then it takes you back to a previous save before starting the final mission (with all leveling gained / equipment). I'll probably play through the final mission a few times and see what other endings there are, as there are quite a few dialogue options that will change the outcome.
Now that I've beat the game, I can say that I enjoyed my playthrough.
There are some noticeable bugs though that I hope CD Projekt Red fixes in the coming months. Towards the end of the game, my map was bugging out only showing certain icons based on the zoom level on the map. There was some annoying dialogue/subtitle glitch where every time I jumped into the game, it had previous dialogue from Johnny Silverhand stuck on screen (only way to remove it was to disable/enable subtitles in the Settings every time).
Also, I ran into issues of falling through the map or the game glitching out if I picked up and read shards too quick. In addition, I'd like to see them fix getting phone calls from Fixers / people during missions. I'd be already in a dialogue tree with someone during my mission and then suddenly my phone would ring and some fixer started talking messing up my dialogue options during my mission. It was annoying.
I'd like to see fixes to NPC AI, allowing them to have daily routines. Fix the cops AI so they're actually are a threat and you can have car chases running from them. Curious what they'll fix in the January and February mass patches and what free DLC they'll release in Q1 2021.
Anyways, that's all I got for now. I'll will try and upload some screenshots from my gameplay to this thread. Feel free to post your thoughts, questions, etc in this thread and I'll try and respond as much as possible.
Last edited: