You Can't Let Trends Decide What You Do - Shigeru Miyamoto
Thank You To Nintendo For All The Information.
Thank You To Mr Fenwick For The Header
Release Dates:

26th February 2011
¥25,000

25th March 2011
£199-£229

27th March 2011
$249

31st March 2011
$349
The Hardware
Cosmo Black
Aqua Blue
3D Screen:
The Nintendo 3DS system opens up a whole new world of eye-popping gameplay possibilities. The stereoscopic 3D display of the upper screen gives objects within the game world a feeling of space and depth that extends far into the back of the screen. It becomes easier to see the position of characters and obstacles in the world, making many game experiences even more intuitive for all types of players.
3D Depth Slider:
A built-in 3D Depth Slider allows you to immediately adjust the intensity of the 3D settings on the Nintendo 3DS system to your liking. The 3D effect can also be turned down completely—all Nintendo 3DS games and applications can be played in 2D, and look better than any Nintendo handheld before it.
Motion & Gyro Sensors:
Portable play control reaches a new level with these amazing features, allowing for new & unique gameplay mechanics. A built-in motion sensor and gyro sensor can react to the motion and tilt of the system, so whether players are twisting their systems side to side or moving them up and down, their motion-compatible Nintendo 3DS games respond instantly.
Two Screens:
Game graphics have never looked better on a Nintendo handheld system, thanks to the two screens of the Nintendo 3DS system.

A widescreen display on the top screen shows 800x240 pixel resolution, allocating 400 pixels for each eye to create the 3D effect.

The bottom LCD touch screen operates at a resolution of 320x240—with both screens capable of displaying a brilliant 16.77 million colors.

Analog Control:
With the Circle Pad, located above the + Control Pad, Nintendo 3DS offers full analog control in 3D game worlds. Combined with the touch screen, traditional buttons, camera and microphone input, and advanced motion control of the Motion Sensor and Gyro Sensor, the potential is extraordinary.
3D Camera:
The Nintendo 3DS system uses its two outer cameras to see the world in 3D, much like the human eye, allowing for the creation of 3D photos—and a similar 3D effect to that seen in Nintendo 3DS games.
Adjustable Stylus:
The adjustable Nintendo 3DS Stylus takes the idea of touch control to a new and even more user-friendly level. Once removed from the holder, the stylus length can be adjusted to your liking with a simple push or pull. Now anyone can achieve the optimum level of comfort while playing games that use the stylus.
Charging Cradle:
Dock your Nintendo 3DS system whenever you are not using it in the included Charging Cradle to keep it powered. You can then leave the system on in Sleep Mode while charging, so that it can communicate via the SpotPass feature at any time of day or night.
[
2GB SD Card Included:
Every Nintendo 3DS system comes packed with a 2GB SD Memory Card. You can use this SD Memory Card to store your 3D photos, and sound recordings created on the Nintendo 3DS system, and music* from your PC. You can also use it to store games downloaded from the Nintendo eShop. The Nintendo 3DS system has SDHC card compatibility to increase your storage space even further.
*Nintendo 3DS is compatible with MP3 & AAC Formats
Backwards Compatibility:
Almost all existing Nintendo DS and Nintendo DSi games can be played on a Nintendo 3DS system in 2D. With backwards compatibility, your existing portable games look and play just as well*.
* Nintendo DS and Nintendo DSi games will be displayed in 2D graphics. Select Nintendo DS games that use accessories in the Game Boy™ Advance slot of the Nintendo DS system are not compatible with the Nintendo 3DS system.
Streetpass:
Social and wired like no Nintendo system before it, Nintendo 3DS brings fellow players together in exciting new ways with StreetPass™ communication. Set your Nintendo 3DS to Sleep Mode and carry it with you wherever you go to exchange game data like Mii™ characters, high scores, and custom characters with other users you pass on the street. You control what data you exchange, and you can exchange data for multiple games at once, making virtual connections with real world people you encounter in your daily life.
Spotpass:
Nintendo 3DS includes SpotPass™,a feature that lets Nintendo 3DS detect wireless hotspots or wireless LAN access points and obtain information, game data, free software, videos and so on for players even when the system is in sleep mode.*
*Some of these features may not be available at launch
Operating System & Built In Software
Your portal to all of the amazing software on the Nintendo 3DS system, the HOME Menu is accessible at all times. Pressing the HOME button during game play automatically pauses the game and lets you resume play later. Need to search the Internet for gaming hints? Pause your game, hit the HOME button, and open the Internet Browser—then return to your game uninterrupted.

You can access a range of useful functions from the HOME Menu without quitting your game—such as the Internet Browser (system update and wireless broadband Internet access required), your Friends List, Game Memos, and your Notifications List—for an incredibly user-friendly experience.
* 2D image of Nintendo 3DS game
Take amazing 3D photos with the built-in Nintendo 3DS outer cameras, and bring your memories into a whole new dimension. Then utilize a variety of lenses and tools, such as the Merge lens, Pinhole lens, or Graffiti tool, to add flair to your photo gallery.
Creating Mii™ characters is a fun social experience for any player, and now this popular feature from the Wii™ console is available on the Nintendo 3DS system with some exciting new touches.

It's easy to create a Mii character from scratch, choosing each facial feature to represent yourself, a friend, or some fanciful character. The real fun happens when you create a Mii from a photo. After choosing just a few basic settings, take a photo of yourself or a friend with the Nintendo 3DS Camera, and let the Mii Maker™ application automatically generate your Mii character. Then make any final adjustments, and voilá! Your Mii is ready.
StreetPass™ Mii Plaza™ is the place where Mii™ characters meet and greet! When StreetPass™ communication is activated, you can exchange Mii data, recent gameplay info, and more with other Nintendo 3DS owners you pass on the street when your Nintendo 3DS system is in Sleep Mode. You'll then be able to see these Mii characters in the plaza the next time you start playing.
Imagine seeing a video game unfold in the real world...right on your kitchen table, or the floor of your living room! AR Games uses the Nintendo 3DS outer cameras and AR Cards included with the system to present an amazing augmented-reality gaming experience.

Just place one of the AR Cards on a table or floor, and the Nintendo 3DS camera will read the card and initiate game stages or characters right before your eyes. AR Games features different modes, from a wild shooting gallery to an interactive photo shoot with your Mii™ characters—plus more.

ESRB Rating: Everyone
Put a friendly face right into the action with the built-in Face Raiders game. Using the camera, you can take a photo of yourself, a friend or family member, which is then placed right onto a range of shooting targets. To play, you'll need to move with your Nintendo 3DS system, physically leaning and turning to search all around and aim high and low, taking out your targets. 3D gameplay combined with the gyro sensor feature makes Face Raiders a fun surprise for any type of gamer.

ESRB Rating: Everyone
The Activity Log tracks both your game play activity, noting which games you've played and how long you've played them, as well as your physical activity, counting every step you take while carrying your Nintendo 3DS. Track your data by day, week, month, or year—and walk more every day to earn Play Coins, which can be used with compatible games and applications to acquire special content and a variety of other benefits.

The Ninendo eShop will use a cash based system instead of the current point based system.

Rediscover classic portable games and so much more through the Nintendo eShop. In it you'll find the Virtual Console™ service, featuring a selection of games from classic Nintendo systems like the Game Boy™ and Game Boy™ Color.

You'll also find new Nintendo 3DS games exclusive to the Nintendo eShop, as well as Nintendo DSiWare games and applications—previously available on Nintendo DSi™ systems. Look out for more information very soon*.

* A Nintendo 3DS system update may be required to access this feature.
Access the Internet with ease using the built-in Nintendo 3DS Internet Browser. Whether you want to check email or catch up on your favorite news site, it's easy to view a variety of web pages right on your portable system—wherever there is a wireless connection*.

* A Nintendo 3DS system update will be required to access this feature.
The Nintendo 3DS Sound application lets you listen to your favorite music saved on an SD Card in MP3 or AAC format. You can even record and play with sounds via the Nintendo 3DS microphone with a variety of fun filters.
Info on 3D video and System Transfer coming soon
​
A New Dimension In Portable Gaming
Discover a new way to play video games. Featuring an exciting range of Nintendo published games and the best 3rd party launch line up ever for a Nintendo console, players will have a outstanding library of games to play come spring.
Pilot Wings Resort
Put yourself in the pilot's seat like never before in this 3D update to the Pilotwings™ series! Import your Mii™ characters from the Nintendo 3DS Mii Maker™ and explore Wuhu Island by plane, hang glider and rocket belt. Pilotwings Resort features a breadth and depth of field that can only be achieved with the 3D effects of Nintendo 3DS, offering a feel and style of play never before seen in an aerial sports game.

Release: Q2 2011
The Legend of Zelda™: Ocarina of Time™ 3D
The Legend of Zelda™: Ocarina of Time™ 3D takes the Nintendo 64™ classic – one of the most critically acclaimed games ever made – and returns it to the Nintendo 3DS system with the added depth and realism of stunning, glasses-free 3D visuals. A complete graphical overhaul, plus new game control using the unique features of the Nintendo 3DS system, makes this an exciting adventure to be enjoyed by long-time fans and new players alike.

Release: 2011
Kid Icarus™: Uprising
Pit of Kid Icarus™ fame is back in a new game designed specifically for the Nintendo 3DS system by Masahiro Sakurai, creator of the Kirby™ and Super Smash Bros.™ franchises, Kid Icarus: Uprising is a fast-paced and action-packed blend of aerial and ground-based shooting. This follow-up to the original Kid Icarus—released for the Nintendo Entertainment System™ in 1987—has been at the top of gamers' wish lists for years.

Release: 2011
Star Fox 64 3D
The Star Fox team triumphantly returns to one of its greatest missions with this remake of Star Fox™ 64 in full 3D, featuring a complete graphical update. The entire Star Fox universe spreads out realistically into the depths of the Nintendo 3DS screen while the 3D visuals give the player a clearer grasp of distance and position. This makes the game more approachable and intuitive, thereby allowing players to focus on the action.

Release: 2011
Dead or Alive Dimensions
Dead or Alive Dimensions takes the vivacious characters and locales that have made the DOA franchise a hit with gamers everywhere and presents them in eye-popping 3D. All of the punches, kicks, counters and holds that have defined the series as a top-tier fighter are present for the first time on a portable gaming handheld—the Nintendo 3DS™ system.

Release: 2011
Street Fighter IV - 3D Edition
The ultimate version of Street Fighter® makes its seamless transition to the Nintendo 3DS with Super Street Fighter® IV 3D Edition. The highly acclaimed console experience is now in the palm of your hand with rich new features that utilize the capabilities of the Nintendo 3DS to its fullest.

Release: 27 March 2011
Nintendogs + Cats
Nintendogs are back in the palm of your hand in 3D, with even cuter puppies and now, kittens! Using the built-in Nintendo 3DS camera and facial-recognition technology, your puppies and kittens to react to real-life movements, even jumping up to lick you as you lean in. Take pictures of your puppies and kittens in-game, and share them—or with the Nintendo 3DS augmented-reality feature, watch your puppy play on your own dining room table!

Release: 27 March 2011
Pro Evolution Soccer 2011 3D
For over 15 years, soccer fans have looked to Konami to deliver the most authentic soccer experience short of stepping onto the field and playing the real thing. Now Konami brings fans the first soccer game in 3D – PES 2011 3D for the new Nintendo 3DS gaming platform. Enjoy the game with hefty modes and competitions including the UEFA Champions League and prominent Master League.

Release: 27 March 2011
Super Monkey Ball 3D
It's Super Monkey Ball as you've never experienced before! Join AiAi and friends as you tilt and roll your way in to the world of 3D! Lose yourself in each vibrant world as you twist, turn and aim to collect every banana in the fastest time possible. Then play together with friends and be the first to cross the finish line in Monkey Race or get ready for a manic melee in Monkey Fight. Everyone's favorite monkeys are jumping out of the screen with excitement.

Release: 27 March 2011
Resident Evil: The Mercenaries 3D
Return to the world of survival horror in Resident Evil: The Mercenaries 3D, only for the Nintendo 3DS system! Your favorite Resident Evil characters begin the fight for their lives in full 3D action unlike any other. Use a host of devastating weapons, and defeat countless enemies in a race against the clock!

Release: 2011
The Friend Codes
In the spoiler tags below are Friend Code's belonging to PSU members. If you have the Nintendo 3DS and your Friend Code is not included and you would like it to be please PM me or post in the thread.
The QR Codes
In the spoiler tags below you will find QR codes. Nintendo have made it easier to share your Mii creations with others. Simply open Mii Maker, select Scan QR Code and follow the on screen instructions.
Game Characters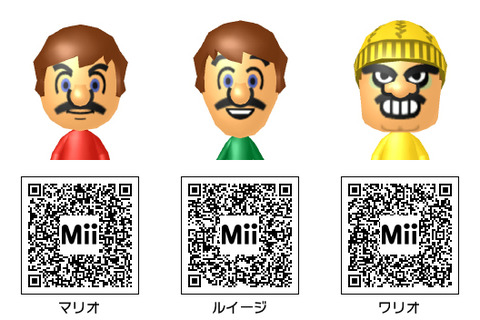 Super Mario Bros - Mario, Luigi & Wario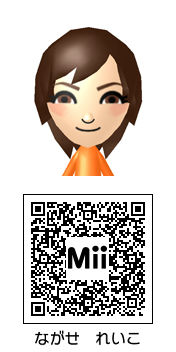 Ridge Racer Girl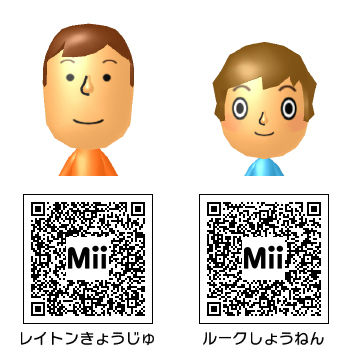 Professor Layton & Luke
Link & Ganondorf
Game Creators
Yamauchi, Iwata & Miyamoto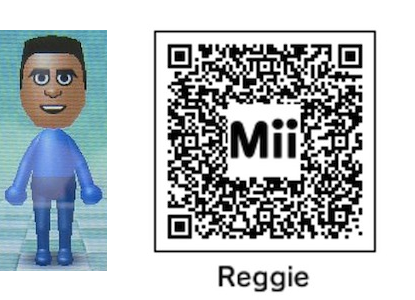 Reggie Fils-Amie (Head of Nintendo America)
Inafune, Kojima, Nagoshi, Mikami & Kamiya
Celebraties, Famous People & Non-Gaming Characters
Last edited by a moderator: