Selected Members Council
Staff member
Oct 14, 2013
14,672
39
48
-- Destiny 2 --
Developer: Bungie
Publisher: Activision / Bungie
Release Date: November 10, 2020
Official Website
Destiny 2 Overview
Dive into the world of Destiny 2 to explore the mysteries of the solar system and experience responsive first-person shooter combat. Unlock powerful elemental abilities and collect unique gear to customize your Guardian's look and playstyle. Enjoy Destiny 2's cinematic story, challenging co-op missions, and a variety of PvP modes alone or with friends. Download for free today and write your legend in the stars.
An Immersive Story
You are a Guardian, defender of the Last City of humanity in a solar system under siege by infamous villains. Look to the stars and stand against the darkness. Your legend begins now.
Guardian Classes
Choose from the armored Titan, mystic Warlock, or swift Hunter.
Titan
Disciplined and proud, Titans are capable of both aggressive assaults and stalwart defenses. Set your hammer ablaze, crack the sky with lightning, and go toe-to-toe with any opponent. Your team will stand tall behind the strength of your shield.
Warlock
Warlocks weaponize the mysteries of the universe to sustain themselves and destroy their foes. Rain devastation on the battlefield and clear hordes of enemies in the blink of an eye. Those who stand with you will know the true power of the Light.
Hunter
Agile and daring, Hunters are quick on their feet and quicker on the draw. Fan the hammer of your golden gun, flow through enemies like the wind, or strike from the darkness. Find the enemy, take aim, and end the fight before it starts.
Cooperative and Competitive Multiplayer
Play with or against your friends and other Guardians in various PvE and PvP game modes.
Cooperative Multiplayer
Exciting co-op adventures teeming await with rare and powerful rewards. Dive into the story with missions, quests, and patrols. Put together a small fireteam and secure the chest at the end of a quick Strike. Or test your team's skill with countless hours of raid progression – the ultimate challenge for any fireteam. You decide where your legend begins.
Competitive Multiplayer
Face off against other players in fast-paced free-for-all skirmishes, team arenas, and PvE/PvP hybrid competitions. Mark special competitions like Iron Banner on your calendar and collect limited-time rewards before they're gone. Then, when you're ready, enter Trials of Osiris, where the only thing between you and glory are the best players in the world.
Exotic Weapons and Armor
Thousands of weapons, millions of options. Discover new gear combinations and define your own personal style. The hunt for the perfect arsenal begins.
Beyond Light Expansion Overview
The frontier of Europa holds many lost secrets from the past, including the dark power of Stasis. Work with the mysterious Exo Stranger to harness this new power before Eramis, the Kell of Darkness, bestows it on her Fallen forces. Grow your arsenal, command Stasis, and go beyond the Light.

Cold, dark and alluring – the power of Stasis beckons you. Command this new elemental power with brand new Guardian sub-classes. Control the fight, seize your enemies in any icy grip, and shatter them where they stand.

The splintered houses of the Fallen have rallied and built their new Empire on the icy moon of Europa. Brave the unrelenting glacial frontier, infiltrate the Golden Age Braytech facility, and uncover the secrets that lie deep under the ancient ice.

There are those who believe Europa is nothing more than a frozen Golden Age graveyard, its treasures long ago swallowed by ice and darkness. You know better. Discover countless relics, an arsenal of weapons, and dare to tame the wasteland.


It's time to look at where you've been and to understand where your road leads. As your journey continues, you will carry the Light into the Darkness and see how much farther there is to go. Eyes up, Guardian – Darkness is here, and a new era is nigh.

Below the frozen tundra of Europa lies the Deep Stone Crypt. For decades it has remained dormant. Your fireteam cautiously approaches, weapons raised, and the final plan is set in motion.
News:
Destiny 2 Cross-Play Is Coming In 2021, Transmog Due Out With Season 14
Destiny 2 On PS5 Will Run At 120 FPS When Playing Crucible
Destiny 2: Beyond Light Bungie.net Update 3.0.0.1 Patch Notes Change More Things Than You Can Count
Destiny 2 Beyond Light Trailer Spotlights The Game's Story
Destiny 2 PS5 Release Date Confirmed For Early December – Will Run In 4K/60
Destiny 2: Beyond Light's Weapons And Gear Trailer Showcases 10 Awesome Looking Exotics
Destiny 2 – How To Jump Back In And Prepare For Beyond Light
Destiny 2 Is Bringing Back Festival Of The Lost Next Week
Destiny 2 – How to get Travelers Chosen
Destiny 2 Update 1.59 Patch Notes Revealed, Adds Minor Fixes
Destiny 2 Beyond Light Trailer Highlights The Icy Darkness Of Europa
Reviews:

Destiny 2 PS4 Review -
PSU
Destiny 2 Shadowkeep PS4 Review -
PSU
Destiny 2 Beyond Light PS4 Review - Coming soon...
Videos:
Wallpapers: (
view gallery
)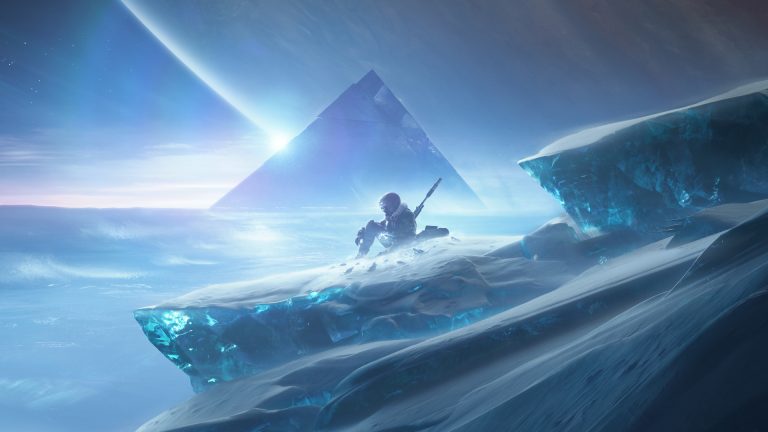 Last edited by a moderator: