With the specific release date for XV to be announced some time in March of 2016, I thought now would be a good time to create an official thread for it. I'll use spoiler tags to try and keep the information as condensed as possible:
Official FFXV forum:
http://finalfantasyxv.com/
Official Twitter page:
https://twitter.com/FFXVEN
Evolution of XV through trailers 2006-2013:
[video=youtube;ACSpgGAjGfM]https://www.youtube.com/watch?v=ACSpgGAjGfM[/video]
Evolution of XV through trailers 2014 and beyond:
Tech Demo 1:
[video=youtube;_ajDPjrvBaA]https://www.youtube.com/watch?v=_ajDPjrvBaA[/video]

Jump Festival Trailer:
[video=youtube;IbGVWbTr_Kg]https://www.youtube.com/watch?v=IbGVWbTr_Kg[/video]

Tokyo Game Show 2014 Trailer:
[video=youtube;WUyVRC52RZ8]https://www.youtube.com/watch?v=WUyVRC52RZ8[/video]

Tokyo Game Show 2014 Gameplay demo:
[video=youtube;IJrXCfVKXEA]https://www.youtube.com/watch?v=IJrXCfVKXEA[/video]
Tesuya Nomura Explains why Final Fantasy Versus XIII(XV) got name change and changed platforms in an issue of Famitsu magazine 2013:
Link:
http://www.polygon.com/2013/6/19/44...nal-fantasy-versus-13-became-final-fantasy-15
Tetsuya Nomura explains why Final Fantasy Versus 13 became Final Fantasy 15
By kevingifford on Jun 19, 2013 at 4:16a
SHARE TWEET
STAY CONNECTED. FOLLOW POLYGON NOW! ×
Seven years and a month after it was first announced in E3 2006 under the name Final Fantasy Versus 13, Final Fantasy 15 finally had its first "real" debut trailer revealed at the LA Convention Center last week; However, as director Tetsuya Nomura revealed to Famitsu magazine in this week's issue, the decision to rename the project got its start a lot earlier than you'd think.
"Around one or two years after we announced FF Versus 13," he said, "it was suggested to us to shift to FF15 as part of the company's direction. By that time, a fair amount of time had already passed since the announcement and Versus was a well-known title, so it wasn't a given that this would be 15; it could have still been Versus. Personally, I came to accept the idea once FF Agito 13's name was changed to Final Fantasy Type-0."
As Nomura said, the final decision to switch to FF15 was made around two years ago. Why wait until now to mention that to the public, though? "As for the timing of the announcement," Nomura responded, "given that we were changing platforms as well, [the timing] wasn't something we could decide on our own discretion. We worked together with assorted other divisions to get it announced at this E3."
As for that shift in platform to the PS4 and Xbox One, "there are several reasons," he explained. "We had originally thought about making this announcement last year, but due to assorted reasons that got delayed. This meant that the lifespan of the current generation of consoles was starting to pose a problem to us. If we were a year later, other companies will have more time to research the next generation, and releasing the game against their products on the older generation could have caused us to look inferior when people inevitably compared us."
Nomura and his team also found themselves hitting a wall graphically with the PS3 and 360. "With current-gen systems, we couldn't fully express what we wanted to do in this project," he said. "There were more and more things that we would've had to change the form of. However, the assumption was that we'd go ahead with a current-gen release, so went through a trial-and-error process to do as much as we could. So we built an alpha version about a year ago, and the company response was 'If you remained bound to the current generation, will it will be the product you envisioned?' They suggested shifting fully to next-gen, and that was the spark that led to the move."
What are these things that he envisioned, or wanted to do, with this project? "It largely had to do with the display," Nomura responded. "I wanted FF15 to be as seamless as possible, and to achieve that, we needed to have all the actions you could potentially do always be available in memory. Since this is FF, after all, you have lots of potential factors, from the varied weapons to the party members' individual actions and magic spells. Keeping this massive amount of RPG character data around, and having them fight all kinds of monsters on a large map, is a lot of stuff. To that we're adding light sourcing, physics, filters, and other graphical elements, but there's only so much we could display at once, so we were forced to go through a weeding process."
"The trailer we showed at E3 has battle scenes that make use of a wide swath of space," he went on, "like how Noctis warps up to a higher area. Characters can go around this large yet intricately-detailed space, and it feels like an FF battle. This presentation takes a lot of processing. Trying to do it on current-gen systems would mean that the display of objects may not be able to keep up within a world map-sized space. The map changes and destruction we showed in the video was also something we really wanted to do."
So FF15 is now a PS4 and Xbox One title, but Nomura is quick to point out that he's favoring no console over the other. "Previously we proceeded with development based on the capabilities of consoles like the PS3," he said. "Now, though, we're developing on DirectX 11, not based on the PS4 or the Xbox One. This lets us develop full-spec without worrying about individual platforms, then port it to each console in the most appropriate way. As a result, the original FF15 runs on a pretty high-spec PC, and how close a console gets to this original depends on its specs. The idea is to keep our options open; if a console comes out in the future that can recreate the original, we can handle that. It's the opposite approach from your typical 'multiplatform' project which bases itself on the specs of a single console."
So a PC port is possible? "This isn't something we've really discussed, but it depends on the demand. Currently it'd require a pretty expensive PC, but if we get a lot of people in the future who want to play it with full specs, I think we can discuss supporting that."
Versus 13's renaming to 15 is a surprise in part because, over the past half-decade or so, Nomura mentioned once or twice in interviews that the game's story and content was possible precisely because this wasn't an "official," i.e. Roman-numeraled, Final Fantasy. However, Nomura doesn't see this as a problem - in fact, while he declined to discussed release dates or how far along the project was, he already began talking about the apparently-inevitable Final Fantasy 15-2 we'll see someday. "When we started talking about the shift to FF15," he said, "we discussed with the company about whether it was really okay considering we had action-based battles and all these other things we tried to do because it wasn't a numbered title. That was not a problem for them, so our direction hasn't changed. However, as the 'A World of the Versus Epic' hints at in the end of the trailer, FF15 ends with a climax, but we plan to continue the story. That's something we have in mind as we complete the game."
London ATR (Active Time Report) Feb. 2015
[video=youtube;RiQ4rh4hhiU]https://www.youtube.com/watch?v=RiQ4rh4hhiU[/video]
hint: XV's part starts around 1 hour, 13 minutes, and 30 seconds.
Prelim Feedback a.k.a Episode Duscae Demo Feedback ATR (Active Time Report) April 2015:
[video=youtube;bqPFqMOqJDc]https://www.youtube.com/watch?v=bqPFqMOqJDc[/video]
ATR (Active Time Report) 6 Jun 2015:
[video=youtube;6u3jd4IyMso]https://www.youtube.com/watch?v=6u3jd4IyMso[/video]

Luminous Engine in work:
[video=youtube;ZeIxyPzaToo]https://www.youtube.com/watch?v=ZeIxyPzaToo[/video]

Episode Duscae 2.0 Trailer:
[video=youtube;aCdcUEBDU-w]https://www.youtube.com/watch?v=aCdcUEBDU-w[/video]
Discussion about Episode Duscae's 2.0 patch update and some background information on the development of the game is covered.
Gamescom ATR (Active Time Report) August 2015:
[video=youtube;T8gvUy5Md30]https://www.youtube.com/watch?v=T8gvUy5Md30[/video]
hint: video starts around 8 minutes.

Malboro Trailer:
[video=youtube;txnngFuV_Ss]https://www.youtube.com/watch?v=txnngFuV_Ss[/video]

Dawn Trailer:
[video=youtube;BcGLfeni0og]https://www.youtube.com/watch?v=BcGLfeni0og[/video]
The core concepts of Versus XIII in terms of story are confirmed to have been transferred over to XV.
PAX Prime 2015 ATR (Active Time Report) August 2015:
Snapshot version:
[video=youtube;Hsk4rVAOu3s]https://www.youtube.com/watch?v=Hsk4rVAOu3s[/video]

Progress Report Vol. 1:
[video=youtube;rVaOi0rrdHQ]https://www.youtube.com/watch?v=rVaOi0rrdHQ[/video]

PAX Prime 2015 car travel demonstration:
[video=youtube;GUmFz-GsvW0]https://www.youtube.com/watch?v=GUmFz-GsvW0[/video]

Full version:
[video=youtube;JMRuQMJ8OPs]https://www.youtube.com/watch?v=JMRuQMJ8OPs[/video]
I love some of the stuff that is being worked on that got show off at PAX Prime.
September 4th, 2015 published interview with Tabata from Gameinformer:
site:
http://www.gameinformer.com/b/features/archive/2015/09/04/tabata-final-fantasy.aspx
Tabata Teases That Final Fantasy XV Will Reflect Gaming's Move Online
interview
by Daniel Tack on September 04, 2015 at 04:50 PM 17,822 Views
16
At PAX Prime 2015, I spoke with Final Fantasy XV director Hajime Tabata and art director Tomohiro Hasegawa about a variety of elements and inspirations that are forming the upcoming Final Fantasy XV. Tabata displays infectious enthusiasm as he chats about his upcoming project, and has no qualms firing back questions my way during the course of the pleasant conversation. There are a lot of interesting hints and takeaways over the discussion that range from Steam, the community, Tonberries, and enjoying regional delights during road trips.
GI: Looking at the new footage, can you tell me a little more about the car elements? Is this a huge element of the game? Does the car level up like a character would?
Tabata:
So the game was built upon the idea of a road movie to some degree, converting that concept to a game and being able to experience it. The concept follows around taking a journey. The player really feels the world, experiences the world, along with your companions that you're traveling with. The biggest point is that the players themselves will feel the connection to the characters and the journey, like they're experiencing it firsthand. So, the car mechanics follow this in the game itself, but we're really aiming to make the character feel like they are part of this larger journey – the car mechanics support that feeling as a secondary element. The gameplay will feel much different than typical offline Final Fantasy games in that sense, it's not just following a story, you're really thrown into a world to experience it in the form of a trip.
With his father's car, Noctis and his companions travel around from destination to destination. You'll have auto or manual controls to steer the vehicle and deal with other travel issues like running out of gas, like a realistic road trip. We feel it's a unique game experience, as the car is more of a modern, realistic element that's placed into a fantasy environment; it's a unique take and balance. The car is really just an item that will help you enjoy the world to its fullest. You'll be able to customize the car so you can change up the specifications of the car, and the paint job, really make it your own.
Above: Hajime Tabata
Outside of Final Fantasy XV, what's your favorite Final Fantasy game and why?
Tabata:
Final Fantasy VI. A high-level fusion of sci-fi mechanics like the Magitek armor blending into the fantasy world, a cool environment that could only be done in Final Fantasy.
Hasegawa:
Final Fantasy V. I felt the drama was very strong, and I designed a lot of monsters that left a lasting impression on me.
Tabata:
What's your favorite?
My favorite is actually IV.
Tabata:
We all like the classic Final Fantasies! The way that we're creating Final Fantasy XV is kind of drawing upon all the good aspects of the classic Final Fantasy games and trying to create them in a modern landscape with the latest technology. So there should be a lot of elements to enjoy in Final Fantasy XV from these – especially from say, Final Fantasy IV, V, and VI, one of the crucial elements we felt were the dungeons. The dungeons had less order, and you could come across especially vicious monsters. So there were frightening elements to it, you may be in a water dungeon or a cave but come across creatures you may never expect, it's an element that we loved from the classic games. The amazing, spectacular world exists above ground, but underground anything can happen.
Okay, so we've got your favorite games, what about your favorite monster from the series and why?
Tabata:
Odin. It's a summon but yes, I like Odin.
Hasegawa:
The Ultima Weapon, because it always transforms and you never know what's coming.
Tabata:
How about you, what is your favorite?
The Tonberry!
Tabata:
We're sort of evaluating whether or not the Tonberry will show up in FFXV. What is your memory of the Tonberry?
Well it's just sort of a really strange and unique enemy the first time you encounter it. You ask yourself what is this enemy doing; it's not really doing anything, it's just this little green guy with a lantern and then BAM, and someone is instantly killed. Like you mentioned earlier, it has something to do with sort of a vicious surprise in the dungeons with monsters you're not really prepared for.
Tabata:
What do you think the appeal is of Final Fantasy?
I've always really liked the combat systems, the summons, the characters, and the job systems. I'm not really a story-oriented kind of guy, but I think the classic style stories are just really strong, especially in the older games, backed up with excellent environments, music, and design.
Tabata:
Does that mean you're more interested in the classic Final Fantasy games than the more modern ones? I'm sorry; I shouldn't be interviewing you!
I would say that's accurate, I consider perhaps I-VII to be my favorites in the series, but I'm extremely curious as to where Final Fantasy XV will take the series.
Tabata:
In that sense, XV does carry on a sort of a simpler narrative. Rather than focusing on human drama, it takes a step back to draw you in as a player to look at the big picture. But obviously technology has significantly advanced, so we're trying to add more value to the experience and make you feel like you're traveling with your companions. XV is kind of a major turning point for us, it's our chance to make the best RPG with the best technology. So you know, in the classic games you'd play it at home and then you'd go to school and talk about it with your friends. Today, the community has shifted, it's online. Regardless of it being console or Steam, the importance of the community has changed, and even though this is a standalone title, we want elements that play to the community that they can draw on.
Above: Tomohiro Hasegawa
So what do you like to do with your time when you're not making games?
Tabata:
I like to go on drives! Sort of what we're creating right now. I like going into nature, experiencing the outdoors, and cooking. In the world of XV, there's the concept of time. It's constantly moving from morning to night there's a time cycle. So when it's night you can camp, and enjoy eating the regional specialty. Honestly speaking though, we haven't had a whole lot of time to do anything but work on this title. There's no personal time, it will come after.
What's your favorite character from the Final Fantasy series?
Tabata:
Zack from Final Fantasy VII. Post Final Fantasy VII there was Crisis Core and I liked diving deep into his character in that game.
Hasegawa:
I like Tidus from Final Fantasy X. I worked on the team for X, and it was the first title that was voiced so I think it was easier to become more emotionally attached to the characters.
So what about XV, what's your favorite character in XV?
Tabata:
Regis. As the father of Noctis, the main character, he plays an important role in the story. Also with that you start to think about the bonds that you may have with your own father. I think he's turning out to be a really great character.
Hasegawa:
My opinion may change, but in the game, as it is currently – I like Ignis. He's someone you can count on (he's the driver), he cooks for you, and you can count on his friendship.
Tabata:
One kind of unique aspect of XV is that not one particular character is superhuman, we're taking it as the group itself and that relationship and how they come together – that's sort of the "main" character, so it's a new perspective on Final Fantasy. Because they're depicted so humanly, they're more believable in that sense. As more story becomes available, I'd like to talk about other characters, but I can't right now.
Will there be any mini-game such as Triple Triad available in XV?
Tabata:
We will have a few mini-games, we'll be mentioning this at the earliest during Tokyo Game Show. One thing that's kind of already been communicated is the fishing aspect; you can fish up things and eat them at your camp. There will be something else you'll be able to play at a facility, and another available on smartphones. Also, it's not really a mini-game, but you'll be able to ride chocobos and jump around for leisure.
Last one! Outside of the Final Fantasy series, what's your favorite game, and why?
Hasegawa:
It's a really old game: Romancing Saga 2. After I joined Square Enix, I really wanted to be part of the development of this game. It's a unique title even to this day – it stands on its own and has its own characteristics.
Tabata:
It's hard for me to identify one title. Currently, I don't have a real reason why, but I'd say it's Legend of Zelda. But there was a time in the past where it was Civilization. I really like core PC titles.
I really appreciate that Tabata asks questions back, and also seems to take in feedback very seriously.
GamersGlobal Interview with Tabata September 13, 2015:
Original link:
http://www.gamersglobal.de/interview/ff7-remake-ist-ein-rivale-von-ff15?page=0,0
The new part of Squares RPG series makes many things differently than their predecessors - many fans are skeptical. We talked to the co-producer of the project and it elicits many details on airships, combat system and the structure of the game world. And of course, we asked also whether Cindy really could become the man at the end.
In March this year, Square Enix released the first playable demo version of Final Fantasy 15 (in the quarter-hour video). The face-off version, of which there are now a second version, presented the Japanese publisher and not without reason so long before the release of the RPG available. Because it was primarily Square about the formerly planned as a FF-13 spin-off called Final Fantasy Versus 13 game capture feedback to certain points within the meaning of the players adapt the adventure.
We asked Hajime Tabata, Co-Director of Final Fantasy 15 (marked their questions in an interview with "mate") 7 along with two other games journalists to significantly actionlastigeren Japanese-RPG, but also the announced at E3 remake Final Fantasy , The interview was conducted in English and Japanese translators.
Interview with Final Fantasy 15 producer Hajime Tabata
*
GamersGlobal:
In the second demo for Final Fantasy 15, there were some changes about with the camera and mini-missions in the camps. What else has changed, and why the adjustments were made?
*
Hajime Tabata:
When we made the update to version 2.0, it was not so much about us, add new content. We wanted to respond to the feedback from players and customize the game in the points where we thought it was important. What was completely new, overlooking the site, the "Cross-chain combination tag" system.
Hajime Tabata we interviewed along with two German journalists games.
"We built FF Versus 13 in a full Final Fantasy to"
*
Colleague:
Can you tell about the background to the name change, the game was indeed originally Final Fantasy Versus 13, and perhaps recapitulate the rather long development cycle a little more?
*
Hajime Tabata:
Final Fantasy Versus 13 has long been in development, but when the game was just never really fit together everything, nothing was final. Eventually we came to the point where we realized that we still had nothing solid. There were some internal restructuring at Square Enix, and the hardware base changed. So we sat down again and thought about what we could do so at the end comes out a good game. At that time fell the decisions instead of making a spin-off for Final Fantasy 13 thereof to convert the game into a full Final Fantasy. The new approach eventually required the renaming, so that the new idea and the goal is expressed. About three years ago we started with a completely new team, the development of Final Fantasy 15th
*
Colleague:
How many and what kind of vehicles will be included in the final game?
*
Hajime Tabata:
It is only able to drive a car. The reason is simple: It is a very important vehicle because it was a gift from your father. It has a high sentimental value, so the hero wants to drive just this, especially since it is a very good car.
The battles in Final Fantasy 15 are carried out in real time and are thus clearly action-heavy than in previous series parts.
"The driving physics comes from the Avalanche Studios"
*
Colleague:
Can you ride a chocobo?
*
Hajime Tabata:
But yes, they can ride, even in difficult terrain where you can not get there by car. Where we are talking about means of transportation, is something else worth mentioning: We work together for the driving physics with the Avalanche Studios, the creators of Just Cause, and use their technique in the game. Your technique is really very unique and high quality. The reason why we were particularly interested in it, is the similarity between the environments that are indeed very large and vertically pronounced in Just Cause. Specifically, the technique of Avalanches Central Tech Studios is developed. But we not only use technology by Avalanche Studios, they too are interested in using technology from Final Fantasy 15 in their game. Anyway, we are convinced that is the best for Avalanches engineering our game. They will allow us to travel the world with large airships. I look forward particularly!
"Action-RPG is the most appropriate style"
Gamer Global:
There was some discussion about a greater focus on the action combat system instead of the turn-based battles of the predecessor. Obviously not everyone is pleased about Serienfan ...
*
Hajime Tabata:
I personally consider the action-RPG as the most appropriate style for a modern, produced in HD RPG. The blends easily with the best technology. The computer game technology is constantly evolving. With this evolution, the current hardware, you have to keep pace. If not heeded in a series, it remains and dies or no longer evolving. The challenge was to develop ourselves, to make the existing fans happy and at the same time to win over new fans. In Final Fantasy 15, we want to provide a game system, which is liked by fans who prefer turn-based combat, but also by players who like action-heavy. We want to reach both groups.
*
Colleague:
Some players of the demo described the mood as "boy band feeling." Can you say something about the story writing? How to bring so many different active character under one umbrella succeed?
*
Hajime Tabata:
Of course there were in earlier parts of Final Fantasy, this very special, very stylized way to show how the characters talk and behave. We wanted a little of this fantasy-like style way towards a, in which the characters really like modern, young people look, talk and act. Therefore, the characters feel more human. One trailer where we showed a bit from childhood of the characters, brings the well expressed. The player should have the feeling that these characters have a real life and behave credibly.
"We see the remake Final Fantasy 7 as a rival"
*
GamersGlobal:
Do you see any problems for FF15 through the recently announced Final Fantasy 7 remake, see this as internal competitors?
*
Hajime Tabata:
Partly, partly. But I see nothing negative in connection with the remake of Final Fantasy 7. Both games are benefiting from Square Enix and they are from each other. I can come in many points not say anything about the remake, or what is happening in the development. It also operates a completely different team from far away from the place where we work. We can not see what they are doing. The announcement of the remake at E3 I experienced from the same perspective as the fans. And it reminded me what a splendid game Final Fantasy. 7 But yes, we look at it as a rival. Nevertheless, we are the FF7 remake against well disposed. It's not something that we "beat" must. But we look at it as a milestone.
Tabata gives a bit more insight as to where Versus 13 was in the past, and minor thoughts on the Final Fantasy 7 Remake.
Tokyo Game Show ATR (Active Time Report) September 2015 + Location Hunt footage:
Final Fantasy XV World of Wonder Vol. 2 Location Hunt:
[video=youtube;mG3FjJ_Nzs8]https://www.youtube.com/watch?v=mG3FjJ_Nzs8[/video]

Dawn 2.0 Trailer:
[video=youtube;-g1CwNw2i88]https://www.youtube.com/watch?v=-g1CwNw2i88[/video]

Chocobo riding and fishing video:
[video=youtube;4zqxNNkSPa0]https://www.youtube.com/watch?v=4zqxNNkSPa0[/video]

Tokyo Game Show 2015 ATR Snapshot:
[video=youtube;rQK7wapSzWQ]https://www.youtube.com/watch?v=rQK7wapSzWQ[/video]

Tokyo Game Show 2015 ATR Full version (English subtitles):
[video=youtube;YpnzfHBVJvo]https://www.youtube.com/watch?v=YpnzfHBVJvo&feature=youtu.be[/video]
Hint: Video starts around 3 minutes and 45 seconds.
Luna and Regis' roles are gone into detail. Japanese VA for Noctis Tatsuhisa Suzuki drops in on the ATR sharing some of his experience in the working environment for FFXV. Although I won't be playing the game in Japanese, I still respect that Mr. Suzuki has played FF games in the past, with the most recent being FFXIV.
Tabata answers fan question in regards to weapons being switched with an updated mechanic (September 2015):
Original Answer:
https://forum.finalfantasyxv.com/discussion/comment/4276#Comment_4276
Translated answer by user:
https://forum.finalfantasyxv.com/di...ge-this-evening-real-time-weapon-switching/p1
Director Tabata's message can be read at this link:
https://forum.finalfantasyxv.com/discussion/comment/4276#Comment_4276
(Just a caveat and
FYI I'm not from Square Enix
)
Original question:
Thank you for a great ATR. The tempo this time was great, and it was a pretty fun ATR. I'm very happy to hear that we'll be able to switch weapons in realtime. However, I'm still a bit concerned because Mr. Tabata's explanation and Mr. Ofuji's interpretation seemed to have some discrepancies. Mr. Tabata explained that we can "set 4 weapons and switch among them." Mr. Ofuji then interpreted that information and responded, "We can switch among 4 preset weapon decks?" The conversation then went on, and even during the discussion about sub-weapons, the explanation was, "switching among 4 weapons."
I'd like to know, will we able to set one weapon deck for "Break --> Slash --> Rush --> Counter --> Raid," and then change from among 4 weapon decks? Or will we be able to set 4 main weapons? Which way will it be?
Tabata's response:
This is Director Tabata. First of all, thank you so much for your enthusiastic response. I've really appreciated the comments from others as well. We on the development team have all been encouraged by this kind of comment.
To get to the matter, I'll respond quickly. Main weapons can be switched, but not entire decks. I'll explain below. It might be a little complicated, but to those who are interested in this matter, I encourage you to read the explanation.
------------------------------------------------------------------------------------------------------------------------------------------------------------------
The real-time weapon switching feature is a system that allows you to set 4 "main weapons" beforehand and switch among them. Using the d-pad, you can assign a directional button to each weapon, and then you'll be able to switch from among those weapons in realtime. Going along with this system change, we have changed the attack chain that was present in Episode Duscae––"Break --> Rush --> Slash"––to just using the main weapons (literally: to a form whereby the attacks will now be executed through the main weapons).
Our intention behind [this change] is this: to prevent unintended automatic weapon switching in the middle of a normal attack chain, and to allow for continuous attacking by using 4 selected main weapons. This, combined with realtime weapon switching, means that different attack chains can be created by using different weapons.
Accordingly, the initial automatic weapon switching mechanic has been changed. In Episode Duscae, the format was that you set different weapons to match the different types of attack. This is no longer the case. We plan to offer [these changes mentioned here] in the weapon customization system.
Now for attacks that are voluntary (similar to "Counter" and "Raid [aerial attacks]"), if players do not configure anything then the main weapons will be used. However, it is possible to set weapons intentionally used for these attack types and then have the game automatically switch them for you, like in the demo.
------------------------------------------------------------------------------------------------------------------------------------------------------------------
That's about it! By the way, about not doing preset weapon decks––we decided that such a system would be unfavorable because the settings for each individual deck and its contents, plus the UI for weapon switching, became too complicated, no matter what we tried to do.
Bye for now.
If this translation still confuses you, please read Siliconera's summary.
http://www.siliconera.com/2015/09/30/final-fantasy-xv-changes-up-its-weapon-switching-system/
Luminous Engine PDF file link with more details and video animation October 2015:
Full translated interview with environment dev Hiromitsu Sasaki (February 23, 2016):
Original link:
http://eu.square-enix.com/en/blog/final-fantasy-xv-interview-environment-artist-hiromitsu-sasaki-0
Final Fantasy XV interview with environment artist Hiromitsu Sasaki
Posted by Dan Seto on 23/02/2016
4 14 684
One of the community managers in the Japanese office is interviewing some FFXV developers for the official Japanese FFXV Blog. His name is Taji and the first interview is with Hiromitsu Sasaki.
You can find the original interview here --> part 1 and part 2 and below is the official translation of the whole interview. It's pretty long but I hope you enjoy it
==========
Well then, here is Taji's first interview!
Lv1 new guy Taji's FFXV development staff interviews!
Our first interview will be with Environment artist Mr. Hiromitsu Sasaki, who is in charge of creating the dungeons for FFXV!
*He is the guy from the rocky terrain location hunting video who everyone was talking about on Twitter!
Before we start the interview, I would like to explain a little about how the system used to build the maps in FFXV is organised.
The maps in FFXV are divided into 3 sections; the world map, locations and dungeons, and each of those sections has a different developer in charge of them.
The dungeon building part that Mr. Sasaki is in charge of involves creating the visuals and backdrops for inside the caves.
What he works on
Taji:
Mr. Sasaki, thank you for joining us today.
Sasaki:
Thank you.
Taji:
Ok, let's get straight into it, please tell us what you do.

Sasaki:
I am the lead ENV artist on the dungeon team.
Taji:
Env.. enviro…?
Sasaki:
Environment, from the English. Basically, the team that make the backdrops. We shorten it to ENV.
Taji:
ENV eh? Thanks. So your team of ENV artists create the graphics for the dungeons in FFXV right?
What exactly are you working on at the moment?
Sasaki:
We are fine tuning the lighting and textures in the dungeons right now. It links directly with improving the final visual quality.
We are really tweaking how things look, such as the balance between light and shadows, making sharp rocks look like they would hurt if you touched them or surfaces to look slippery etc.
*You can see one of the dungeons on Mr. Sasaki's screen.
Taji:
Modern games all have such beautiful graphics, so this is an important stage in ensuring that high final quality!
What to watch out for in Mr. Sasaki's work
Taji:
So is there anything in particular that you want the fans to look out for in FFXV?! I would be grateful if you could answer that from a developer perspective based on your actual work on the game!
Sasaki:
When making the dungeons they have to be dark and scary, but I also never forget to make them beautiful as well and aim to make something that sticks in the player's memory. Aside from that… I am also in charge of something a bit gruesome called "regulation"…
Taji:
So what is this reg.. regu.. regul… this gruesome thing then?
Sasaki:
It's called "regulation", again from the English (Lol).
Essentially it is making the rules. There are lots of rules that govern the game world, and I fine tune those rules. For example, the height of terrain you can walk over or the angles of slopes etc. And FFXV attacks those rules fairly viciously!!
Taji:
Fairly viciously eh?!
Sasaki:
Indeed (Lol)
For example the slope angles. When you are placing monsters in the world, most of the time they will be fighting on flat terrain, but for FFXV you can also have battles taking place on some pretty severe terrain, such as steep slopes. In that sense FFXV really pushes the rules of the environment so there are heated debates on how those rules should handle things, right down to deciding on a single angle etc.
Taji:
Heated debates?
Sasaki:
Yeah, heated debates (Lol).
The more you push the rules, the more things you cannot control about character and enemy behavior. When you look closely you sometimes see that the visuals look off or that attacks aren't landing because of the terrain rules, and thus battle cannot take place.
We really want to prioritise the gameplay feeling good over small graphical failures, but if you do that then the visuals start to look bad, so there are debates about what the best way to handle things is (Lol).
Taji:
All the development staff have somewhat of an attitude that they won't compromise on quality don't they? I guess you get these kinds of conflicts when nobody wants to budge on anything.
Sasaki:
That's right. But that is what makes things interesting. When faced with a conflict like that the team naturally comes together to try out various things and it ultimately results in the quality improving.
Taji:
That is a fascinating topic. It sounds like there are passionate debates every day about how to bring the most fun and excitement to the game!
I personally like the battles in FF very much and really get excited thinking about playing those kinds of battles across naturalistic terrain. I think players will enjoy the battles in FFXV in a new and exciting way, different from the battles seen previously in the FF series. So FFXV is one to watch there!
So Mr. Sasaki, when people think of you they remember the rocky terrain location hunting video on Twitter. What is the exact relationship between location hunting and making the game? The term "location hunting" brings to mind TV or filmmaking rather than games…
Location hunting
Sasaki:
Our location hunting is slightly different to when a TV series would look for places to film. There are broadly two types we do.
These are when the objective is to experience something and when we go to collect design reference resources, and the rocky one was of the latter type. Talking about taking pictures for design resources, recently we often use a method called photo scanning that lets you create a 3D model from a photograph. It requires photo data from all angles and thus consumes an incredible amount of memory; probably over 10 times what it would to produce the same in-game object on a PS3. Incidentally, the reasons why we go out of our way to do location hunting and collect data is because it is actually quicker to use real rocks to get the data and it obviously improves the final quality as well.
Taji:
It looks like it takes a lot of time to go out on location hunts but is that not the case then?
Sasaki:
If you gather information before heading out and are clear on what data you want then it does not take all that much time. For example, something that would take 3 days' worth of work at my desk can be done in half a day with a location hunt and would not incur the same costs.
Taji:
So location hunting improves the quality and does not cost time or money? I guess there is no reason not to do it eh?!
So for the rock we saw on Twitter, did you have an image in your head when you started?
Sasaki:
That's right. The one I found was quite close to the rock I had drawn in my head. We endeavor to keep the costs down while creating high quality game worlds that feel even more real through collecting good resources like that rock.
Taji:
So even one rock takes a lot of effort then!
Sasaki:
That's true. We really take care with the history and story behind each area, with all the rocks and wildflowers etc. For FFXV we started creating the world terrain from the continental level, with the mountain ranges and the flow of the rivers etc. and have polished it to a level where each region and location actually has its own unique climate and topography.
Taji:
So creating on the continental level… does that mean that the world of FFXV has seen things like tectonic plate shifting over many centuries like on Earth?
Sasaki:
That's exactly right. So we don't just plonk down the assets that we photographed on our location hunts willy-nilly, and actually consider the right geographical situations to use them in, looking at how this continent would have been in a certain way in the distant past and how that would make this particular piece of ground form in a certain way or things like that.
Taji:
Things in the natural world really do change a lot depending on the environment you find them in don't they?
All the rock information that our followers posted on Twitter also shows the unique characteristics of those locations.
Sasaki:
The team looked at all the rock references that people sent in and got very enthusiastic about it. There were some places we learned about for the first time and it was all really useful reference info for us. As we are now in the final stages of development we don't go on many location hunts at the moment, but if we can find good leads on reference data, not just for rocks but for anything, then we will always go out and photograph it.
Thanks to everyone for sharing your rock information with us!
Taji:
As community manager I would like to go on a location hunt too and let all the fans out there know about all the info we gather first hand. So to finish off I would like to hear a comment from one of the people who read this blog.
Comment

Sasaki:
Thank you for all your support everyone. We don't get many opportunities to show people what goes on behind the scenes in game development, so I am happy that people can see it and that they show an interest in what we do.
Taji:
Thank you very much. Do you have anything else you would like to say?
Sasaki:
Well… Let me tell everyone about the similarities between weight training and game creation?
Taji:
!? Now you mention it a lot of the FFXV development staff are pretty beefy aren't they?...
Sasaki:
I spoke to Mr. Tabata about this too and there really is a parallel there! It might get a bit longwinded but are you ok with me explaining it here?
Taji:
Mr. Tabata thinks so too? I have to hear this! But unfortunately we have run out of time for today. So sorry, but please could you tell us next time when we get another opportunity to speak. (LoL) If all the fans want to hear about it then we will put something solid on the plan! Thank you for your time today!
So that was environment artist Sasaki Hiromitsu!
Platinum Demo trailer (March 2016):
Game Infomer interview with Tabata over feedback and the current series status (April 2016):
[video=youtube;XZBJ1lWDnVc]https://www.youtube.com/watch?v=XZBJ1lWDnVc[/video]
Game Infomer interview with Yoko Shimomura (April 2016):
[video=youtube;adPcZuU9cRs]https://www.youtube.com/watch?v=adPcZuU9cRs[/video]
Game Infomer interview with Art Director Yusuke Naora (April 2016):
[video=youtube;lG5oxtY6Lko]https://www.youtube.com/watch?v=lG5oxtY6Lko[/video]
Game Informer interview with lead animator Taisuke Ooe on animation (April 2016):
[video=youtube;nh019uaXZco]https://www.youtube.com/watch?v=nh019uaXZco[/video]
Dan Seto shows off some of the artwork for FFXV (April 2016):
[video=youtube;D9QMtXw5KQ0]https://www.youtube.com/watch?v=D9QMtXw5KQ0[/video]
Famitsu Interview with Tabata and Sakaguchi (god father of FF) May 2016:
original link:
http://www.famitsu.com/matome/ff15/2016_05_13_eng.html
Sakaguchi and Hajime Tabata Discuss Their Passion for the Series and Behind-the-Scenes Episodes from the Final Fantasy XV Reveal Event
Hironobu Sakaguchi and Hajime Tabata Discuss Their Passion for the Series and Behind-the-Scenes Episodes from the Final Fantasy XV Reveal Event
公開日時:2016-05-13 21:00:00
Hironobu Sakaguchi and Hajime Tabata Discuss Their Passion for the Series and Behind-the-Scenes Episodes from the Final Fantasy XV Reveal Event
The FFXV reveal event, "Uncovered: Final Fantasy XV", was held in Los Angeles on March 30, 2016 (local time).
Opening the event was Hironobu Sakaguchi, creator and father of the Final Fantasy series.
How does Sakaguchi, a legendary figure who has worked on numerous Final Fantasy titles, view the series' newest installment, FFXV - a title presented as a challenger in the world market?
(Interviewer: Katsuhiko Hayashi, Famitsu Editor in Chief)
Translation: Jake Ayres (Impetus)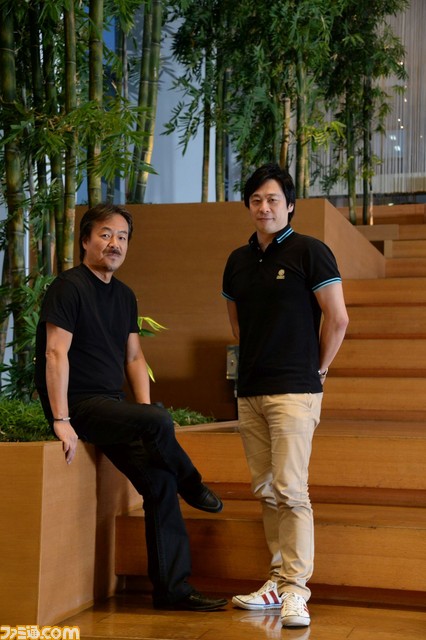 tobira
In the wake of the big reveal†
--"Sakaguchi-san, you took part in an official Final Fantasy event for the first time in a long while."
Sakaguchi:
That's true. The last event I participated in was the reveal for FFXII. I mentioned my love for Matsuno (Yasumi Matsuno, creator of numerous popular games including the Ogre Battle series. Supervised the production of FFXII) at the event, and there were all sorts of rumors flying around afterwards. (laughs)
--"I remember that now. (laughs) Was it Tabata-san's suggestion that Sakaguchi-san appear at the beginning of the event? "
Tabata:
That's right.
Sakaguchi:
When Tabata-san came to my office and asked me to open the event, my reaction was "Hmmm? Are you sure?" (laughs)
--"What led up to this request?"
Sakaguchi:
I'd enjoyed several meals with Tabata-san, and we'd had a passionate discussion at one point, not related to this event. Apparently I can be pretty inspiring with a glass or two, though details are sketchy. (laughs)
Tabata:
Wait. You don't remember? (laughs)
Sakaguchi:
I do have a vague memory. Something along the lines of "You need to challenge yourselves! I'm doing so myself!" A while later, he asked me to share that discussion at the event's opening, so I agreed.
--"Tabata-san, what made you seek Sakaguchi-san's help for the event's opening?"
Tabata:
I could give you any number of reasons, but the biggest reason was my gut instinct. I wanted Sakaguchi-san, the creator of Final Fantasy, to stand on the FFXV presentation stage and invite our users to enjoy the event together. When we were eating out together, I told Sakaguchi-san that I wanted to bring Final Fantasy back to its roots as a challenger. His response to my words was the first thing I wanted everyone to hear at the event, so I asked him to tell them what he'd told me. I wanted to open the event with a heartfelt message from us to the fans.
--"Sakaguchi-san, what ran through your mind when you were offered this role?"
Sakaguchi:
Thinking about it objectively, I found this an interesting twist. Wait, I'm the first one in…? (laughs)
Tabata:
You told me the crowd would roar! (laughs) You were immediately seeing things from a producer perspective.
Sakaguchi:
I requested subtitles, as waiting for interpretation each time would disrupt the flow.
Tabata:
The idea was to display subtitles behind him so the audience would get excited at the same pace, also allowing him to talk at his own pace. We knew the event was going to be streamed online too, so we discussed and agreed that this would allow both the online viewers and attending audience to see the same thing.
Sakaguchi: That's right. I found myself thinking about how to showcase myself. (laughs)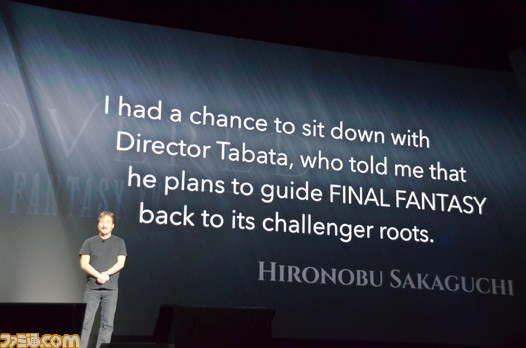 --"So the message conveyed at the event was written by Sakaguchi-san himself."
Sakaguchi:
It was. The message was a condensed version of my dinner discussions with Tabata-san; we wanted to get across that XV would be returning to Final Fantasy's roots as a challenger in the market. Not to say that the previous titles weren't challengers in their own right.
--"Each installment did indeed have its set of unique ambitions."
Sakaguchi:
What we meant is that the challenge this time around is as big as ever.
--"After opening the event you got to sit down and watch; what did you think of the presentations?"
Sakaguchi:
When a Japanese product or company is presented to a Western audience, the presentation tends to be one of two extremes: very Japanese, or completely Western. This event, though, struck me as featuring Japanese elements while also being relatable for a global audience. A combination that has been hard to pull off. The atmosphere was fantastic.
Tabata:
That happens to be something at the very heart of the Final Fantasy series. It's an IP with strong Japanese elements, while also being popular worldwide. The event was designed to reflect that.
--"Tabata-san, what was your impression of the event, in retrospect?"
Tabata:
I felt a strong sense of accomplishment that day, while also knowing that there was no going back now that we'd finally set the release date.
Sakaguchi:
Tying our own nooses in front of everyone with the actual date! (laughs)
Tabata:
Precisely. (laughs) That being said, the announcement gave our team a sense of resolve and responsibility; we're feeling more driven as a result.
Sakaguchi: So it's been a good experience for the team.
Tabata:
We're really grateful for the event. The cheers and support of the audience really pumped us up. Though Sakaguchi-san did have some qualms after the event. (laughs)
Sakaguchi:
I did?
Tabata:
"Air Button*? Are you serious!?" (laughs)
*Air Button: a physical button held by Tabata, and not a button carried by the MC, was meant to be pressed to announce the release date. However, Tabata had to improvise after appearing onstage without being handed a working button. He took out an imaginary button from his pocket and made a show of pressing it, announcing "It's Air Button!"
Sakaguchi:
That's not what I meant! I was impressed that you improvised in English!
--"An impressive feat indeed."
Sakaguchi:
Right! That was well played. By the way, I'm not complaining, but because my appearance on stage was meant to be a surprise, I was driven up to the rear entrance of the venue and hastily ushered in before anyone notices me. Not all fun and games behind the scenes. I realized how much effort goes into springing a surprise! (laughs) I had another ordeal onstage too. Under orders from my wife, I was doing my utmost to suck my belly in.
Tabata:
Really? (laughs)
Sakaguchi:
At the rehearsal she told me it was fine when I was talking, but stuck out when I walked. I kept worrying about it. (laughs)
The team's colors make the game†
--"Both released on the same date as Uncovered: FFXV, how have users responded to Platinum Demo: FFXV and Brotherhood: FFXV?"
Tabata:
Thankfully, reactions to both were better than expected. One of our goals for Platinum Demo: FFXV was to have something playable immediately after the announcement, so the phenomenal response from our fans has been a massive encouragement. I'm really glad we did that. The feedback we've received has given us an objective sense of what we'll need to fix and improve for the game itself. As for Brotherhood: FFXV, the venue audience's reaction was better than we'd been hoping for. We're getting many more views than we'd estimated, and it's turned into a major new point of contact for newcomers to FFXV. We've received a lot of feedback for it too, which we'll be keeping in mind as we work on the series.
--"FFXV does seem to evoke a lot of discussion among the users."
Tabata:
Final Fantasy is indeed something else. To tell you the truth, I wasn't that passionate about the series when I started working at Square Enix. I'd played the first game a lot, stopped mid-way through FFII.
Sakaguchi:
That's because FFII was made by Kawazu (Akitoshi Kawazu. After working together with Sakaguchi on FF and FFII, he went on to create the SaGa series). (laughs)
Tabata:
I really don't know how to respond to that. (laughs)
--"I don't think that was the implication there." (laughs)
Tabata:
I have no intention of bad-mouthing Kawazu-san. I felt real promise in the fighting system where the characters grow stronger by being attacked. Yet the system made it a valid tactic to attack your own party to boost yourselves. I messed things up a couple of times and it started feeling like a chore. (laughs) Of course, the release of any Final Fantasy title would draw my attention, and this was still true after I became a game developer. I was conscious that I wouldn't be able to make games like that at the company I was with then, so I was also trying to avoid falling in love with the series.
--"So you were almost envious of the series?"
Tabata:
You might say that. Only after joining Square Enix did I realize how many people were involved in making Final Fantasy happen, how hard they'd work, and how passionate and sincere the fanbase was... This all became very tangible. The many people here are doing their best to respond to the expectations, criticism included, in creating Final Fantasy, a series which is one of the pillars of the whole company. It was through witnessing what goes into its production that I've come to love the series as I do now. Our recent event made me feel I'll finally be able to actually contribute to Final Fantasy.
--"So you grew an emotional attachment to the series over time."
Tabata:
Ten years ago I would never even have contemplated working on a numbered Final Fantasy title. Now I'm hoping to do my part to truly add to the series.
--"Sakaguchi-san, in the past you commented that in your eyes, all a game needed to be a 'Final Fantasy' title was its trademark blue text box. Tabata-san, how did you come to grips with what a Final Fantasy game is about?"
Tabata:
Working together with Kitase-san (Yoshinori Kitase. Joining the team for FFV, he both directed and produced several games in the series) and Nomura-san (Tetsuya Nomura. Selected to design the main characters for FFVII, he has been involved with multiple series titles since) probably influenced me the most. The passion with which the two worked gave me a good sense of what Sakaguchi-san expected from a Final Fantasy title, and what challenges he tackled in its name - including what it takes to be worthy of the Final Fantasy banner.
Sakaguchi:
Great to know Kitase had been doing his part too. (laughs) As far as I'm concerned, he's the one I handed the torch to. It's heartwarming to know that Kitase's values are living on through you.
Tabata:
He never directly told me how things should be done, but I learnt a lot by working with him.
Sakaguchi:
His mindset, if you will. Where NOT to compromise.
Tabata:
Another essential element of Final Fantasy is the team itself. These aren't games that could be created by
individuals. I feel it's the sum of what the team's members bring to the table that counts.
Sakaguchi:
You're right. From the very beginning Final Fantasy was the fruit of a team effort. To compete with games like Dragon Quest or Mario Bros., both of which clearly show the presence of highly talented individuals, I realized we'd need to aggregate the energies of multiple people. Maybe this team approach has grown into a tradition of sorts.
Tabata:
I strongly feel that way. It puts you in the mindset of 'with such a great team, we can aim this high'!
Sakaguchi:
It was because we were working as a team that we were able to incorporate CG into the games. If Final Fantasy had been more of a solo effort, the series might have looked quite different now.
--"Sakaguchi-san, do you have any advice about making a numbered Final Fantasy title?"
Sakaguchi:
This isn't just about Tabata-san, but also Yoshida-san (Naoki Yoshida. After working on titles in the Dragon Quest: Monster Battle Road series, he was appointed Producer and Director of FFXIV), who asked me when we met whether his work was worthy of the Final Fantasy name; My answer was to proudly call it so. Both of them were clearly ready and in the challenger's mindset.
Tabata:
You told me to do it my way - words that left a strong impression on me.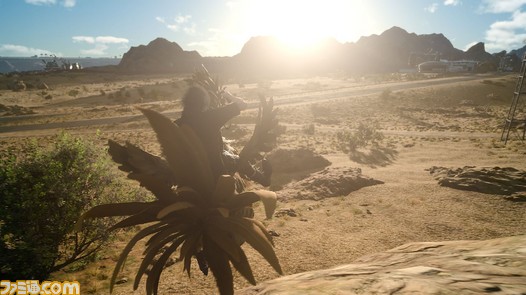 First encounter between Sakaguchi and Tabata†
--"You were both at the company at different times, so there wasn't a point of contact between you back then. How did you two meet?"
Tabata:
We didn't have any connection, besides almost bumping into each other at PAX Prime 2014. I'd heard that Sakaguchi-san was coming and was hoping to introduce myself, but my timing was off.
Sakaguchi:
I only heard this after the event. I was there promoting Terra Battle, and press commitments prevented us from meeting.
Tabata:
I was musing on the missed opportunity when I heard about Sakaguchi-san congratulating us on our 10th anniversary (a joke about the lengthy development period of FFXV)! (laughs)
Sakaguchi: Sorry about that. I was tired from the interview and went a bit far.
Tabata:
The comment didn't bother me, but Sakaguchi-san contacted me at a later date saying he wanted to apologize and chat about FFXV. Kitase-san and Sakaguchi-san met as part of Famitsu's Mobius Final Fantasy coverage, so the three of us went for a meal afterwards.
Sakaguchi:
That's right. Kitase was there too when we first met.
Tabata:
Yes. Sakaguchi-san knew that I was working on FFXV, and his first comment was "Sorry about that '10-year' remark. I finally get to apologize."
Sakaguchi:
I'd been feeling remorse over that comment.
Tabata:
Then I introduced myself as working on FFXV, and we talked about many things.
--"What did you discuss?"
Tabata:
Our first meeting was pretty casual. My impression of Sakaguchi-san was far more laid back than I'd heard. (laughs)
Sakaguchi:
Curious about those rumors. (laughs) Kitase being there might have helped.
Tabata:
Over the meal Kitase-san and Sakaguchi-san told me about how they used to work together. Sakaguchi-san also told me to ask him anything, so I asked him how much he was earning! (laughs)
Sakaguchi:
That's one I didn't answer! (laughs)
Tabata:
The only one you didn't, actually. (laughs) We didn't discuss anything too deep that first time, but our discussions grew deeper with time.
--"Sakaguchi-san, what did you think of Tabata-san's take on Final Fantasy?"
Sakaguchi:
Up until FFXIII, the games were made by members originally from Square, including Kitase, so FFXIV and onwards constitute a new generation of Final Fantasy. Although calling them a 'new generation' may be a stretch, I do feel that the series is evolving into something new. For FFXV, I played the demo and was shown raw footage of the game, and was moved by their dedication to the franchise.
Tabata:
You even told me so back when we met.
Sakaguchi:
Final Fantasy is my baby in a way, so seeing you working hard on it really makes me happy.
--"The team's passion for the series must have helped deepen your discussions."
Sakaguchi:
Indeed. I also realized that things probably aren't easy for Tabata-san. It was the same for Chrono Trigger; taking over from someone else and rebuilding a project is hard work. So I was commending him on his effort; "It's actually pretty rough, isn't it?" (laughs)
--"Those words must have been encouraging to Tabata-san."
Tabata:
They were. I was really happy Sakaguchi-san felt I was part of the effort to look after his baby. But what I really appreciated was, when we met before the Uncovered: FFXV event and Sakaguchi-san asked me how I was tackling FFXV, his delight on hearing that I was hoping to return Final Fantasy to its challenger roots.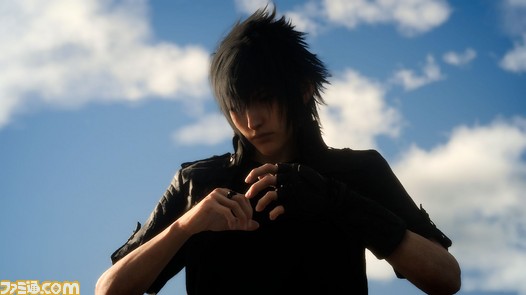 Masterclass comment from Sakaguchi†
--"What else did the two of you talk about?"
Tabata:
When we first ate together, Sakaguchi-san told me there was one thing he was concerned about. I was immediately anxious about his upcoming comment.
Sakaguchi:
In the first in-game demo, a Behemoth's hind leg was sticking through a fence. I told him "You can't have that." (laughs)
Tabata:
Suspension of disbelief.
Sakaguchi:
I love getting nitpicky over little details like that. I was all over that hind leg! (laughs)
--"I myself remember Sakaguchi-san mentioning that back then." (laughs)
Tabata:
It must have really bothered you. (laughs)
Sakaguchi:
The heinous case of the Behemoth leg!
--"I don't suppose many people would have noticed that detail. You saw it because you cared so strongly."
Sakaguchi:
I figured pointing out this minor detail would let the team know that I really care about their work. Just another reason to pay attention to detail. My own team's programmers prefer having the finer issues pointed out to them. That being said, the consensus seems to be that this was a drunk outburst from me. (laughs)
Tabata:
It was! (laughs) Sakaguchi-san doesn't pull punches when we're sharing a drink. There's usually a comment somewhere pretty much every time we meet. The second time we met, he told me that the character animations looked creepy! (laughs)
Sakaguchi:
Oh no, I didn't say it like that, did I? (laughs) I was playing the demo, and when you're fighting, your companions go out of their way to run up and heal you. My gut feeling was I don't want to be healed by another guy!
Tabata:
Sakaguchi-san's gripe was, they all look so tough but act so touchy-feely. (laughs)
Sakaguchi: Not a sober comment at all. (laughs)
Tabata:
He begged me to make the healer a woman, and was disappointed when I told him we simply couldn't. His take was that we then should at least make sure the characters felt more human, lest we alienate our younger users.
Sakaguchi:
Did I say that? I sound so self-important. (laughs)
Tabata:
At the time the AI was still pretty weak, so character behavior wasn't organic enough to convey their mutual relationships. So some players may have found their actions creepy.
--"Do you feel this kind of feedback helps the development process?"
Tabata:
Of course. When we met for the third time, I showed Sakaguchi-san Kingsglaive: FFXV. A non-sober comment that time was "Sure, the graphics look good, but look right here! The eyes are immaculate. Far too so."
Sakaguchi:
The father (Regis)'s eyes were clear and child-like. Not the eyes of an aged man. I remember telling Tabata-san that they weren't the eyes of someone with a lifetime's worth of experiences.
Tabata:
You mentioned here too that Regis' eyes took away from the immersion. That the visuals were high-quality enough to convey the illusion of watching a movie with human actors, but it was those eyes that betrayed the characters as CGI.
--"Did you decide to fix this?"
Tabata:
The director of Kingsglaive: FFXV, Nozue (Takeshi Nozue. Worked on numerous high-quality movies including FFVII: Advent Children), was also there, and he took this feedback back to the team right away. They discussed and decided to do a polishing pass.
Sakaguchi: Now the users are bound to complain about the *jaded* eyes in the final cut. (laughs)
--"That's some fairly detailed advice, I must say." (laughs)
Tabata:
Another of Sakaguchi-san's comments was that FFXV's action-packed battle system might be too much to handle for users more used to turn-based combat. He reminded us to think about our long-time series fans.
Sakaguchi:
Something you always need to keep in mind.
Tabata:
The actual feedback from the demo is clearly divided between those who want more depth to the action, and those who prefer having it simpler. When Sakaguchi-san asked me what we were planning to do, I told him we're considering adding an Easy Mode; a decision he approved of.
Sakaguchi: Tabata-san was worried because there's never been a numbered FF which allows the user to select difficulty. Personally, I think it should be fine if that's the solution they arrived at through thinking about the current generation of users.
Tabata:
Sakaguchi-san told me "there's no need to stick to tradition as long as you're doing it for the fans."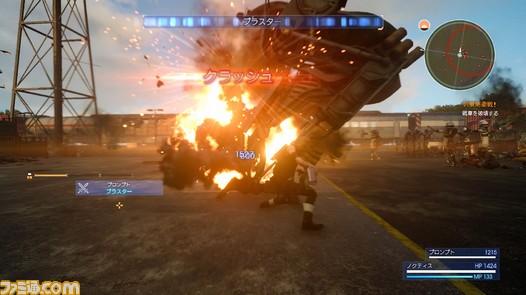 A message from Sakaguchi to Tabata†
--"Tabata-san, will you continue asking Sakaguchi-san for advice in the future?"
Tabata:
I definitely will whenever there's ever something I'd appreciate his opinion on. Every discussion is a masterclass in game creation. For example, I don't really know about the planning and efforts that went into creating FFVII, as I was in another company back then. It amazes me each time how different and how deep the process was back then compared to what we're trying to do. It really reminds me of all the effort so far to establish the Final Fantasy brand, and how passive we've been in just building on the IP's existing success. That's why it helps to discuss things with Sakaguchi-san every now and then. To keep our eyes open. The proverbial wake-up call. (laughs)
Sakaguchi:
Feeding me alcohol ensures my comments will at least be blunt. (laughs)
--"Aren't you worried that you're going to show him the final game and he'll tear it to shreds?" (laughs)
Tabata: That might well happen. (laughs) But Sakaguchi-san created and produced the Final Fantasy brand; there aren't many people around with that level of know-how. I count myself lucky to be able to go to him for advice. (laughs)
--"Sakaguchi-san, did you ever share your opinions on any of the previous numbered Final Fantasy titles?"
Sakaguchi:
I did. I spoke to Matsuno when he was working on FFXII, and both Kitase and Toriyama (Motomu Toriyama. Worked on FFVII and FFX, Director for the FFXIII series) visited me at my home in Hawaii as part of a holiday trip. We had an intense discussion in a yakiniku restaurant. I'm pretty blunt with my opinions, but Kitase doesn't flinch either, so he was probably shaking his head at the old guy asking for the impossible again. (laughs)
Tabata:
Kitase-san is a tough debater. I was witness to a heated exchange, where Sakaguchi-san was pointing out that Kitase-san knew in his heart what he should be doing, yet not doing it, while Kitase-san's argument was that some efforts are simply not realistic.
Sakaguchi: I recall saying something along the lines of "Nothing is impossible, you're just not trying, break the box and think outside it!" (laughs)
--"There might be a Sakaguchi vs. Tabata version of that debate before this is all over, then. (laughs) With the final stretch around the corner, any words of encouragement for Tabata-san?"
Sakaguchi:
With the release date set, you're starting the final struggle uphill and it's the toughest stretch of them all. When you look back, though, going gold is a very fulfilling moment. Both FFIII and FFIV were finished around the break of dawn, and I couldn't help striking victory poses on my way home alone. (laughs) I still remember those moments as the most enjoyable and fulfilling moments of my life. I'm sure this will be a shining milestone in Tabata-san's own life, so do what you do, and enjoy every moment of it. This is your Final Fantasy, and the start of a new era.
Tabata:
My team will take those words to heart, and hope to bask together in the morning sun as we go gold. We'll be sure to enjoy the process, and won't let up until we're done!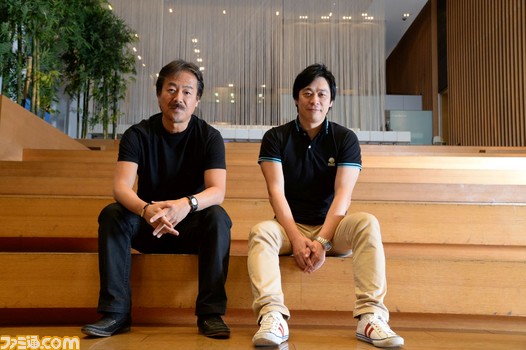 『ファイナルファンタジーXV』ファミ通.com 特設サイト> インタビュー> Hironobu Sakaguchi and Hajime Tabata Discuss Their Passion for the Series and Behind-the-Scenes Episodes from the Final Fantasy XV Reveal Event
この記事の個別URL
IGN video of high skilled combat for FFXV (May 17th, 2016):
[video=youtube;b2Lxf6yz7c4]https://www.youtube.com/watch?v=b2Lxf6yz7c4[/video]
World of Wonder Environment Footage (May 2016):
Game Reactor Interview with Tabata(July 14, 2016):
[video=youtube;RbpQJROPfCA]https://www.youtube.com/watch?v=RbpQJROPfCA[/video]
IGN FFXV Tech Video (July 19th, 2016):
[video=youtube;xXsQJaPADxs]https://www.youtube.com/watch?v=xXsQJaPADxs[/video]
New updates on combat links and Carbuncle Surprise (July 2016):
Square Enix has released new Final Fantasy XV information and screenshots, introducing the newly confirmed characters Ravus Nox Fleuret and Iris Amicitia, dialogue choices, the various shops you'll visit, Mobhunt side quests, co-op attacks, and ally instruction.
Get the details below.
■ Characters
Ravus Nox Fleuret
Lunafreya's older brother. He was once a man of the Tenebrae Kingdom, but now belongs to the Niflheim Empire.
Ravus also appears in the feature-length CG movie Kingsglaive: Final Fantasy XV.
Iris Amicitia
Gladiolus' younger sister. She escaped the Capital City after it was attacked by the Niflheim Empire and is now living in the city of Lestallum. She has known Noctis and Ignis since she was a child, and is a trusted friend. She is a strong girl at her core who can still be positive even in a tough situation.
Iris appears as a child in "Episode 3: Sword and Shield" of the five-episode anime special Brotherhood: Final Fantasy XV. In Final Fantasy XV, she appears as a grown woman.
■ Dialogue Choices
During the story and on your journey, there will be conversations that require you to select an answer from multiple responses. How the conversation plays out and the contents of the parameters you obtain will change based on your response.
■ The All-Important Shops
Various shops are scattered throughout the world of Final Fantasy XV. Stores have a distinct look depending on where they're located, and you should also take note of what they have in stock.
Shops
Shops sell the various items that are indispensable to your journey. From Potions that recover health to ingredients necessary for cooking and so on, just looking at all the different things you can buy is fun.
Information Brokers
Diners, where you'll recover from the hunger that builds up on your journey, are not only where you'll eat meals, but they're also a convenient place to obtain information and take on subjugation quests (Mobhunts).
Weapon Shops
These are shops that deal mainly in weapons. Since the weapons offered differ based on the location, you should of course drop by new shops you discover to check for new weapons.
Gas Stations
Your car is your main method of travel in Final Fantasy XV, and since the car becomes immobile when it runs out of gas, you should regularly stop at gas stations to fill up the tank.
■
Mobhunts
In addition to the main quests that affect the progression of the story, there are also a variety of side quests along the way. From information brokers, you can take on "subjugation quests' known as Mobhunts. Through these quests you can obtain rewards that you can't get anywhere else, as well as take on formidable foes. The quests you take on are up to you.
■
Battle / Link
Co-op skills called "Links" will automatically be triggered when certain conditions are met during battle. There is a great variety of variations per character.
Link Attack / Ignis
Noctis kicks up the spear he is holding in his hand, and at the same time Ignis jumps high up into the air and catches the spear before stabbing down at the enemy to deal great damage.
Back Attack Link / Gladio
If you successfully attack the enemy from behind, a Back Attack Link with Gladio can be triggered. Gladio grips Noctis' hand and vigorously lifts him up for Noctis to deal damage from the air.
■
Battle / Command
In battle, in addition to "Links" where you borrow the power of your allies, players can provide their allies instruction via "Commands." There are various types and effects for each character.
Star Shell / Prompto

By launching a bullet that glimmers like a star, it will attract the attention of the enemy and halt its movement.
Tempest / Gladio
Gladio swings his body while wielding a large sword and sweeps away the surrounding enemies. A followup attack from Noctis can be triggered with successful additional input.
Mark / Ignis
Ignis throws his daggers to create several targets indicating where Noctis should attack. Immediately following, Noctis quickly moves between each target to drives in his attacks.
Additionally, Square Enix of America has announced "Carbuncle Surprise," a new campaign where everyone who pre-orders Final Fantasy XV from the Square Enix Online Store will be automatically entered and eligible to win themed digital and physical prizes, including the grand prize of a new Audi Sedan
[video=youtube;h0m6q0TDbqo]https://www.youtube.com/watch?v=h0m6q0TDbqo[/video]
Kingsglaive Profile Information (July 24, 2016):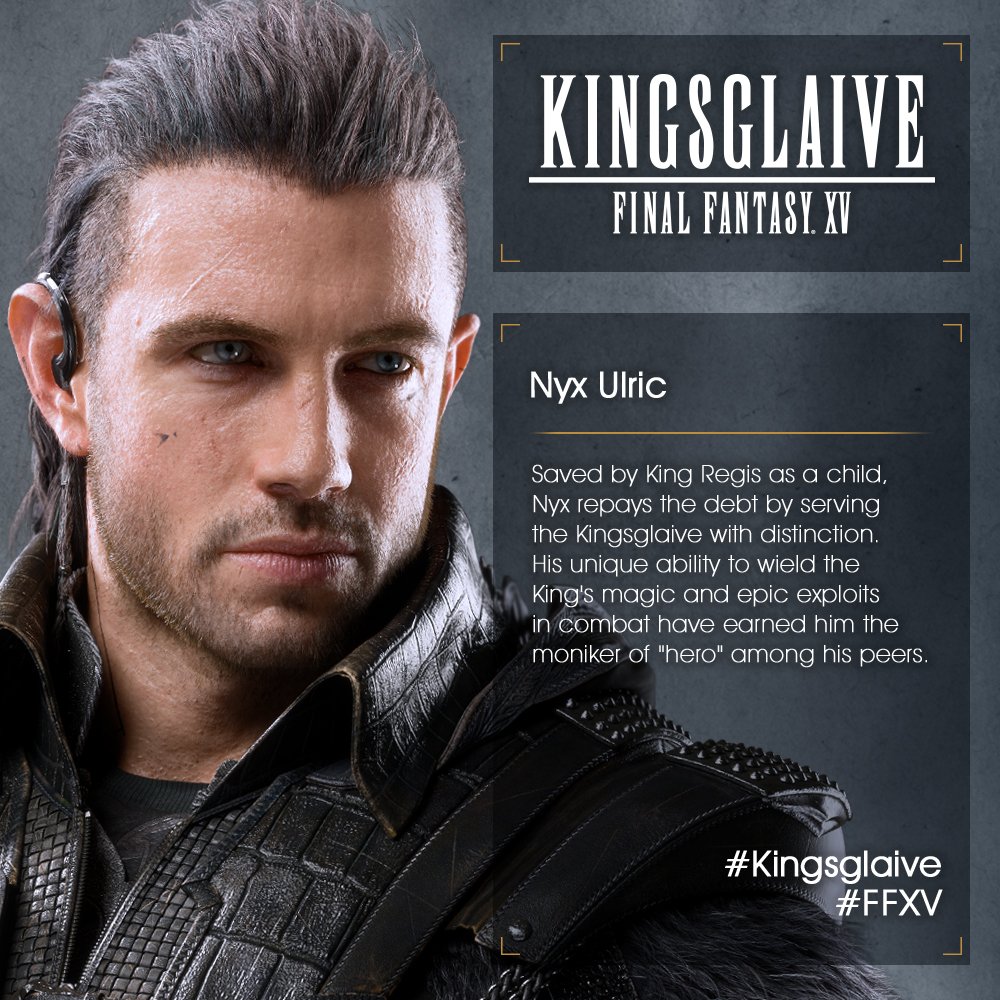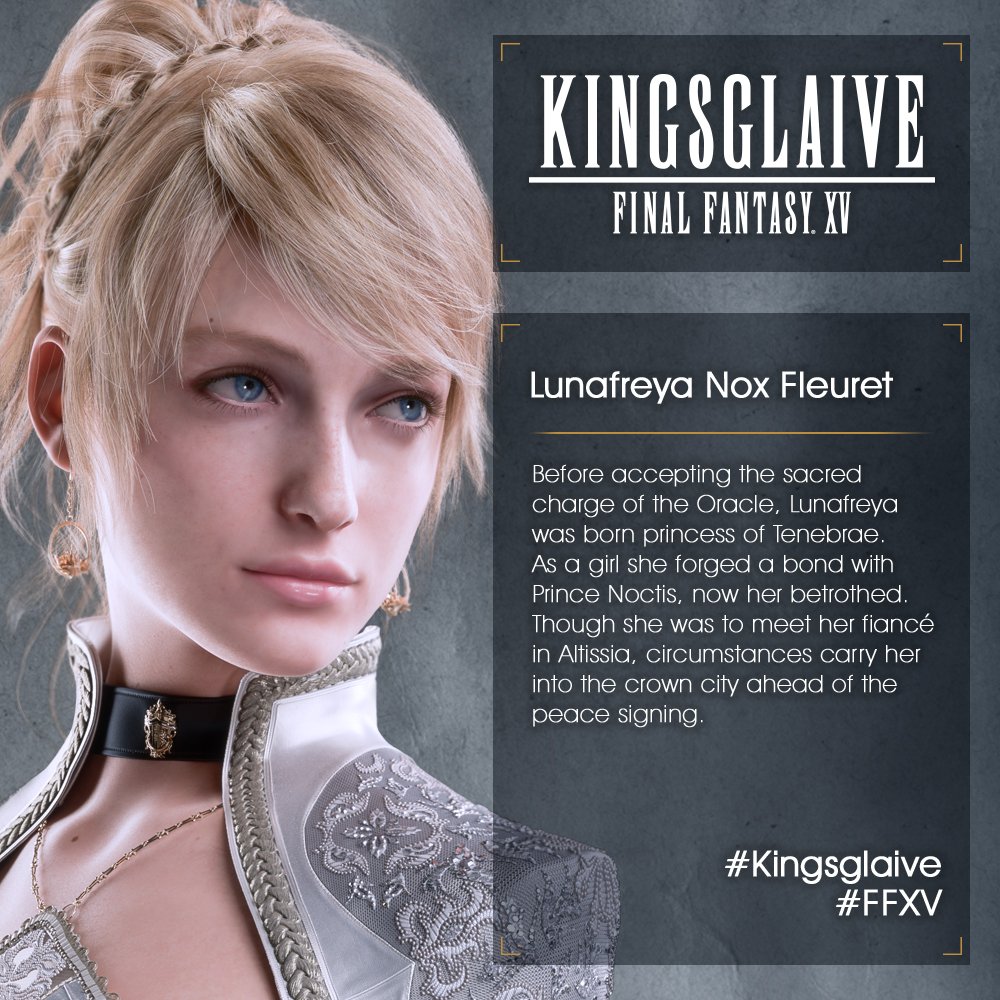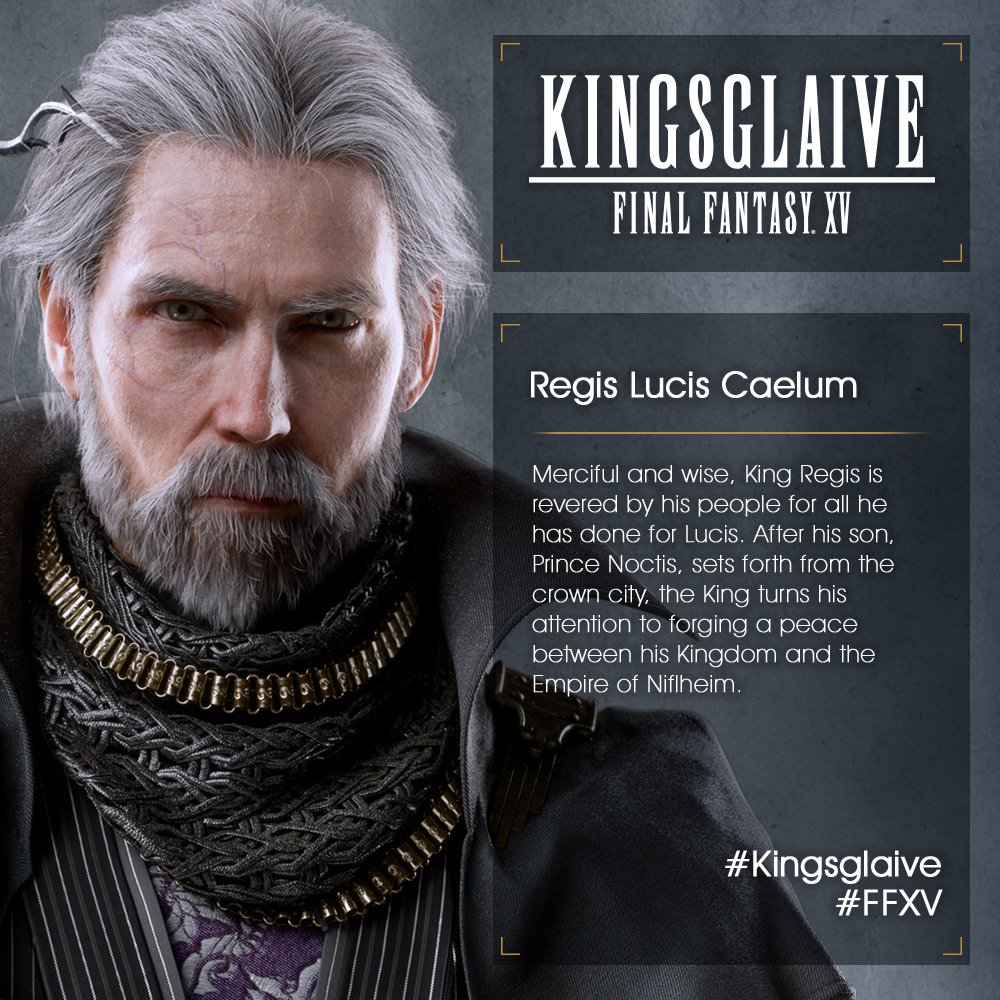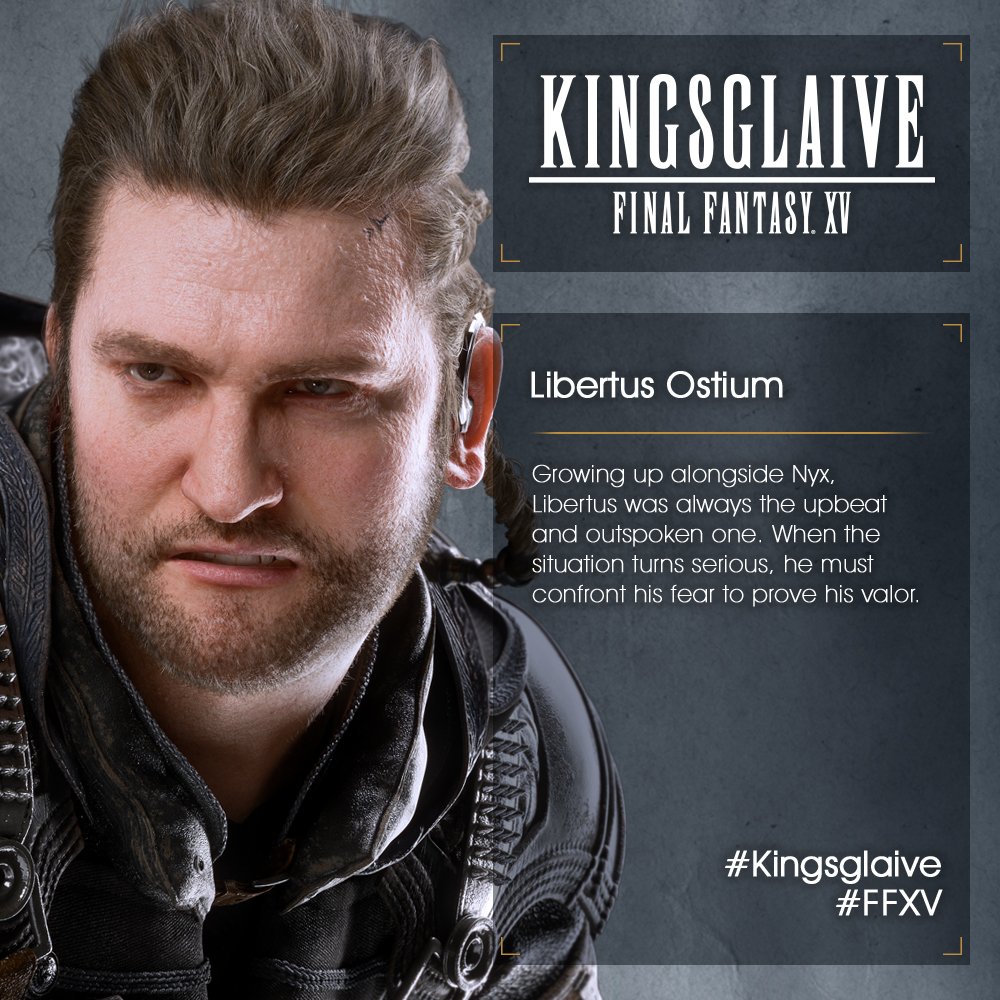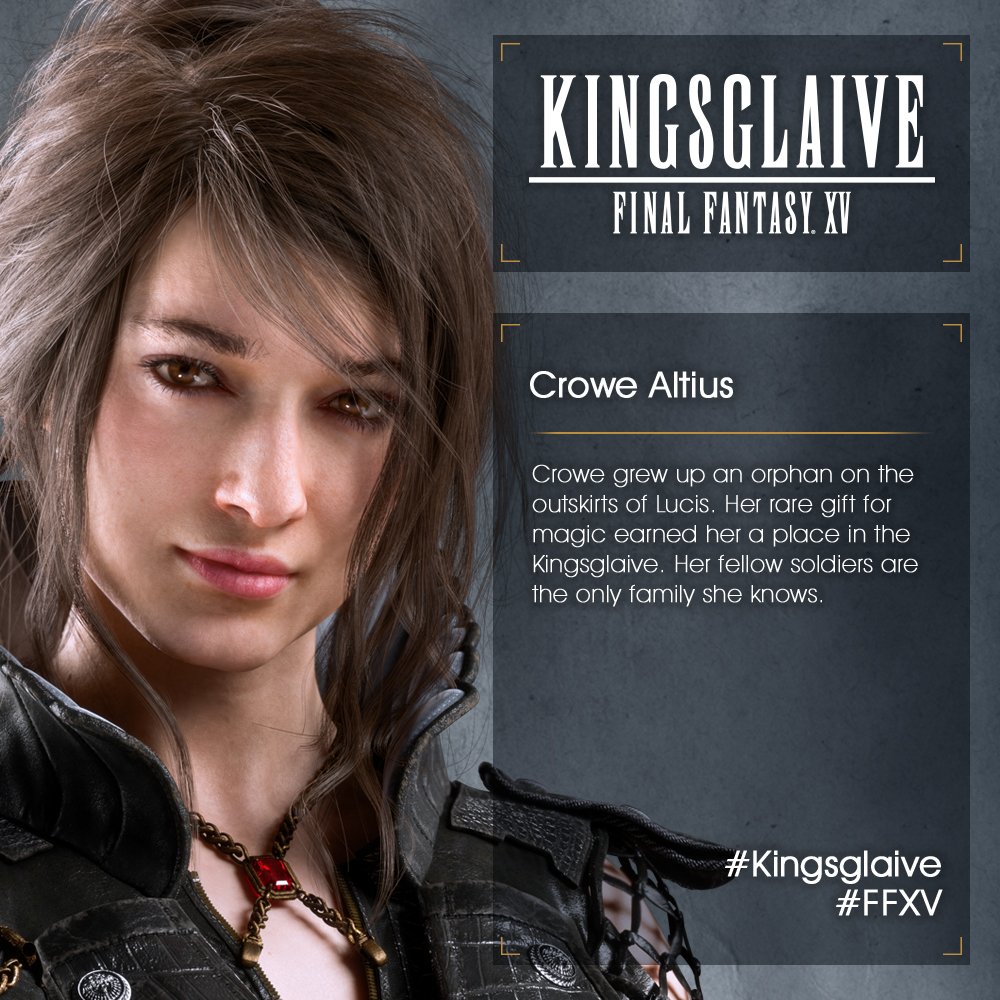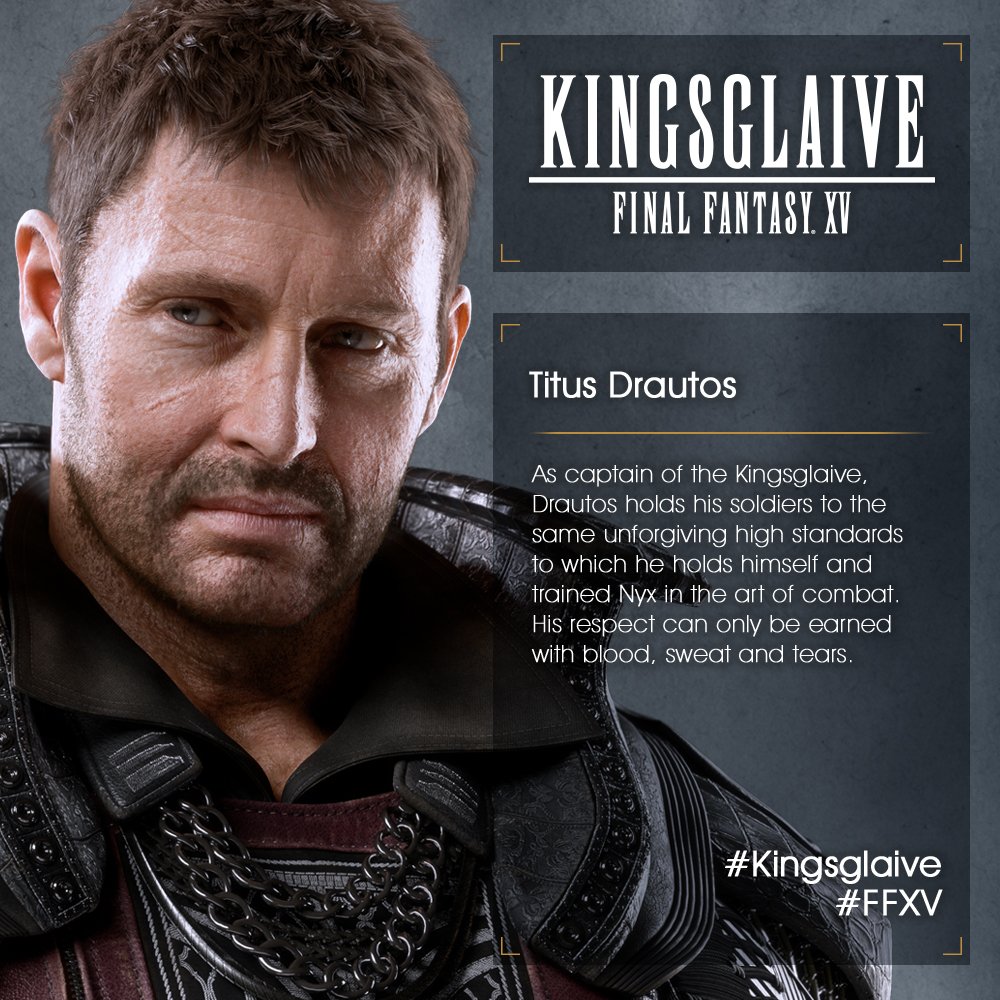 FFXV Tech Videos (July, 2016):
Vid starts at about 14:30 for the following 2 vids
[video=youtube;ZuF_-aAZmNk]https://www.youtube.com/watch?v=ZuF_-aAZmNk[/video]
[video=youtube;T6UWUy4nto0]https://www.youtube.com/watch?v=T6UWUy4nto0[/video]

Cut vids from the tech vids:
[video=youtube;LLf4J0IF4oI]https://www.youtube.com/watch?v=LLf4J0IF4oI[/video]
[video=youtube;pIsGdJuHWDI]https://www.youtube.com/watch?v=pIsGdJuHWDI[/video]
[video=youtube;g4r7-m16rj4]https://www.youtube.com/watch?v=g4r7-m16rj4[/video]
[video=youtube;-UpUpTPOaYg]https://www.youtube.com/watch?v=-UpUpTPOaYg[/video]
[video=youtube;R0llzjVAwLE]https://www.youtube.com/watch?v=R0llzjVAwLE[/video]
[video=youtube;J_xD8ZXy6pk]https://www.youtube.com/watch?v=J_xD8ZXy6pk[/video]
World of Wonder Trailer ft. Florence + The Machine:
[video=youtube;gLy8LD8P9uc]https://www.youtube.com/watch?v=gLy8LD8P9uc[/video]
50 minute gameplay of FFXV:
LOL!!!!! Prompto is humming the FF victory song in this Japanese version clip:
Link:
https://twitter.com/RedMakuzawa/status/769052335486169088
FFXV CEDEC 2016 tech footage + New Areas Shown Off in Images(August 2016):
[video=youtube;S8v8cIwE-w8]https://www.youtube.com/watch?v=S8v8cIwE-w8[/video]
PlayStation Access with Tabata on How Magic Works (August 30th, 2016):
[video=youtube;9xKrLjSY-sg]https://www.youtube.com/watch?time_continue=2&v=9xKrLjSY-sg[/video]
Also, today is Noctis' birthday!!!!!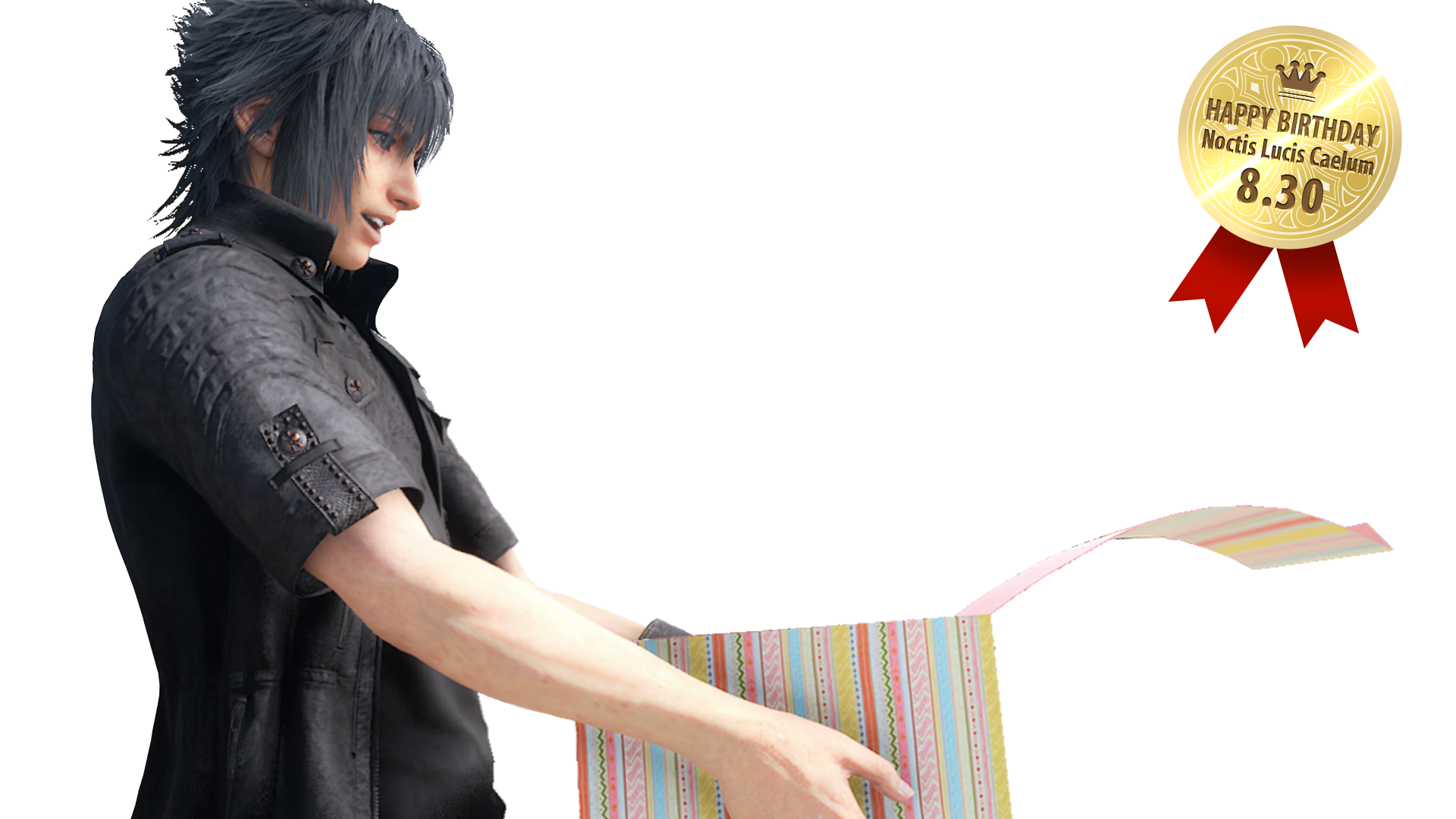 World of Wonder - Tour of Eos with Noctis (August 31, 2016):
[video=youtube;ypa4udEsS5Q]https://www.youtube.com/watch?v=ypa4udEsS5Q[/video]
Weekly Jump scans show images of Noctis using various weapons including a sniper rifle, and circular saw (September 2nd, 2016):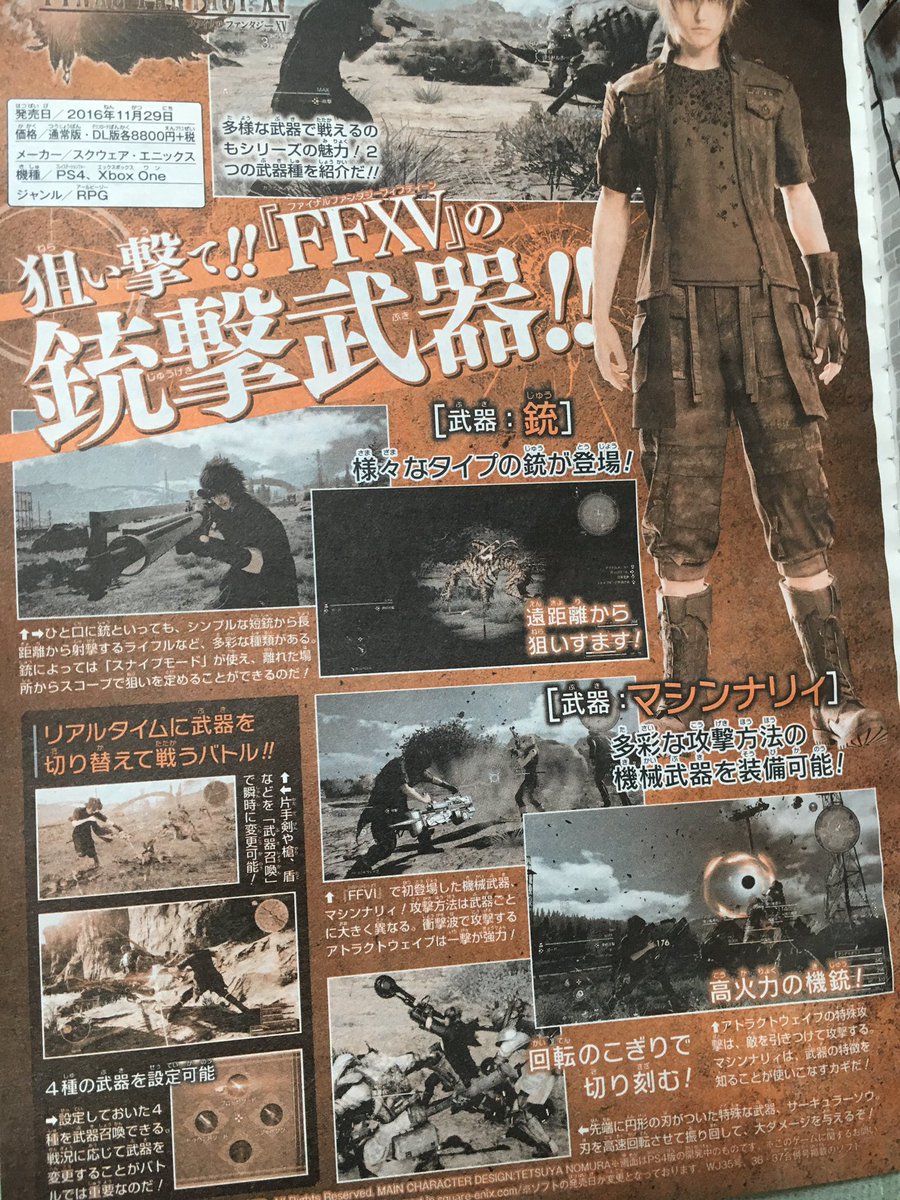 FFXV Live Pax West(September 3rd, 2016):
Full Presentation (NOTE: Video starts at 21:20)
[video=youtube;Z_OF7xFFaG0]https://www.youtube.com/watch?v=Z_OF7xFFaG0[/video]

Gameplay 1:
[video=youtube;f2ezJZ2t7ts]https://www.youtube.com/watch?v=f2ezJZ2t7ts[/video]

Gameplay 2:
[video=youtube;RtEuQxaWnEs]https://www.youtube.com/watch?v=RtEuQxaWnEs[/video]

Chocobo Racing:
[video=youtube;aclnFMbhGDY]https://www.youtube.com/watch?v=aclnFMbhGDY[/video]

Final Fantasy XV Skill Tree break down, weapons, and magic (September 3rd, 2016):
[video=youtube;R3gGMWEzMZg]https://www.youtube.com/watch?v=R3gGMWEzMZg[/video]
This is just for the laughs:
Shit just got real:
[video=youtube;4AptAyPIL88]https://www.youtube.com/watch?v=4AptAyPIL88[/video]
As some of you already know, the release date has been changed to November 29th. If you want to skip the Pre-show, the main event starts at about the 1:02:30 mark.
Last edited: