This review isn't containing a bash or words about the bugs and glitches the game has been through so far, since this was written a small amount of time after it released and they fix the bugs and problems eventually.
2 years ago, Battlefield 3 was released by Dice. It was a game with a lot of class; it put a new standard for both gameplay and graphics. There hasn't been a shooter that could touch the same level as Battlefield had since then. Since October, there's a new touch to that.
Battlefield 4 is the 4th game in the series that is being made by Dice. The newest game in the series uses, just as the previous ones, the Frostbite-engine. For Battlefield 4, the engine has been renewed to Frostbite 3 and is going to be used in more games that're coming up. Battlefield 4 is built up a lot on the basics of Battlefield 4, with quite some renewals here and there and some extra's. Just as they did with Battlefield 3, Dice has made 2 versions of Battlefield 4; the xbox360 and Playstation 3 version are a little less in quality, while the newer generation will enjoy the same quality as the PC. This review will be aimed at the PC-version, as I don't have a next-gen console myself nor do I play shooters on my Playstation 3.
Single Player

The single player is, actually as most of the people expect(ed), quite short. In about 4 hours, Dice takes you throughout a variety of missions and places. The single player doesn't feel any different than the single player of Battlefield 3, so the feeling you get while playing it is, shortly said, 'I've played this before'. Ofcourse, it's really impressive on saving a lot of people, finding your way through a sinking ship or taking out 4 tanks while you keep yours alive, blowing up a dam, etcetera etcetera. For the shooterfanatics, it won't be that impressive or renewing. The only thing that actually does compensate with the poor gameplay, is the way they show it to you.
Throughout the use of audio and graphics, they show you that, nonetheless the gameplay feels sloppy, it can still hold up the single player a bit. Sadly enough, as we all know, the game has been tortured by a lot of bugs. In the single player, there were soldiers who fell through the ground or the surroundings were just fully black instead of the actual colors that it had, enemies would shoot through cover which shouldn't be that easily shot through, you name it. This is just a small grab into the big sack of bugs that the single player holds.To shorten down this whole part about the single player into 1 sentence;
This is proof of what everybody already knew; the single player from Battlefield is just a thingy that hangs loose onto it, which doesn't matter that much. It's all about the multiplayer.
Multiplayer
This part will obviously be the biggest in this whole review.
We all know that Battlefield is basically just a multiplayer-game with a conjoined twin that hangs onto it with the name single player.
Just like Battlefield 3, you can battle on big maps which support up to 64 players. Those 64 players, are actual soldiers; in total you can have your server support up to 70 people, which includes the 64 players, 2 commanders (1 per team) and 4 spectators.
Again, they give you a couple of modes you can play on all the maps. The maps are sized towards whatever gamemode you choose; as an example, if you play Siege of Shanghai, the map would be small-sized for Team/Squad Deathmatch, while for Conquest the whole map is available. Though the size of the map may change depending on whatever mode you choose, one element keeps standing out on all modes, all sizes and all maps: Levolution.
It's known that the Frostbite 3-engine can put a lot of dynamic damage towards maps and make the game more alive, but Levolution makes the whole idea more exciting and bigger. Instead of just blowing up a wall or a small officebuilding, every map has a certain Levolution-moment implanted, wihch changes the playfield in a certain way. If you'd play Lancing Dam, you can shoot the (almost breaking) dam. If you'd be playing on Paracel Storm, there's a warship that can crash into one of the islands, which changes that island entirely. This brings quite a lot of variety to the multiplayer, which makes it fun to play. It can also change the way you play; an good example on this is Flood Zone. Flood Zone is a map where you can drive around with buggies and such on the ground. But slowly, during the game, the water starts to rise, which means that after a certain amount of time, you can't use the buggies anymore, you'd have to use boats and jetski's. It changes the whole dynamic in the map, which makes that you'd have to think about whether you'd still try to get across to certain places by ground/water or if you'd use the rooftops to survive.
An honest word is that not everything looks/feels that spectacular as it sounds, but the idea is pretty clear and it works pretty nicely, changing the environment in fun ways.
This doesn't actually mean that the game is just awesome because of the Levelution. No, there's more new implanted ideas, making the game fun and even more detailed. A good example would be Operation Locker; throughout the map there are gates which you can close, which makes noise when getting closed/being opened, so you can know when there's someone trying to get to a certain place. There are also metal detectors in between places, making it possible to hear people pass by when they run through them.
Though Levolution and smaller added things are a really nice addition to the new Battlefield, the most fun is still what's already known from the Frostbite 3-engine. Running around the field, trying to get to cover while a tank has spotted you and tries to kill you. While the tank tries to blow down the place you're hiding in, you try to get away, get closer and blow up the fucker with your C4. Those moments which show us how Battlefield 4 is at it's best.
Graphics And Sound
Before I'm going to continue the rest of the gameplay, I wanted to talk a bit about the graphics and the sound behind the game.
Not only gameplay are important to make a awesome game. If a game has awesome gameplay but shitty graphics and barely any decent audio, then it won't be much played by a lot of people.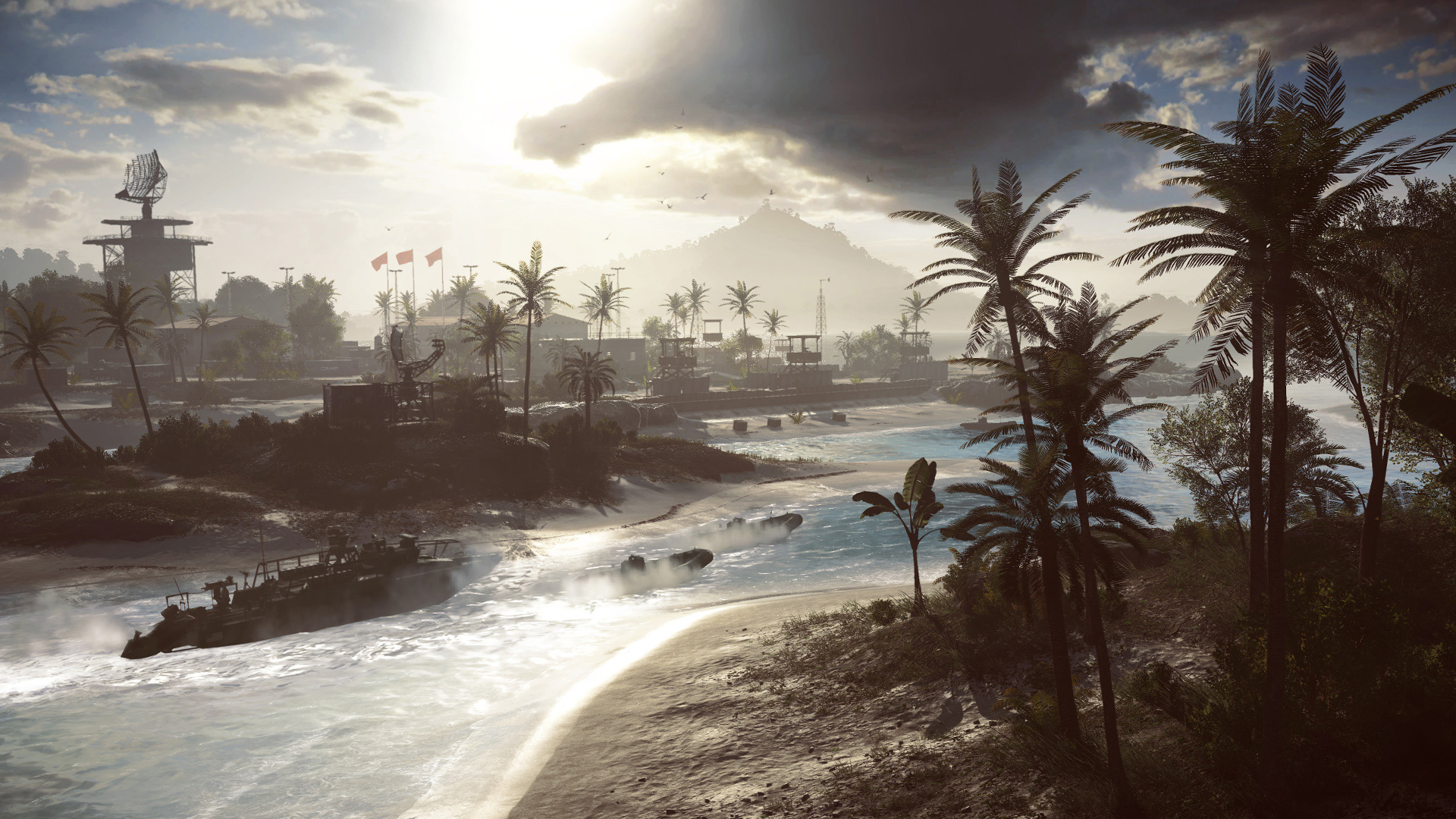 ​
Luckily, the Battlefield series are really amazing, graphicwise and audiowise. Though it has to be said before continuing the rest of my words about graphics and audio; there is no audiovisual revolution. Between Battlefield 3 and 4 isn't that much of a difference; they have made some changes, but if we look at the big picture, it's not that much of a change.
Especially the single player had some moments where the graphics were impressive. When playing the multiplayer, it feels like Battlefield 4 could've been better at some points.
The difference between Battlefield 3 and 4 may not be that big, but still the graphics are pretty impressive when you compare them to other games.
Audiowise, battlefield is amazing. If you have a proper set of speakers or headphones/headset, you are going to enjoy Battlefield 4 quite a lot concerning audio. The shots, the tanks, everything sounds amazingly well. People may often say it might sound the same as the previous Battlefield game, but they did revise the audio and it sounds amazing.
Commander
There's not a lot of shooters out there where teamwork is as important as in Battlefield. It was already like this in Battlefield 3, but in Battlefield 4 they're making it twice as clear by bringing back the Commander-feature from Battlefield 2.
There's isn't that much of a change of the Commander function compared to the Battlefield 2 version, but since Battlefield 3 didn't have it, it does feel like a new feature. The interface and the possibilities of a commander are still the same as they were in Battlefield 2 or Battlefield 2142. The newest feature of this is that it's not just working together with Battlefield 4 as a game, but also with more technological developments; you can now play as a commander from your tablet as well. While you can now play from your tablet, it doesn't really give you much of an advantage or anything. It's just a nice addition that you don't have to be actively playing at your PC or console yourself, so you can just be out with your tablet, start up the app, go into a server and play.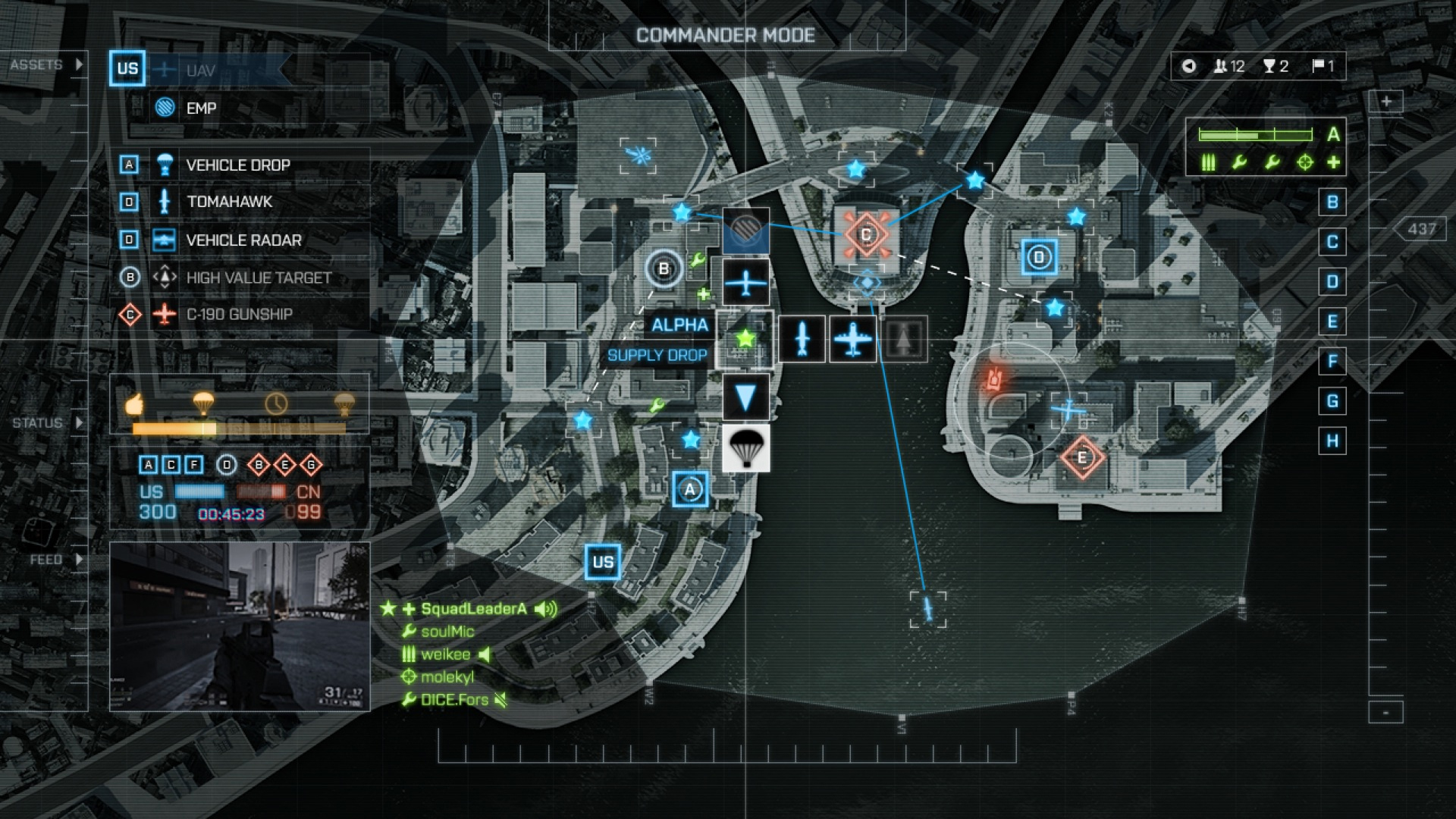 As said earlier, the commander is a nice way of enforcing the teamplay. It has a positive effect for the players on the ground as well, not only for the commander. If you follow commands, you can get points and eventually ribbons. As a squadleader you can also request a few things so the commander can help you out. As a commander you can also attack certain points, sending in a gunship or fire off rockets. Though commander isn't a game changer, it's still a nice extra to bring it back to Battlefield 4.
Conclusion

All the bugs aside;
Just as Battlefield 3, it's a really nice game, graphicwise it looks nice, but it's not revolutionary. There's definitely some new features and extra's added which give the game more details and add to the gameplay and dynamics of the maps. The single player is on the short hand and feels like it's a sloppy thing hanging onto the multiplayer, but it's a nice way on getting familiar with all the new things in the game.
​


+ More destruction throughout the maps
+ Impressive sound
+ Commander-mode came back and adds a nice touch
+ Can be intensive and impressive while playing


​
Single player is short, sloppy and doesn't add much -
Graphics aren't that revolutionary compared to BF3 -​
Reviewer's Rating: 8.5/10
​