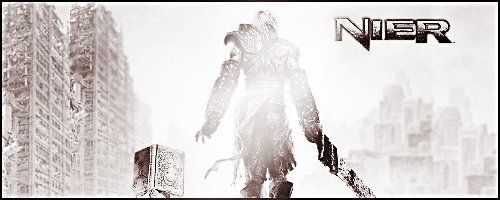 Platform(s):
PS3, Xbox360
Publisher:
Square-Enix
Developer:
Cavia
ESRB:
M
​
"While ignorance is bliss, 'tis folly to be wise". Human ignorance can be blissful, living one's lives without seeking the truth and only living by ideals and illusions can be a tranquil and peaceful life. But as a result, the lives of others deteriorate from despair by one's own selfishness. An act of "Heroism" is nothing more then blind judgment - Ignoring the facts of the one you're causing harm to and just simply charging through without giving much thought. This is the very essence of human nature and Nier teaches you(Or makes you realize) that there is more to your actions then meets the eye. It gives you the sense of being in the path of justice only to later reveal the harsh reality.
His will to protect and make h

is daughter happy is admirable
​
This action JRPG was released back in, 2010 and developed by Cavia who is responsible for the grotesque story based games known as, Drakengard. Nier wasn't received very well by the meta with below average reviews. As a result it didn't sell as well as it should but that's also mostly due to how badly it was built(And the usual poor marketing played a role here) - The game looks outdated much like many JRPG's these days(Japanese developers really need to get their hands on better engines) - Along with the poor graphics it is also cursed with a broken battle system. Your answer to winning every encounter?: Use the spear and spam the stinger attack - You'll be immortal for a second and you can use it infinitely. Your magic hardly does much damage anyways so that's pretty much your only option(It's that easy). You can hack with a sword and whatnot but the experience is empty and repetitive in this regard.
How about bosses?: The boss battles play completely different then your average endeavors. The majority of them will involve dodging spheres of magic that are numerous and sometimes difficult to avoid, if hit, your character will be pushed away from the main threat so this requires a bit of timing. Each boss is unique so try to learn their patters, strenghts and weaknesses. Some of them are easy to kill off so the spear trick will work but not all of them are as convenient as that so magic will become a necessity.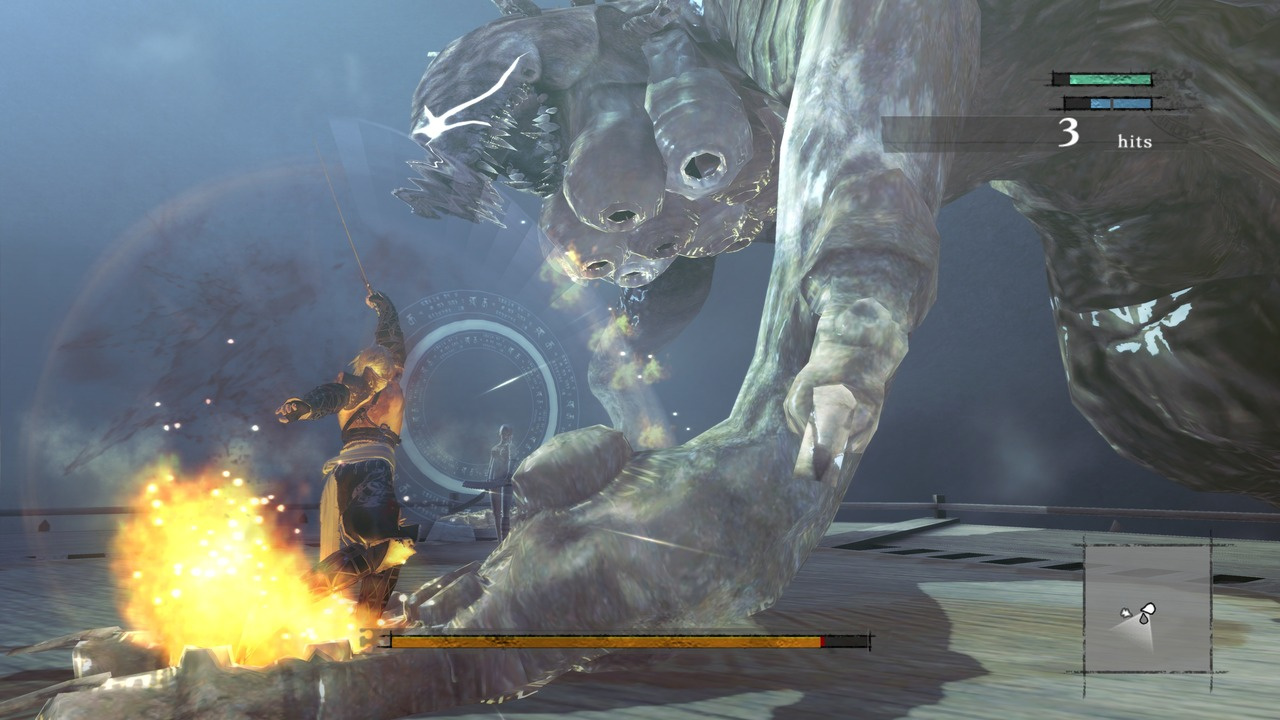 Protagonist fighting one of many bosses you'll face in Nier.
​
Now I'll continue with the rest of it's flaws: Acquiring better weapons is a very tedious and unrewarding process; the majority of quests are pointless, corny and unrewarding(The old lady at the lighthouse is meaningful though); Fishing is boring and unrewarding.. pretty much anything extra that you want to take part in is just a waste of time(Trust me, you'll thank me for this). I won't go into much detail in regards to the extras but just the word "Unrewarding" should be enough to skip them(But if you're curious, try them!).
Despite all that, Nier is one of my personal favorite JRPG's this generation for a reason. Yes, the negatives are quite heavy and the flaws I mentioned above can turn anyone down. It did for me for a time until I gave it another chance(Which I'm glad I did). The story is it's selling point. While cliche, it starts off in a post-apocalyptic setting. All you see is a ruined city covered in snow - A man and his daughter are seen inside an empty convenient store with nothing to eat. Besides them are two books with faces on their covers, one that shares the image of a nobleman with vast wisdom while the other portraits the face of someone sinister.
What brought upon such destruction?: Shades: an unknown evil that spawned on the planet to extinguish every living being. The father encounters them and defends the convenient store in order to protect his daughter but his power alone is not enough, instead he relies on the power granted by one of the magical books called the grimmoire. The protagonist fights wave after wave of enemies until he destroys every single one of them. Exhausted after his success, he returns to his daughter only to find her laying on the ground, fidgeting. The second book had been used and the little girl is covered with black thorns that wrap her body weak body. Try not to forget this scene as it will play a major role in the story later on.
Shades as shown on the left. They come in all shapes and sizes.
​
After the prologue, you are taken into the future. It looks as if humanity had managed to survive the apocalypse but now live in wall-protected villages to shield them from Shades(The setting looks medieval-like). Our protagonist's daughter is still cursed with the black thorns, so her father who is committed to her continues to search for the cure. The journey will be long and arduous for our hero but he won't venture it alone - You will meet three sidekicks that will accompany you in your journey - All three are given great depth with unique backgrounds.
Nier's characters. All share a hard past but devote their efforts to helping the protagonist.
​
The game is broken down into two parts: One dealing with introductions to get you aware of the situation around you and the other is the real journey that gives the protagonist a stronger resolve and one which you can sympathize with. The second part is a slight time-skip but during here on after, you'll become involved in a number of events that are imperative to the story, pay attention to them and beat the game as the next step is where it makes this game shine. After you've beaten, Nier, I implore you to go through a second playthrough(You will continue
after
the introduction part - The second play will reveal the truth behind your actions and who you're really fighting. All the events will be the same but with a different perspective that will transform the idea of heroism.
Another experience that is worthwhile to the game is the magnificent sound track that makes the game more emotional and unique. The vocal artist sang the songs masterfully - She uses no known language other then her own words expressed by emotions. The instrumental score is just as incredible and powerful, making events more touching and meaningful. This is the stronghold of any game and while the game shares many flaws, this, along with the story, holds it together.
[video=youtube;kUzBQbajbvQ]https://www.youtube.com/watch?v=kUzBQbajbvQ[/video]
One of many of Nier's beautiful scores.
​
Overall
The game does have a good number of problems from a terrible battle system(Except the boss fights which are decent); pointless quests; terrible equipments and outdated graphics. But the main focus here is both the story and musical score. The concept will throw you a ton of twists and shocking revelations about the world of Nier. It won't at first but like recommended, the second playthrough will give you a worthwhile experience(If you've played Drakengard then you'll understand the prologue a little better). All the characters have an elaborate and very unique background which are rare in today's games. I personally recommend it to anyone interested in a unique story.
Good and Bad
+ A well crafted story with plenty of mystery and emotional moments
+ Second play-through will give you a completely different perspective of your actions
+ Soundtrack separates itself from traditional scores
-
Poor graphics make the game look poor and muddy
-
Battle system is too simple and repetitive
-
Many quests are frustratingly long, unrewarding and corny
-
Equipments have very little importance to your journey
getting the "best" is extremely time consuming only
to find out how unsatisfying they are.
​