Every now and then, a game comes out that just grabs you, sucks you up and doesn't let you go until you've explored every corner of the map. In 2011, this was Skyrim. I've had this game for a while now, but the day before yesterday, I decided to start over again and write a review. Before I knew it, I got sucked up again. This is why I've always loved Skyrim.
The Game
Skyrim is an open-world RPG, featuring a huge world to explore. The world is 37.1 square kilometer(!) big, which is amazing for a video game. The game features a long story quest line, a load of factions to join, a war to join, dungeons to explore, shouts to learn and gear to buy. It's also the game of the year 2011, and that says a lot, as a lot of good games came out in 2011. Skyrim also is the fifth installment in the Elder Scrolls franchise, and the best one in my opinion.
The return of the dragons
Like in every Elder Scrolls game, you start Skyrim as a prisoner. You wake up in a carriage, with three other people in it. On the way to your own execution. With you in the carriage is Ulfric Stormcloak. The Jarl of Windhelm and the leader of the Stormcloak rebellion.
At the moment you lay your head on the block, a dragon appears out of nowhere, and starts attacking the town. A great opportunity for you to run. After the escape, you're free to go. You can go wherever you want. No need to follow the story quest line, you can just go and do whatever you want. Want to get your hands dirty in the Thieves Guild? Sure. Want to assassinate random and not so random people in the Dark Brotherhood? Of course. Want to leave everything for what it is and do the main quest line first? Okay… But why would you do that? There are so many things to do, people to kill, side quests to do, Daedric Artifacts to collect and much more. What are you going to do? The choice is yours.
The Journey
To finish the actual story, you would need at least 30 hours. But that is just for the story. If you want to explore every corner of the world, do all of the side quests, join all of the factions and get all of the shouts, you're going to at least 300 hours. And that is probably the time you're going to spend here. I've played for about 180 hours now, over multiple characters, and I'm still not finished. That's because it's so easy to get sucked up, and before you know it, you've not even properly started the main quest line, and you're level 20. That's what happened to me at least.
I started my journey by joining the Thieves Guild, and then you can just pickpocket anyone you'd like. Since you're in the guild, you can bribe the guards to get rid of your bounty. You just pay half of the bounty and you're good to go. For pickpocketing, there is a bounty of 25 gold. So that means you only need to pay 12 gold. At the start this is only possible in Riften. But when you start doing jobs for Vex and Delvin Mallory, you can do this in 4 other cities: Solitude, Windhelm, Whiterun and Markarth. I continued doing this in Riften for a while, and before I knew it, my pickpocketing was at the maximum level of 100, and my total level had gone up from level 5 to level 23. Of course I explored some dungeons, did a few small story quests and some other things, but the majority of the time, I was busy sneaking around Riften.
Being recruited for the Thieves Guild
The factions
In Skyrim, there are 4 main factions: The Dark Brotherhood (personal favorite), the Thieves Guild, The College of Winterhold and the Companions, and they all feature an own quest line, as well as multiple smaller jobs to do. In the Dark Brotherhood, you get multiple contracts, and you get to kill people(!). The Brotherhood also features a really interesting quest line, which builds up to the assassination of someone with a lot of power. I'm not spoiling who it is, you should play the game.
The Thieves Guild features a lot of small jobs and a good quest line. There are quite a few different types of jobs to do, seven to be precise. Vex will offer you 4 types of jobs: the Burglary, Shill, Sweep and Heist jobs. The Burglary jobs are simple. Break into a house, steal a specific item, return to Vex. The Shill jobs are the most fun in my opinion. They require you to break into a house with a stolen item, plant the stolen item in a specific chest, and get out of the house. The Thieves Guild will tip the guards, and the person who owns the house will be arrested.
The Sweep job are similar to Burglary jobs, but they require you to steal three different items. The Heist jobs require you to break into a shop's strongbox and steal a particular item.
Delvin will offer 3 types of jobs: The Numbers, Fishing and Bedlam jobs. The Numbers jobs require you to change information in a shop's business ledger. The Fishing Jobs require you to pickpocket a specific item, and the bedlam job will require you to steal a total of 500 gold in goods.
from left to right: Vex, Brynjolf (the guy who recruits you), and Delvin Mallory.
The College of Winterhold will feature a really good quest line and a few jobs which require you to recover lost books.
The questline is really a must, and the reward is great.
The Companions feature a solid quest line with a brilliant ending and some standard jobs which require you to do some fights. These jobs are quite diverse, one time you kill a group of bandits, the other time you intimidate and brawl with a drunken mercenary.
The War
At the time this game takes place, Skyrim is in time of war. You have the Stormcloaks, who wish to liberate Skyrim from the empire, and there are the imperials, who want to re-unite Skyrim with the empire. You can choose the side with either one of these, but choose carefully, it will affect the game, and you will not be able to change side. I had done the Stormcloaks already, so I chose to side with the imperials. You need to do multiple missions which I'm not going to spoil. What I can say is that it involves taking back forts. Of course you can choose to leave the war for what it is, and not choose a side, but then the war will never end, and war is never funny. Not even when it is in a game.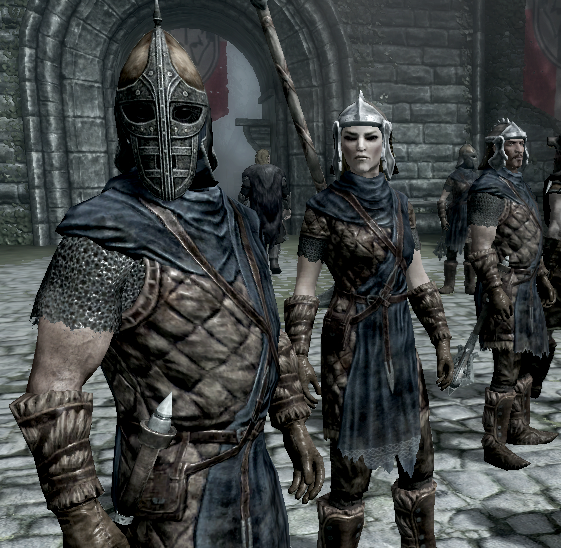 A few of them stormcloaks
The AI
Now about something that isn't as good in Skyrim. The AI. The AI is just plain stupid at times. When you murder someone, they will start looking for you. If you stay hidden for long enough, they will claim: "It must have been my imagination". Same goes when you hit someone with an arrow and he/she isn't dead yet. After a while they will, again, claim that it must've been his/her imagination.
The AI of the dragons though, is brilliant. They will actually fly around and attack people, and every now and then, when fighting, they will try to land, and they will smack down on the ground. They will also attack you with their different body parts. If you're behind them, they will hit you with their tail, if you're beside them, they will hit you with their wings and if you're in front of them, they will bite or shout (shouting is talking in dragon language eh?).
The Thu'um
I'm sure that most of you who got Skyrim were most excited about the whole dragonborn thing, and especially the ability to shout in the dragon language. At least that was what I was the most excited about. And I can tell you this, they are brilliant. Shouting someone off of a mountain never gets old. There are a lot of shouts to collect, I'm sure you are all familiar with the Unrelenting Force shout (Fus Ro Dah). My personal favorites are Unrelenting Force, Fire Breath, Disarm and Throw Voice. Most of these are obvious, but with Throw Voice, you will shout and somewhere at a distance, a voice will say an insult, attracting all nearby enemies. It goes like this: "*Whispers*: Zul Mey Gut. *In a distance*: HEY MELON-NOSE!". The shout recharges in only a few seconds so you will be able to use it a lot in a short period. The shouts are all fun to use, and they are a worthy addition to the game.
FUS RO DAH!
The Controls
The controls in skyrim are quite standard, although it needs some getting used to. I was used to the L3 button as the run button, but that was L2, and L3 was going from standing up to sneak mode. R3 will switch from first- to third-person view and vice versa. I doubt you'll use that a lot, because either of those will have your preference. I prefer First-Person view myself. The X button is the standard button for using things, talking, searching bodies etcetera. The Triangle button is used for jumping, square button for sheeting and getting your weapons out and the circle button for . The L1 and R1 buttons are used for the items you have in your hands (weapons, magic, bows). R2 is for shouting. Once you get used to it, you'll never lose it. It's a great control scheme I think.
Combat
The combat in Skyrim works, but it's a bit rigid. That is, the melee combat is a bit rigid. The animations aren't really extensive, so there are no real combo's or anything. Just smashing a button. Everyone could do it. The sneaking and archery however. These work amazingly well! The sneaking system works great with an eye. Closed means that you're hidden, partially open means that your enemies are looking for you, and wide open means that you've been detected. The archery works like sword combat, but more fluid and from a distance. It also takes more skill than swordfights.
casting magic.
Conclusion
Skyrim is an amazing game, with loads of things to do. Even if you start over again with a new character, you'll get sucked up. Before I knew it, I spent 30 hours with my new character. In just 4 days! Skyrim is an immense game, something you have to play. You can now buy the Legendary Edition with all the DLC for €40. If you haven't played it yet. GET IT! NOW! WHAT ARE YOU WAITING FOR?!
Pros: Huge world to explore, choices to make, you can influence the game by completing certain missions.
Cons: Combat a bit rigid, AI not amazing.
9.7/10