Shin Megami Tensei: Persona 4: Golden Review

Developer:
Atlus
Publisher:
NIS America
Platform(s):
Playstation Vita
Release Date:
November 20, 2012(NA)
​
The Shin Megami Tensei games have always been a hidden breed of Role Playing games with their minimum advertising and low production that only bless the interested with rich and fulfilling experiences but a shame that such games are never exposed enough for the public to acknowledge. Hopefully this review will provide some interest in this recently re-release of a juggernaut game that gave the Playstation 2 one last important job to fulfill.
Now, re-mastered for the Playstation Vita in high definition, Shin Megami Tensei: Persona 4 brings back the charm and characters that you came to bond with. The added content along with additional in-game time, gives more depth to an already well-crafted story, giving you more worthwhile events and top notch humor.
Apart from added story elements, you also have access to TV Viewing in the title screen(You can also access it in-game by tapping the screen twice, you can't do this during certain scenarios) – This is the icing on an already expensive cake by allowing you to go back through anime cut-scenes, concerts complimented by Persona music, lessons to familiarize yourself with the game's universe, Soundtracks, A quiz show, art and Japanese commercials for all their games: Persona 3; 4 and Arena. Not everything is available at first of course and will only unlock as you progress through the story.
The Journey
You are the protagonist named based on your decision. I called mine: Edward Fahbre(Let's go with that on this review). Just like Persona 3(Haven't played the first two) – The protagonist is an exemption to a dedicated voice actor compared to key characters in the story due to the numerous decision makings you'll adhere to from answering other people to forming bonds with friends via Social Links.
The gist of the story without giving too much away is that you arrive to some bizarre murder events in the quiet Hicksville town of, Inaba. Edward, a second year in High School becomes involved in strange events that slowly forges a common goal with a number of characters you meet in order to solve a mystery that not even the police along with a detective prodigy can solve due to the lack of cause of death and evidence to pinpoint a suspect. How is this possible? Forensics can sometimes have difficulty finding a culprit but traces and puzzles are left behind for detectives to piece together. As per the murders, no evidence is visible with every suspect having a solid alibi, drawing an absolute blank. Only you however know the answer to the methods used by the murderer.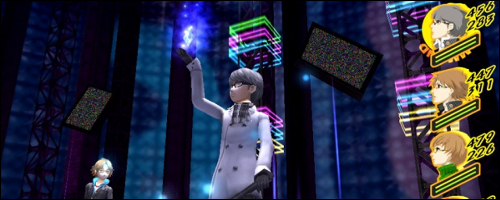 Characters can wear an assortment of clothing during dungeon expeditions. Yes that includes maid outfits for the girls!.
​
Unlike your typical RPG, this one, like a select few, is time based
. But do not be alarmed, the game is balanced well enough to grant you sufficient time to save others who are targeted by the murderer and despite the story running only in a one year cycle, I pumped over 80 hours into it so no complaining about being limited, just use time wisely but at the same time, save the victims in a timely fashion before they are killed.
Each day is broken down into three time settings: Morning, Evening and Night but you'll end up running just Evenings and Nights most of the time. How your days pass depends on what's scheduled for you such as developments in the story, exams, vacations and whatnot but during the majority of the game you'll be able to explore the town of, Inaba and two new locations exclusive to this version. During your free run you can explore the school, the shopping district and other locations of interest(Still a shame that you can't run around in this game's version of, Wal-Mart).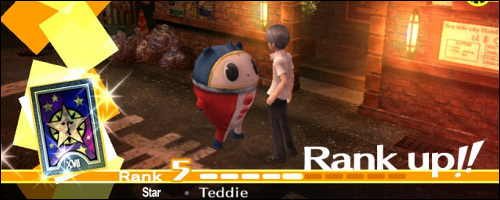 Social Link Progress. Persona 4: Golden also offers 2 new characters to bond with that are in the Aeon and Jester Arcana.
​
In this remake you will engage in a variety of
Social Links
from your own team to family and strangers. Almost all of them are optional but recommended if you want to survive the "Other side". By maximizing Social Links(You'll need to complete 10 events for each character) – It will give you the opportunity to fuse powerful Persona's which are imperative on your arduous journey. Another benefit from maximizing your own teammates Social Link is added support such as assisting each other who have been knocked down or inflicted with a status ailment during battle, further development will give them the courage to take a lethal blow for you and even have their Persona's evolve. Additionally with Persona 4: Golden they can reach their peak of evolution later in the game.
But it's not easy to just go up and talk to potential Social Link characters as another important factor comes into play:
Social status
. You may want to talk to detectives but you lack
Expression
or
Knowledge
; growing your bonds with others further will require a higher level of
understanding
or
courage
. This is another job you have to watch out for as you spend your days in Inaba but Persona 4: Golden has a sizable amount of activities and time to grow them, some even pay you so take advantage.
Two last things in regards to Social links;
you can romance any female classmate
including the newly added, Marie for those vets that were wondering(I know you guys are interested in that!) The second thing is maximizing another key Social Link will give you discounts on leafs that will cure your party's SP during your dungeon crawling incursions. This is an important advantage if you want to clear a dungeon rescue in a day or two. Without the discounts however you'll end up spending a pretty penny for the support so I'll reiterate: Socialize!.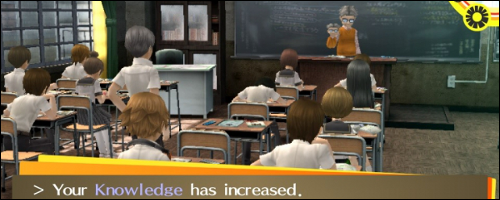 Edward brilliantly answering a question to increase his Knowledge
​
For those who are looking for
character development
, Persona 4: Golden does an outstanding job at sculpting each individual involved in the story along with Social Link NPC's. You'll come to love each and every character involved in this mystery and become emotionally engaged in events that unfold. Voice acting is top notch with natural performances and emotionally powerful instead of listening to some guy or girl reading off a piece of paper. I can easily say that their passion for voicing rivals that of, Nolan North.
The people you meet range from a transfer student with an infamous status in town, to a girl who loves martial arts; a potentially dangerous ally with a complex sexual reference and a younger fellow who questions their physical appearance – this is just the gist of it and like I said before, you can get more in-depth with each person available through Social Link development so it's fun to slowly piece together their characteristics, secrets and whatnot.
On a personaI note: I wasn't too fond of Chie's changed voice acting compared to the original Persona 4 on Playstation 2. I also noticed an individual's voice changed drastically then back to normal during an important scene, mainly due to the added content. Just something that irked me a little.
Now I'm guessing that non-Persona-vets are still wondering about "The other side". The recent murders wasn't enough to satisfy this blood thirsty killer but by working together and flexing your detectives intuition, you start to slowly piece together their methods and who will be targeted next thanks to a secret that you discovered by chance. Since the police can't find evidence nor point fingers at a suspect, one would wonder how they did it and the answer is completely out of this world and beyond one's imagination with dangerous dungeons created by the victims themselves - who have self-conflicting feelings that they wish to ignore but are given form, exposing their true feelings. Each floor for every available dungeon is randomized with shadows, mid-bosses and treasures waiting for you.
Battle System
Turn-based strategists are going to love this game's battle system
. While it does carry the standard trait for turn-based, Persona 4: Golden refines it to perfection. Edward and crew have strengths and weaknesses that can easily turn the tides of battle. The same can be said about the foes in front of you but you won't fare well if you button smash through the dungeon as enemies have the chance to counter; absorb; dodge or just be strong against certain attacks, wasting your attack turn and give the threat an advantage that can potentially wipe out your team can be frustrating so think carefully before taking action. If you feel like you can't take on a certain enemy then just simply grind or remove everyone from your party and solo the dungeons to draw in more EXP since it's distributed among party members.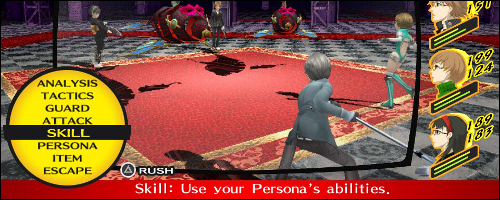 Preview of Persona 4: Golden battle system
​
After each battle you'll have the chance to obtain bonuses such as status upgrade cards to strengthen your equipped Persona; EXP boosts; extra money; more Persona's; skill cards along with negatives that will either make you lose a card; lower your EXP or money. Sometimes choosing these will give you the option to gather two or more cards.
Personas
are the essential pieces to this game and without them, you won't be able to survive or progress in the other side. As you go through the game you'll obtain a variety of Persona's based on the card Arcana series(Such as Fool; Chariot; Death and whatnot). A man named, Igor who appears in your dreams(Later on you'll be granted access to his domain at any time)- will offer you the ability to
fuse
the Personas you've obtained in order to create stronger allies just as long as your character level allows it. Unlike its original, you can now freely choose which skill the new Persona will inherit so making a physical strong; magic adept or even one who causes a variety of status ailments and death will be easier to create. There may be exemptions to some skills though. Don't want to give up a Persona through fusion? That's okay, you can always re-obtain them as long as you have the cash for it which by the way,
currency in this game is very limited
so invest wisely.
Overall+
Persona 4: Golden was built in Japan but it shy's away from excessive corniness and kinky scenes that forces us to turn back to see if anyone is watching while we're playing. While it does have its moments, you'll laugh more often at the perfectly executed humor and at some points, you'll experience the seriousness of a relentless case that only Edward and crew can solve. This is about finding the truth and at times you'll get diluted by the progress you're making. While it does have some noticeable errors in regards to sudden voice changes, it's not enough to dent this iron clad of a game. Above all, it offers
New game+
for those who want an easier second play-through, that means your hard earned, Personas will be available to purchase(Pro tip: Don't beat the game with your preferred Persona as they're not carried over in new game+); Currency will be transferred over as well as your Social Status so you won't have to bother increasing your Knowledge; Charm and Understanding, just as long as they're maxed out. I can't recommend this enough, you'll be drawn in by the beautifully written and well-chosen cast of people along with the charm, Inaba will have on you and then some with the unique soundtrack it offers. Don't wait for it Vita owners, give it a chance, play this game.
Good and Bad
+ A unique RPG experience that offers 70-100 hours of gameplay
+ New Game+ is available
+ Rich character development
+ Mysterious and enthralling story elements that test your judgment
+ Abundance of activities available for you to take part in
+ TV Viewing provides extra content such as viewing in-game scenes, OST and more!
+ Strategic turned based battle system
+ Unique OST that describes the life of a student and the mystery of the story.
-Disappointing voice changes, one during an important scene​
Last edited: