Gravity Rush
Release Date: June 12, 2012
Genre: Action Adventure
Platforms: PlayStation Vita Only
Introduction
One of the most intriguing projects announced for the PS Vita was "Gravity Daze". What drew Vita fans to the title was its potential: GD would be the first major title that truly enlisted the handheld's touch screen and motion controls. It would be a hit crafted specifically for the system thus a true Vita only experience.
Of course, no matter how responsive the buttons are or original the control scheme is, the game must be good in order to sell well and be considered by its audience. Is it worth playing? Does it represent what this powerful mobile device can do? Continue reading to find out.
The Story
Gravity Daze was changed to Gravity Rush for North America and at the very start it's easy to see why. The story begins with the user as a teenage girl waking up with zero memories. She next meets a black kitty and shortly afterward realizes she has the ability to manipulate gravity.
The city calls her a "gravity shifter" and the people hate her due to their conception she is the cause behind the constant ravaging gravity storms that demolish buildings. Even though she has a bad reputation, she meets a friend who happens to be a police officer, and she and the fur ball grow close. She accepts the name "Kat" and then embarks to find answers to her questions, and to assist the people in fighting the dark creatures that are spawned during the storms.
The characters are all very lively and unique, from their clothing to their dialogue. There is extremely little voice acting in GR because there is only text: Gravity Rush is very similar to a comic book or manga in which you read the conversations and turn the page by pressing a button. Along her journey, Kat helps many citizens, from teenage academy students to a ghost wanting to her to fulfill a final request. The main cast is his or her own person and has his or her own background story and perspective. In short, the plot is not only about Kat, but includes lots of side stories as well.
Graphics
This title is very anime like. There are two screens: the manga like cut scenes and the cell shaded gameplay. Despite looking grim and even nasty, Gravity Rush is very colorful and artsy. The city is a dull brown thanks to the pollution and dark storms, but everything else is vividly bright and detailed from Kat's costumes to Raven's hair. Sometimes the frame rate does slow down if there's a lot of movement and nevi on the screen, but other than that there is very little complaint about the graphics.
Gameplay
Controls are very responsive and satisfying, making this title's gameplay fun and addictive. It takes a bit of time to get used to Kat's powers. The upper right button is used to initiate the gravity abilities and a target like bull's eye appears in the middle of the screen. The little circle is used to aim Kat's flight through the air if the player were to launch her or guide her gravity kick to hit an enemy. Later on, Kat can learn different techniques that utilize her shifting powers differently including the effective "Spiraling Claw" and the system tilting "Gravity Slide".
Like all super powers, this mystery girl has her limitations. On the left of the screen is a circular bar that moves when Kat starts shifting. If the bar empties, no matter how high suspended the player is, Kat will fall and real gravity comes into play. During exploration or battles, it is wise to land on a platform for a second or two to recharge (the bar replenishes itself under normal gravity circumstances).
Combat can be a little frustrating despite nice controls. Kat can fight under normal gravity using kicks and jumps. She can lock onto one target at a time on the ground, and deliver combos and deal great damage. Fighting in the air is when things get a little messy. Even though there is a bull's eye to aim with, Kat's kicks and attacks don't always land true. Although the suspended combat could use just a little bit of fine tuning, it's not enough to stop players from looking forward to the next boss battle.
Last but not least, fighting rarely becomes stale in this game. The nevi are the most common enemies, but these monsters are not the only opponents throughout the game: Kat takes on people and even machines. Each nevi has a weakness located in different spots and it's up to the player to figure out how to attack its core without taking massive damage. The nevi and bosses adapt frequently, making it essential to constantly upgrade attacks, learn new techniques, and strategize.
Replay Value
There's plenty to do after beating GR the first time. There are various missions throughout the entire world. The missions are timed and if the player completes the goal under a certain time, they are rewarded with gems that can be used to upgrade or learn new abilities. Every mission has a bronze, silver, and gold quality attempt. The gold goal rewards the player with the most gems; not only are these missions fun but it's always a challenge to beat your latest accomplishment.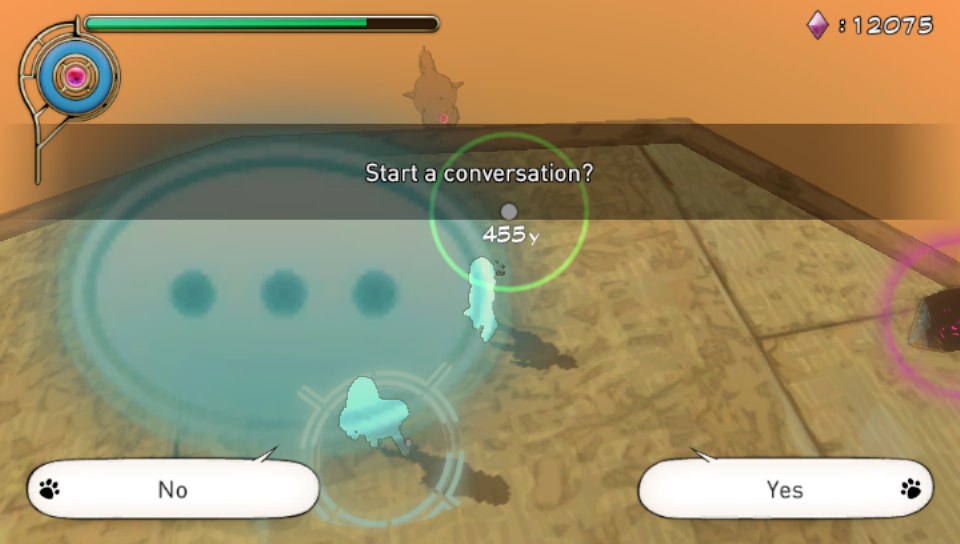 There are also side quests and side stories. Looking for a secret boss? You can find 3 hidden nevi to defeat in Gravity Rush. There is also a strange side story that involves a romantic couple and hearing their entire story. You can also talk to people throughout the city and hear them complain about everyday life or hear thoughts on the current events happening.
The Verdict
Gravity Rush has a few flaws and unanswered questions, but it's a nice start to a new series exclusive to the PlayStation Vita. It shows what kind of unique titles can be offered on the Vita. I look forward to the gravity mechanics being touched up and finding out more about Kat in Gravity Rush 2, which was announced during Tokyo Game Show 2013.
Finally, ALL Vita owners should at least give this game at least 1 hour of his or her time. At the time of this review, Gravity Rush is free for PlayStation Plus members.
8 out of 10 stars.
Last edited: