So i thought the PSP Minis deserved their own thread as there are now a lot of them, and some of them are well worth your money!
I thought it would be a good idea to let you all know about some of the better Minis on the service as, though there are some really good ones, there are also some really, really, crap ones. Having a total of 20 Minis myself, i know a lot of the good ones
but not all of them! (obviosly...i don't own them all!)
This thread then, i thought could be used to discuss Minis - new ones, favourite ones etc. Post your own little. 10 minute reviews of them in order to let everyone else know if they are good or not...Every now and then i may add the best little reviews to the OP to make them easier to access for people wanting to see how a game is. The review doesn't have to have a numerical score at the end of it - a simple judgement of whether it is worth the price tag, whether it is boring or interesting etc will do!
I also included some camera shots of the Minis, as a help towards whether you want to buy them out not
So...without further ado, here are my quick "10 minute" reviews of the Minis i own! I don't know why i called them "10 minute" reviews. It took more 6 hours to review all of these!
"Lets Golf"
Impressions
A simple little golfing game akin to "Everybody's Golf". Works in pretty much the same way; you're on a golf course and there is a power meter. You hit X twice in the right places to belt the ball towards the hole. You have to get it in in so many shots. Sounds pretty much standard so far, right? The game has an "Instant Play" mode, "hot seat", "tournament", and "Free hole" mode.

Instant play mode basically sends you straight into a little golfing game, which you (obviously) are tasked with winning. In this mode you just get given 3 holes, and it's the best of 3.

Hot Seat mode gives you a choice of course, a choice of difficulty, and a choice of number of holes (1-9, 10-18, 1-18, or random). Again, the premise is the same in that you simply have to put the balls with the least hits (who'd have thought it?). The difference with this mode though, is that it is 2 player (in a "pass the controller" sort of way). You take it in turns to have a shot. Winner takes all! In Tournament mode, you choose a course (courses are unlocked by playing, it would seem), and then you are off into a tournament. Again, the premise is the same.

Free hole mode, despite the sexual sound, is in fact nothing to do with sex at all (yeah, i was disapointed aswell!).Again, you choose your course, a difficulty, and the number of holes. What's the difference between this and the other modes you might ask? I actually have no idea. So yeah, let me know!

So, is "Let's Golf" worth a buy? That depends. If you love Everybody's Gold games then i have no doubt that you will like this, being as, as far i can tell, it is a smaller version of that game. It's good fun at least for a few minutes, but no doubt it would be better with someone to play against and have a laugh with. The graphics don't actually look half bad running on the PS3, if you are worried about that, and all the controls are very very simple - even my cat could play this game (if he had thumbs!). All in all, i would recommend this game for the person who enjoys golfing games, and someone who wants something to play with that person who might not be into games much, as the simple controls make it very accessable.
More impressions ~ Credit to joshualeuty96
Its not very often i buy a PSP/PS3 mini and its even less often i buy a sports game but Lets Golf struck me while my ocassional browse on the playstation store. I took the plunge and here is my opinion and verdict.

Lets Golf is a golf game and PSP/PS3 mini available on the playstation store for the nice sum of £3.99/$4.99, playing as one of four different characters in one of four different locations. Before you reach the main menu, you are treated to a very descriptive and detailed cut scene probably summing up the game as a whole. Now you're on the main menu, you have a menu (obviously) of different game modes available to play in this game. You have Quick play, Hot seat, Tournament and Options.

This game has sparkled with its crisp graphics and simple gameplay that you simply can't put it down and i couldn't, HONESTLY!!!!!!.

Conclusion
This is among one of the most well developed mini's available on the store and there's no reason why you shouldn't purchase Lets Golf today.
* 9/10
Gallery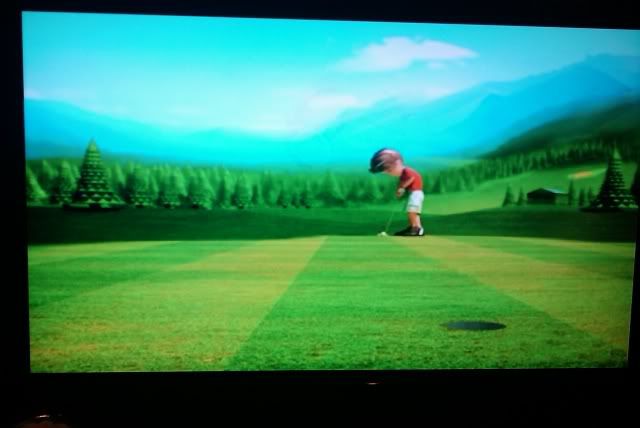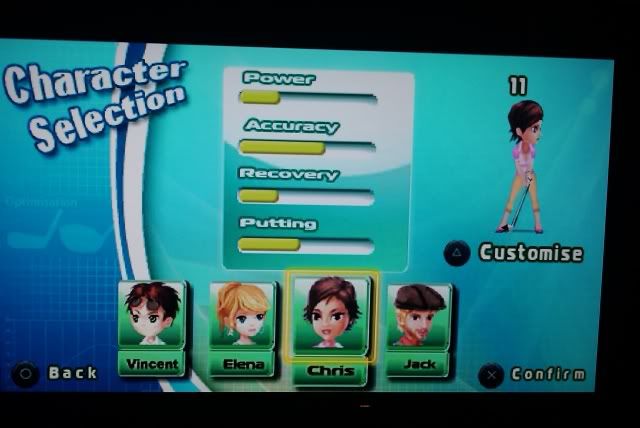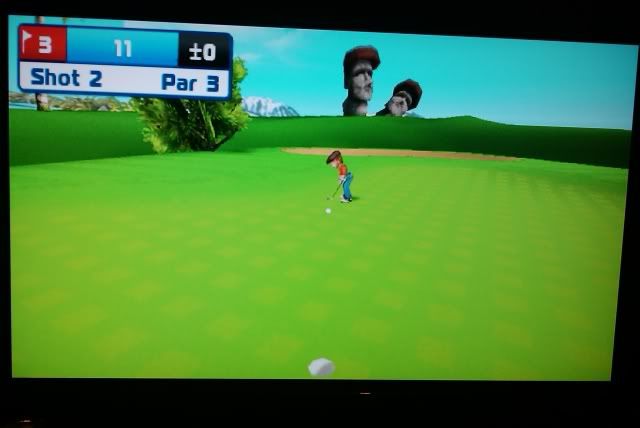 "Bubble Trubble"
Impressions
It's made by Tik/Creat. That's all you need to know for this one.

What, you want more? NEver happy are you, you lot! Right then, Bubble Trubble is, aswell as being terribly gramatically, a lot like games like tetris and Collums. Except the fact that it's bubbles. Bet you didn't see that one coming, did you? The premise of this game is very simple: place the bubbles so that the colours hit each other and inflate into much bigger bubbles. When they get to a certain size, they pop and you carry on going. Sounds simple right? Yeah, sort of. It's not easy though! More confusing gets added to the mix when you realise that when different coloured bubbles pop, different things happen - for example, when blue bubbles pop, you get a buttload of water on the screen. Black bubbles won't pop bubbles around them, etc.

First, there are 3 difficulties (bet you can't guess what they are!). Choose the one you want, and then you get the option of having a "survival" round, whereby you simple have to play for as long as possible without filling the screen (see, i told you it was like tetris!).

There's also "Challenge" mode is a bit different; for this, you get given challenges to fulfull, for example the first challenge is "Bananas Away! - Pop 5 bubbles." There are many different challenges to keep you occupied if you are any good at them (i wasn't, i gave up on the second one...). Really, that's about all there is to the game - like i said, the premise is very simple. Controls are very simple - in fact, there are only a couple. Use the shoulder buttons to rotate the bubbles left or right, and use the down arrow on the D-Pad to make bubbles fall faster. Think you can remember all that?

So would i recommend it? Yes, definitely. It's a fun little time killer, even if you suck as greatly at it as i do! If you like Tetris (and let's face it, everyone loves tetris) you should love this game, as it is very similar (have i said that enough times yet? Hmm...). The challenges and the different difficulties are bound to keep you occupied for a while, making it worth the measley price you paid for it.
Gallery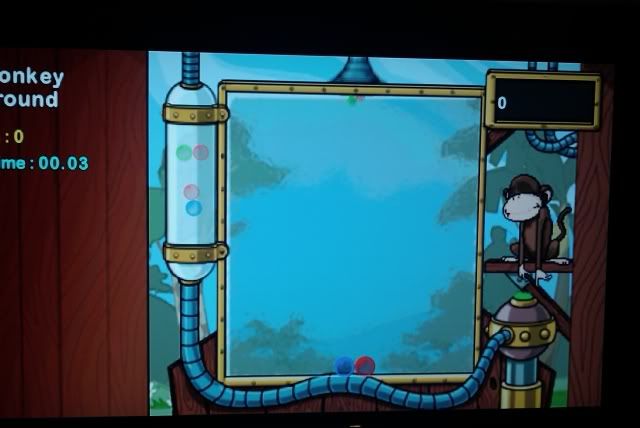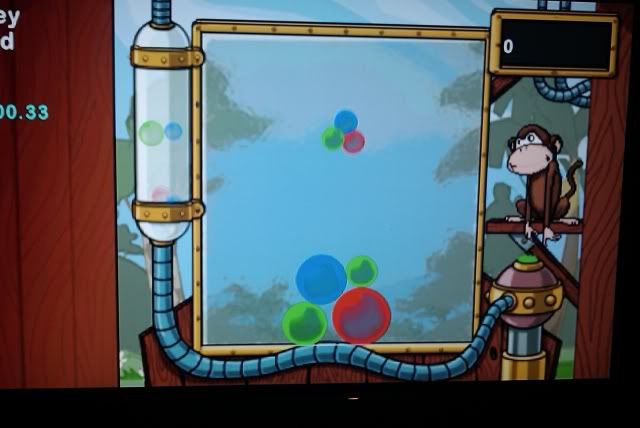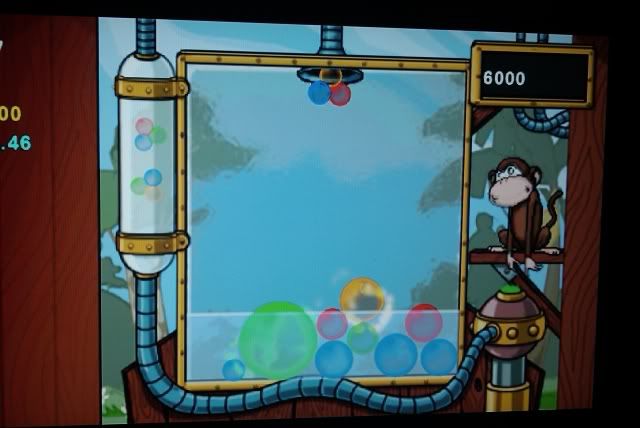 "Alien Havoc"
Impressions
Ahh, Alien Havoc. Who hasn't fantasised about playing as an alien who steals cows from farms whilst throwing cabbages at farmers to keep them away? I know i have. As soon as you boot this Mini you up, you will realise how hilariously weird it is. A title screen with a cow being dragged along the bottom? WIN!

So, the options on the title screen. There's "Cow Caper", which is basically the actual game. More about that in a sec. There's also the option to customise your alien. The customisation options are actually surprisingly detailed. There's a slider scale of colours, so you can choose pretty much any colour you want for your alien, even going so far as to give him a head a different colour to his body. Oh and you can change his head shape too, from 4 options. Not bad eh?

On to the actual game then...let's steal some cows! Why is this alien stealing cows anyway? Who knows. The control for the game are pretty simple. You pick up cows using the circle button, and then walk back to your spaceship with the cow in order to steal him (or her, i guess!). Simple right? Except the fact that farmers are randomly hiding in places where you least expect them to be. When a farmer decides to show up and protect his cattle, you have to pick up (using circle) and throw (using triangle) cabbages (or rocks, but cabbages are more hilarious) at him in order to turn him away. That or sit in the grass (using X) and wait until the farmer gets fed up of looking for you.

Is the game fun? Yes. It's not easy though. Sometimes the farmers can get bloody annoying, although i guess that is really the point of them - it wouldn't be any fun if all you did was pick up cows. Actually it would...But still you see the point. It's made more annoying by the fact that if you put the cow down too many times it dissapears and you have to try again with a different cow. In the end though, it provides a satisfying amount of fun for those measley few pennies you paid for it. It's not as easy to reccommend as Bubble Trubble, but it's still a neat little game.
Gallery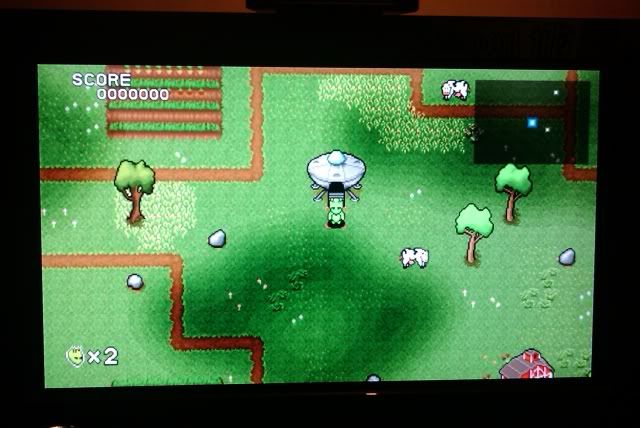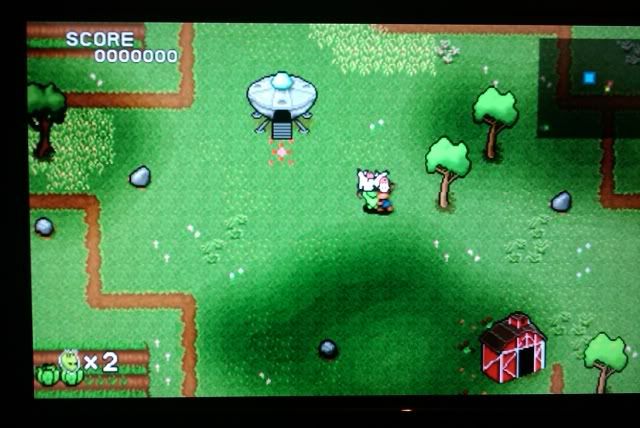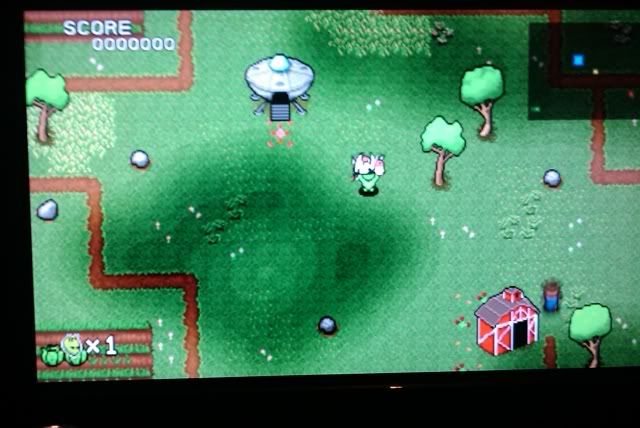 "NormalTanks"
Impressions
NormalTanks. It's actually called that. And the Oscar for the ****tiest name of the decade award goes too...

You play as a tank (i know, who'd have thought it?). Your basic mission as far as i can tell is to travel through the level blowing up everything you come to. Usually this involves a lot of tanks. Now that i have shocked you all with that...

There is only one mode in this game. You open the game and you are given 3 difficulties. Choose one and off you go. When you hit start you are shown the controls which are...****ing horrible, for lack of a better way of describing them. The shoulder buttons are used for firing (R1) and switching weapons (L1). Right. The face buttons are used to rotate the turret either clockwise or anti-clockwise (this is far too complicated to try to explain in text i am afraid)
and to flip the turret. The analogue stick us auto-aim and the d-pad is for movement. Sounds pretty simple, yet in the middle of a shoot-out with another tank, it's the most fiddly crap you could think of. But then, the developer did the best they could with the limited controls of the PSP, i guess.

Actual gameplay then. It's not all that exciting i have to say. Even after you do get used to the conrols (which is possible, but took some time, at least for me), the gameplay isn't all that interesting. You drive around and shoot stuff. That's basically it. All the enemies are the same - either a big tank or an annoying little spider type thing.

Overall the game is hard to recommend as it isn't really all that interesting. Nothing unique in this game at all really. The art style is drab and horrible, and it's overall just an incredibly boring game. On the other hand, there's quite a lot of game there if you can get used to the controls, and if you find it interesting.
Gallery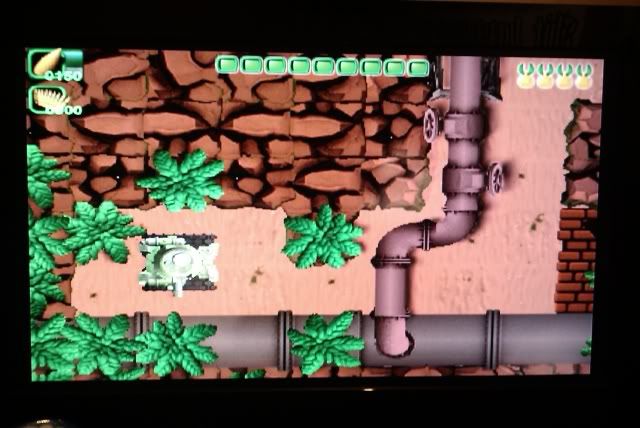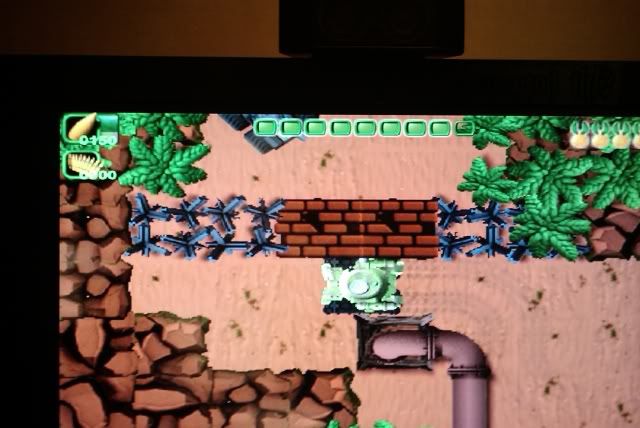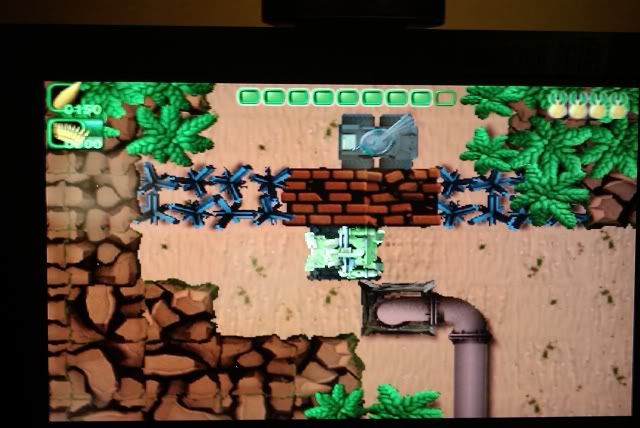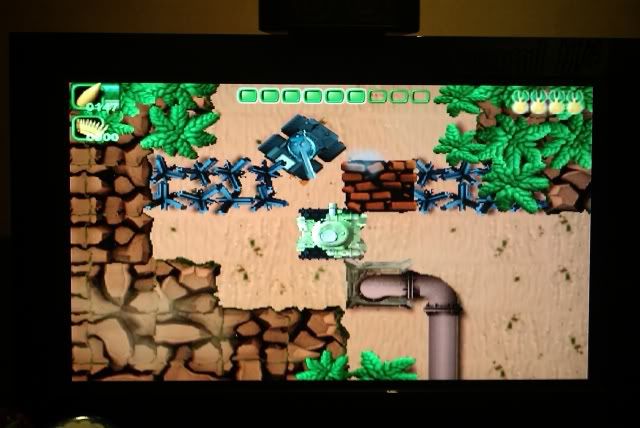 "Bloons"
Impressions
Get it? It's the developers clever way of spelling "Balloons" in order to sound "cool." Good effort developer!

When you boot the Mini you are greeted with some lovely simplistic music and a picture of a deformed monkey with a small pr1ck...I mean...A small DART pr1ck. People these days...You also have some very colourful options! Straight to it then. The task of this game is to use your pr1ck(ahem) to pop the number of ballons which you are told to. Simples!

Ignoring the big "Play" option to start with, the second option down is a level editor. Yup, that's right, a level editor! In a Mini! Upon choosing this option, you are greeted with a lot of differe "editable level" levels. Choose the one you want, and start it. Wait what, nothing is here! Oh right, yeah, i have to make the level first...The level editor here is pretty simple. You use the shoulder buttons to cycle through different things that can be placed on the invisible grid - things like destroyable blocks, rubber blocks and of course balloons. When you are done, you can play it. Cool level editor for a Mini - sure it isn't shareable online, but you wouldn't expect it to be. It would be fun
no doubt to edit a really hard level for you or someone else to try and master, though!

The other gameplay option for this Mini then - the actual game! When you choose this option, there is an option at the bottom for unlimited darts, but why would you want to use that? It eliminates all of the fun of the game! Right then. Controls for this game are very simple indeed. You use left and right D-Pad buttons to alter the angle you through your dart, and you use the Up and down arrows to alter the force with which you use it. The task is to burts the required amount of balloons (shown at the bottom) using only the amount of darts you are given.

This game is good fun. It's very simple, sure, but that is part of the charm of this game. Like "Let's Golf", it is good just to kill 10 minutes, or it is good to play with someone else who might not be into games very much - the simple controls make it very easy to get into and learn. The added bonus of a level editor make it just that much more fun, and that much better value for money. This Mini is, in my opinion, one of the best little time wasters on the PSN.
Gallery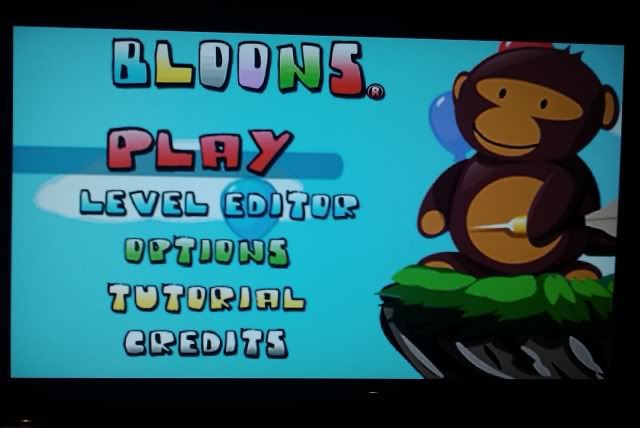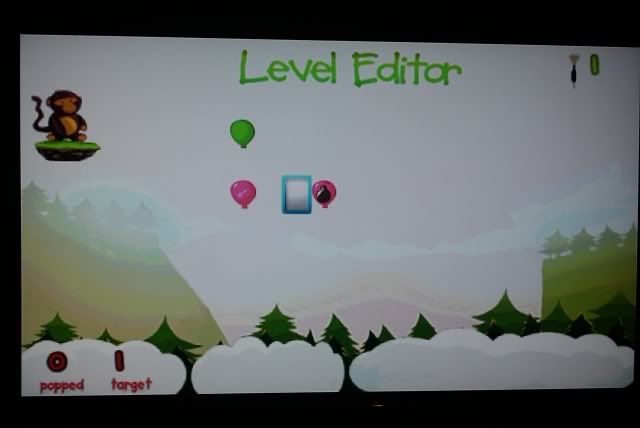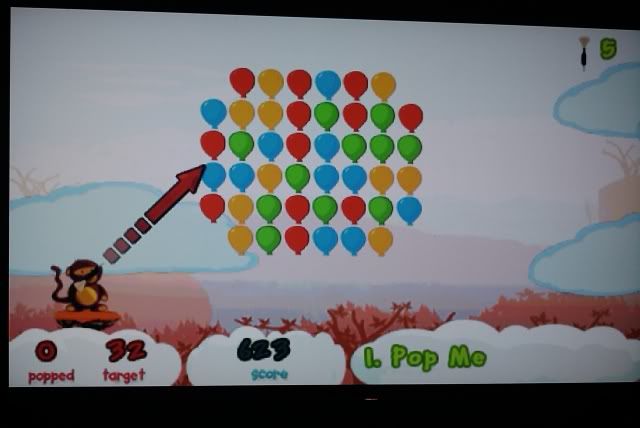 "FieldRunners"
Impressions
Ahh Fieldrunners. You all should have heard of this one. It's a tower defense game from Sub atomic. Yay.

There's not really much to this one. All tower defense games are pretty much the same, are they not? FieldRunners features the main game, a local score leaderboard, and not a whole lot else actually. So, how's the actual game and the controls?

After choosing to play the game, you are given a choice of which map to play - to start with you will only have to one to choose (The Grasslands), but as you play more and complete every level, you unlock another one. There's 5 maps altogether once you have unlocked all of them.

So, you choose the map you want, and choose your difficulty. You also have to choose a mode - "Classic", which apparently involves "Defending your territory using 4 towers over 100 rounds"; "Extended", which is exactly the same except with 6 towers over 100 rounds; and endless, which is exactly the same but with 6 towers over endless rounds. So now you know. Possibly.

I went for classic, as it sounded easiest. The controls for this game are bafflingly easy. You use the D-Pad to navigate the field, and the analogue stick to zoom in/out on it. When you have unlocked it, you can use the triangle button to fast forward time so you don't get too insanely bored of waiting for more annoying little ****s to turn up! You use the shoulder buttons to select one of the 4 different types of tower (a gun, something that looks like a water hose a rocket launcher, and a lightening bolt), and press X to place it - you can press X on it again to upgrade it twice further. Select button is used to pause time, allowing you to place turrets without dying. Got all that?

The game itself is quite fun, though is pretty much the same as every other tower defense game available. You stop the things from reaching the goal zone. That's about all there is too it. Sure, the graphics are relatively pretty, but still, this game doesn't offer a lot of anything new. But i don't think it really needs to.

Would i recommend it? Fully. It's good for killing time, as all tower defense games are. If you are a fan of tower defense games, and don't already own this Mini, hop onto the PSN store and grab it while it's hot!

One thing i did notice though - the game seems to enjoy crashing on the PS3. Not a full hard crash - just a couple of seconds at the end of random rounds. It's nothing major, but it is annoying.
Gallery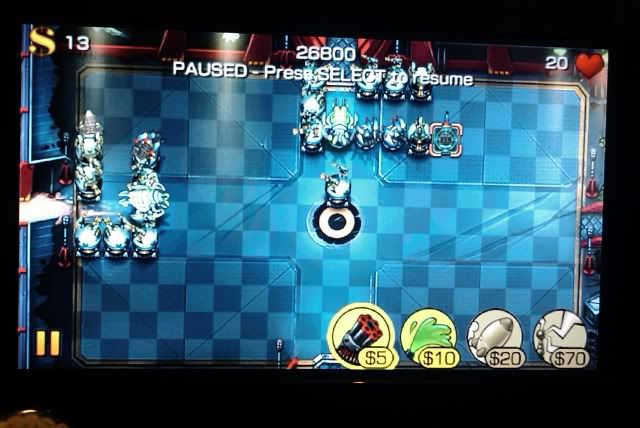 "Age of Zombies"
Impressions
Why are you reading this review? You should have already bought this game and played it a million times.

What is there to say about Age of Zombies...it's from HalfBrick for a start (in my opinion the single best Mini developer out there), and it's utterly ****ing hilarious. You play as Barry Steakfries, a man who has to travel through time to stop a legion of zombies who is travelling through time trying to destroy history. How could the premise of this game be any better?

Loading up the game, there are two options - the main game, and the survival mode. Without dwelling on the survival mode (as it is pretty much what you would expect it to be), it is good fun. You have the choice of several different settings for this mode, all of which are taken straight from the main game. Your task is to stay alive for as long as possible whilst destroying as many zombies as possible. It functions very much like the main game, except without the story elements, so without further ado...

...Onto the main game. Like i said, this is amazing. You start of walking in on a nutty professor who unleashes zombies on the past - and you, Barry Steakfries, set off back in times to save the world. Despite how ridiculously corny it sounds, hilarity ensues. Hilarious one liners are abundant in this game (i wont spoil any of them for you!). Gameplay is pretty standard really - you pick up weapons off the floor (such as submachine guns and flamethrowers) and you have to destroy a set amount of zombies before the story will carry on.

With the fairly simply controls (d-pad to move, face buttons to rotate your body, and shoulder button to shoot), and the hilarious story, this is without doubt the single best Mini on the service. I fully and wholeheartedly recommend this Mini to all of you. Swearing, one liners, zombies, egyptian mummies, Al Capone...This game has everything!
Gallery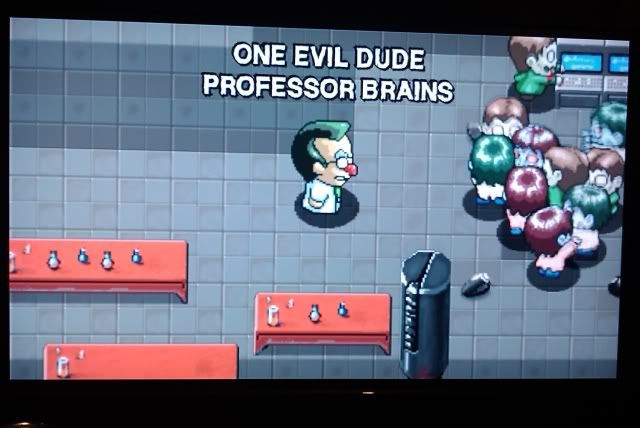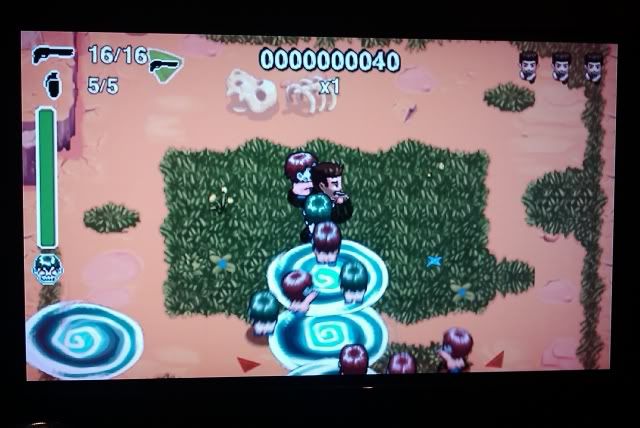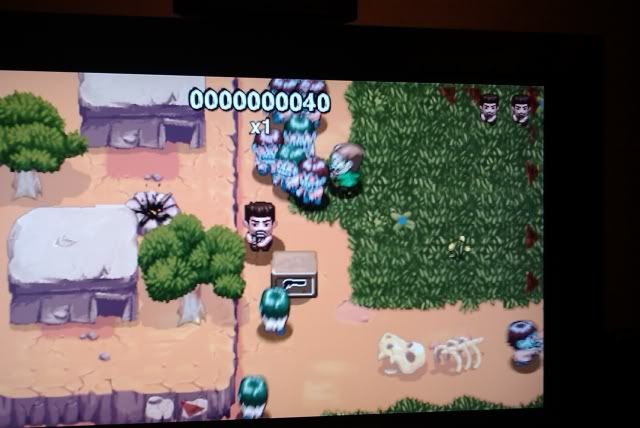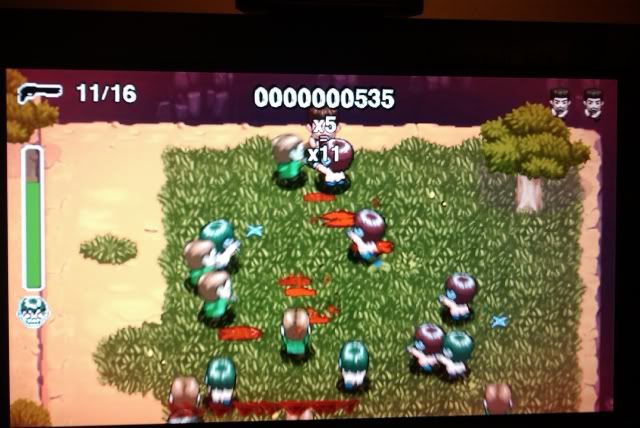 "Red Bull X-Fighters"
Impressions
When a game starts up with text that you struggle to read, you get a feeling that the game is going to be utter tripe.

In the case of Red Bull X-Fighters, you would be completely right in assuming that. The game only has one mode - the game itself. So what do you do. Drive a motorbike, pretty much. You have to ride, and do tricks whilst jumping over big mounds of earth. It sounds much more impressive than it is, let me tell you. In fact, you don't control the bike at all. The game controls it itself. What you actually do is hit button combos whilst the rider is in the air in order to do a trick (like a QTE, except ****ter). Every trick is scored on its impressiveness, and your score at the end of the round is used to determine how you did - and you get a bronze silver or gold graphic on the screen to congratulate you. Fantastic. According to the screen twizzling infront of me now, "Trophies unlock more events" and "you will be awarded with cool outfits." Lovely.

In fairness there are a lot of different events here. It's just that they are all just as boring and annoying as the last. All you ever do is hit button combinations and make sure your driver survives the landing.

Compared with what some of the other Minis offer, you really do not get much value for money with this game. I was bored after 2 events. Would i recommend it? No, i don't think so. Unless you enjoy sitting and hitting buttons that appear on the screen. Really, if you have the money to buy this, you're better off going for one of the other Minis, which offers much better value, and much more fun.
Gallery
"Spot the Difference"
Impressions
So, upon booting, you are greeted with some funky music and a box in which to input your name. Or a rude word. I went for a rude word!

Then you are presented with the options of either "Arcade" mode, or "Custom game" mode. After choosing arcade you get given a choice of difficulties, which unlock as you progress (you have to begin on "Rookie and work your way up, in other words). After this you get a lovely picture. Guess what you do? Spot the difference. Surprising isn't it? L1 scrolls the picture leftwards, R1 scrolls it rightwards. If you need a hint, what triangle and the game will help you out..Although apparently the game fails to see the difference between a "hint" and straight out telling you one of the anwswers. Hmm. Simply use either the analogue stick or the D-pad to move the cursor over the pic and press X when you have found a difference. There are a number of differences in each round which you have to find within the time limit - but if you get it wrong too many times then you will fail.

Is it any good? How hard can a game of spot the difference be? It was better than i thought it would be going in, being a spot the difference game. Some of the differences are really hard to spot, and i ended up using the hint option a fair number of times, actually. I'd recommend it to people who enjoy playing Spot the difference - i'd particularly recommend it to someone who wants something for their kids to keep them occupied, if they don't really like games etc. Overall though, it doesn't offer the same fun value as other Minis that are available.
Gallery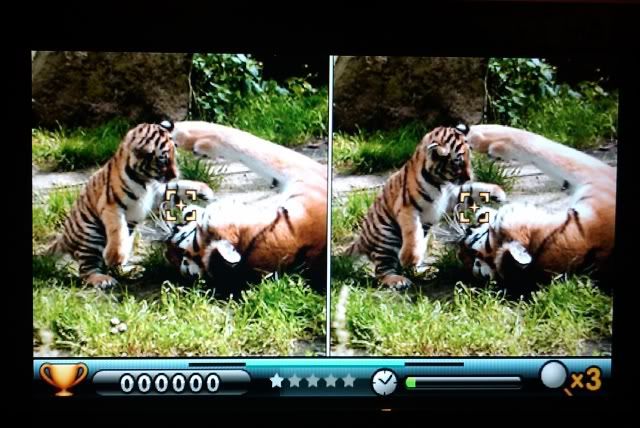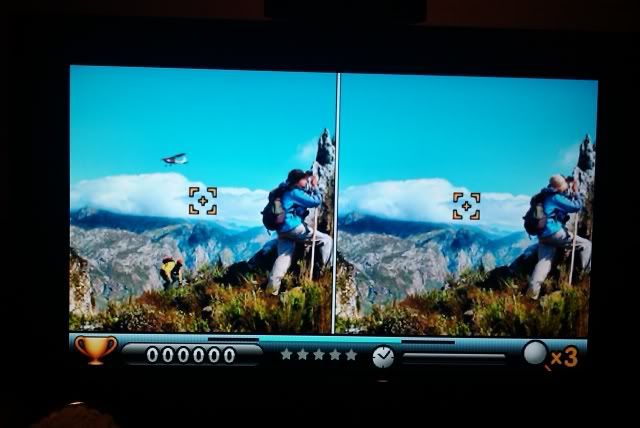 "Stand O'Food"
Impressions
Okay, a game where you run your own restaraunt. Sound ****? Bear with me!

Upon booting, and hearing the insanely catchy music in the background, you are given a fairly lengthy list of things to do. There's a tutorial, "meal quest", and "lunch rush." Before you can do anything in this game, you have to play the tutorial, which is helpful as it means you actually know what you are doing when you begin playing. So what exactly do you do? Well, the idea is simple: You work in a restaurant and you have to fulfil the orders giving people the right kind of burger etc. Sounds simple. However, it can get incredibly hectic. Thought the controls are quite confusing to start off with, they do make sense after a while - however the initial step is rather confusing. The tutorial does do a very good job of teaching you the game and controls, in all fairness.

Onto the "Meal Quest" mode then. As you might guess, this is the main game, whereby you have to serve all manner of meals to keep the customers happy. Upon choosing this mode, you get to choose which restaurant to work at, for example, "Stand O'Breakfast", or "Snack Shack". There are 5 different restaurants, unlocked as you go along. Upon choosing where to play, you have to add to correct parts of the meal in the correct order in order to
serve the customers and earn the money. It gets busy, and it gets hectic trying to fulfil all of the orders, as they can only be given to the customers if they are in the right order (well, most of the time anyway).

"Lunch Rush" is very much the same, except without the option to choose where you play. When you have served a certain type of people, you have to use the revenue you have made to improve the restaurant, and buy things such as sauces, coffee machines etc.

Overall, this is quite a fun game - certainly better than the stupid name would have you think. It's a good time waster, and i in fact very much enjoyed it. Here is another Mini that i wholeheartedly recommend you to buy if you are looking for a small fun game to play for 10 minutes either on your PSP or PS3. Very good value for money, this little title! I think you will easily get your monies worth with this one.
Gallery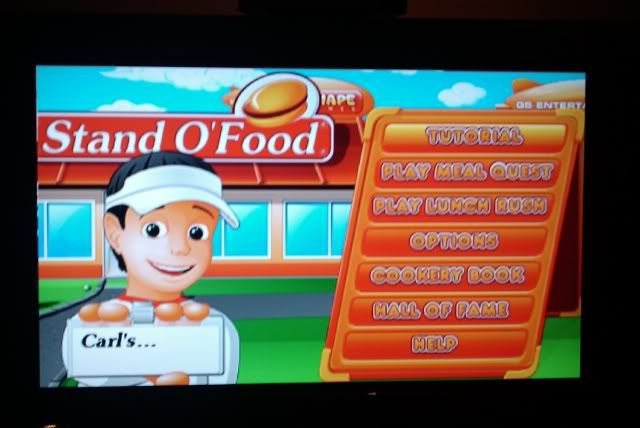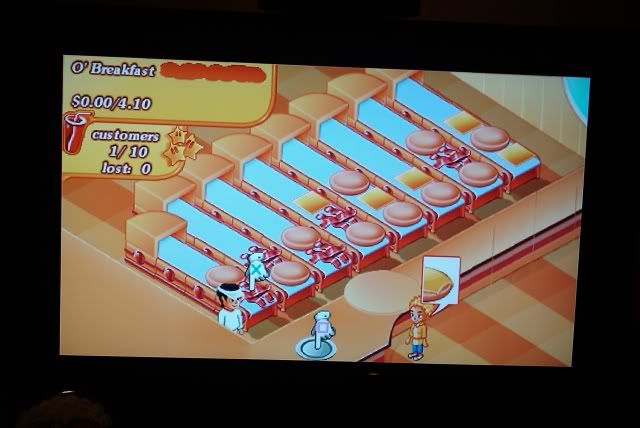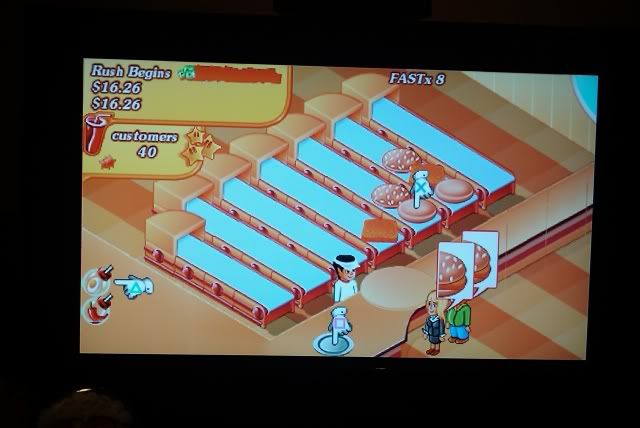 "SODOKU"
Impressions
After sitting through about 10 ****ing prompt screens you finally get somewhere. Well...When i say somewhere, i mean a title screen with the single most annoying music i've ever heard, but let's not nit pick!

And then you get...Yet another prompt. This time asking you for your name (or another rude word. I chose "***" this time), whilst still playing that damn horrible music - have the mute button handy! Finally, you are ready to play SoDoKu! You have a couple of options on this game - there's a simple "new game", or there's "Newspaper", which is somehow different. There's also a lovely Statistics page which is useful for finding out stuff such as how many grids you have started and actually completed, aswell as the total time you have plaued, and total points.

Selecting new game, and then choosing a difficulty (Easy, Normal, Hard, Very hard, or insane, the latter two being locked out until you have progressed), you get to play SoDoKu. After this, i can't say whether it is any good or not, because of the fact that i am totally crap at it. Controls are nice and simple: Simply navigate with the D-Pad and select the square you want with X - then select which number you want to be in there. Easy. You can undo your last move with circle, and get a hint with triangle. Asking for a hint will tell you one of the numbers. If you totally suck as much as i do, you can keep asking for hints until the grid fills itself, which seems a teeny bit pointless. Nevermind though.

Newspaper mode then. This bit looks pretty cool actually. Upon selecting this mode, you can either choose "Enter grid and Play", whereby you simply "enter a grid from your favourite newspaper or magazine." Sorry but that makes absolutely no sense. Why would i want to do that? Just do it on the piece of paper in the magazine...But yeah, if you are that way inclined you can copy the puzzle in your newspaper and do it on this game instead. The other option under the Newspaper part, is "Puzzle Solver". In this one, you "enter a grid from your favourite newspaper or magazine and let the game solve it for you!" Now that sounds helpful, if you are stuck on a magazine SoDoKu! Although it kind of defeats the object of the game, surely...

Anyway, it's hard for me to either recommend or not recommend this, seeing as i know nothing about SoDoKu and couldn't complete one of the puzzles if my life depended on it. However, if you are the sort of person who loves SoDoKu then i would definitely tell you to consider a purchae of this. If you're into this sort of thing then i have no doubt that you will get a good deal of play out of this version! Except...keep it on mute for the sake of your sanity.
Gallery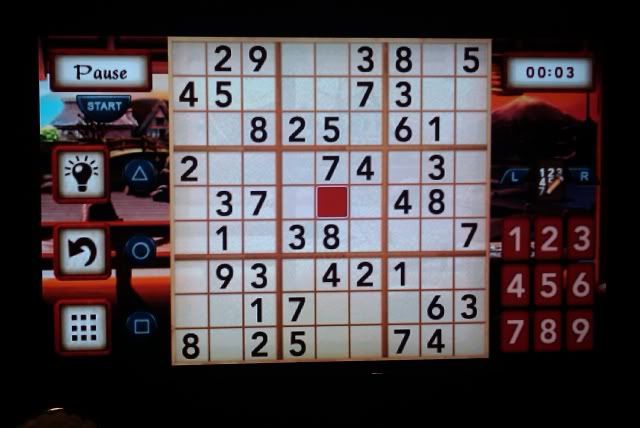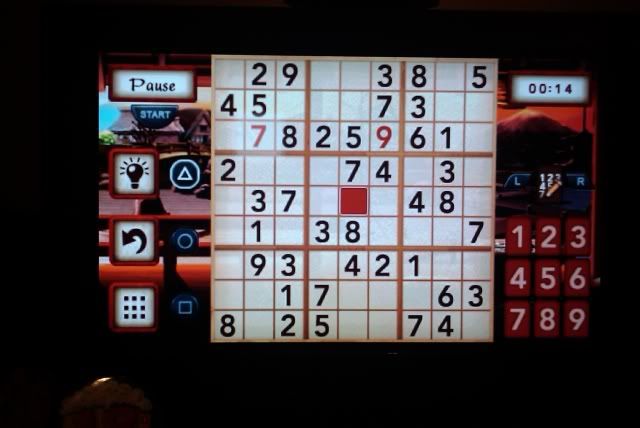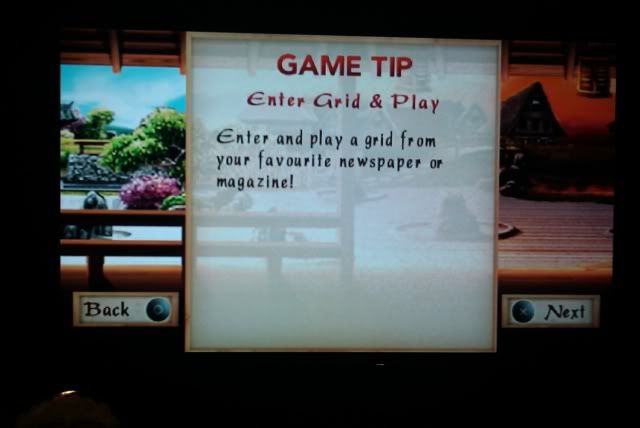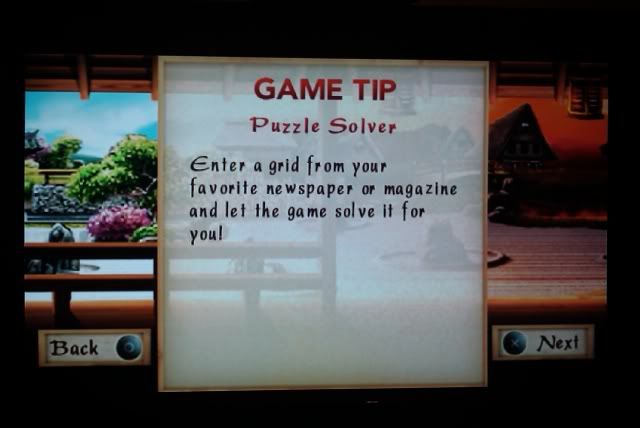 "Pinball Fantasies"
Impressions
Nope, it's nothing to do with sexual fantasies relating to pinball tables! Quite surprised me on that one.

Upon booting the first thing you will notice is that the music is nowhere near as annoying as certain other games...*cough*. Anyway, there is a cool little display where you choose which pinball game you want to play - this Mini doesn't hang around with lots of prompts and stuff; straight into it here, *****es. There is a choice of 4 different tables, represented by a drawing on a floppy disc. Sounds good so far, right?

Okay, the first one is "Partyland." It's basically a picture of a huge creepy clown. Just what i wanted for my monday night. Controls really could not be any simpler at all - in fact they are pretty much as you would expect them to be. X fires the ball from the spring, R1 is for the right trigger, and L1 is for the left trigger. Another pretty cool thing is that hitting Select will flip the screen landscape - though i'm not sure how useful that would be, if at all...All pretty standard stuff in terms of controls. There are other controls, such as tilting, but if i listed all of those i'd be here all day.

The general formula for gameplay is also exactly how you would expect it to be. Player 1 gets a go at pelting the ball into every corner of the pinball table, and rack up as many points as he can, and then Player 2 gets a chance. This is the same for all of the different boards - the only different feature is their aesthetics.

Any Pinball enthusiast would love this game as far as i can tell. I was never really one for the pinball machine, but i found this to be a fun game. Of course, you can get a lot of enjoyment out of just the one table, and this has four different ones to keep you occupied. If you enjoy Pinball, i'd say this would be a very good time waster for you - possibly moreso for the PSP user than the PS3 user, but it's fun on both!
Gallery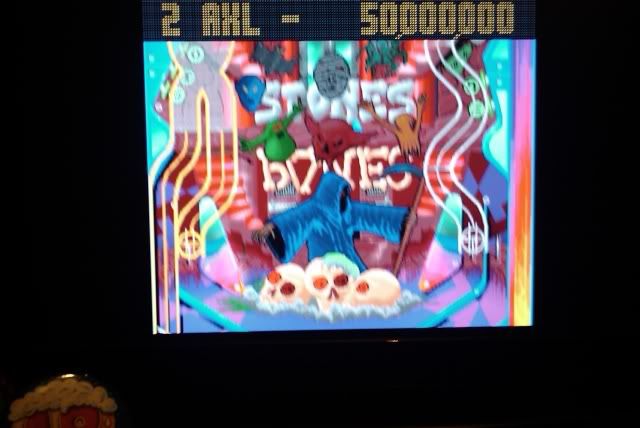 "BreakQuest"
Impressions
BreakQuest! It's Break Out, basically. Start it up and, whilst muting the once again horrific music, you'll find you have the option of either "Quest Mode" or "Arcade mode." Lovely. There's also a leaderboard chart for each different difficulty.

Straight into quest mode then. First, you choose your difficulty, and choose what you want the platform to look like (although why that matters i don't know, they all look the bloody same). You will then enter the dizzifying first level. Everyone should already know what you have to do in this game, but if not, i will explain it for you. You have to move your platform around to bounce the ball around the screen and destroy all the blocks. Without losing your balls (on screen ones!). Controls are obviously ridiculously simple - simple use the D-Pad to move left and right in order to keep hitting the ball. The only problem i had is that the platform doesn't appear to move very fast at all. Maybe i just suck hardcore at the game, but i missed the ball an uncountable number of times. But, you know what, i probably just suck hardcore. I usually do. At the game! There are though, a very surprising amount of powerups available, all of which are quite helpful in your quest for breaking. Some...in fact lots of the levels are very touch too!

On to Arcade Mode then. "Get 5 keys in quest mode to enable Arcade", the game informs me. The arcade mode is pretty much the same as the Quest mode, as you would expect it to be. The only difference is that in this mode you can play the levels in any order you like. Seems pretty standard, really.

Again, it's a fun little game. You get a hell of a lot of different levels for your money, and if you enjoy this sort of game then you are bound to get your money worth, and enjoy it. Again, for what it's worth, it is definitely a fun game, and well worth a look in if you like Break Out games.
Gallery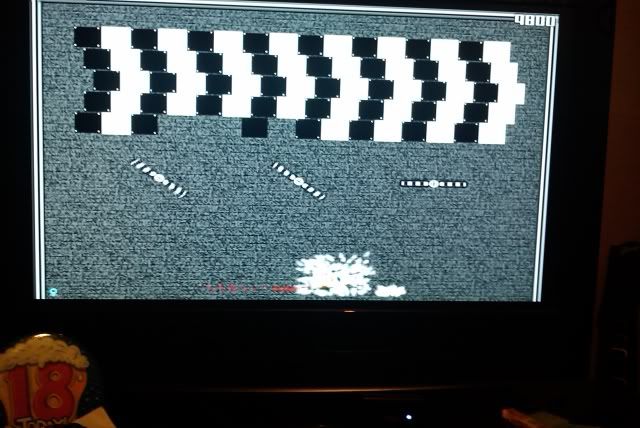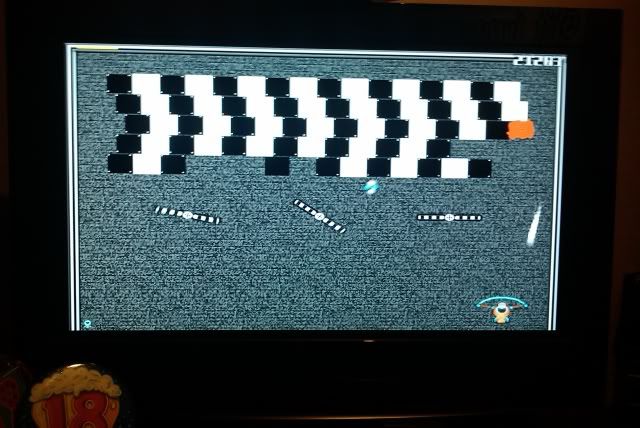 "Alien Zombie Death"
Impressions
Alien Zombie Death. They couldn't have given it a better name if they tried. A) Because it's awesome, and B) Because it pretty much rounds up the three things in this game - Aliens, Alien Zombies, and lots of dying (both for you and the Alien Zombies!).

"Play game" is your only option in this one, but nevermind. The disappointment felt from there only being one gameplay mode is offset by both the fact that this game has Alien Zombies in it, and the awesome music (a rarity over the last few Minis! I was starting to go bad due to the amount of ****ty music!). After selecting to play the game, you get to choose the planet that you want to play on - Fondi being your only option until you have unlocked lots of medals in order to progress to the other planets. After selecting the planet and reading the tip screen, you are ready to go!

The controls are very simple. There's only a couple to remember. You're on a weird network of platforms, one underneath the other. Use the left and right D-Pad buttons to navigate left and right along these, and the up and down arrows to go up or down to the platform above or below (you can also use Triangle or X to move up or down). L1 is used to shoot to the left, whereas R1 is used to shoot to the right (again, square can also be used to shoot the to the left, and circle can be used to shoot the right if you prefer these controls). Run around like the hectic little dude inn a spacesuit that you are, and destroy as many creepy green Alien Zombies as you can in order to to gain as many points as possible, whilst watching out for electricity and other
random traps that appear now and then. That's really all there is to this game. It's really just straight up shooting. Sure, the art style is fantastic, as are the sound effects, but it's still just a game consisting entirely of shooting.

Whether that is a bad thing or not is up to you, really. Even so, i'd still fully recommend it as one of the best Mini titles there. Despite the fact that there's only one game mode, and it's just a shooter, it is really still a lot of fun, and it's great value for money. There are a lot of different levels to keep you busy, and even after doing that, you can still try and beat your own best score on every level. Again, a recommendation from me.
Gallery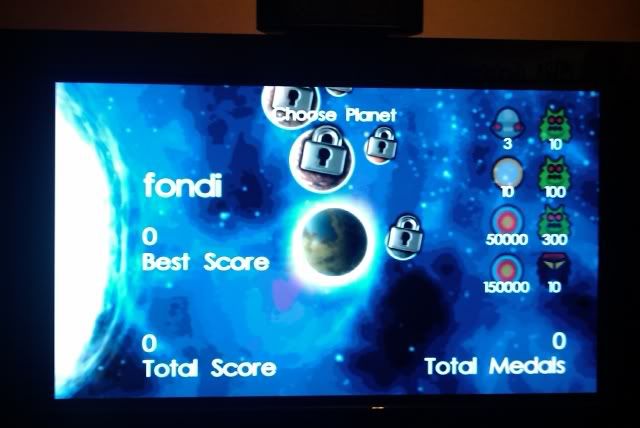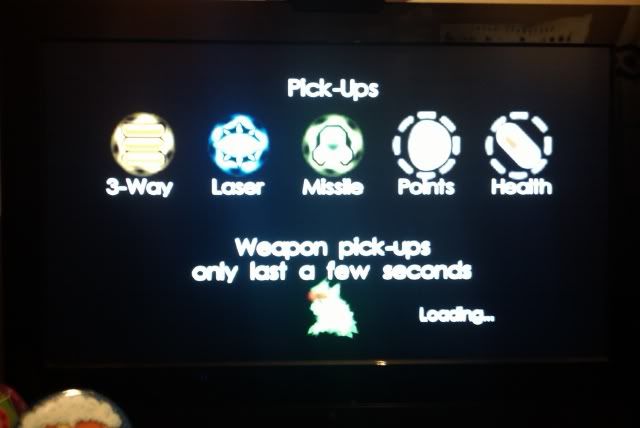 "Yeti Sports"
Impressions
The information box when hovering over this game on the XMB says that "Yeti and Pengu are back, For the first time...On the PSP"; making it sound like this is a good thing. I have to say, the people who made this game must think very highly of themselves, and they must struggle to fit their bit bloated heads through the doorways on the way out of their office.

Even after booting it up, you still get the feeling that this is going to be a good game. Cool music again, a nice looking background with a polar bear in a very strange pose...All looks good so far! There are two options on the main menu: "Play Level" and "Play Classic."

Selecting to play level brings up a prompt ready for yet another rude name (this time i chose boobies), and then you are off into the game. Press X to make the penguin drop, then X again to smack him across the backside and watch him go flying across the snow. Fun though this is, that is the only thing you will be doing in this game. The entire game consists of this one level, and i'm not even joking. Okay, smaking a penguin with a baseball bat might be fun the first time, but it's a bit tiresome after a while. Even selecting the other mode "Play Classic" is as far as i can see exactly the same level with absolutely no differences, at all. Why they bothered to even make two different gameplay modes, if they are both exactly the same, i have no idea at all.

Really, do not buy this game. It's fun for 5 minutes, then it is boring. If you really want to play this game play the free flash version on the internet, which i am sure everyone has tried anyway. How they can justify charging for this i do not know. I really do not recommend this title at all. Unless you are in the business of wasting money; in which case, send the money to me instead - i'll find a better use for it than this crap.
Gallery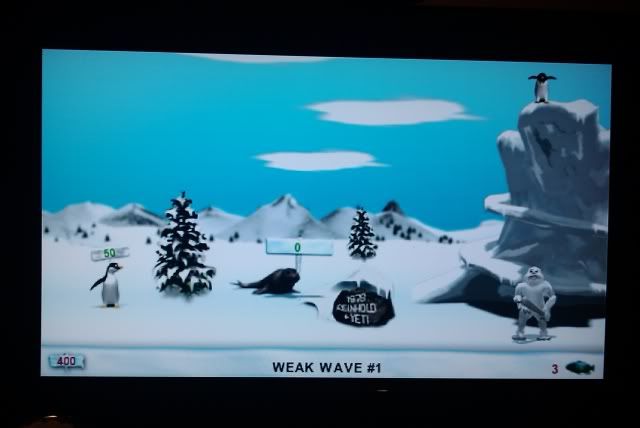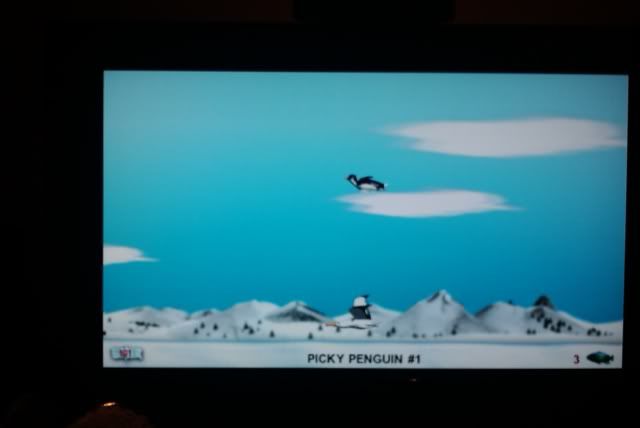 "Vempire"
Impressions
Once again, at the start screen (this time with music that for some reason reminds me of LocoRoco Coccoreccho!, hmmm), and there is just the one option again. Oh, and an annoying little flashing "X" in the bottom corner. I guess that means it wants me to hit X!

After hitting X to make the game stop telling me what to do (and finding that it carries on doing so anyway), you have to chose a level. As usual, you can only pick one to start with, and you unlock more as you go along. After going through all of that rubbish, you finally get to the game. "You must rotate blocks to align 4 or more of the same type", the game says, helpfully summing itself up for me so i don't have to do any thinking. Controls are fairly simple (the game says). R1 rotates blocks clockwise, L1 rotates them anti-clockwise as you would guess. You use the D-Pad to navigate, an that's really all there is to it.

At the side there is a bottle full of some kind of purple liquid, which gradually fills up and, when full, makes the boss of that area appear. Every time he appears, he does a suitably good job of annoying the hell out of you and making it so you have no idea whatsoever what you are doing. Funky.

Really then, this game is a lot like games like Bejewelled - simply making a line of 4 or more of the same type of block in order to get rid of them. So, if you are a fan of Bejewelled (or for that matter, any other puzzle game that is in a similar vein to Bejewelled), then you are sure to love this game, and i recommend it. It's a good little time waster - maybe more one for the PSP this. Seems like the kind of thing that would be useful for passing a 10 minute buss journey. But it's still good fun on the Ps3.
Gallery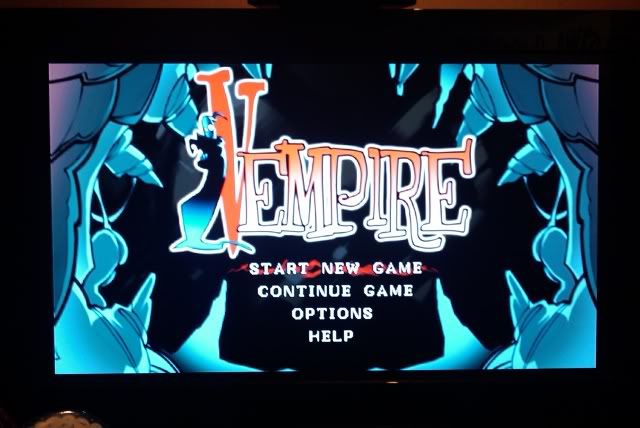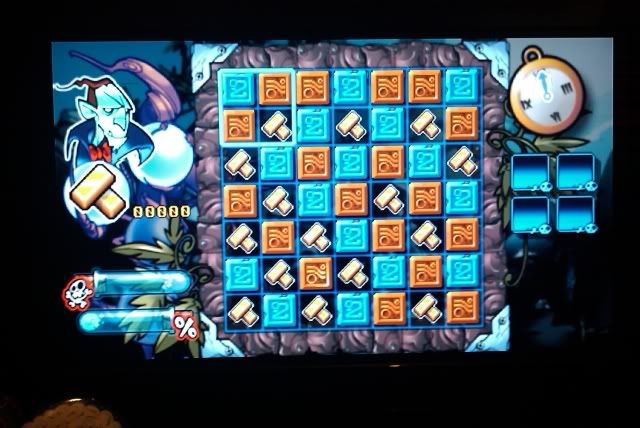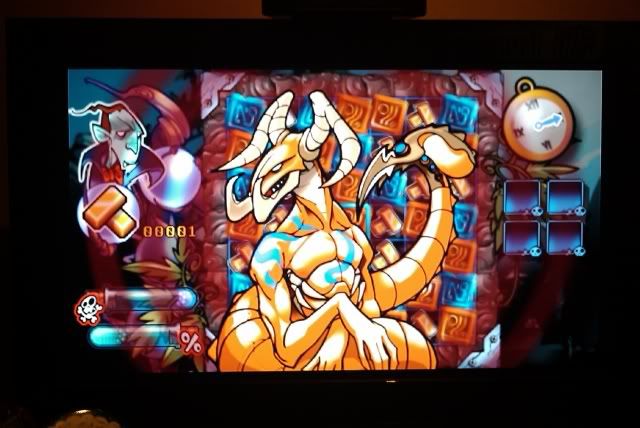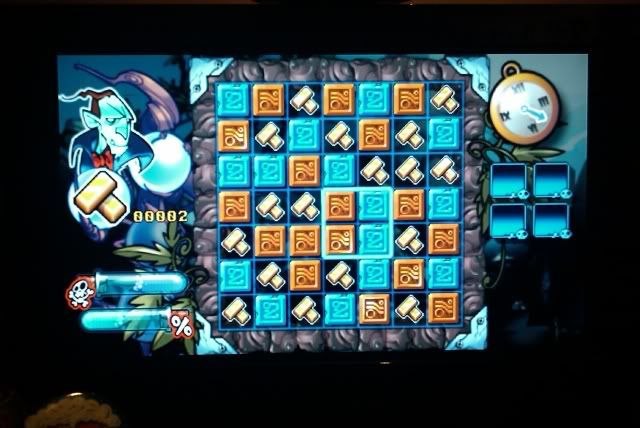 "Kahoots"
Impressions
"Drag the blocks which form the floor, get the to the exit door" the game's info box reads. I love it when a game starts with a nice little rhyme to brighten up my day.

Not much interesting on the main menu (but there is a ****ing annoying soundtrack). They only gameplay option here is to play the main game. After selecting that, god knows what happens. A woolen ball with a clothes peg for a mouth sings at you. I really don't even know what to say to that. After he's done you get to choose which level you want to play, and for once it looks like you have free reign to choose whichever one you want from the beginning. Selecting the first level brings back the freakish ball of wool, who tells you how to play. Apparently you use the D-Pad to control the cursor, X to grab blocks, and then use the D-Pad to swap that block with the one next to it. R1 can be used to fast forward the game if you so wish to. Basically, you have to move around the floor panels in order to help the mice (at least, i think they are mice get to the exit door. The random woolen ball keeps giving you tips between each level, and more hazards and other gameplay elements get added as you go along.

Really, this is one of the weirdest games i have ever played. It's good fun. Like a little puzzle game, but with unique little twists, and some more crazy **** going on. Again, this is another Mini which i thoroughly recommend, but again i think this one is more for the 10 minute bus journey than anything. It's still good fun and unique on the PS3 though.

And the music grows on you.
Gallery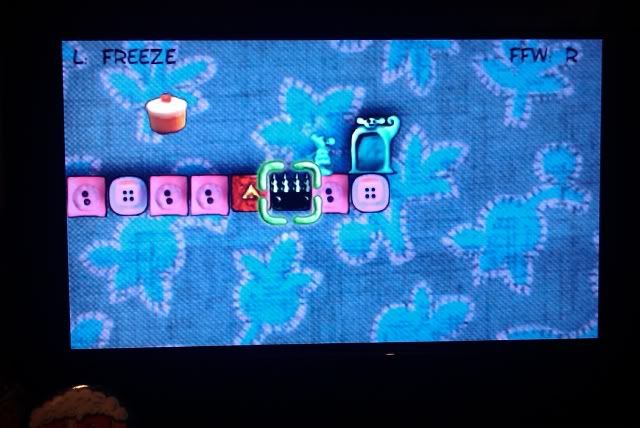 "Mahjongg Artifacts: Chapter 2"
Impressions
Another Mini where you will want your mute button handy! When you get to the menu screen the first thing you'll notice is the horrible music - then you'll see there's 3 different gameplay options in this game; there's "Play Quest", "Play Classic", and "Play Endless." Sounds fun. It's all typical Mahjongg really, as you would expect.

The controls are rather annoying, but easy to get used to. R1 is used to zooming into the cards for better viewing. The analogue stick is then used to move around, and L1 is used to zoom back out again. L1 + R1 together make it autozoom, which actually works fairly well. Select will toggle the game to only show the free tiles, with the rest blacked out, which makes for easier playing. Then you simply use the D-Pad to move the cursor and select two identical tiles, as you would in any other Mahjonngg game.There is also the option to press triangle for a hint, which will instantly show you where two identical tiles are. Pressing circle will undo moves. Like i said, the controls are numerous, but they make sense, and they don't really take many minutes to get comfortable with.

Quest Mode is what you might just call normal mode. You basically just play through levels doing the Mahjonng thing of destroying all of the identical tiles. Classic is much the same again except you choose the layout that you want to play, from 99 different layouts. That's a lot of value for your money right there!

In endless mode you choose from a tileset and then you play through that i assume. I got too bored to try it out.

If you're a fan of Mahjonng games (and haven't got bored of them yet, in which case there must be something wrong with you), then yeah i totally recommend this for you, as i'm sure you will love it. If you haven't played a Mahjonng game before, and you want to get into them, then this is a good game to buy to start!

I'm sick of typing ****ing Mahjonng. Who decided to spell it in such a stupid way?
Gallery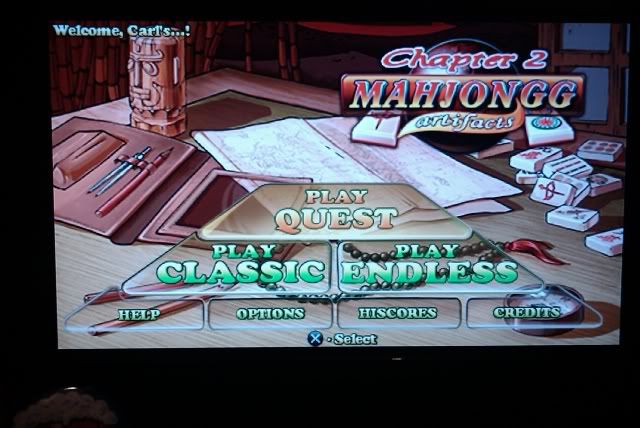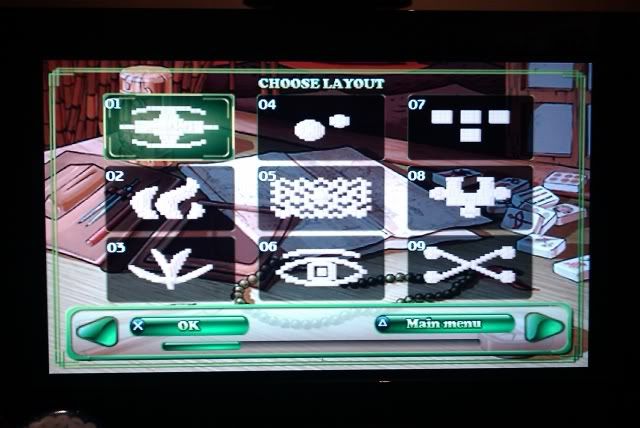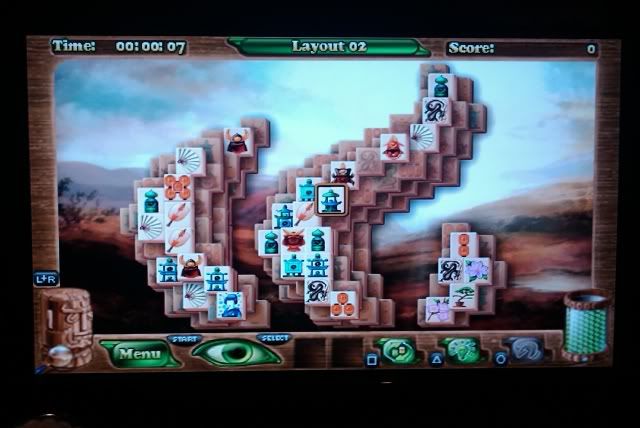 "Dracula - Undead Awakening"
Impressions
This game's title screen only shows one gameplay mode (if you can read it in the stupid font style that the developers chose). So yeah straight into the main game then by the looks of it.

After hitting that and then selecting New Game, you are instantly in the action and playing as a guy who i think looks like Darth Vader. Except you have a pistol rather than a lightsaber. Which is always helpful when you are about to be attacked by a mob or people. Controls are pretty simple, using the D-Pad to move your character, and the 4 face buttons to alter the way you are facing. To shoot you have to hold down the face button (e.g. if you want to shoot right you hold down circle, if you want to shoot up you hold down triangle etc). Apart from that there isn't a lot to say really. You have to kill a mob of what i presume to be Werewolves. There are lots of different weapon pick ups etc on the way that help you out on your mission (such as shotguns).

Really there isn't a lot else too this game. Still, it's a fun little game. You walk around and shoot Werewolves. Pretty much everything you need a game. If you like the sound of that, then you should buy it! If not, probably better to put your money towards another game.
Gallery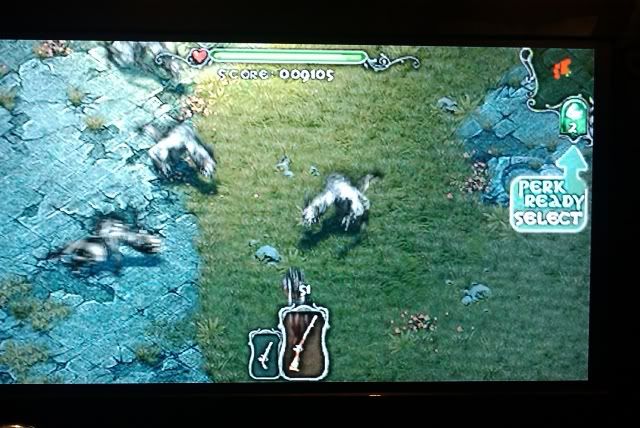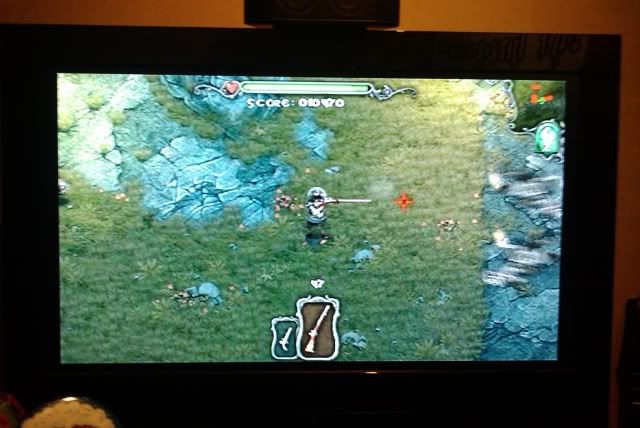 "Zombie Tycoon"
Impressions
Zombie Tycoon. Like Rollercoaster Tycoon but with Zombies, essentially. Remember how in Rollercoaster Tycoon you made a huge rollercoaster to scare the pants off of people? This is similar, except you creare a hoard of zombies to scare the pants off of people instead.

Basically, you play as a weirdo Zombie, who wants to take over the world. To do this, your zombie crew of...Um...Zombies...has to take over all of these small place, destroying hospitals and schools etc. This is basically what you do - lead your Zombie crew around and make them destroy buildings and enemies etc. It sounds rubbish, but it's actually fairly good, and has some hilarious one lines in it (though it's not nearly as good as Age of Zombies in in this respect). Controls are a bit weird at times - You use the shoulder buttons to cycle through your Zombie crew and tel them what to do. The analogue stick moves you around, and the D-Pad changes the camera angles. The face buttons are used to send individual types of Zombie (there are 4 types) to destroy a building etc. It sounds complicated and..well..it is, but you get used to it quickly.

Another fun little Mini, and another that i wholeheartedly recommend to you all - another one which i had a lot of fun playing!
Gallery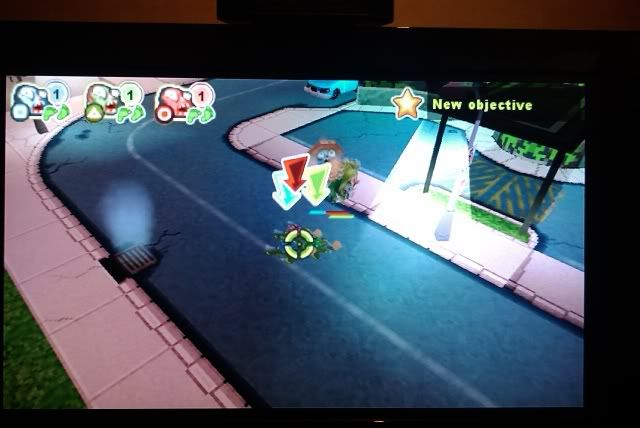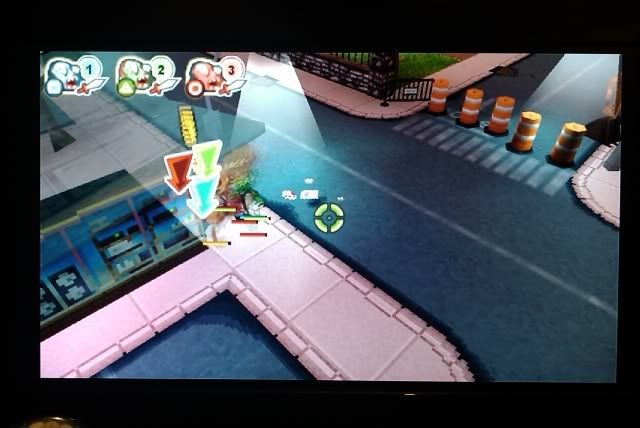 "Hysteria Project"
Impressions
First off, it is the cheapest Mini available on the store. So bare this in mind while reading this review!

Right, so this isn't your regular type of game. No controlling characters or hitting high scores in this game. Instead, it is a live-action sort of game (sort of like Heavy Rain). You make a decision, and then the consequences of that decision make up the game. Presumably the game changes based on all of the different decisions that you could make. There are also QTEs thrown in there which, if you miss, will cause you to be caught, and end the story there for you.

You start off tied up in a room with no idea how you got there. You have to escape from the mad killer who has taken you and is now chasing after you.

The atmosphere in this game is set up very well indeed actually. The music really adds to the mood, as does the character's blinking - which doesn't sound much but it really makes you feel like you are in the game. The game does an absolutely fantastic job of making and keeping the right mood - i was on the edge of my seat.

All good so far. Unfortunately, something just had to let it down didn't it. The resolution (at least on the PS3, which i played the Mini on) is absolutely terrible. It is so incredibly blocky that, at times, you can't actually tell what you are looking at. Also for some stupid reason, the developers thought it would be a good idea to half the game every few minutes to flash a big red box that says "saving" in front of you, which REALLY brings you out of the experience and reminds you that you are, in fact, playing a game. Another obvious downside is that this Mini is always the same. Once you've done it once, you've done it a thousand times - the reply value is next to 0, really. And in itself the Mini is pretty damn short - i believe it took me around half an hour to finish.

The game ends with a cliffhanger and "To be continued..." so obviously there will be more Hysteria Project to come.

Despite it's downfalls, i would still thoroughly recommend this if you like FMV games. Though it could be improved, this game is really very good for the small price you pay.
More impressions ~ Credit to Zoibie
Hysteria Project feels like just that... a project. A media project for school which gives a chance for the plucky young student to practise using his expensive camera and his new video editing software his Dad paid so much money for, whilst being able to re-enact his favourite horror movie sequence. In fact, it's not much of a game at all, more a series of cut scenes and image tomfoolery with options in between, but as it turns out, this simple format can provide an unusually compelling experience, despite the obvious downfalls of releasing it for minis.

As far as horror films go, it's nothing special; just your run-of-the-mill evil entity chasing after you with a health-and safety-hazard, but put in the form of Sega CD style FMV 'game', it works remarkably well. It's akin to skipping the first hour of boring exposition of any horror movie and going straight to the escape scene. And that's part of the intrigue: you have no idea where you are, how you got there or who/what's after you.

A lot of the game is spent running through the woods (well, watching a video of your character running through the woods), but you'll occasionally be forced to make some sort of a decision, such as hide/keep running or set trap/stay hidden. In the latter half of the game, these options are mostly trial and error with a lot of them resulting in cheap deaths; at least the game has the courtesy to include retries.

Surprisingly, 'puzzles' also make an appearance in Hysteria Project (the term being used lightly.) In keeping with the whole 'running away from death' aspect, the 'puzzles' are just a different way of telling you which route to take, thrown in with a timer to make things a good deal more irritating.

Gameplay is limited to just choosing an option, or pressing 'X' or 'O' during the games video sequences, but I have to give Hysteria Project credit for the way it includes its quicktime events. Like most people, I'm not a fan of button prompts, but in Hysteria Project, they're only used when they're necessary: usually during the game's action sequences. They're never distracting so they help keep you immersed as you're watching your character try to sneak quietly from one place to another.

For a game which focuses so heavily on these FMV sequences, the video is very important. Unfortunately, as you might expect from the file size limitations, the video has been compressed quite a bit. The bad quality is much more noticeable in the faster, action sequences and does let it down somewhat; but then I guess you could argue that the unclear video adds to the shadowy atmosphere... if you're one of them 'games-as-art' types.

The audio is one of the best parts of the game. The soundtrack is eerie and much like what you'd expect to find in a full retail release. On top of the music, there can be any number of creepy and expertly produced sound effects, most notable being the 'scream' that resonates around the woods whenever you turn to face the creature chasing you. This experience is slightly marred however; upon start up, the game recommends using some headpones, however with some scenes I found there was a distinct clicking sound alternating between ears. It could have been an intentional way of trying to immerse you (somehow) but, more likely, it was due to the compression on the audio.

So, to wrap this up in a nice, neat package, minis are both perfect for, and a substantial detriment to Hysteria Project. At 80MB in size, it seems they could have spent an extra 20MB improving some of the video sequences or the audio; after all, the recently released "Monsters (in all likelihood, given previous gaming conventions) Stole My Princess" was 300KB over the limit. Still, it's a unique experience, which wouldn't really work if it was released on any other platform: petty nuisances aside, there's a lot of enjoyment to be had. There are worse ways to spend £1.20 and with the prospect of a sequel, this could turn out to be great franchise for minis.
"Echoes"
Impressions ~ Credit to Zoibie
Halfbrick seem to be the Q-Games of the 'mini' world; their games are fun, simple, polished and innovative. Whilst their releases have so far just been ports from Live Arcade, they are admittedly very good ports.

Echoes doesn't have a story as such, but the premise is simple. You play as a girl (only distinguishable by the top of her bonnet, since it's in a top down view) who must go around various 2D stages collecting crystals. The catch is that every time you collect a crystal, you create an 'echo' which retreads the steps you took just before you reached the crystal. Running into one of these echoes will cause you to lose a life and, as you'd imagine, the level ends if you lose all of your lives.

Sounds simple enough, however there is some strategy involved. Like most minis, the aim isn't to beat the game as such, more to get the highest score. The echoes however also copy the speed of your previous self, as well as the direction; you have to find a balance between going quick enough to get a high score, but going slow enough to avoid making the level impassable with lots of fast moving echoes (which can happen if you have 20+ crystals to collect in a level the size of a box of matches.) Pick ups also spawn on the maps: there is your usual extra lives pick up as well as one which stops time, allowing you to move around without having the echoes constantly in your way. Another pick up makes nearby echoes explode, with the chance for others to explode in a chain reaction type way, incredibly useful in some of the later stages.

Overall, I say definitely pick this one up, it's one of my favourite minis currently on the store. The gameplay is fun, the graphics are surprisingly good for a mini and there are plenty of game modes afterwards to keep you going. The only downside I have with it is the music, just one track that repeats itself throughout the whole game, starting as soon as you get to the menu. I don't think it quite fits with the style of the game, but then this is just personal preference. Besides there's always the mute button.

--Addendum: If you live in Europe, Echoes just got a price cut. It's now just £0.99/€1.19, making it the cheapest mini on the Store!
"Brainpipe"
Impressions ~ Credit to Zoibie
Brainpipe was one of the first minis to hit the Store way back on October 1st and as with the launch of any platform, there will be its fair share bad games releasing alongside it. Brainpipe was one of these bad games -- along with Hero of Sparta and Fortix to name but a few -- although you'd initially be mistaken for thinking that this PC port is a decent enough game.

If there's one thing you can't fault Brainpipe for, it's originality. I dare you to name one other game where the premise is to take control of an eyeball and burrow back into your head to reach your brain (or at least, that's what I gathered was happening from the couple of levels I played.) The official explanation is even more complicated; "The goal of the game is to collect the Unhumanity Glyph at the end of the 10th level, transcend humanity and choose your new alien form!" ... So it's about an eye trying to escape the body and... become independent!?

Completely random concept aside, the next thing to mention is the gameplay. From various videos of Brainpipe running on the PC, you'd be fooled into thinking that the mini version would also control well. Unfortunately, it doesn't control well, to say the least and is horrendous to say the worst. The game is essentially an on rails dodge-em-up, similar to the confined flight sequences in God of War 3 or the space sections in older Ratchet games. The developers give you the option to either use the D-pad or the analog stick, but both are as bloody imprecise as the other! The cursor simply moves way too quickly and there's no sensitivity meter in the options. It's like in Abe's Odyssey or the classic Tomb Raider games, you wouldn't die because you can't do something, you'd die because you're constantly fighting the controls.

The graphics and audio are, however, some saving grace. The graphics are bright and colourful, whilst the background gets darker the further into the levels you go, much like in fl0w. The sound is easily the best part of the game, every time you pass an obstacle a different sound is produced, each given its own 'doppler effect' as you go past, wouldn't want to be unrealistic now would we? Still, it sounds nice, and there can be quite a melody going on as you try (and usually fail) to get past a lot of objects at once.

Overall, Brainpipe could have been a fantastic mini if the developers had spent the time tweaking the controls. For me, they ruined this otherwise brilliant experience, some people may be able to look past it and enjoy the game for the colourful, audio-centric 'work-of-art' this is, but I simply couldn't. If you do decide to get the game however, make sure you watch the credits with some earphones in, it's reminiscent of the 'barber cutting your hair in stereo' soundclip that's floating around the web.
"Tetris"
Impressions ~Credit to AaronSOLDIER
Aim of the game: To get as many complete rows as possible. Basically there are levels in which you need to complete a set amount of rows before going on to the next level (there are 15 levels in total, each time you level up the pieces drop faster and you need to complete even more rows on the next level to get to the next level - so for example, I've started on level 1, I need to complete 30 rows in order to get to level 2, when I get to level 2 I then need to complete 50 rows whilst the pieces drop slightly faster). The game is very simple, but can be very difficult - which makes it so addictive. (I have beat it twice (all 15 levels - beat that!)).

Graphics wise it looks very nice, lots of colours, has a pretty futuristic look to it, but gameplay remains the same. Overall its just the original Tetris with lots more colour, nothing new much in this department.

The game is VERY easy to get used to in terms of controls. X turns your pieces, left/right moves your pieces from side to side, down will speed up the drop rate of the current piece (which gets you more points), up will instantly drop your piece (also getting you more points) and finally L will 'hold' a piece, which you can save for later if you're struggling to find a place for it at the moment. Very easy to get used to controls.

Tetris is very simple and very fun with a lot of replay value, it has a points system so you can try to beat your original score or a friends etc. many hours to be had with it, so its a very fun pick up and play anytime game.

I'd say it was very original (at the time), many games tried to even copy it as it was so popular (Columns, Dr. Robotniks Mean Bean Machine, Puzzle Fighter etc.).

I'd say £3.99 was a little steep at first, but I've put in around 10 - 15 hours on it and I'd say it was a pretty good remake. So yes, absolutely worth it.

8/10
"D-Cube Planet"
Impressions ~ Credit to Scottscorpion
D-cube Planet is a block pushing puzzle game.You play as alien that has crash landed and is trying to collect all the parts of his ship so he can be on his merry way, but he is hampered by D-cubes.

To progress through the level you have to make the alien reach the spaceship part by moving the D-cubes(which can only be moved in certain directions), to clear a route for the alien in a specified numbers of moves.

If you reach the target you are rewarded a gold medal if you have used the minimum amount of moves, or a silver if you just make it within the maximum amount of moves, if you exceed the move count ,you have to restart.

Being a mini it doesnt look the best but everything is clear enough and graphics are not really an issue.

Controls are really easy, you press x on what you want to move then move using d-pad ,then x again to deselect.Only annoying thing is if you forget to deselect you can waste moves returning to desired position.

Its a pretty fun title and with 3 difficulty settings, each with 30 levels it should certainly keep you busy for a while.Most levels are fairly easy to figure out, but getting gold on some levels is tricky, so for the perfectionist this game could have lots of re-playability.

Id give it 7/10 and since i got it free it was definitely worth the money
"Puzzle Scape"
Impressions ~ Credit to Joshualeuty96
Most people who browse the PSN Store would consider this as a dodgy knock-off from other puzzle games and..... this is exactly correct.

The soundtrack in the game is ear-schreeching madness, its an irregular tempo and can easily detract you from the main game of match up different coloured blocks.

The graphics are so average, Blocky and Ugly best describes it along with the irritaiting framerate and you've got some neglected game animation graphics.

The Replay value is abysmal. It only lasts for 20 mins then you'll want to delete it from your HDD/Memory stick Duo but you'll probably expect it from a silly game, costing only 99p.

CONCLUSION
Overall Puzzle Scape is one of the worst PSP/PS3 mini games availible on the store, not even worth 99p it costs. Avoid at the very most.
2/10
Mini of the week
Coconut Dodge (EU)
There's another one for UK + Ireland this week, as FirstPlay gives away
Echoes
Impressions ~ Credit to Zoibie
Halfbrick seem to be the Q-Games of the 'mini' world; their games are fun, simple, polished and innovative. Whilst their releases have so far just been ports from Live Arcade, they are admittedly very good ports.

Echoes doesn't have a story as such, but the premise is simple. You play as a girl (only distinguishable by the top of her bonnet, since it's in a top down view) who must go around various 2D stages collecting crystals. The catch is that every time you collect a crystal, you create an 'echo' which retreads the steps you took just before you reached the crystal. Running into one of these echoes will cause you to lose a life and, as you'd imagine, the level ends if you lose all of your lives.

Sounds simple enough, however there is some strategy involved. Like most minis, the aim isn't to beat the game as such, more to get the highest score. The echoes however also copy the speed of your previous self, as well as the direction; you have to find a balance between going quick enough to get a high score, but going slow enough to avoid making the level impassable with lots of fast moving echoes (which can happen if you have 20+ crystals to collect in a level the size of a box of matches.) Pick ups also spawn on the maps: there is your usual extra lives pick up as well as one which stops time, allowing you to move around without having the echoes constantly in your way. Another pick up makes nearby echoes explode, with the chance for others to explode in a chain reaction type way, incredibly useful in some of the later stages.

Overall, I say definitely pick this one up, it's one of my favourite minis currently on the store. The gameplay is fun, the graphics are surprisingly good for a mini and there are plenty of game modes afterwards to keep you going. The only downside I have with it is the music, just one track that repeats itself throughout the whole game, starting as soon as you get to the menu. I don't think it quite fits with the style of the game, but then this is just personal preference. Besides there's always the mute button.

--Addendum: If you live in Europe, Echoes just got a price cut. It's now just £0.99/€1.19, making it the cheapest mini on the Store!
Manic Monkey Mahem (US)
Go ahead and discuss, and review Minis here.