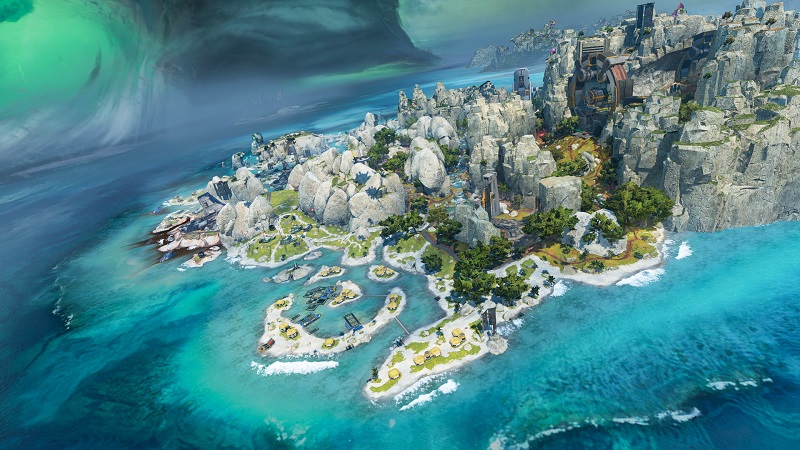 Apex Legends has been gearing up for its new season the last few days, and our first look at gameplay for Season 11: Escape is finally here, showcasing the new maps titled Storm Point, the new legend Ash, and the newest weapon coming into the game, the C.A.R. SMG.
Along with the new trailer we also got a whole new blog post, all focused n the new map from the maps designer, Rodney Reece, who also previously designed the map World's Edge.
The post goes over a slew of details, like the almost entire removal of redeploy balloons or jump towers, replacing them with gravity cannons that look absolutely incredible. There's also a detailed section regarding the local fauna of Storm Point, as this will be the first map to include hostile NPCs.
Taking on these dens however will thankfully be a choice, and quite rewarding. If you chose to wander into a spider or prowler den, and are able to clear it, you'll reap quite a bounty.
Crafting materials, consumables, and weapon attachments can all be found. Plus, a small percentage of damage goes to your EVO points. The best part however is that these dens will always be in the same place on the map each game.
Of course Storm Point is filled with multiple interest points, all of which seem to confirm increased verticality rumours. Particularly the mountain, with what are "the longest ziplines in the Apex Games to date."
Ash's abilities all look like exciting new gameplay editions, but they may need to be tweaked. That remains to be seen.
All in all, it is a very exciting time for Apex players, as this looks like it could be a whole new evolution of the fast paced shooter's gameplay.