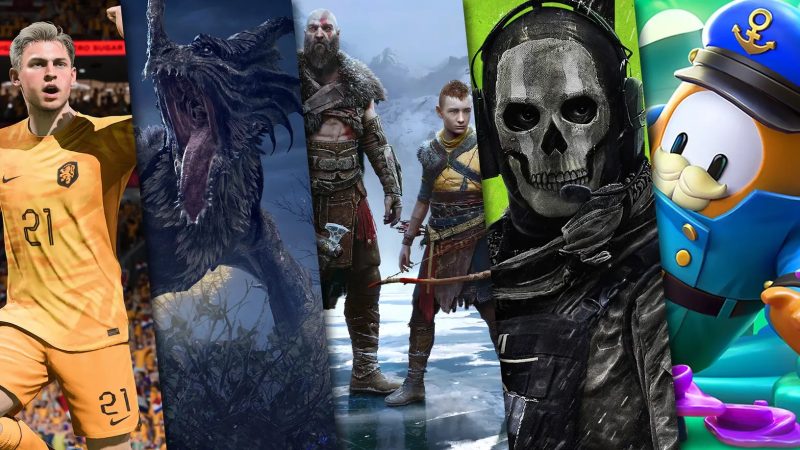 The PlayStation Blog has released its annual list reporting on the top downloaded games of the previous year on PS5 and PS4 consoles across the US/Canada and the EU.
For both PS5 and PS4 consoles, it's Call Of Duty: Modern Warfare II that sits atop the lists for the US/Canada, while FIFA 23 is on top for both consoles in the EU.
It's not the first time this divide has been seen, and it likely won't be the last. At least the reports on the EU side should be more interesting in the years to come, as other football game competitors enter the market to challenge EA.
God Of War Ragnarok is right behind Call Of Duty in the US/Canada, though sits in third in the EU, once again behind Call Of Duty, for top downloaded PS5 games.
On the PS4 list however, Ragnarok doesn't appear until the 9th spot in the list for the US/Canada, and in the EU it just makes it in at number 15.
For Horizon Forbidden West's part, it sits at number 8 on both the EU and US/Canada lists for PS5 games, and on PS4 only comes in at 13th in the US/Canada. Still better than in the EU though, as it sits at the bottom of the list, at number 20.
The top downloaded PSVR game was Beat Saber, across both regional lists. In fact, the top four for both regions are the same, with Beat Saber at number one, then Job Simulator, Superhot VR, and Creed: Rise To Glory.
Lastly, the top downloaded free-to-play games are listed, with Fall Guys topping the charts for both regions, and Fortnite beating out Warzone for the second spot in the US/Canada.
You can check out the full lists for yourself, here.
PlayStation Store's Top Downloaded Games For PS5, PS4, PSVR
---
PS5
US/Canada
Call Of Duty: Modern Warfare II
God Of War Ragnarok
NBA 2K23
Elden Ring
Madden NFL 23
Grand Theft Auto V
FIFA 23
Horizon Forbidden West
Gran Turismo 7
Dying Light 2
MLB The Show 22
Cyberpunk 2077
LEGO Star Wars: The Skywalker Saga
Marvel's Spider-Man: Miles Morales
NBA 2K22
WWE 2K22
Gotham Knights
Sifu
Star Wars Jedi: Fallen Order
Stray
EU
FIFA 23
Call Of Duty: Modern Warfare II
God Of War Ragnarok
Elden Ring
Grand Theft Auto V
Gran Turismo 7
Cyberpunk 2077
Horizon Forbidden West
LEGO Star Wars: The Skywalker Saga
Dying Light 2
Star Wars Jedi: Fallen Order
Among Us
NBA 2K23
F1 22
It Takes Two
Stray
FIFA 22
Assassin's Creed Valhalla
Sifu
Far Cry 6
PS4
US/Canada
Call Of Duty: Modern Warfare II
Grand Theft Auto V
Minecraft
Elden Ring
NBA 2K23
Red Dead Redemption 2
NBA 2K22
Madden NFL 23
God Of War Ragnarok
FIFA 23
MLB The Show 22
The Last Of Us Part II
Horizon Forbidden West
Batman: Arkham Knight
Gang Beasts
Need For Speed Heat
WWE 2K22
Dying Light 2
Among Us
The Forest
EU
FIFA 23
Grand Theft Auto V
Call Of Duty: Modern Warfare II
Minecraft
FIFA 22
Red Dead Redemption 2
Among Us
The Last Of Us Part II
Elden Ring
The Forest
Need For Speed Heat
The Witcher 3: Wild Hunt
The Crew 2
NBA 2K22
God Of War Ragnarok
A Way Out
Gang Beasts
F1 22
Gran Turismo 7
Horizon Forbidden West
PSVR
US/Canada
Beat Saber
Job Simulator
Superhot VR
Creed: Rise To Glory
Swordsman VR
Astro Bot: Rescue Mission
Rick And Morty: Virtual Rick-ality
Gorn
Batman: Arkham VR
The Walking Dead: Saints & Sinners
EU
Beat Saber
Job Simulator
Superhot VR
Creed: Rise To Glory
Sniper Elite VR
Swordsman VR
Rick And Morty: Virtual Rick-ality
Batman: Arkham VR
Arizona Sunshine
Astro Bot Rescue Mission
Free To Play (PS5/PS4)
US/Canada
Fall Guys
Fortnite
Call Of Duty: Warzone 2.0
MultiVersus
Overwatch 2
Apex Legends
Rocket League
PUBG: Battlegrounds
Rec Room
Rumbleverse
EU
Fall Guys
Call Of Duty: Warzone 2.0
Fortnite
MultiVersus
Overwatch 2
Rocket League
eFootball 2023
Apex Legends
Rumbleverse
Rec Room
Source – [PlayStation Blog]