Ninja Theory: Heavenly Sword 2 was never in the works
Posted June 17th, 2008 at 15:55 EDT by
Earlier today a rumor was posted stating that after a meeting with Sony Cambridge Studios and Ninja Theory, Heavenly Sword 2 development had been halted. Well, according Ninja Theory's Tameem Antoniades, the title was never in development to begin with.

"We (Ninja Theory) never started work on HS2 as we wanted to focus on new multiplatform IP. Sony owns the IP for HS and we have never been privy to what they would do with it," he explained.

"As for moving, we have been planning to move to larger premises for future expansion for the best part of a year. There is nothing bitter about the move," he continued. "And the rumour that the team has been disbanded is ridiculous. We have had an unbelievably loyal team especially as we went through some difficult times securing a new publishing deal. We have a new publisher and are busy on our new project which is going very well so far."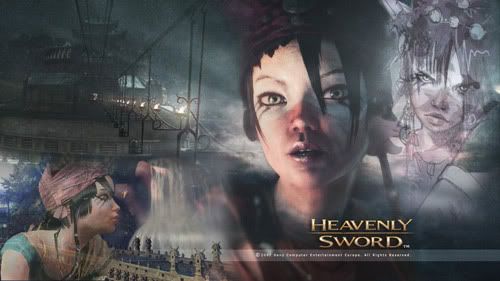 He ended on a rather depressing note for Heavenly Sword fans.
"HS is far from our thoughts at the moment."

Even though we're excited to hear that Ninja Theory is well underway on their new IP, the lingering fear that we'll never see Kai again festers in our hardened hearts. For more overdramatic soliloquies on all things PlayStation, stay right here on PSU.
Comments
10:57am EDT - June 17th, 2008

...No Twing Twang?

Fail

well I guess we can look forward to what they are making

11:03am EDT - June 17th, 2008

give the HS2 to the developement team of GoW3 = win. HS was good, but didnt live up to alot of hype. GoW team should able to make a better sequel after completing GoW3.

11:23am EDT - June 17th, 2008

well if they knew how to make a game longer than 6 friggin hours, they wou;da banked and have been all over the sequel. but no. they ruin a perfectly good IP.

I'm glad they aren't working on any exclusives. Sony fans have come to expect a certain calibur of work from their exclusives, but sorry ninja theory, all the motion capture in the world won't set a game to our saasfied expectations.

11:36am EDT - June 17th, 2008

@Clover09

WTF? At least use spoiler tags or something. Some people are late to the party.

@Alti

Heavenly Sword was up to many of our expectations. For me, it was just a rental and not yet worth a buy, but some of those cutscenes were unforgettable. I'm speaking AFTER playing MGS4, and I can say that Ninja Theory was truly successful with their motion capture. Just by reading expressions, I could take more from those cutscenes than most other next gen titles.

I do understand what you're saying, though, and if Ninja Theory couldn't get it right with an exlusive, I don't know HOW they think they're going to be able to pull it off with multi platform.

12:37pm EDT - June 17th, 2008

bye bye ninja theory..... thanks for the game. hope you fare well on the other sysytem. note to sony: start taking care of your developers!

1:08pm EDT - June 17th, 2008

Oh well, It'll get here eventually, and at the people who are saying it wouldn't be as good as God of War you're probably right but let's be fair they said the star of HS2 was going to be Kai and I think Kai's move set would be completely different to Nariko's.

2:17pm EDT - June 17th, 2008

ninja theory this right here makes me bitter you accrued all these HS fans me being one of them and then abandon us WTH this absurd and its obvious that you put no stock or value into your fans

2:22pm EDT - June 17th, 2008

this made no sense to me as ninja theory had already confirmed that the next project they were working on was not HS2 but a multiplat project

2:52pm EDT - June 17th, 2008

HS was a pretty decent game, maybe one day they will come up with a sequel or something.
This will permanently ban this user and delete all associated comments. This action is irreversible, are you SURE you want to do this?!