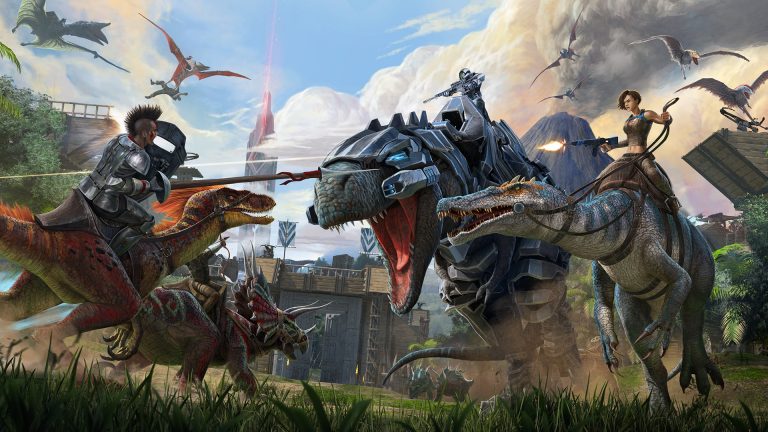 Studio Wildcard has released the full Ark Survival Evolved 2.10 update patch notes for your viewing pleasure, which is now available to download for PlayStation 4, PC, and Xbox One.
Ark Survival Evolved 2.10 Update Patch Notes
Added HLN-A Explorer Notes 11-15 for Genesis Chronicles
Added Corrupted Avatar shirt and gloves for Genesis Chronicles
Reduced Plant Z flash range by 50%
Plant Z Grenades weight reduced from 10 to 5
Dedicated Storage weight reduced from 50 to 20
Decreased cook time on the industrial grill by 50%
Metal Cliff Platforms no longer take 50% less damage from explosive damage
Shortened aberration earthquake duration by ~10%
Shortened Scorched Earth sandstorm duration by ~15%
Bronto should no longer be affected by knockback
MEK pistol Damage reduced by 10%
Lowered gasoline consumption rate by 50% on the following structures:

Chemistry Bench
Electrical Generator
Fabricator
Industrial Cooker
Industrial Forge
Industrial Grill
Industrial Grinder.

Modified the stack size on various items:

Veggie Cake 5 -> 10
Raw Meat 20 -> 40
Cooked Meat 30 -> 50
Sap 20 -> 30
Fiber 200 -> 300
Thatch 100 -> 200
Organic Polymer 10 -> 20
Vacuum Compartment 100 -> 5
Vacuum Compartment Moonpool 100 -> 5

Modified the inventory slot size of various items:

Industrial forge 60 -> 100
Chemistry Bench 60 -> 100
Fridge 48 -> 80
Industrial Cooker 48 -> 80
Preserving Bin 24 -> 48
Mortar and Pestle 12 -> 24
Refining Forge 8 -> 24

Modified Drag weight of creatures to prevent carry by Quetz and Crab:

Galli
Kapro
Megalosaurus
Procoptodon

Reduced stun duration on jellyfish and eels by 20%

Wild eels 7 -> 5.6
Tamed eels 1.5 -> 1.2
Cnidaria 4 -> 3.2
Ark: Survival Evolved was released on PlayStation 4 and Xbox One in August 2017.
The game is set in a massive open-world featuring a dynamic day/night cycle, with survival, unsurprisingly, the name of the game. Players can choose from a first or third-person perspective, and must first establish a base, start a fire, and gather some weapons to stand a chance in the wilderness.
Obviously, being a survival game, you'll have to cope with numerous attributes for your character: health, stamina, oxygen, hunger, thirst, and more must be monitored at all times, or you'll end up in bad shape.