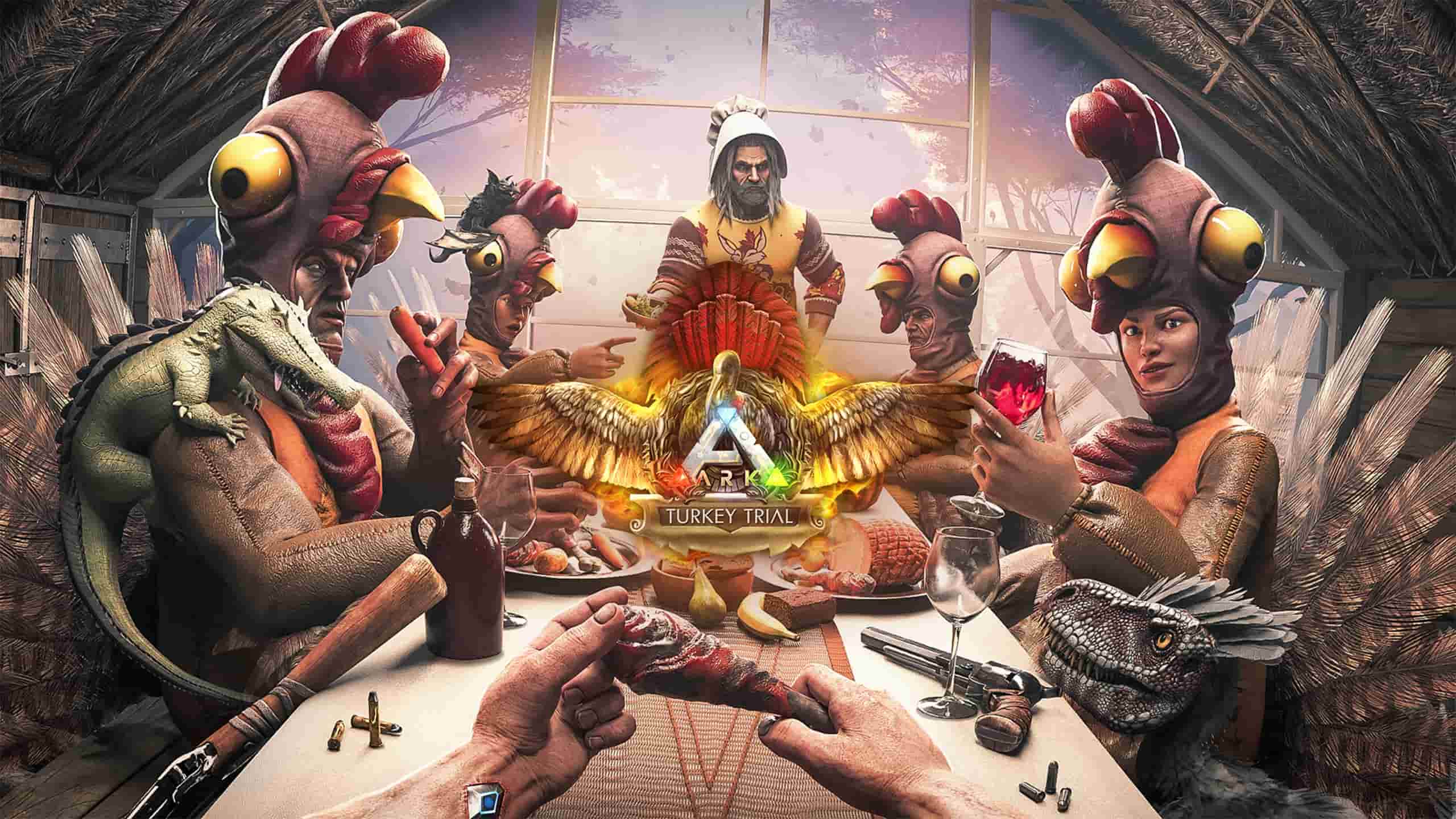 Studio Wildcard has lifted the wraps off the Ark Survival Evolved update 2.70 patch notes ahead of Thanksgiving tomorrow, which comes with support for the Turkey Trial 5 and more. Check out the full Ark Survival update details below.
Related Content – Sony PS5 Complete Guide – A Total Resource On PlayStation 5
---
From Tuesday, November 23rd through Tuesday, December 7th jump into a large-scale scavenger hunt and carve up rare "Super-Turkeys" that have been unleashed across the ARK for Turkey Trial 5!
By harvesting Super Turkey Wishbones from these ruthless, genetically-modified creatures, you can craft your very own fashionable Turkey Costume, Ugly Sweater skins, or choose to summon the devastating DodoRex creature to do your bidding for a limited period of time.
This event can be manually activated with the server arg parameter: -ActiveEvent=TurkeyTrial
Dates
November 23th to December 7th
Rates
*Note that these bonuses are multiplicative of the game's standard 1x rates.
Official Servers
3x XP, Harvesting, Taming, and Breeding (imprint, maturation, hatch/gestation), 0.6x Mating Interval, 1.5x Hexagon Bonus
Small Tribe Servers
4.5x XP, 4.5x Harvesting, 4.5x Taming, and 4x Breeding (imprint, maturation, hatch/gestation), 0.6x Mating Interval, 1.5x Hexagon Bonus
ARKPocalypse
5x XP, 5x Harvesting, 5x Taming, and 5x Breeding (imprint, maturation, hatch/gestation), 0.6x Mating Interval, 1.5x Hexagon Bonus
Conquest
4.5x XP, 4.5x Harvesting, 4.5x Taming, and 4x Breeding (imprint, maturation, hatch/gestation), 0.6x Mating Interval, 1.5x Hexagon Bonus
Even Creatures
Super Turkeys (Untamable creature)
DodoRex (Craftable Temporary Tame)
Event Skins
Turkey Costume *NEW*
3 Ugly Sweater Skins *NEW*
Bonnet Hat Skin
Chieftan Hat Skin
Dodo Pie Swim Bottom Skin
Dodo Pie Swim Top Skin
Dodorex Swim Bottom Skin
Dodorex Swim Top Skin
Dodorex-Print Shirt Skin
Meat Swim Bottom Skin
Meat Swim Top Skin
Murder Turkey Swim Bottom Skin
Murder Turkey Swim Top Skin
Murder-Turkey-Print Shirt Skin
Pilgrim Hat Skin
Pitchfork Skin
Turkey Hat Skin
Turkey Leg Skin
Turkey Swim Bottom Skin
Turkey Swim Top Skin
Ugly Cornucopia Sweater Skin
Ugly Trike Sweater Skin
Event Chibis
Deinonychus Chibi *NEW*
Kaprosuchus Chibi *NEW*
Onyc Chibi *NEW*
Tek Raptor Chibi *NEW*
Gigantopithecus Chieftain Chibi *NEW*
Event Items
Wishbones (acquired from killing Super Turkey's)
Thanksgiving Dino Candy
Wild Creature Colors
Orange
Medium Autumn
Light Autumn
Burnt Sienna
Brown
Light Brown
Dark Magenta
Dark Violet
Vermillion
Red
Dark Red
Dino Dark Red
Midnight Blue
Black Sands
Dark Blue
Near Black
Black
Dino Darker Grey
Dino Albino