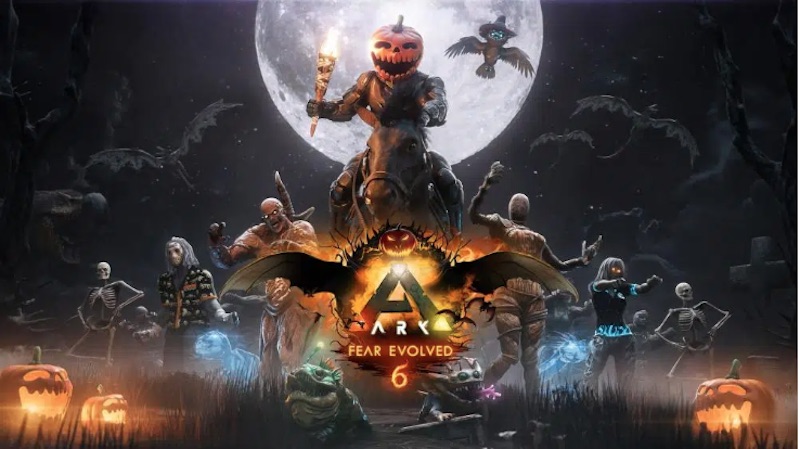 Studio Wildcard has lifted the wraps off the Ark update 2.84 patch notes for your viewing pleasure, and this is for the Halloween-based Fear Evolved 6. Read up on the latest Ark patch notes below for full details.
Related Content – Sony PS5 Complete Guide – Everything Explained On PlayStation 5 For New Users
---
From October 19th to November 2nd, ARK will be teeming with spook-tackular new chibis making their ARK debut, cutting edge fashion, and eerie event creatures all resplendent in moonlit pumpkin patches and Hallow's Eve festivities!
This event can be manually activated with the server arg parameter: -ActiveEvent=FearEvolved
October 19th to November 2nd
Official Servers: 3x XP, Harvesting, Taming, and Breeding, 1.5x Hexagon Bonus
Small Tribe Servers: 4.5x XP, 4.5x Harvesting, 4.5x Taming, and 4x Breeding, 1.5x Hexagon Bonus
ARKPocalypse: 5x XP, 5x Harvesting, 5x Taming, and 5x Breeding, 1.5x Hexagon Bonus
Conquest: 4.5x XP, 4.5x Harvesting, 4.5x Taming, and 4x Breeding, 1.5x Hexagon Bonus
DodoRex (Untamable Boss)
DodoWyvern (Untamable Boss)
Zomdodo
Zombie Fire Wyvern (claimable & persist after Fear Evolved)
Zombie Lightning Wyvern (claimable & persist after Fear Evolved)
Zombie Poison Wyvern (claimable & persist after Fear Evolved)
Skeletal Giganotosaurus
Skeletal Quetzal
Skeletal Jerboa
Bone Fire Wyvern
Skeletal Bronto
Skeletal Stego
Skeletal Trike
Skeletal Raptor
Skeletal Rex
Skeletal Carnotaurus
Ghost Reaper (Surface reapers)
Ghost Bulbdog
Ghost Rex
Ghost Basilisk
Ghost Snow Owl
Ghost Mantis
Ghost Direwolf
(acquired via killing Dodowyvern/Dodorex or Cooking Pot recipe)
Desmodus *NEW*
Vulture *NEW*
Anglerfish *NEW*
Araneo *NEW*
Spooky Bulbdog *NEW*
(acquired via killing Ghost creatures)
Reaper
Bulbdog
Rex
Basilisk
Snow Owl
Mantis
Direwolf
Pumpkin
Stolen Headstone
Scarecrow
Dinosaur Bone
Dino Candy Corn
(acquired via Cooking Pot recipe)
Scare Emote
Knock Emote
Zombie Emote
Dance Emote
Panic Emote
(acquired via Cooking Pot recipe)
Strawman costume
Skeleton costume
Skelly Print Shirt
Tentacle Print Shirt
ZombDodo Print Shirt
Zombie Wyvern Print Shirt
Reaper Swimsuit Skin
Jack-O-Lantern Swimsuit Skin
Pumpkin Helmet Skin
Headless Costume Skin
Hockey Mask Skin
Araneo Swimsuit Skins
Onyc Swimsuit Skins
Vampire Dodo Swimsuit Skins
DarkViolet *NEW*
DarkBlue *NEW*
DragonFire *NEW*
Cream *NEW*
Vermillion *NEW*
BigFoot0 *NEW*
BlackSands *NEW*
LightAutumn *NEW*
Dino Dark Purple *NEW*
Dino Darker Grey
Dino Light Blue
Dino Dark Yellow
DragonBase1
Light Brown
Light Grey
Dino Light Brown
Dino Dark Brown
DragonFire
ActualBlack
MidnightBlue
MediumAutumn
DarkWarmGray
Orange
DarkLavender
Jade
v707.5 – 10/19/2022 – Major version for servers
The Fear Evolved Event event will run from October 19th 1PM Pacific to November 2nd 1PM Pacific. Unofficial server owners can activate the event by adding -ActiveEvent=FearEvolved to the launch arguments
Fjordhawk balance pass

Reduction to Fjordhawk flight speed when picking up death lootbags
Increase time before hawk becomes invisible to 20 seconds
One hour cooldown added on retrieval of player's inventory. This can be overridden with launch argument –
-MinimumTimeBetweenInventoryRetrieval=<TimeInSeconds>
Reduced base health and health per level gained on the Fjordhawk by approximately 40%
Added 2x damage multiplier from guns and projectiles
Visual improvements will be added in the next major version for client display of the cooldown time

Fixed multiple crashes
Fixed several Exploits
[Source – Ark Survival Evolved Patch Notes]