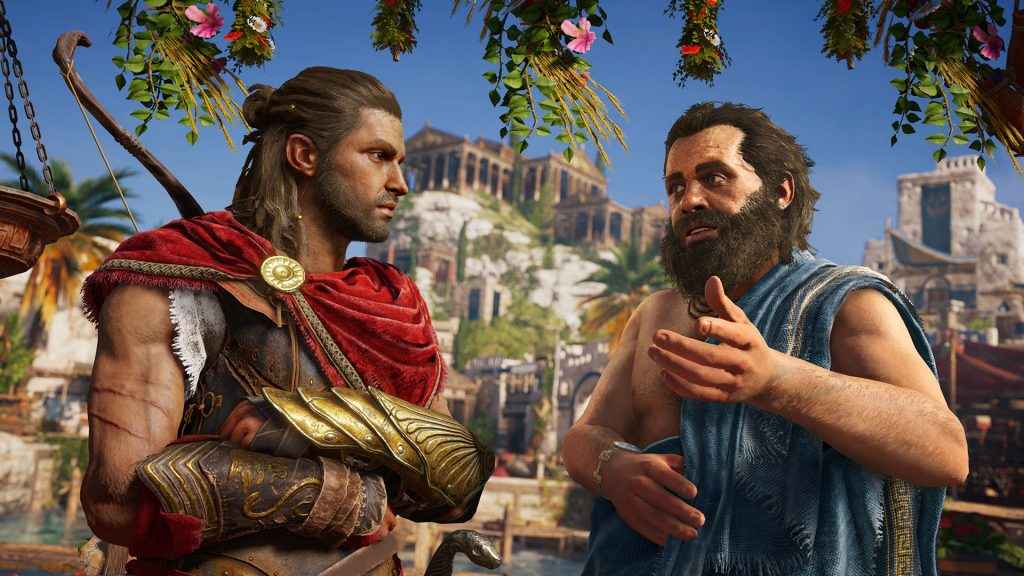 Ubisoft has today released Assassin's Creed Odyssey patch 1.06 on PS4, Xbox One, and PC. Clocking in at a sizeable 4.1 GB, the game's latest update addresses a number of issues with gameplay and performance.
However, the most significant aspect of today's update is the introduction of the first free Assassin's Creed Odyssey story DLC.
We won't be revealing the exact nature of this expansion in the following article. But we will reference the name of some of the game's upcoming DLC content. So, if you want to go in completely blind, it might be wise to stop here.
Lost Tales of Greece: Part 1
Known collectively as the Lost Tales of Greece, there will be seven free DLC story expansions in total. Each of which will be released at regular intervals between the game's two larger, premium story expansions: Legacy of the First Blade and The Fate of Atlantis.
Part one, which releases today, is titled The Show Must Go On.

Assassin's Creed Odyssey patch 1.06 – Notes
As far as patch 1.06 itself is concerned, arguably the biggest improvement is the introduction of a new arrow crafting feature. One that allows Kassandra/Alexios to automatically craft normal arrows once they've obtained the requisite resources.
Although this option can be switched off, if you prefer to craft them manually – for whatever reason.
The update also adds a new, detailed character statistics screen to help players optimise their chosen hero; an improved Mercenary menu; and changes the way boats are looted after a successful Naval Boarding (rewards are plundered automatically, rather than appearing as floating caches in the water).
Finally, patch 1.06 implements a couple of balancing adjustments. The first increases the economic advantages earned via the Mercenary Tier Rewards system, while the second decreases the basic cost of upgrading gear.
The remaining tweaks and improvements (and there are a lot of them) are detailed in full on the game's Reddit page.