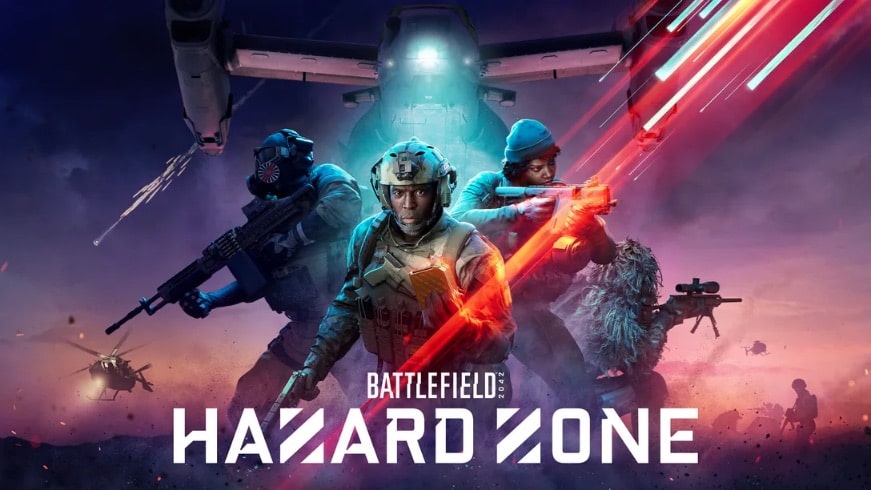 EA and Ripple Effect Studios has released the official debut trailer for the Battlefield 2042 Hazard Zone.
Hazard Zone is billed as a 'tense, squad-focused survival experience' that sees players locating and obtaining data drives before extracting them, all before a storm ravages the playing field. The mission can be broken down into 1) strategise and quip 2) Inserting on the map 3) Retrieving intel 4) Extract said Intel and 5) Claim your rewards.
Battlefield 2042 Hazard Zone will kick off with a Mission Area Briefing, where you will hoover up all the info you will need for your mission. This includes regions of the map with a high probability of enemy encounters, data drives, and Uplinks, the latter being powerful items that can turn the tide of battle.
Players then choose their Specialists and loadouts before joining the fight with your squad. Your mission is simple: rescue the capsules and data drives, while fending off rival squads attempting to do the same. There's also Occupying Forces who will guard over the capsules and won't go down without a fight.
Finally, there are two extraction windows per match, which will pop up at randomised locations. However, these will only be present for a short period of time. It's up to you to decide if you will extract at the first possible opportunity, or wait until the second window.
Locate the LZ then get there as fast (but as safely) as you can. Naturally you won't be the only ones to show up, so you'll need to defend the area against rival squads and Occupying Forces long enough to get everyone on the aircraft. If any of your squad don't make it they'll get one more shot during final extraction, but remember, if you're all left behind, you'll lose everything you've gathered!
Battlefield 2042 is scheduled for release on PS5, PS4, PC, Xbox Series X/S, and Xbox One on November 19, 2021.