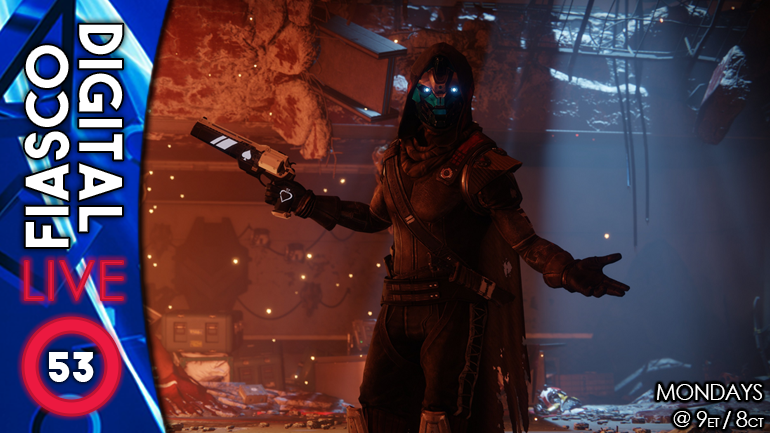 Digital Fiasco LIVE! Episode 53 – Bungie Pulls the Ripcord
Hosts Dandr0id and Jack McBastard round up all the week's gaming news and rumors, and provide instant feedback via chat in real time! We'll answer your questions, we'll take your comments, and we'll agree with you that Alpha Protocol is awesome, at least for now.
(We'll also talk about Xbox, Nintendo and PC gaming. Don't judge).
Tonight's Topics:

Tonight's Topics:

Tonight's topics:
What Are You Playing
Discs, Downloads And Dlc (Ddd) Picks
What Are You Playing
Discs, Downloads, & Dlc (Triple D)
Days Gone Months Away
Alien: Mitigation
Dabbing For Dollars
Final Fantasy X(Box One)
Audiokinetic Joins Sie (Unfortunately Is Not A Mutant)
Playerunknown's Banhammer-Grounds
Spider-Man Gets Even More Fantastic?
The Division 2 Release Gets A Lot More Epic
Square-Enix: Endings Are For Earners
A New Sonic Game That Doesn't Suck?!
Quick Hits
Big Ticket: Bungie Pulls The Ripcord
Options Menu: Unpopular Opinion
Outtro