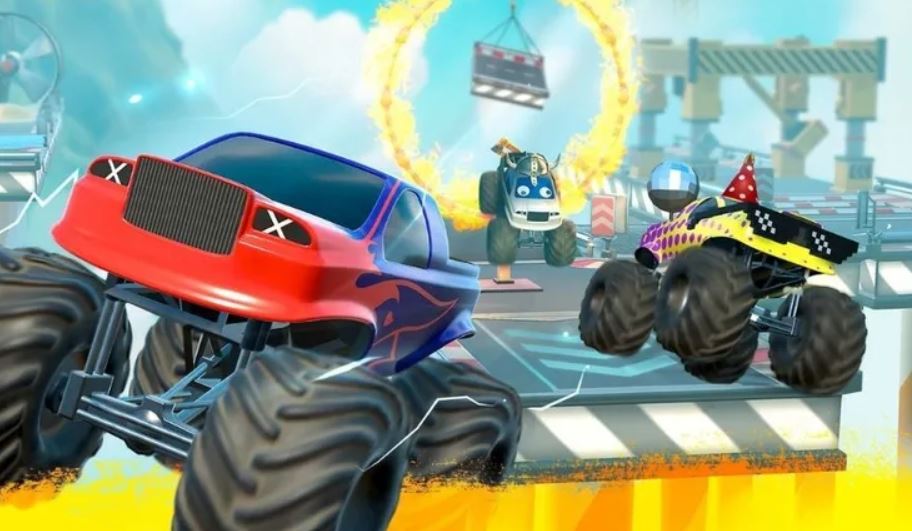 Pixel Maniacs have announced that Can't Drive This, a unique co-op racer, will be releasing on PS5 and PS4 on March 19, 2021.
The hook of the game is that one player drives a monster truck through a course as the second player builds the road in front of them. But, you can't drive too slow or else the truck will explode into a fiery heap of metal.
The game comes with four modes. Yardage is the experience mentioned above. Game of Drones asks up to 3 drivers to collect all the tokens in a level to advance while EMP mines are dropped on you by drones, disabling your truck.
Capture The Egg has two driver teams, with each being asked to drive to the opposing base and collect a 300lb egg and deliver it back to yours. Finally, you can play alone with Lone Driver, which has you alternating between roles as quickly as you can, with time rewinding and having you build the road as you drive along it.
There are also heaps of customisation options in the game's online multiplayer. The PS5 version of the game will use the DualSense controller's adaptive triggers when driving. Force will always be applied when taking on this role, like a pedal on a vehicle would feel. Also when you get hit with an EMP the trigger will completely disable, like your truck.
Related Content – Sony PS5 Complete Guide – A Total Resource On PlayStation 5
The game will be getting both a physical and digital release thanks to Perp Games and you can watch the trailer below:
The game has been out on PC in Early Access for a while, gaining fairly positive user reviews in that time.
Can't Drive This is set to release for PS5 and PS4 on March 19, 2021.
Source – [PlayStation Blog]