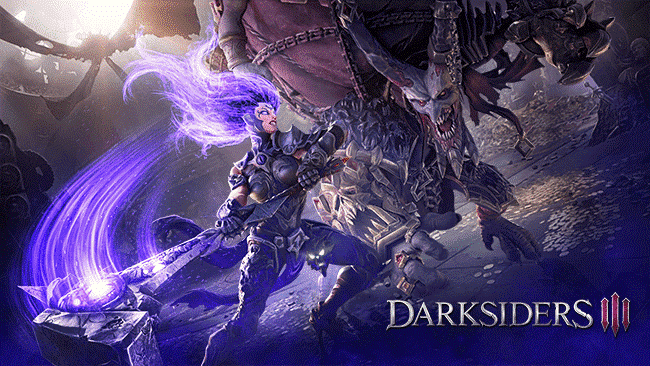 THQ Nordic and Gunfire Games have confirmed that two separate Darksiders 3 DLC expansions will be released shortly after the game launches on the 27th November.
Titled The Crucible and Keepers of the Void respectively, there's a fair amount of new content on offer. Including new playable areas, challenges, enemies, items, and puzzles.
Darksiders 3 DLC – The Crucible
The premise of The Crucible is simple: a strange entity has summoned playable character and permanently angry Horsewoman of the Apocalypse Fury to test her skills against waves of enemies in a punishing melting pot of evil.
"Never one to back down from a challenge" Fury naturally accepts, using this opportunity to acquire a raft of new items and sundry other rewards.
Although, we'd imagine slaying wave after wave of demonic foes is easier said than done.
Darksiders 3 DLC – Keepers of the Void
Keepers of the Void, meanwhile, sees Fury travel into a rather charming-sounding place called 'The Serpent Holes' to remove the ancient threat that resides therein.
As you might expect, her quest is far from straightforward. The Serpent Holes being riddled with a selection of tough new puzzles and deadly enemies eager to test Fury's prodigious abilities. However, should Fury prevail, "she will unlock all new weapon from the Hollows, as well as the biggest prize of them all: The Abyssal Armour".
A fair trade-off, then.
Price points and exact release dates have yet to be provided. However, those who pre-order the Digital Deluxe or Blades and Whip Edition of the game will have access to both sets of DLC as and when they become available.
Darksiders 3 – A Synopsis
Darksiders 3 is a traditional hack 'n' slash action-adventure game in which the player takes the role of Fury as she hunts down and disposes of the Seven Deadly Sins. Which itself is part of a wider quest, placed upon her by the Charred Council, to redress the balance between good and evil.
The expansive Darksiders 3 game world is presented as an open-ended, living, free-form planet Earth, dilapidated by war and decay, and overrun by nature. Fury will traverse back and forth between environments, battling other-worldly creatures and unlocking puzzles while advancing the Darksiders story.
Sign us up.
Developed by Gunfire Games and published by THQ Nordic, Darksiders 3 will be available on PS4, Xbox One, and PC when it releases at the end of next month.