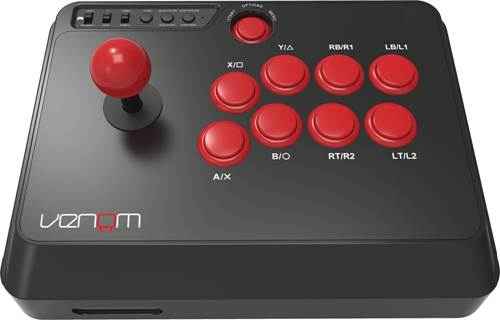 There's a special offer on right now that allows you to pick up Dragon Ball Fighterz on PS4 or Xbox One at a fraction of the price when you buy Venom's Arcade Fight Stick.
The Arcade Fight Stick is now available to purchase in the UK, and if you buy it from Argos Online you'll get Dragon Ball Fighterz for just £15. The Arcade Stick will cost you £59.99.
Dragon Ball Fighterz Arcade Fight Stick From Venom
According to the press release:
"The multi-format Arcade Fight Stick has been fashioned after popular arcade configurations and features the classic ball-top joystick and eight-button arcade layout, making it the perfect companion to Dragon Ball FighterZ, a game which is easy to learn but difficult to master.
Designed to be as at home when played on the gamers' lap or when locked in battle on a desk or table, the Arcade Fight Stick's compact footprint has been designed to make tournament play simple, allowing for easy portability wherever the gamer may go. IN addition, for those who demand nothing but the real experience, Venom has made certain that the Arcade Fight Stick can be easy customised with Sanwa Denshi components should they wish!
Any fighting game fan will tell you that nothing compares to the arcade authenticity and precise control that only an Arcade Fight Stick can provide, and Venom has worked tirelessly to produce a stick worthy of a champion!"
The deal is only available until February 8, and you'll need to go to Argos online and make sure both items are added to your cart before you check out.