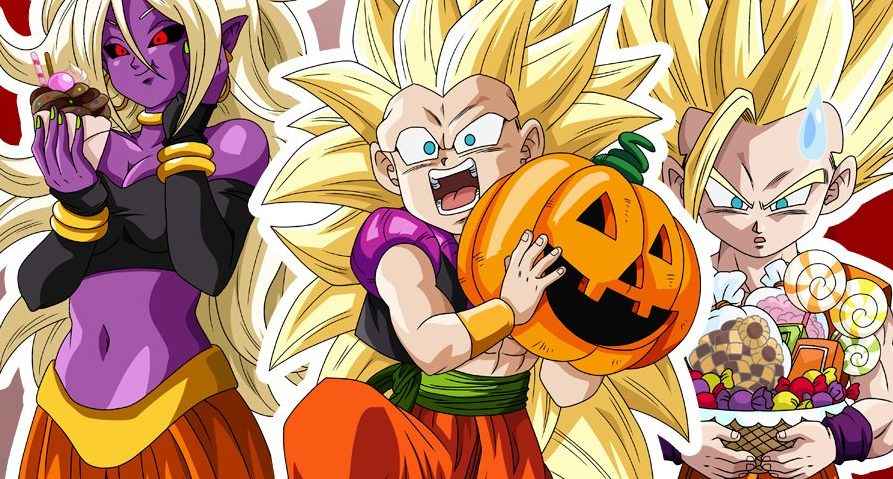 Running from today until the end of November, Dragon Ball FighterZ Halloween themed content will be available through the game's Capsule system.
Providing players with a range of exclusive avatars, Z stamps, and costume colours to help celebrate the upcoming 'holiday'.
Werewolf Goku and Dracula Vegeta – The Dragon Ball FighterZ Halloween Update
The new content is available through the game's latest free update. And while it might not exactly be revolutionary in terms of what's actually on offer, I think we can all agree, it's a pretty charming way of marking the occasion nonetheless.
Some of the lobby avatars – particularly Vegeta, Goku, and Android 16 as Dracula, a Werewolf, and Frankenstein's monster respectively – are particularly adorable; if that's an appropriate term for describing a trio of monstrously powerful martial artists.
Though there are a few decent suggestions from fans on Twitter for further Halloween-inspired avatars. Personally, I'm voting ghost Nappa.
Android 17 and Cooler Join the Fight
Ghoulish versions of our favourite DBZ characters aren't the only new things coming to Bandai Namco's popular fighter this week, however. With both Android 17 and Cooler having now joined the fight to round out the game's first Season Pass.
The former is slightly different from the 17 we all know and love from the Android Saga, as you can see from his character bio:
During his initial introduction into the DRAGON BALL universe, Android 17 was known to be a reckless anarchist, a trouble maker, and a real heel. After experiencing death and being brought back to life by Shenron, his brush with great-beyond caused Android 17 to take-on a life of peace and obscurity.
Dragon Ball FighterZ is available now on PS4, Xbox One, and PC. While a Nintendo Switch version of the game is scheduled to arrive on Friday the 28th September.