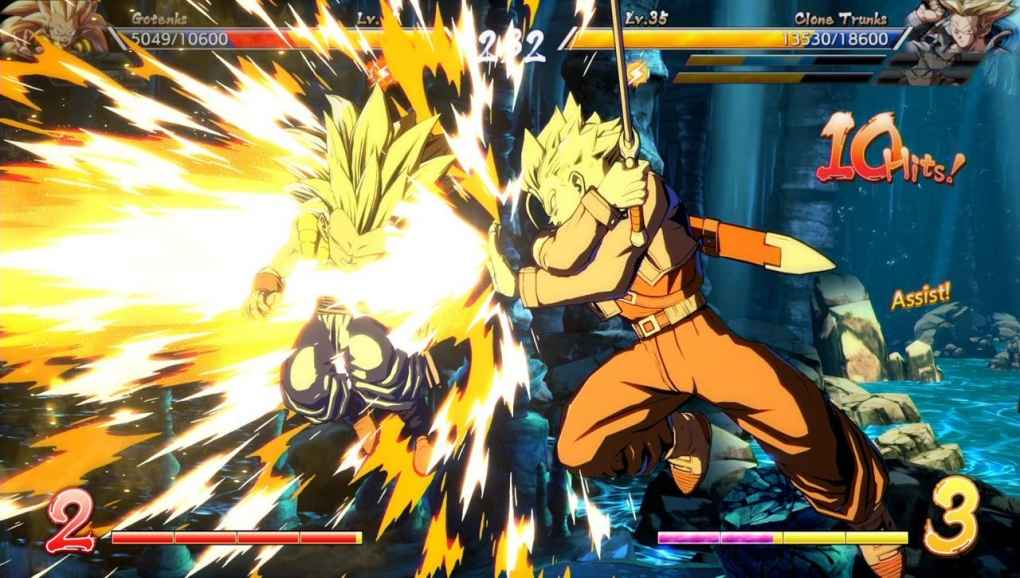 The latest Dragon Ball FighterZ patch is due out soon, and the developer took to Facebook to detail what that patch will contain.
Here's what is in the February Dragon Ball FighterZ patch.
Thank you to everyone who has been enjoying Dragon Ball FighterZ. We'd like to announce the contents of the late February update to the game. (Once the update is out, because of changes to the battle system, replay data from the older version will be incompatible, so please be aware of this).

Update contents:

• Party Match has been implemented.

• Replay Channel has had the following functions added: Follow Channel, Search Channel.

• Arcade Mode has been changed to be more convenient.

• The flow has been changed so that you can choose your next destination at the Results screen after clearing a course.

• When pausing for Option during battle, we've added "Return to Course Select" and "Return to Character Select."

• When an opponent is found while searching for a Ring Match, Casual Match or Ranked Match, the controller will now vibrate.

• Replay Data has been adjusted to the new version
– Once this update goes live, you will no longer be able to view replay data from the old version. Please be aware.

• Battle Tutorial: Fixed a bug that prevented the UI to be displayed properly when player passes the objective right after the beginning of the match

Gameplay

• Movement should now feel more stable.

• Effects and cinematic moments have been adjusted to display more correctly.

• A bug hwhere after a Dragon Rush forced character switch, if you used a move that will switch your position to your opponent's, the hitbox would become reversed, has been fixed.

Online

• To improve the matchmaking in the game, one part of the system has been revamped, in order to optimize it. We are planning to gradually continue working on improving this area.

• For the DLC Anime Song & BGM pack, we've changed the settings so that P1 and P2 can each hear their own chosen song.Please continue enjoying Dragon Ball FighterZ in the future as well.

Other Features

• Shenron: Fixed a bug that prevents Destructive Finish and Stage Destruction effects to appear with a character resurrected by Shenron

• Support Characters: Fixed a bug that prevents voices of Support Characters (like Android 17 or Ginyu Force) to be played normally when called into battle

• Dragon Rush: Fixed a bug that reversed the guard controls when a character is being changed by a Dragon Rush
With a day left in February, it'd be fair to assume the update is arriving rather soon.
[Previous story]
As seems to be the case with many online-focused PS4 games at launch, Dragon Ball Fighterz is having a few multiplayer issues.
The biggest problem with Dragon Ball Fighterz multiplayer experience appears to stem from the PC version. However, PS4 and Xbox One owners are also frustrated with the server issues and the awkward invite system.
Dragon Ball Fighterz Patch Desperately Needed
The main problem is the lobby system. Attempting to invite friends to a Ring Match is proving to be annoying with users experiencing the "no room found" error time and time again.
There's also multiple steps that you need to follow in order to create a private game. This involves being in the same lobby, creating the Ring Match and then giving your friend a code so they can access it. Essentially, this mean either messaging them or jumping into a party chat to give them the code.
The invite system in Dragon Ball Fighterz is a mess according to some players. But the good news is that Bandai Namco is working on a fix. Making a statement on the official Dragon Ball Fighterz site they wrote:
The launch of DRAGON BALL FighterZ has been nothing short of phenomenal in regards to support from Dragon Ball and fighting game fans. However, a side-effect of this massive support has been online-play difficulties that could not have been anticipated without the actual launch of the game taking place. We are in constant communication with the dev team, keeping them apprised of the issues. And they are working on solutions to improve the online-play experience for DRAGON BALL FighterZ. We want to thank everyone for their continued patience. We'll share more news pertaining to improvements for DRAGON BALL FighterZ's online-play experience as soon as they are available.
So, we should see a new Dragon Ball Fighterz patch land shortly!
Wondering what Bandai Namco's new fighting game is all about? Check out the Dragon Ball Fighterz review.