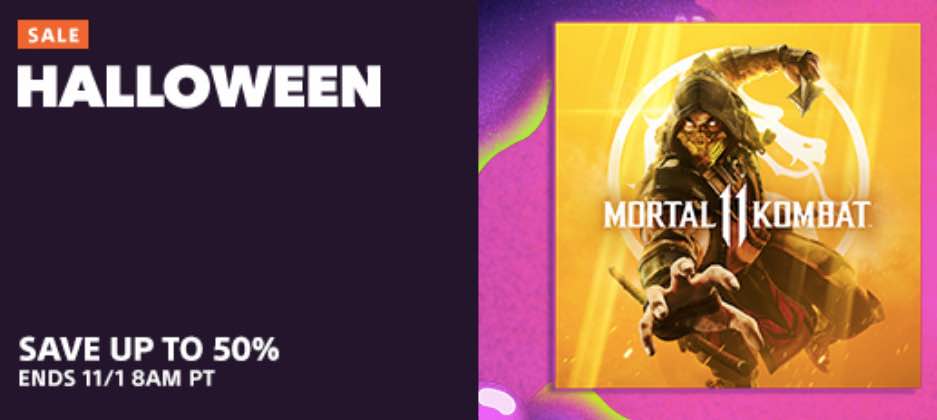 Not one but two massive PSN sales have gone live on the North American PlayStation Store. In addition to a sprawling Ubisoft sale, there is also a somewhat timely Halloween sale too, boasting a wide variety of discounts on spooky titles such as A Plague Tale: Innocence, Alien: Isolation and Metro Exodus to name just a few.
The Halloween 2019 PSN sale runs from 15/10/2019 and ends on 01/11/2019. The Ubisoft sale kicks off on 15/10/2019 and ends on 29/10/2019.
You can catch the full list of all PS4 title discounts below.
A Plague Tale: Innocence $29.99 £23.69
Alien: Isolation $11.99 £9.47
Alien: Isolation – THE COLLECTION $15.99 £12.63
Badass Santa Bundle $4.99 £3.94
Batman: Arkham Collection $17.99 £14.21
Batman: The Enemy Within – Episode 1 $2.49 £1.97
Batman: The Telltale Series – Episode 1: Realm of Shadows $2.49 £1.97
BioShock: The Collection $14.99 £11.84
Black Mirror $5.99 £4.73
Blood Bowl 2: Legendary Edition $8.09 £6.39
Blood Bowl 2: Official Expansion $10.04 £7.93
Blood Bowl 2: Official Expansion + Team Pack $17.99 £14.21
BUTCHER – Special Edition Bundle $8.44 £6.67
Call of Cthulhu® $11.99 £9.47
Call of Duty® Black Ops III: Zombies Chronicles $14.99 £11.84
Call of Duty®: Black Ops III – Zombies Chronicles Deluxe $49.99 £39.49
Call of Duty®: Black Ops III – Zombies Chronicles Edition $29.99 £23.69
Claire: Extended Cut $2.99 £2.36
Commando Chicken Bundle $2.49 £1.97
DARK SOULS™ II: Scholar of the First Sin $9.99 £7.89
DARK SOULS™ III – Deluxe Edition $21.24 £16.78
DARK SOULS™ III – Season Pass $12.49 £9.87
Dark Souls™ III: Ashes of Ariandel™ $7.49 £5.92
Dark Souls™ III: The Ringed City™ $7.49 £5.92
DARK SOULS™: REMASTERED $19.99 £15.79
Darksiders III $23.99 £18.95
Darksiders III Blades & Whip Edition $49.99 £39.49
Darksiders III Digital Deluxe Edition $39.99 £31.59
Darksiders III Season Pass $9.99 £7.89
Darksiders Warmastered Edition $3.99 £3.15
Darksiders: Fury's Collection – War and Death $7.99 £6.31
Darkwood $10.49 £8.29
Darkwood – Special Edition $11.69 £9.24
Daydreamer: Awakened Edition $3.99 £3.15
Daylight™ $2.99 £2.36
DayZ $34.99 £27.64
Dead Island Definitive Edition $4.99 £3.94
Dead Rising $5.99 £4.73
Dead Rising 2 $5.99 £4.73
Dead Rising 4: Frank's Big Package $19.99 £15.79
Dead Rising Triple Pack $14.87 £11.75
Deadlight: Director's Cut $3.74 £2.95
Desert Child $8.03 £6.34
Destroy All Humans! $2.99 £2.36
Deus Ex: Mankind Divided $5.99 £4.73
Deus Ex: Mankind Divided – Digital Deluxe Edition $8.99 £7.10
Devil May Cry 4 Special Edition $7.49 £5.92
Devil May Cry 5 (with Red Orbs) $29.99 £23.69
Diablo III: Rise of the Necromancer $7.49 £5.92
Dishonored® Definitive Edition $9.99 £7.89
Dishonored®: Death of the Outsider™ $14.99 £11.84
Dishonored®: Death of the Outsider™ Deluxe Bundle $29.99 £23.69
Divinity: Original Sin 2 – Definitive Edition $35.99 £28.43 $29.99 £23.69
DmC Devil May Cry: Definitive Edition $13.99 £11.05
DOOM + Wolfenstein II Bundle $23.09 £18.24
Doughlings: Invasion $7.49 £5.92
Dragon's Dogma: Dark Arisen $14.99 £11.84
Duke Nukem 3D: 20th Anniversary World Tour $4.99 £3.94
Effie $12.99 £10.26
Etherborn $13.59 £10.74
Fallout 4 $11.99 £9.47
Fallout 4 – Season Pass $29.99 £23.69
Fallout 4: Contraptions Workshop $2.99 £2.36
Fallout 4: Far Harbor $14.99 £11.84
Fallout 4: Nuka-World $11.99 £9.47
Fallout 4: Wasteland Workshop $2.99 £2.36
Fallout 76 $23.99 £18.95
Fallout 76 Tricentennial Edition $29.99 £23.69
Fallout 76: Tricentennial Pack $11.99 £9.47
Friday the 13th: The Game $9.99 £7.89
Ghostbusters™ Premium $4.99 £3.94
Giana Sisters: Twisted Dreams – Director's Cut $2.99 £2.36
Hitman HD Enhanced Collection $20.99 £16.58
HITMAN™ – Game of the Year Edition $17.99 £14.21
HITMAN™ 2 $20.99 £16.58
HITMAN™ 2 – Expansion Pass $13.99 £11.05
Hollow Knight Voidheart Edition $8.99 £7.10
Home Sweet Home $20.99 £16.58
Horzine Mark 7 Suit Bundle $2.49 £1.97
Horzine Supply Crate Key $1.24 £0.98
KF2: Clot Backpack Bundle $2.49 £1.97
Killing Floor 2 $14.99 £11.84
Killing Floor 2: Cyberpunk Outfit Bundle $2.49 £1.97
Killing Floor 2: Headshot FX Bundle 1 $3.99 £3.15
Killing Floor 2: Headshot FX Bundle 2 $3.99 £3.15
Killing Floor: Double Feature $19.99 £15.79
Lara Croft GO $2.49 £1.97
Life is Strange 2 – Episode 1 $2.79 £2.20
Life is Strange: Before the Storm Complete Season $5.09 £4.02
Life is Strange: Before the Storm Deluxe Edition $7.49 £5.92
[PROTOTYPE™] $5.99 £4.73
Life Is Strange Episode 2 $0.99 £0.78
Life Is Strange Episode 3 $0.99 £0.78
Life Is Strange Episode 4 $0.99 £0.78
Life Is Strange Episode 5 $0.99 £0.78
Little Nightmares $4.99 £3.94
Little Nightmares Complete Edition $7.49 £5.92
London Bobby Briar Uniform Bundle $2.49 £1.97
Manhunt $8.99 £7.10
Metro Exodus $29.99 £23.69
Metro Exodus Gold Edition $39.94 £31.55
Mordheim: City of the Damned $8.99 £7.10
Mordheim: City of the Damned – Complete DLC Pack $10.04 £7.93
Mordheim: City of the Damned – Complete Edition $13.99 £11.05
Mordheim: City of the Damned – Undead $6.69 £5.29
Mortal Kombat 11 $35.99 £28.43
Mortal Kombat 11 Kombat Pack $23.99 £18.95
Mr. Foster Classic Uniform Bundle $2.49 £1.97
Mrs. Foster $4.99 £3.94
MURDERED: SOUL SUSPECT™ ' $1.99 £1.57
Necropolis $7.49 £5.92
Nights of Azure $23.99 £18.95
Nights of Azure 2: Bride of the New Moon $29.99 £23.69
Outlast $4.99 £3.94
Outlast 2 $7.49 £5.92
Outlast Whistleblower $2.24 £1.77
Oxenfree $6.99 £5.52
Pajama Bundle $2.49 £1.97
Perception: Remastered $4.99 £3.94
Prey $14.99 £11.84
Prey: Digital Deluxe Edition $19.99 £15.79
Prototype® Biohazard Bundle $9.99 £7.89
Prototype®2 $7.99 £6.31
RAGE 2 $29.99 £23.69
RAGE 2: Deluxe Edition $39.99 £31.59
Remothered: Tormented Fathers $11.99 £9.47
Resident Evil 0 $7.99 £6.31
RESIDENT EVIL 2 $29.99 £23.69
resident evil 4 $7.99 £6.31
RESIDENT EVIL 5 $7.99 £6.31
Resident Evil 6 $7.99 £6.31
RESIDENT EVIL REVELATIONS $7.99 £6.31
Resident Evil Revelations 1 & 2 Bundle $15.99 £12.63
Resident Evil Revelations 2 Deluxe Edition $9.89 £7.81
Resident Evil Triple Pack $23.79 £18.79
Resident Evil: Deluxe Origins Bundle $15.99 £12.63
RGX: Showdown $4.99 £3.94
Rise of the Tomb Raider: 20 Year Celebration $8.99 £7.10
Space Hulk Bundle $14.99 £11.84
Stranger Things 3: The Game $9.99 £7.89
Styx: Shards of Darkness $6.79 £5.36
Subnautica $19.49 £15.40
Tanaka Biker Uniform Bundle $2.49 £1.97
The Blackout Club $23.99 £18.95
The Dark Pictures Anthology: Man of Medan $20.99 £16.58
The Evil Within $9.99 £7.89
The Evil Within Digital Bundle $14.99 £11.84
The Evil Within® 2 $19.79 £15.63
The Exorcist: Legion VR – Complete Series $22.49 £17.77
THE FOREST $12.99 £10.26
The Metronomicon – Challenge Pack Season Pass $3.99 £3.15
The Sinking City $41.99 £33.17
The Sinking City – Necronomicon Edition $52.49 £41.47
The Technomancer $6.79 £5.36
The Walking Dead: The Telltale Definitive Series $34.99 £27.64
The Wolf Among Us $7.49 £5.92
Tomb Raider: Definitive Edition $5.99 £4.73
Toukiden: Kiwami $29.99 £23.69
Transference $9.99 £7.89
Umbrella Corps Deluxe Edition $6.24 £4.93
Warhammer 40,000: Inquisitor – Martyr – Deluxe edition $16.24 £12.83
Warhammer Bundle: Mordheim and Blood Bowl 2 $9.99 £7.89
Warhammer Chaosbane $41.99 £33.17
Warhammer Chaosbane Deluxe Edition $45.49 £35.94
Warhammer: Chaosbane Magnus Edition $51.99 £41.07
Warhammer: Chaosbane Season Pass $13.99 £11.05
Wasteland Bundle $2.49 £1.97
We Happy Few – Lightbearer $3.99 £3.15
We Happy Few – Roger & James in They Came From Below $3.99 £3.15
We Happy Few Digital Deluxe Edition $39.99 £31.59
We Happy Few Season Pass $9.99 £7.89
Whispering Willows (Game and Theme) $3.74 £2.95
Wolfenstein: The Old Blood $9.99 £7.89
Wolfenstein: Youngblood Deluxe Edition $19.99 £15.79
Wolfenstein® II: The New Colossus™ $19.79 £15.63
Wolfenstein® II: The New Colossus™ Digital Deluxe Edition $39.99 £31.59
Wolfenstein®: The Two-Pack $14.99 £11.84
World War Z $19.99 £15.79
Zanki Zero: Last Beginning $29.99 £23.69
ZOMBI $3.99 £3.15
America's Greatest Game Shows: Wheel of Fortune & Jeopardy! $17.99 £14.21 $13.99 £11.05
Assassin's Creed Antiquity Pack $49.99 £39.49 $39.99 £31.59
Assassin's Creed III: Remastered $27.99 £22.11 $23.99 £18.95
Assassin's Creed Legendary Collection $89.99 £71.09 $69.99 £55.29
Assassin's Creed Odyssey Season Pass $23.99 £18.95 $19.99 £15.79
Assassin's Creed Triple Pack: Black Flag, Unity, Syndicate $38.69 £30.57 $29.69 £23.46
Assassin's Creed Odyssey $29.99 £23.69 $23.99 £18.95
Assassin's Creed Odyssey Deluxe Edition $39.99 £31.59 $31.99 £25.27
Assassin's Creed Odyssey Gold Edition $44.99 £35.54 $34.99 £27.64
Assassin's Creed Odyssey Ultimate Edition $53.99 £42.65 $41.99 £33.17
Assassin's Creed IV Black Flag $14.99 £11.84 $11.99 £9.47
Assassin's Creed Origins $23.99 £18.95 $17.99 £14.21
Assassin's Creed Origins Gold Edition $39.99 £31.59 $29.99 £23.69
Assassin's Creed Origins Season Pass $23.99 £18.95 $19.99 £15.79
Assassin's Creed Syndicate $17.99 £14.21 $14.99 £11.84
Assassin's Creed The Ezio Collection $15.99 £12.63 $11.99 £9.47
Assassin's Creed Unity $11.99 £9.47 $8.99 £7.10
Assassin's Creed IV Black Flag Gold Edition $24.99 £19.74 $19.99 £15.79
BATTLESHIP® $7.49 £5.92 $5.99 £4.73
Brawlhalla All Legends (Current and Future) $14.99 £11.84
Brawlhalla Collectors Pack $89.99 £71.09
Child of Light $5.99 £4.73 $4.49 £3.55
FAR CRY 4 + FAR CRY PRIMAL BUNDLE $24.99 £19.74 $19.99 £15.79
FAR CRY 5 $20.99 £16.58 $14.99 £11.84
Far Cry Insanity Bundle $44.99 £35.54 $35.99 £28.43
Far Cry New Dawn Complete Edition $44.99 £35.54 $34.99 £27.64
Far Cry New Dawn Deluxe Edition $29.99 £23.69 $24.99 £19.74
Far Cry 4 Gold Edition $20.99 £16.58 $17.49 £13.82
Far Cry 4 Season Pass $10.49 £8.29 $8.99 £7.10
Far Cry 5 Season Pass $17.99 £14.21 $14.99 £11.84
For Honor $11.99 £9.47 $8.99 £7.10
For Honor Complete Edition $49.99 £39.49 $39.99 £31.59
For Honor Marching Fire Edition $24.99 £19.74 $19.99 £15.79
For Honor Marching Fire Expansion $17.99 £14.21 $14.99 £11.84
For Honor Year 1 : Heroes Bundle $17.99 £14.21 $14.99 £11.84
For Honor Year 3 Pass $22.49 £17.77 $19.49 £15.40
Hasbro Family Fun Pack $19.99 £15.79 $15.99 £12.63
Hasbro Family Fun Pack – Conquest Edition $17.99 £14.21 $13.99 £11.05
Hasbro Family Fun Pack Super Edition $26.99 £21.32 $20.99 £16.58
Hungry Shark World $5.99 £4.73 $4.99 £3.94
Just Dance 2019 $23.99 £18.95 $19.99 £15.79
Legendary Fishing $14.99 £11.84 $11.99 £9.47
Monopoly Family Fun Pack $7.99 £6.31 $5.99 £4.73
Rayman Legends $6.99 £5.52 $4.99 £3.94
Scrabble $6.74 £5.32 $5.24 £4.14
South Park: The Fractured but Whole $19.99 £15.79 $14.99 £11.84
Starlink: Battle For Atlas Deluxe Edition $31.99 £25.27 $23.99 £18.95
Starlink: Battle For Atlas Digital Edition $20.99 £16.58 $14.99 £11.84
STEEP Season Pass $11.99 £9.47 $9.99 £7.89
Steep X Games Gold Edition $24.99 £19.74 $19.99 £15.79
Syberia 3 $14.99 £11.84 $11.99 £9.47
The Crew 2 $23.99 £18.95 $17.99 £14.21
The Crew 2 Deluxe Edition $27.99 £22.11 $20.99 £16.58
The Crew 2 Gold Edition $39.99 £31.59 $29.99 £23.69
Tom Clancy's Rainbow Six Siege Deluxe Edition $15.99 £12.63 $11.99 £9.47
Tom Clancy's Rainbow Six Siege Gold Edition $34.99 £27.64 $27.99 £22.11
Tom Clancy's Rainbow Six Siege Ultimate Edition $54.99 £43.44 $43.99 £34.75
Tom Clancy's Rainbow Six Siege Year 4 Pass $25.49 £20.14 $22.49 £17.77
Tom Clancy's The Division 2 – Year 1 Pass $27.99 £22.11 $23.99 £18.95
Tom Clancy's The Division 2 Gold Edition $39.99 £31.59 $29.99 £23.69
Tom Clancy's The Division 2 Ultimate Edition $47.99 £37.91 $35.99 £28.43
Tom Clancy's The Division Franchise Bundle $34.99 £27.64 $24.99 £19.74
Tom Clancy's The Division $13.99 £11.05 $9.99 £7.89
Tom Clancy's The Division – Season Pass $17.99 £14.21 $14.99 £11.84
Trackmania Turbo $13.99 £11.05 $9.99 £7.89
Trials Rising $14.99 £11.84 $12.49 £9.87
Trials Rising – Expansion Pass $13.99 £11.05 $11.99 £9.47
Trials Rising Gold Edition $23.99 £18.95 $19.99 £15.79
TRIVIAL PURSUIT LIVE! $7.49 £5.92 $5.99 £4.73
Watch Dogs 1 + Watch Dogs 2 Gold Editions Bundle $35.99 £28.43 $26.99 £21.32
Watch Dogs 1 + Watch Dogs 2 Standard Editions Bundle $23.99 £18.95 $17.99 £14.21
Watch Dogs 2 – Gold Edition $31.49 £24.88 $22.49 £17.77
Watch Dogs 2 – Season Pass $19.99 £15.79 $15.99 £12.63
Wheel of Fortune $9.99 £7.89 $7.99 £6.31
Source: HKUD