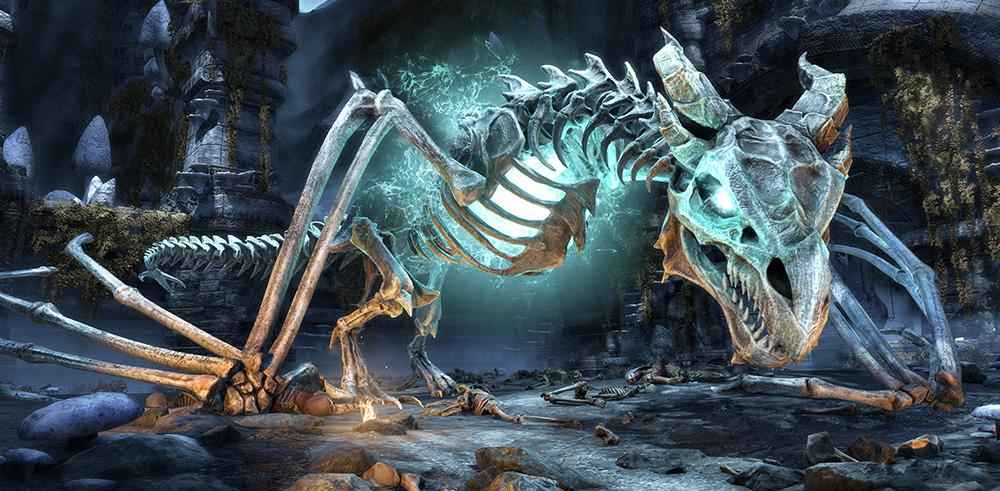 Zenimax Online Studios have revealed new details on update 17, the The Elder Scrolls Online Dragon Bones DLC.
Update 17 will be free for all players in February and will include a host of new features, while the Dragon Bones DLC pack will introduce two new dungeons.
The Elder Scrolls Online Dragon Bones DLC details
The two dungeons confirmed are Scalecaller Peak and Fang Lair. They are playable in veteran and normal modes, and there's also a veteran hard mode for the two bosses.
As well as some new enemies, Zenimax has confirmed you'll be tackling the likes of ogres, sorcerers and the reanimated bones of an ancient dragon.
Enter one of the dungeons, and you'll get new items, collectibles and monster sets, as well as a Renegade Dragon Priest mask. The ESO DLC will be free to ESO Plus members, while others can purchase it from the Crown Store.
The Elder Scrolls Online Update 17 details
The new update introduces the Outfit system, which allows you to customize equipment, regardless of equipped gear. Additionally, they'll be two battlegrounds introduced, including Mor Khazgur, guarded by Orcs, and Deeping Drome.
A brand new Home storage system will allow you to put away your precious items in your home via the Homestead housing system, while addition features include:
Combat improvements that allow you to identify and activate ability synergies
Level up and Skills advisors who help you find the best upgrades each time you level up
A firm release date for The Elder Scrolls Dragon Bones DLC and update 17 has yet to be confirmed.