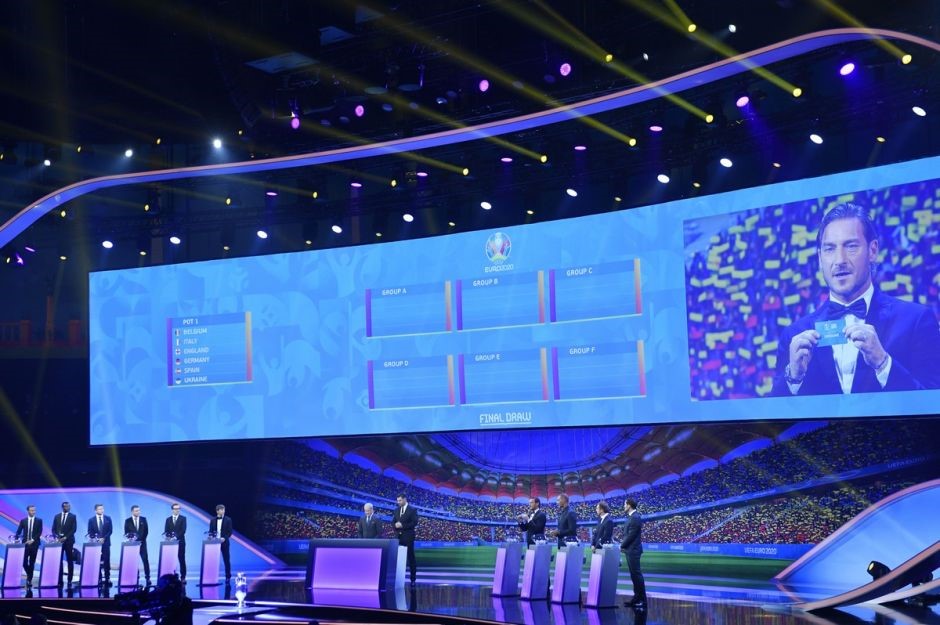 The great athletic sports event, Euro 2020, was as much affected by the pandemic of COVID-19 as every other private and public life aspect. Originally planned to open in Rome, Italy, on June 12, 2020, the event was eventually postponed to March 2021, due to the pandemic outbreak. As the pandemic had a second and even more severe outbreak, Euro 2020 will be taking place in the summer of 2021, and the twelve cities that were initially supposed to host the fixtures will remain the same. It's the first time ever that the tournament will be held in twelve different European cities. It is also important to note that it's the 60th anniversary of the event, as the first tournament was organized in 1960 when the then Soviet Union won.
Therefore, on Saturday, November 30, 2019, the final draw took place in Bucharest, Romania. In the draw, the groups were separated into six stages of four groups. The action begins on June 12, in Stadio Olimpico of Rome, Italy, and it will peak on July 12 with the final played at Wembley Stadium London, in England!
The results of the draw
The groups stage runs, with up to four matches a day, until June 23 (the last matches in each group played simultaneously). The top two in each group and the four best runners-up progress to the knockout stage.
The six stages
1st stage (Rome, Baku): Italy, Switzerland, Turkey, Wales
2nd stage (St. Petersburg, Copenhagen): Belgium, Russia, Denmark, Finland
3rd stage (Amsterdam, Bucharest): Ukraine, Holland, Austria, winner of path D (if Romania is not qualified)
4th stage (London, Glasgow): England, Croatia, Czech, winner of path C
5th stage (Bilbao, Dublin): Spain, Poland, Sweden, winner of path B
6th stage (Munich, Budapest): Germany, France, Portugal, winner of path A (unless Romania is qualified and get to end the 3rd stage in Bucharest)
Playoffs for Euro 2020
Path A (Iceland, Bulgaria, Hungary, Romania)
Iceland-Romania (26/3, Reykjavik)
Bulgaria-Hungary (26/3, Sofia)
Final: 31/3 (at the seat of the winner of the 2nd couple)
Path B (Bosnia, Slovakia, Ireland, North Ireland)
Bosnia-North Ireland (26/3, Zenitsa)
Slovakia-Ireland (26/3, Trnava)
Final: 31/3 (at the seat of the winner of the 1st couple)
Path C (Scotland, Norway, Serbia, Israel)
Scotland-Israel (26/3, Glasgow)
Norway-Serbia (26/3, Oslo)
Final: 31/3 (at the seat of the winner of the 2nd couple)
Path D (Georgia, North Macedonia, Kosovo, Belarus)
Georgia-Belarus (26/3, Tiflis)
North Macedonia-Kosovo (26/3, Scopes)
Final: 31/3 (at the seat of the winner of the 1st couple)
Calendar of the finals
1st game: 12-16/6
2nd game: 17-20/6
3rd game: 27-30/6
Stage of 16: 27-30/6
Quarterfinals: 3-4/7 (St. Petersburg, Munich, Baku, Rome)
Semi finals: 7-8/7 (London)
Final: 12/7 (London)