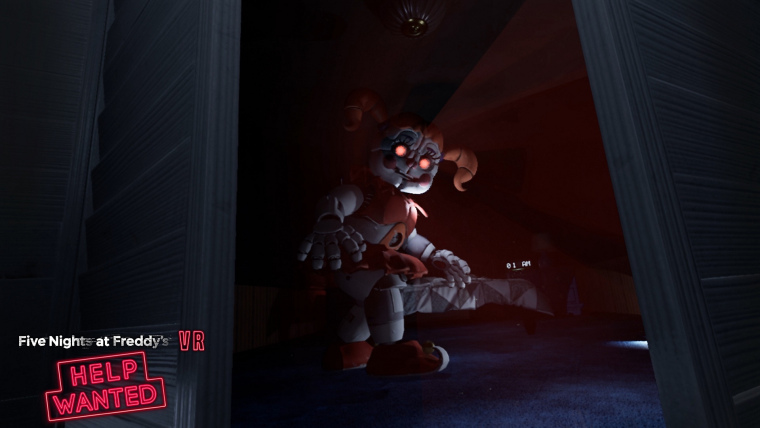 The Five Nights at Freddy's VR: Help Wanted release date has been confirmed today by developer Steel Wool Games and creator Scott Cawthon, with the PlayStation VR title arriving next week.
Five Nights At Freddy's VR: Help Wanted Release Date Set
The game will launch for Sony's gaming headset alongside Oculus Rift and HTC Vive on May 21.
Based on the popular indie horror franchise, Five Nights at Freddy's VR: Help Wanted features a total of 40 playable mini games, each featuring a nightmare difficulty once you've cleared them for the first time. The horror title also introduces a bunch of new animations, including the PlushBaby, which Cawthon describes as "the best original addition to any game ever." Okay mate, steady on.
Five Nights at Freddy's VR: Help Wanted will see you interacting with your surroundings using the DualShock 4 or PS Move controller, such manipulating doors and lights in offices, solving puzzles, and picking up objects in the repair games. Furthermore, the VR title introduces collectibles for the first time in the series, such as plushies, bobbleheads, and action figures.
"This kind of immersive experience has been a fan request for years. Even going back to the first Five Nights at Freddy's, fans have been making comments on YouTube videos about how awesome and terrifying it would be to survive a night at Freddy Fazbear's Pizza in VR. Now they can try," a post on the PlayStation Blog reads.
Five Nights at Freddy's is based around a bunch of horror-themed titles, where played typically assume control of a late-night employee at somewhere connected to Freddy Fazbear's Pizza, a restaurant for children that is known for using life-size animatronic characters at parties. That sounds cute enough, were it not for the fact they have a penchant for killing security guards while roaming the restaurant at night. And it's your job to stop them.
The original Five Nights at Freddy's launched in 2014, and was followed by three major sequels over the next 18 months.
Source: Bloody Disgusting