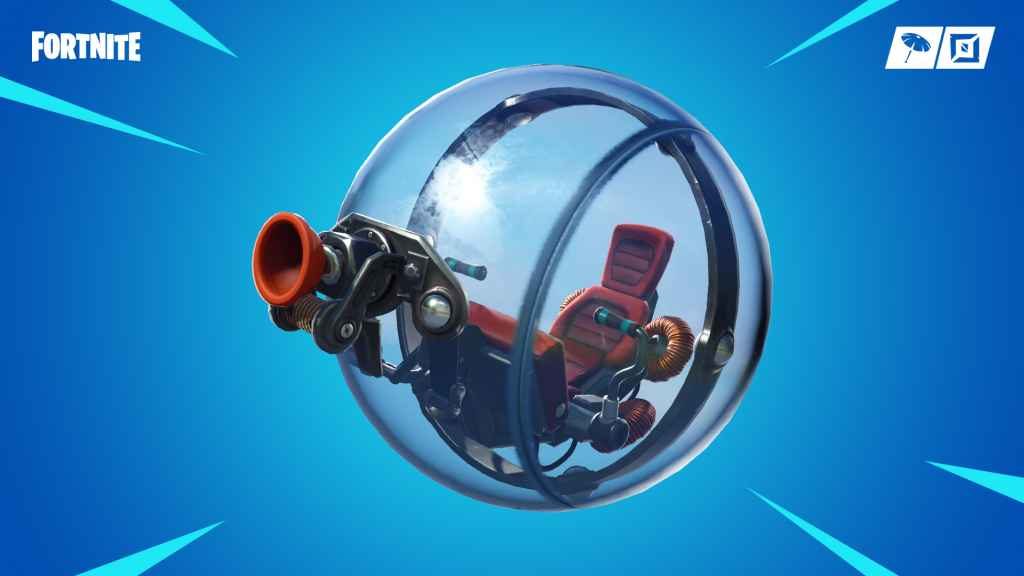 Epic Games has released the official patch notes for the Fortnite v8.10 update, detailing the latest suite of game-wide changes.
The headline act this week is The Baller – a brand-new type of single-seat vehicle that, as well as looking like those automated sphere pod things from Jurassic World, combine the functionality of the Grappler and Boost to help players navigate the game's treacherous island map.
Fortnite v8.10 Update – Battle Royale
Away from The Baller, the v8.10 update brings with it a fundamental change to the way in which Vending Machines operate. Going forward, Vending Machines will distribute items free of charge, but there's a catch: only one item can be claimed before they disappear.
Those looking for a slightly different challenge to the usual battle royale fare, meanwhile, will be pleased to learn that Epic has released a brand-new and thematically-appropriate LTM called The Getaway as part of today's patch. And extended the Gauntlet Solo and Gauntlet Duo test event until Tuesday the 19th March.
Yet arguably the most significant change of all is the addition of cross-play matchmaking on PS4 and Xbox One.
Fortnite v8.10 Update – Creative
There's plenty for Fortnite Creative players to enjoy in today's update, too, following the introduction of two suitably exotic locations: Sandbar and Volcano Island. As well as a number of supplementary game options, including the Score and Objective to Win end conditions, and some fancy new prefabs.
The aforementioned Baller will also be available in Creative mode, should anyone fancy taking a stab at creating a Fortnite-style shot-for-shot remake of Jurassic World.
While, in terms of fundamental gameplay changes, Epic has reduced the total number of players on island servers from 16 to 8 in an effort to improve server performance and make room for even bigger islands.
Fortnite v8.10 Update – Save the World

As far as Save the World is concerned, much of the recent update is focuses on squashing bugs and streamlining the overall experience. However, there are one or two additions that are worth taking note of.
First and foremost, Staredown Southie makes a triumphant return, complete with his patented Bear Stare. Closely followed by Four Leaf Wildcat.
Also making a comeback is the Retrieve the Data Beta Storm. Although, in response to player feedback, Epic has instituted a number of changes this time around (players can now vote to shoot down the balloon early, for example).
Finally, a brand-new Beta Storm mission, Test the Limits, arrives in Save the World as Eliminate and Collect is rotated out. A brief synopsis of which can be found below.
"Test the Limits is a mission about racing around through a series of checkpoints to see how many laps you can complete, the more laps the better the badge reward."
This provides the perfect opportunity to experiment with different hero loadouts, according to Epic.
Head over to the official Fortnite website for more information on everything discussed above, and for an in-depth look at the various bug fixes and gameplay tweaks featured in today's patch.