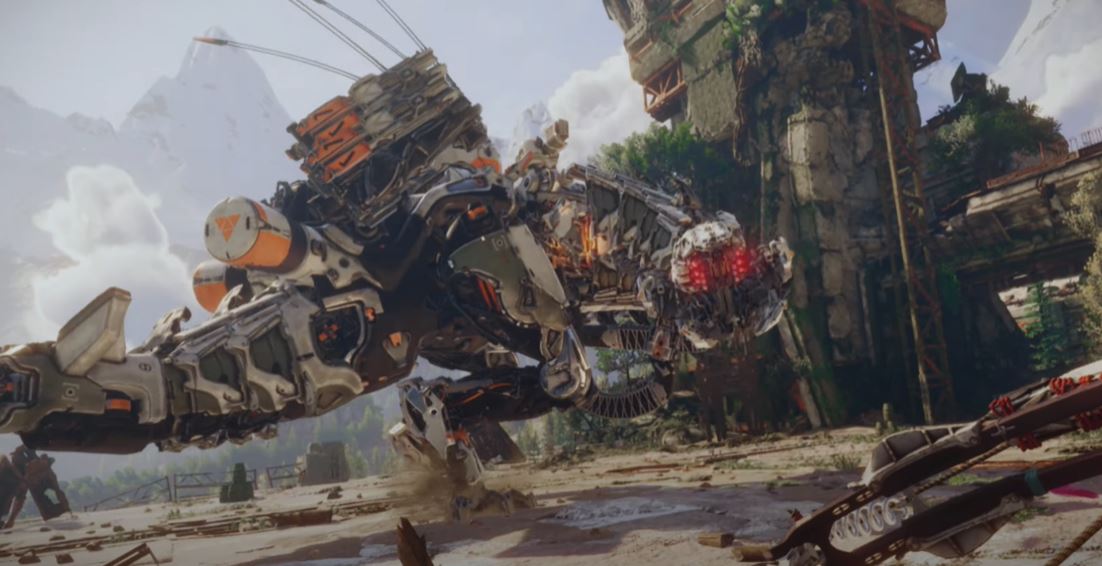 Horizon: Call of the Mountain gameplay was fully revealed for PlayStation VR 2 and will be exclusive to that platform, Sony confirmed at today's State of Play briefing.
A first-person perspective Horizon adventure told from the perspective of an entirely new character, a former Shadow Carja known as Ryas, Horizon: Call of the Mountain certainly seems to be a fully fleshed out Horizon game, impressively allowing players to climb, leap, swim and more importantly shoot and lay waste to the legions of hostile machines that they come across.
Making seemingly ample use of the PlayStation VR 2's much improved controllers, the gameplay trailer for Horizon: Call of the Mountain has players not just traversing the titular mountain, but also sliding down zip-lines, preparing traps, throwing grappling hooks and much more besides. Perhaps most of all, Horizon: Call of the Mountain also gives us a glimpse into the raw power of PlayStation VR 2 for the first time, as the platform exclusive boasts a level of visual fidelity that is a world away from the blurry low-res visuals of PlayStation VR and much more in line with what high end PC VR headsets are capable of.
Developed by recently acquired studio Firesprite (who also gave us the underrated VR horror sci-fi, roguelike horror effort The Persistence), there's no release date for Horizon: Call of the Wild yet, but we would be mightily surprised to find out that it won't launch alongside the PlayStation VR 2 hardware.
In addition to showing off Horizon: Call of the Mountain for the first time, Guerrilla Games also announced that Horizon Forbidden West on PS4 and PS5 would be receiving a substantial update today that would include New Game Plus, Ultra Hard Mode, transmog and respec features, and much more.
You can catch both the full Horizon: Call of the Mountain gameplay trailer and the new Forbidden West update trailer below.