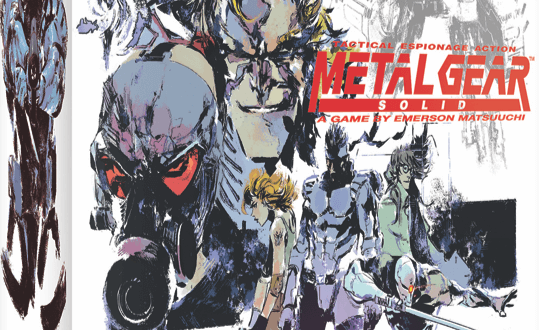 IDW Games and Konami have announced they are collaborating on a Metal Gear Solid board game, due for release at some point in 2019.
Titled, rather imaginatively, Metal Gear Solid: The Board Game, it is being designed by Emerson Matsuuchi: the creative force behind the "Century" series of games and a self-professed MGS mega fan.
"I'm probably the biggest fan of Metal Gear Solid", said Matsuuchi. "Ever since playing the first Metal Gear Solid, it has forever altered the way I view games. The story it told was so memorable and the gameplay experience so rich that it has shaped my expectation of games as both a designer and gamer.
So the opportunity to bring this masterpiece to the table has been an honor and dream come true. I'm excited to be able to capture the tactical stealth action that is the hallmark of the franchise as well as create a new experience and story for the Snake fans."
Metal Gear Solid: The Board Game is Set During Shadow Moses
Indeed, according to IDW, Metal Gear Solid: The Board Games provides a dynamic, cooperative table top experience.
Metal Gear Solid: The Board Game is a fully cooperative, miniatures board game. Following the story of the first Metal Gear Solid video game, players take on the roles of Solid Snake, Meryl Silverburgh, Dr. Hal "Otacon" Emmerich, and Gray Fox the Cyborg Ninja.

They'll need to use their unique skill sets to avoid detection as they complete objectives across multiple campaign scenarios. Featuring a highly dynamic A.I. system and sandbox gameplay, missions can be completed in multiple ways and will always play out differently.
The game will also feature a number of miniatures designed by sculptor Francesco Orrù, as well as artwork by comic book artist Kenneth Loh.
Getting Hands-On with the Game
Those eager to get some hands-on time with the game before it releases, meanwhile, can do so at a number of conventions scheduled for the summer of 2019. Four, to be precise:
Origins Game Fair
Dice Tower Con
San Diego Comic Con
And Gen Con
Additionally, media outlets will have the opportunity to try it out for themselves at E3 2019.
Head over to the IDW Games website or follow the company's social channels for more information on Metal Gear Solid: The Board Game.