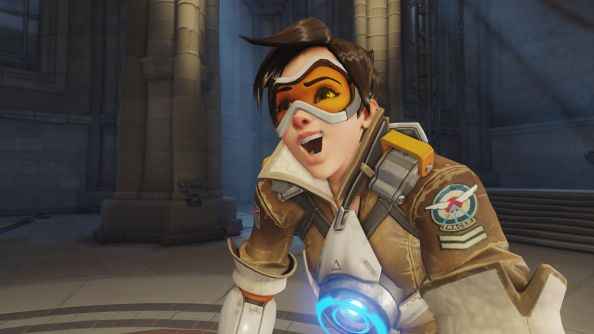 Seems like Overwatch fans may be big fans of watching porn, but they prefer watching games more! According to data from mucky video site, YouPorn, traffic dropped dramatically during the first week of the Overwatch League.
Overwatch Fans Dump Porn For eSports
Matches were streamed live during the Overwatch eSports League recently, and viewing figures are expected to have exceeded 10 million. YouPorn is claiming that their own traffic – people watching porn videos – dropped significantly during that period by by 9%. It could, of course, just be a ploy to capitalize on the video game crowd as they were the site that produced the graph below and first reported the news.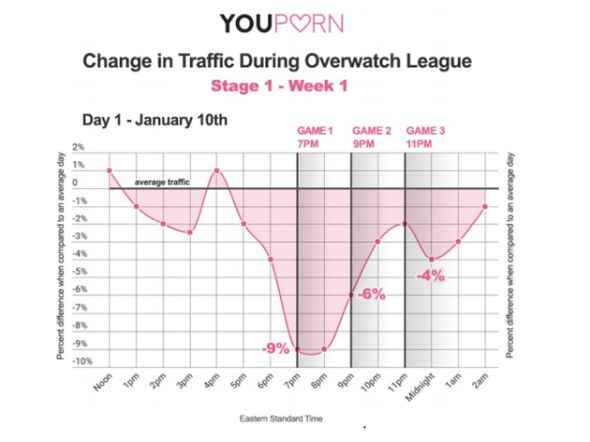 However, we do know gamers love their PS4 porn, and some even like to strap on Sony's virtual-reality headset for a bit of VR Porn on PSVR. Looking at the data, it seems like the biggest drop was during the opening match, which took place between San Francisco Shock and the Los Angeles Valiant, but the droop was fairly consistent throughout the week of Overwatch matches.
Overwatch Porn Seems To Be Quite A Thing
Bizarrely, while 'investigating' this news piece, we discovered there's also a tie-in between porn and Overwatch with real-life models dressing up as characters from the game and, erm, having sex. There's also Overwatch Hentai - exaggerated animated porn videos featuring characters from the game! Well, whatever tickles your fancy.
Find out more about the Overwatch eSports league and upcoming live streams. You'll have to do your own research on the Overwatch porn.