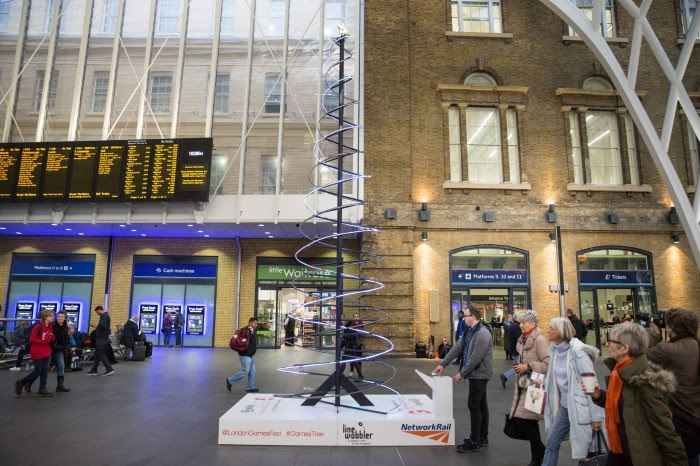 Someone has planted a six meter high playable Christmas tree at King's Cross Station in London.
Apparently, it's actually a videogame and is an adaptation of a dungeon-crawler game called Line Wobbler. According to the press release:
"Line Wobbler is a one-dimensional custom hardware game with a wobble controller made out of a steel spring and a long LED strip display. The game is an award-winning experiment in minimalism in game design, use of novel input mechanics, and the incorporation of physical space into the game."
The game is a 'dungeon crawler' where the player navigates obstacles and fights enemies to reach the exit of a series of increasingly difficult levels. Movement is controlled by bending the Wobble controller forward and back, while enemies are attacked by flinging the spring. Obstacles such as lava fields, conveyor belts and slopes challenge the navigation skills of the player.
The playable Christmas tree has been planted in London to celebrate the upcoming London Games Festival, which runs from April 5-15, 2018.
Apparently, it's only been there a couple of hours and already hundreds of commuters have played it!