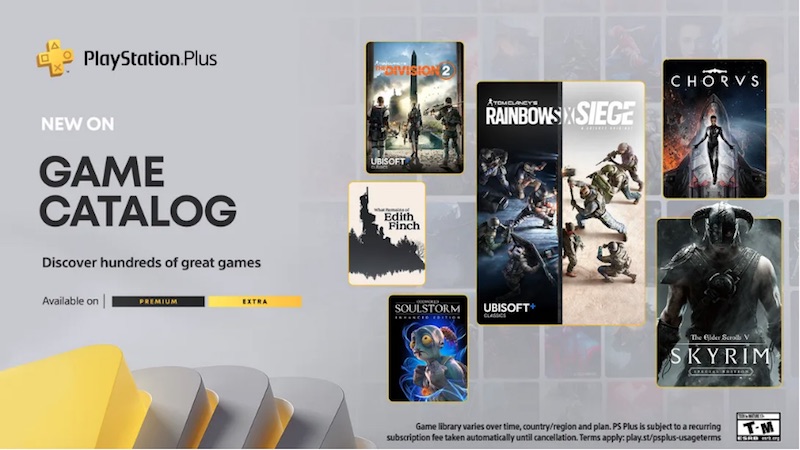 PlayStation's new tiered subscription model means that those players who've bought into either the Extra or Premium tier now look forward to a whole new swath of games to play twice a month, instead of once.
The PlayStation Plus Essential games for November have been available now since the start of the month, and beginning today, Extra and Premium subscribers will be able to check out the new titles added to the respective libraries.
Some highlights for what's being added to PlayStation Plus Extra include Chorus, The Elder Scrolls V: Skyrim – Special Edition, What Remains Of Edith Finch, Rainbow Six Siege, and multiple Kingdom Hearts titles.
For Premium members, the games added to the Classic's library this month all involve a Lombax and his small robotic friend, as the Ratchet & Clank franchise from the first game all the way to Tools Of Destruction are now available to be streamed for Premium subscribers.
This is also however another month in which there are no games from PS2, PSP, or original PlayStation consoles added, as it is only the PS3 versions of the Ratchet & Clank games being added.
You can check out a full list of the games now available for yourself, here.
PlayStation Plus Premium & Extra November 2022 Games
---
PlayStation Plus Extra November 2022
The Elder Scrolls V: Skyrim – Special Edition | PS4, PS5
Tom Clancy's Rainbow Six Siege | PS4, PS5
Kingdom Hearts HD 1.5 + 2.5 ReMIX | PS4
Kingdom Hearts HD 2.8 Final Chapter Prologue | PS4
Kingdom Hearts III | PS4
Kingdom Hearts: Melody of Memory | PS4
Oddworld: Soulstorm – Enhanced Edition | PS4, PS5
Tom Clancy's The Division 2 | PS4
Tom Clancy's Ghost Recon Breakpoint | PS4
Chorus | PS4, PS5
What Remains of Edith Finch | PS4
The Gardens Between | PS4, PS5
Earth Defense Force: World Brothers | PS4
Earth Defense Force: Iron Rain | PS4
Onee Chanbara Origin | PS4
PlayStation Plus Premium November 2022
Ratchet & Clank | PS3
Ratchet & Clank 2: Going Commando | PS3
Ratchet & Clank: Up Your Arsenal | PS3
Ratchet & Clank: Deadlocked | PS3
Ratchet & Clank Future: Tools of Destruction | PS3
Source – [PlayStation Blog]