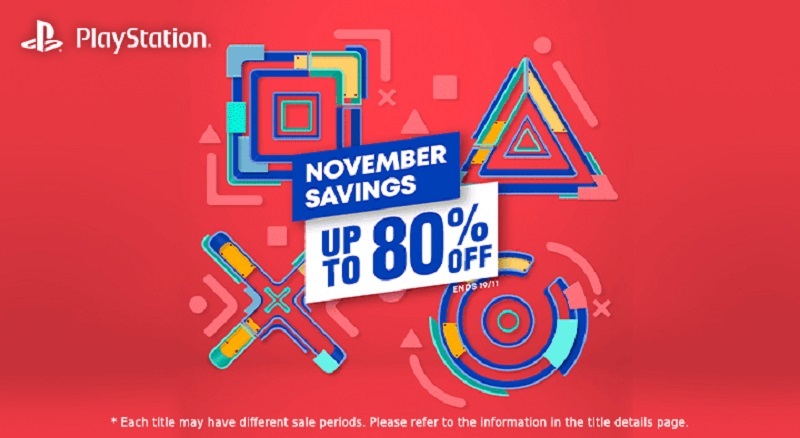 The PlayStation Store is known for having massive, store wide sales and the latest November Savings Sale is no different, now that it has been revealed we can see the full list of games and their discounted prices.
The sale will last for most of the month, so if nothing catches your eye right now, you do have until November 19, 2021 to think about it. After that, it's likely the PlayStation Store's holiday sales will begin to wind up.
Besides some of the very steep discounts, what makes this sale special is that it's the first time since launch that Deathloop has appeared on sale, so if you've yet to check out Arkane Lyon's latest, now could be your chance.
For now though, you can check out the full list of November Savings for the UK PlayStation Store for yourself, right here:
8-Bit Armies – £2.49 (90% off)
8-Bit Armies – Deluxe Edition – £2.99 (90% off)
8-Bit Hordes – £2.49 (90% off)
8-Bit Hordes – Deluxe Edition – £2.99 (90% off)
8-Bit Invaders! – £2.49 (90% off)
8-Bit Invaders! – Deluxe Edition – £2.99 (90% off)
8-Bit Rts Series – Complete Collection – £9.99 (80% off)
A Plague Tale: Innocence – £10.49 (70% off)
Absolver: Downfall – £4.99 (80% off)
Action Arcade Wrestling – £7.64 (34% off)
Adam's Venture: Origins – £1.29 (90% off)
Adam's Venture: Origins – Deluxe Edition – £1.59 (90% off)
AereA – £1.59 (90% off)
Aerial_Knight's Never Yield – PS4 and PS5 – £6.64 (30% off)
AeternoBlade II – £8.74 (65% off)
Age of Wonders: Planetfall – £11.24 (75% off) / £8.99 Plus (80% off)
Age of Wonders: Planetfall – Deluxe Edition – £12.49 (75% off) / £9.99 Plus (80% off)
Age of Wonders: Planetfall Premium Edition – £18.74 (75% off) / £14.99 Plus (80% off)
Agents of Mayhem – £2.39 (85% off)
Air Hockey – £1.99 (75% off)
Alchemist Adventure – £9.59 (40% off)
All-Star Fruit Racing – £3.19 (80% off)
American Fugitive – £4.49 (75% off)
Ancestors Legacy – £11.99 (60% off)
Anthem – £8.99 (85% off)
Aragami – £3.19 (80% off)
Aragami: Shadow Edition – £3.99 (80% off)
Archangel – £8.99 (70% off)
Arizona Sunshine – Deluxe Edition – £11.09 (70% off) / £9.24 Plus (75% off)
Assassin's Creed Unity – £7.49 (70% off)
Assetto Corsa – £4.99 (80% off)
Assetto Corsa – £17.49 (50% off)
Asterix & Obelix XXL 2 – £6.74 (85% off)
Asterix & Obelix XXL3: The Crystal Menhir – £6.99 (80% off)
Asterix & Obelix XXL: Romastered – £13.99 (60% off)
Aven Colony – £6.24 (75% off)
Avicii Invector: Encore Edition – £12.49 (50% off) / £11.24 Plus (55.% off)
Axiom Verge – £7.49 (50% off)
Baldur's Gate and Baldur's Gate II: Enhanced Editions – £11.99 (75% off)
Banner Saga 2 – £3.99 (80% off)
Banner Saga 3 – £3.99 (80% off)
Batman: Arkham Knight – £10.39 (35% off)
Battle Worlds: Kronos – £3.19 (80% off)
Beach Buggy Racing 2: Hot Wheels Edition – £13.19 (40% off)
Beat Cop – £2.39 (80% off)
Ben 10: Power Trip – £17.49 (50% off)
Big Dipper – £1.31 (60% off) / £0.81 Plus (75% off)
Blacksad: Under the Skin – £6.99 (80% off)
Blazblue Centralfiction – £9.59 (80% off)
Blazblue Cross Tag Battle – £3.99 (75% off)
Blightbound – £11.19 (30% off)
Bloons Td 5 – £4.28 (67% off)
Blue Fire – £11.19 (30% off)
Bonkies – £7.19 (40% off)
Bonkies – Bananas Bundle – £8.99 (40% off)
Borderlands: The Handsome Collection – £8.74 (75% off)
Bowling – £2.37 (75% off)
Boxed In – £3.49 (30% off)
Breathedge – £11.99 (40% off)
Bridge Constructor – £1.99 (75% off)
Bridge Constructor Portal – £2.99 (75% off)
Bridge Constructor Stunts – £2.24 (75% off)
Brigandine: The Legend of Runersia – £27.99 (30% off)
Bulletstorm: Full Clip Edition – £5.24 (85% off)
Bulletstorm: Full Clip Edition Duke Nukem Bundle – £7.04 (85% off)
Bullseye – £2.87 (75% off)
Bus Simulator – £15.74 (55% off)
Cake Bash – £11.19 (30% off)
Call of Duty: Ghosts and Season Pass Bundle – £31.99 (60% off)
Call of Duty: Infinite Warfare – Digital Deluxe – £37.99 (60% off)
Call of Duty: Infinite Warfare – Legacy Edition – £31.99 (60% off)
Call of Duty:Advanced Warfare – Digital Pro Edition (Day Zero) – £33.99 (60% off)
Carly and the Reaperman – Escape from the Underworld – £7.74 (50% off)
Cars 3: Driven to Win – £9.59 (80% off)
Chess – £1.84 (75% off)
Chess Ultra – £2.49 (75% off)
Chicken Police – Paint it Red! – £11.99 (25% off) / £10.39 Plus (35% off)
Chivalry 2 – £27.99 (20% off)
Chivalry 2 Special Edition – £31.99 (20% off)
Chronos: Before the Ashes – £13.74 (45% off)
Cities: Skylines – Premium Edition 2 – £10.99 (80% off)
Clone Drone In The Danger Zone – £11.19 (30% off)
Close to the Sun – £9.99 (50% off) / £8.99 Plus (55.% off)
ClusterTruck – £5.99 (50% off)
Colt Canyon – £4.79 (60% off)
Conan Exiles – £17.99 (60% off)
Concrete Genie – £9.99 (60% off)
Concrete Genie Digital – Deluxe Edition – £17.49 (50% off)
Constructor – £3.19 (80% off)
Constructor Plus – £4.79 (70% off) / £3.19 Plus (80% off)
Control – £9.99 (60% off)
Cook, Serve, Delicious! 2!! – £3.89 (70% off) / £3.24 Plus (75% off)
Cook, Serve, Delicious! 2/3 Bundle!! – £8.99 (55% off) / £7.99 Plus (60% off)
Cook, Serve, Delicious! 3?! – £8.79 (45% off) / £7.99 Plus (50% off)
Cooking Mama: Cookstar – £23.44 (33% off)
Cooking Simulator – £11.19 (30% off)
Crash Drive 3 – £6.99 (50% off)
Crash Drive 3 – £6.99 (50% off)
Crysis Remastered – £12.49 (50% off)
Curse of the Dead Gods – £7.99 (50% off)
Cyberdimension Neptunia: 4 Goddesses Online – £7.49 (70% off)
Dawn of Man – £11.99 (40% off) / £9.99 Plus (50% off)
Dead Island Definitive Collection – £3.99 (80% off)
Dear Esther: Landmark Edition – £1.59 (80% off)
Death end reQuest – £9.99 (60% off)
Deathloop – £39.59 (34% off)
Deathloop Deluxe Edition – £52.79 (34% off)
Defense Grid 2 – £3.74 (75% off)
Defunct – £1.19 (90% off)
Defunct – Deluxe Edition – £1.59 (90% off)
Descenders – £7.99 (60% off)
Dirt 5 – £21.99 (60% off)
Disco Dodgeball – Remix – £2.39 (80% off)
Disgaea 5 Complete Bundle – £17.49 (50% off)
Dishonored & Prey: The Arkane Collection – £37.49 (50% off)
Disintegration – £12.49 (50% off)
Dog Duty – £1.59 (90% off)
Doki Doki Literature Club Plus! – £7.83 (20% off)
Dollhouse – £2.49 (90% off)
Dollhouse – Deluxe Edition – £2.99 (90% off)
Dragon Ball Fighterz – Ultimate Edition – £13.59 (84% off)
Dragon Ball Xenoverse – £3.99 (75% off)
Dragon Ball Xenoverse 2 – £7.99 (50% off)
Dragon Star Varnir – £9.99 (60% off)
Dreamfall Chapters – £4.79 (70% off)
DreamWorks Spirit Lucky's Big Adventure – £24.49 (30% off)
Dustoff Heli Rescue 2 – £1.62 (75% off)
Dying Light – Platinum Edition – £23.99 (50% off)
Dynasty Warriors 9 – £11.19 (30% off)
Dynasty Warriors 9 Digital – Deluxe Edition – £19.99 (50% off)
Ea Star Wars Triple Bundle – £31.99 (60% off)
Earth Defense Force 4.1: The Shadow of New Despair – £7.99 (50% off)
Earth Defense Force 5 – Deluxe Edition – £37.19 (40% off) / £27.89 Plus (55.% off)
Earth Defense Force: Iron Rain – Ultimate Edition – £29.59 (60% off) / £18.49 Plus (75% off)
eFootball Pes 2021 Season Update – Standard Edition – £6.24 (75% off)
eFootball Pes 2021 Season Update Arsenal Edition – £7.49 (75% off)
eFootball Pes 2021 Season Update Fc Barcelona Edition – £7.49 (75% off)
eFootball Pes 2021 Season Update Fc Bayern MÜNchen Edition – £7.49 (75% off)
eFootball Pes 2021 Season Update Juventus Edition – £7.49 (75% off)
eFootball Pes 2021 Season Update Manchester United Edition – £7.49 (75% off)
Elea – £1.49 (85% off)
Elea – Deluxe Edition – £1.79 (85% off)
Empire of Sin – £17.49 (50% off) / £15.74 Plus (55.% off)
Empire of Sin – Deluxe Edition – £19.99 (50% off) / £17.99 Plus (55.% off)
Empire of Sin – Premium Edition – £28.99 (50% off) / £26.09 Plus (55.% off)
Escape Game Fort Boyard – £17.49 (50% off)
Escape Game Fort Boyard – New Edition – £24.74 (25% off)
Esports Life Tycoon – £9.59 (40% off)
Expand – £1.49 (70% off)
Falcon Age – £3.99 (75% off)
Fallen Knight – £7.11 (25% off)
Farm Together – £10.39 (35% off)
Farmer's Dynasty – £11.99 (70% off) / £7.99 Plus (80% off)
FIFA 22 Ultimate Edition PS4 and PS5 – £67.49 (25% off)
Fight – £1.99 (75% off)
Final Fantasy XIV Online – Complete Collector's Edition – £29.99 (60% off)
Final Fantasy XIV Online – Complete Edition – £17.99 (60% off)
Fishing: North Atlantic – £16.24 (35% off)
For The King – £5.99 (70% off)
Forager – £7.99 (50% off)
Freddy Fazbear's Pizzeria Simulator – £3.24 (50% off)
Frostpunk: Complete Collection – £22.19 (40% off)
Fruit Ninja VR – £9.79 (30% off) / £8.39 Plus (40% off)
Garfield Kart – Furious Racing – £4.99 (80% off)
Generation Zero – Resistance Bundle – £18.14 (45% off)
Genesis Alpha One – £8.24 (67% off)
Geometry Wars 3: Dimensions Evolved – £3.49 (75% off)
Ghosts 'n Goblins Resurrection – £16.74 (33% off)
Gigantosaurus The Game – £13.99 (60% off)
Goat Simulator – £1.99 (75% off)
Gorn – £7.99 (50% off)
Gran Turismo Sport Spec II – £12.49 (50% off)
Gravity Heroes – £8.39 (30% off)
Griftlands – £12.79 (20% off)
Grim Fandango Remastered – £5.99 (50% off)
Grip Digital Deluxe – £8.99 (80% off) / £6.74 Plus (85% off)
Gtav Premium Online Edition & Great White Shark Card Bundle – £17.59 (56% off)
Gtav Premium Online Edition & Megalodon Shark Card Bundle – £29.99 (60% off)
Gtav Premium Online Edition & Whale Shark Card Bundle – £19.99 (60% off)
Guacamelee! 2 – £3.99 (75% off)
Guacamelee! 2 Complete – £4.74 (75% off)
Guacamelee! Super Turbo Championship Edition – £2.87 (75% off)
Guilty Gear Xrd Rev.2 – £8.74 (75% off)
Guts & Glory – £5.99 (50% off)
Hell Warders – £2.39 (80% off)
Hentai vs. Evil PS4 and PS5 – £5.59 (30% off)
Hitman 3 – Deluxe Edition – £37.49 (50% off)
Hood: Outlaws and Legends – £11.99 (25% off)
Hood: Outlaws and Legends – Year 1 Edition PS4 and PS5 – £24.74 (25% off)
Horizon Zero Dawn – Complete Edition – £7.99 (50% off)
Human: Fall Flat PS4 and PS5 – £5.43 (66% off)
Hunt: Showdown – Deluxe Edition – £13.99 (65% off)
Huntdown – £7.99 (50% off)
Hunting Simulator – £6.74 (85% off)
I am Bread – £1.99 (80% off)
I Expect You To Die – £12.99 (35% off)
In Sound Mind – £27.99 (20% off)
Injustice: Gods Among Us – Ultimate Edition – £7.99 (84% off)
Insurgency: Sandstorm – £29.74 (15% off)
Into A Dream – £3.44 (70% off) / £2.29 Plus (80% off)
Ironcast – £3.99 (60% off)
Ironcast: Complete Collection – £5.19 (60% off)
Journey to the Savage Planet – £9.99 (60% off)
Judgment – £14.99 (40% off)
Jump King – £4.99 (50% off)
Just Cause 4: Reloaded – £6.99 (80% off)
Kaze and the Wild Masks – £19.99 (20% off)
Keep Talking and Nobody Explodes – £5.99 (50% off)
Kill It With Fire – £8.39 (30% off)
Kill la Kill – If – £7.99 (50% off)
King's Bounty II – £38.49 (30% off)
King's Bounty II Lord's Edition – £41.99 (30% off)
Kona – £2.39 (80% off)
La Cops – £2.87 (75% off)
LEGO Batman 3: Beyond Gotham Premium Edition – £10.74 (57% off)
LEGO City Undercover – £11.99 (75% off)
LEGO Marvel's Avengers – £9.29 (69% off)
LEGO Star Wars: The Force Awakens – £9.99 (79% off)
LEGO The Hobbit – £11.19 (68% off)
LEGO The Incredibles – £9.59 (80% off)
Let's Sing Queen – £22.74 (35% off)
Liftoff: Drone Racing – £11.99 (40% off)
Little Big Workshop – £11.99 (25% off) / £10.39 Plus (35% off)
Livelock – £2.84 (70% off)
Lords of the Fallen – £2.39 (85% off)
Lost Ember – £7.49 (70% off)
Mafia II – Definitive Edition – £8.24 (67% off)
Mafia III – Definitive Edition – £8.24 (67% off)
Magicka 2 – £2.99 (75% off) / £2.39 Plus (80% off)
Magicka 2: Special Edition – £3.99 (75% off) / £3.19 Plus (80% off)
Maneater – £20.99 (40% off)
Maneater – £20.99 (40% off)
Maneater Apex Edition – £27.99 (30% off)
Manifold Garden – £8.99 (40% off)
Manifold Garden – Deluxe Edition – £13.19 (40% off)
Marooners – £3.19 (60% off)
Mars Horizon – £10.04 (33% off)
Marvel's Avengers Endgame Edition – £26.99 (55% off)
Megadimension Neptunia VII – £7.99 (50% off)
Mekorama – £0.99 (75% off)
Metal Wolf Chaos – £9.99 (50% off)
Metro Exodus – £7.49 (70% off)
Mobile Suit Gundam Extreme Vs. Maxiboost On – £22.49 (50% off)
Monkey King: Hero is back – Hero Edition – £15.89 (70% off)
Monster Energy Supercross – Special Edition – £4.49 (85% off)
Monster Energy Supercross – The Official Videogame – £3.74 (85% off)
Monster Energy Supercross – The Official Videogame 4 – £19.99 (60% off)
Monster Energy Supercross – The Official Videogame 4 – £19.99 (60% off)
Monster Hunter: World – £11.99 (25% off)
Monster Jam Steel Titans 2 – £20.99 (40% off)
Monster Jam Steel Titans Power Out Bundle – £29.99 (40% off)
Monster Prom: XXL – £5.19 (60% off)
Moonlighter – Complete Edition – £5.69 (70% off)
MotoGP21 – £24.99 (50% off)
MotoGP21 – £24.99 (50% off)
Mount & Blade: Warband – £3.99 (75% off)
Move or Die – £2.89 (75% off)
MudRunner – American Wilds Edition – £7.49 (75% off)
Murder Mystery Machine – £12.79 (20% off)
Mxgp 2020 – The Official Motocross Videogame – £13.49 (70% off)
My Friend Pedro – £7.99 (50% off)
My Hero One'S Justice 2 – Deluxe Edition – £22.19 (63% off)
Narita Boy – £9.99 (50% off)
Naruto To Boruto: Shinobi Striker – £6.99 (86% off)
Nascar Heat 5 – Ultimate Edition – £9.99 (60% off)
NBA 2K22 Cross-Gen Digital Bundle for PS4 and PS5 – £50.24 (33% off)
Necromunda: Hired Gun – £21.44 (35% off)
Need for Speed – £3.99 (75% off)
Need for Speed Payback – £4.24 (83% off)
Neighbours back From Hell – £8.99 (25% off) / £7.79 Plus (35% off)
Neverwinter Nights: Enhanced Edition – £14.39 (70% off)
Ni no Kuni II: Revenant Kingdom – £6.71 (86% off)
Night in the Woods – £11.39 (40% off)
Noir Chronicles: City of Crime – £3.59 (70% off)
Octodad: Dadliest Catch – £2.87 (75% off)
Offroad Racing – Buggy X Atv X Moto – £2.39 (85% off)
Omno – £11.24 (25% off)
One Piece: Pirate Warriors 4 – Deluxe Edition – £23.09 (67% off)
Out of Ammo – £2.39 (80% off)
Outbreak: Epidemic – £4.49 (55% off)
Outbreak: The New Nightmare – £4.49 (55% off)
Overcooked! + Overcooked! 2 – £11.99 (60% off)
Override 2: Super Mech League Ultraman – Deluxe Edition – £10.88 (67% off)
Override: Mech City Brawl – Super Charged Mega Edition – £8.24 (67% off)
Paint the Town Red – £9.79 (30% off)
Pang Adventures – £3.19 (60% off)
Party Trivia – £2.99 (75% off)
Paw Patrol is on a roll! – £17.49 (50% off)
Paw Patrol Mighty Pups Save Adventure Bay – £17.49 (50% off)
PAW Patrol The Movie: Adventure City Calls – £27.99 (20% off)
Payday 2 – Crimewave Edition – The Big Score Game Bundle – £8.99 (80% off)
Payday 2: Crimewave Edition. – £3.19 (80% off)
PBA Pro Bowling 2021 – £11.99 (40% off)
Pc Building Simulator – £5.99 (60% off)
Persona 5 – Ultimate Edition – £23.99 (70% off) / £19.99 Plus (75% off)
Persona 5 Strikers – Digital Deluxe Edition – £38.99 (40% off) / £35.74 Plus (45% off)
Pillars of Eternity II: Deadfire – Ultimate Edition – £24.99 (50% off) / £22.49 Plus (55.% off)
PixARK – £8.74 (75% off)
Plague Inc: Evolved – £2.99 (75% off)
Planet Alpha – £3.99 (75% off)
Planet Coaster – Deluxe Edition – £26.39 (45% off)
Pool – £1.99 (75% off)
Prison Architect: PlayStation4 Edition – £3.99 (80% off)
Project Cars 2 – Deluxe Edition – £10.49 (85% off)
Project Cars 3 – Deluxe Edition – £20.99 (72% off)
Putty Squad Game – £5.99 (70% off) / £3.99 Plus (80% off)
Puyo Puyo Champions – £1.99 (75% off)
Quantum Replica – £4.54 (30% off)
Raji: An Ancient Epic – £9.99 (50% off) / £7.99 Plus (60% off)
Razed – £1.59 (80% off)
Red Dead Redemption 2 – Ultimate Edition – £31.49 (65% off)
Redeemer: Enhanced Edition – £2.49 (90% off)
Relicta – £6.39 (60% off)
Resident Evil Revelations 1 & 2 Bundle – £13.99 (60% off)
Retro Machina – £9.59 (40% off)
Reus – £1.29 (90% off)
Reus – Deluxe Edition – £1.49 (90% off)
Rick And Morty: Virtual Rick-Ality – £9.99 (60% off)
Ride 4 – £19.99 (60% off)
RiMS Racing – £22.49 (50% off)
RiMS Racing – £33.74 (25% off) / £31.49 Plus (30% off)
Rims Racing – European Manufacturers Deluxe Edition – £37.79 (30% off)
Rims Racing – European Manufacturers Deluxe Edition – £37.79 (30% off)
Rims Racing – Japanese Manufacturers Deluxe Edition – £37.79 (30% off)
Rims Racing – Ultimate Edition PS4 and PS5 – £46.19 (30% off)
Riptide GP2 – £3.47 (40% off) / £2.89 Plus (50% off)
Riptide GP: Renegade – £4.79 (40% off) / £3.99 Plus (50% off)
Rise of the Tomb Raider: 20 Year Celebration – £4.99 (80% off)
Rive – £1.79 (85% off) / £0.59 Plus (95% off)
Road Redemption – £6.39 (60% off)
Robinson: The Journey – £4.99 (80% off)
Robox – £2.99 (75% off)
Rock of Ages 3: Make & Break – £6.24 (75% off)
Rpg Maker MV – £22.49 (50% off)
Ruiner – £3.19 (80% off)
Runbow – £2.39 (80% off)
Saints Row IV: Re-Elected – £3.99 (75% off)
Saints Row: Gat out of Hell – £3.99 (75% off)
Samurai Jack: Battle Through Time – £16.49 (50% off)
Samurai Shodown – £19.99 (60% off)
Scarlet Nexus – £29.99 (40% off)
Scribblenauts Mega Pack – £6.24 (75% off)
Secret Neighbor – £9.59 (40% off)
Sekiro: Shadows Die Twice – Game of the Year Edition – £38.99 (35% off)
Shadow of the Tomb Raider – Definitive Edition – £11.54 (67% off)
Shady Part of Me – £5.99 (50% off)
Sheltered – £2.49 (75% off)
Shenmue III – Digital Deluxe Edition – £8.74 (75% off)
Sherlock Holmes: Crimes and Punishments – £6.59 (80% off)
Shiftlings – £3.49 (75% off)
Shiny – A Robotic Adventure – £1.29 (90% off)
Shiny – Deluxe Edition – £1.59 (90% off)
Shotgun Farmers – £5.99 (25% off)
Skater XL – £26.24 (25% off)
Snakes & Ladders – £1.84 (75% off)
Sniper Elite V2 Remastered – £4.49 (85% off)
Sniper Ghost Warrior 3 Season Pass Edition – £3.49 (90% off)
Sniper Ghost Warrior Contracts 2 PS4 and PS5 – £20.99 (40% off)
SnowRunner – Premium Edition – £29.99 (40% off)
Soulcalibur VI – £7.69 (86% off)
South Park: The Stick of Truth + The Fractured but Whole – £16.49 (67% off)
SpeedRunners – £1.99 (75% off)
SpeedRunners Deluxe Bundle – £4.19 (70% off)
Spelunky 2 – £9.59 (40% off)
Spike Volleyball – £9.99 (80% off)
Spot The Difference – £1.99 (75% off)
Star Wars Battlefront II: Celebration Edition – £8.74 (75% off)
Star Wars Episode I Racer – £5.99 (50% off)
Star Wars Jedi: Fallen Order – £17.99 (60% off) / £15.74 Plus (65% off)
Stellaris: Console Edition – Standard Edition – £8.24 (75% off)
Strange Brigade – Deluxe Edition – £6.49 (90% off)
Street Fighter V: Champion Edition + Season 5 Premium Pass Bundle – £34.99 (30% off)
Streets Of Rage 4 – £11.99 (40% off)
Strider – £2.39 (80% off)
Subnautica – £14.99 (50% off)
Subnautica PS4 and PS5 – £14.99 (50% off)
Super Blackjack Battle II – Turbo Edition – The Card Warriors – £1.94 (70% off)
Super Meat Boy – £2.59 (80% off)
Super Meat Boy Forever – £9.59 (40% off)
Super Mega Baseball 3 – £16.49 (50% off)
Super Pixel Racers – £2.49 (75% off)
SuperMash – £3.09 (80% off) / £2.31 Plus (85% off)
Surgeon Simulator A&E + I Am Bread – £3.19 (80% off)
Surgeon Simulator: Anniversary Edition – £1.79 (80% off)
Surgeon Simulator: Experience Reality – £3.19 (80% off)
Surviving Mars – Digital Deluxe Edition – £8.74 (75% off)
Surviving Mars – First Colony Edition – £13.24 (75% off)
Sword Art Online: Hollow Realization – Deluxe Edition – £7.79 (87% off)
Synergia – £5.99 (50% off) / £4.79 Plus (60% off)
Table Tennis – £1.99 (75% off)
Tannenberg – £6.39 (60% off)
Taxi Chaos – £17.49 (30% off)
Tekken 7 – Rematch Edition – £10.79 (82% off)
Tennis World Tour 2 – £13.49 (70% off) / £11.24 Plus (75% off)
Terminator: Resistance – £20.99 (40% off)
TerraTech – £11.99 (40% off)
The Caligula Effect: Overdose – £15.74 (65% off)
The Crew 2 Gold Edition – £21.89 (70% off)
The Division 2 Warlords of New York – £14.99 (70% off)
The Escapists + The Escapists 2 – £5.99 (80% off)
The Escapists 2 – £4.99 (75% off)
The Inner World – £3.59 (70% off)
The Last Campfire – £4.79 (60% off)
The Last Kids on Earth and the Staff of Doom – £24.49 (30% off)
The LEGO Movie 2 Videogame – £10.49 (70% off)
The Lego Movie Videogame Bundle – £14.99 (70% off)
The Messenger – £6.39 (60% off)
The Outer Worlds: Board-Approved Bundle – £38.99 (40% off)
The Room VR: A Dark Matter – £9.99 (60% off)
The Seven Deadly Sins: Knights of Britannia – £7.19 (85% off)
The Sims 4 – £4.19 (88% off)
The Surge – Augmented Edition – £5.99 (70% off)
The Surge 1 & 2 – Dual Pack – £12.24 (65% off)
The Swords of Ditto: Mormo's Curse – £4.28 (67% off)
theHunter: Call of the Wild – 2019 Edition – £13.99 (65% off)
theHunter: Call of the Wild – 2021 Edition – £26.99 (50% off)
Titan Quest – £6.24 (75% off)
Tohu – £6.69 (33% off)
Toki Tori 2+ – £1.79 (85% off) / £0.59 Plus (95% off)
Tom Clancy's Ghost Recon Breakpoint Deluxe Edition – £13.59 (80% off)
Tom Clancy's Ghost Recon Breakpoint – Gold Edition – £16.99 (80% off)
Tomb Raider – Definitive Edition – £2.39 (85% off)
Tomb Raider: Definitive Survivor Trilogy – £17.99 (60% off)
Tony Stewart's All-American Racing – £12.49 (50% off)
Tony Stewart's Sprint Car Racing – £7.99 (50% off)
Tour de France 2019 – £3.49 (90% off)
Tour de France 2021 PS4 – £22.49 (50% off)
Trailmakers – £12.49 (50% off)
Train Sim World 2020 – £17.49 (30% off)
Train Sim World 2020 – Deluxe Edition – £29.99 (25% off)
Train Sim World 2: Rush Hour Deluxe Edition – £31.99 (20% off)
TrainerVR – £3.59 (55% off)
Transformers: Battlegrounds – £13.99 (60% off)
Transpose – £7.49 (50% off) / £5.99 Plus (60% off)
Tricky Towers – £5.39 (55% off)
Trine – Ultimate Collection – £11.09 (70% off)
Trollhunters: Defenders of Arcadia – £13.99 (60% off)
Trover Saves the Universe – £12.49 (50% off)
Truck Driver – Deluxe Edition – £25.89 (30% off)
Trüberbrook – £7.49 (70% off)
TT Isle of Man: Ride on the Edge – £4.49 (90% off)
Twin Mirror – £12.49 (50% off)
Two Tribes Pack: Rive & Toki Tori 2+ – £3.29 (85% off) / £1.09 Plus (95% off)
UFC 4 – £18.14 (67% off)
Ultimate Chicken Horse – £7.49 (50% off)
Ultimate Custom Night – £2.89 (50% off)
Ultimate Fishing Simulator – £14.99 (40% off)
Unravel – £3.74 (75% off)
Verdun – £6.39 (60% off)
Virginia – Special Edition Bundle – £1.85 (80% off)
Virtua Fighter 5 Ultimate Showdown Main game and DLC Pack – £12.49 (50% off)
Warhammer 40,000: Inquisitor – Martyr | Imperium edition – £9.59 (80% off)
Warhammer Age of Sigmar: Storm Ground – £11.99 (25% off)
Warhammer: Chaosbane Slayer Edition – £14.99 (70% off) / £12.49 Plus (75% off)
Warhammer: Chaosbane Slayer Edition – £14.99 (70% off) / £12.49 Plus (75% off)
Warhammer: Vermintide 2 – Premium Edition – £9.24 (75% off)
Warsaw – £7.99 (50% off)
Watch Dogs 2 – Gold Edition – £15.99 (80% off)
We Were Here Series Bundle – £8.09 (55% off)
Werewolf: The Apocalypse – Earthblood Champion of Gaia – £22.49 (55% off)
Werewolf: The Apocalypse – Earthblood PS4 and PS5 – £17.99 (60% off)
Who Wants to Be a Millionaire? – £17.49 (50% off)
Windjammers – £4.79 (60% off)
Wizard of Legend – £4.54 (65% off)
Wonder Boy: The Dragon's Trap – £6.39 (60% off)
Worms Battlegrounds – £3.99 (80% off)
Worms Rumble – £5.49 (50% off)
Worms W.M.D – £3.99 (80% off)
WRC 9 Deluxe Edition Fia World Rally Championship – £17.39 (70% off) / £14.49 Plus (75% off)
Wreckfest – Complete Edition – £22.49 (50% off)
Wuppo – £1.59 (90% off)
Wuppo – Deluxe Edition – £1.99 (90% off)
Wuppo – Super – Deluxe Edition – £2.49 (90% off)
WW1 Game Series Bundle – £11.59 (60% off)
Xenon Racer – £2.49 (90% off) / £1.24 Plus (95% off)
Xenon Racer – Deluxe Edition – £3.99 (90% off) / £1.99 Plus (95% off)
XIII – £26.99 (40% off)
Yooka-Laylee – £5.24 (85% off)
Yooka-Laylee and the Impossible Lair – £6.24 (75% off)
Youtubers Life Omg – £8.24 (67% off)
Ys IX: Monstrum Nox Digital – Deluxe Edition – £40.29 (35% off)
Ys Origin – £6.39 (60% off)
Ys VIII: Lacrimosa of Dana – £14.39 (70% off)
Source – [HotUKDeals, PlayStation Store]