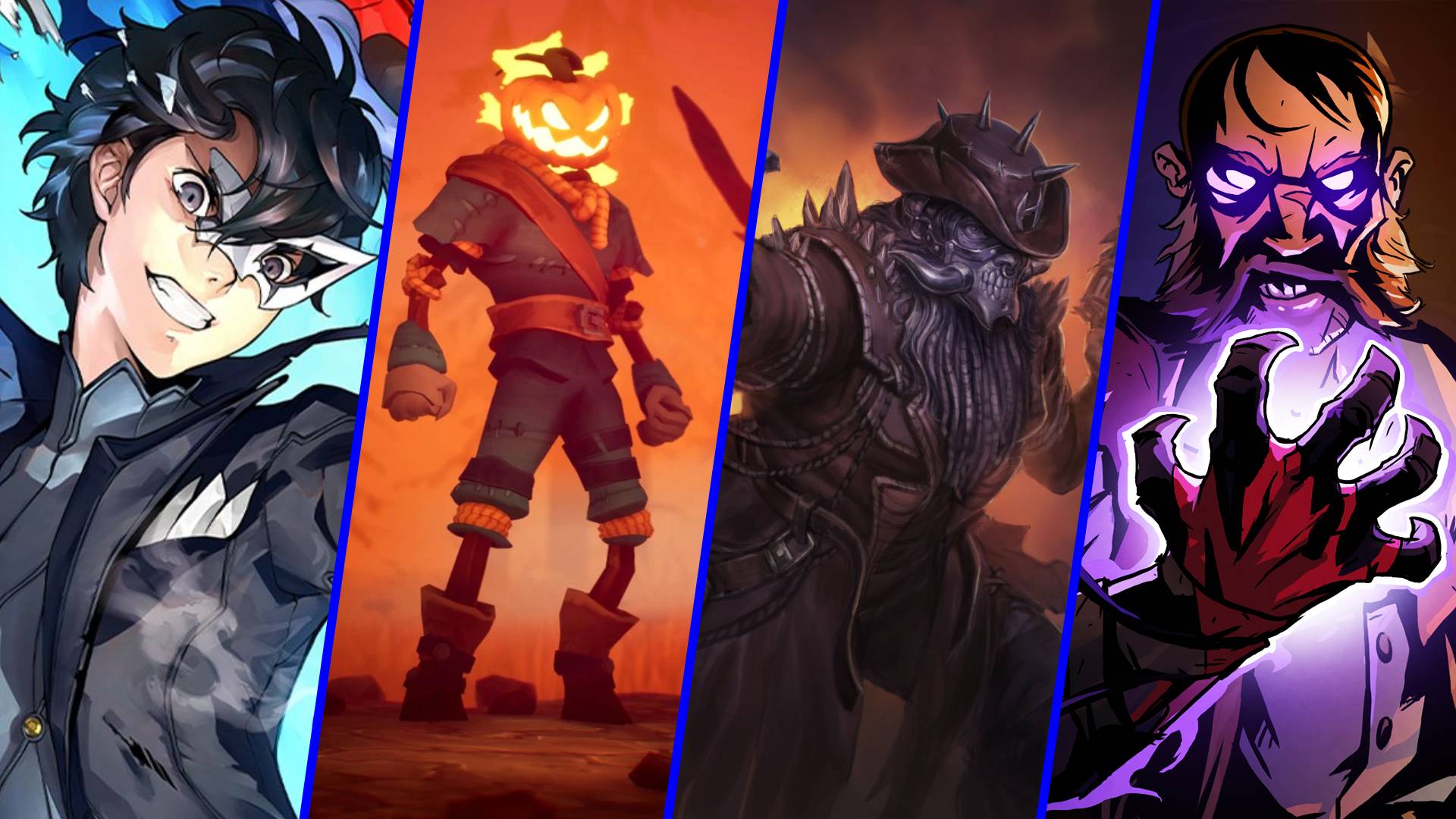 PS4 New Releases – Another week means another new set of PS4 games releasing this week. This week is a quiet week with just a number of small indie games releasing.
PS4 New Releases – New PS4 Games Releasing This Week (February 22 – February 28)
Azure Reflections – February 22
"A side-scrolling bullet hell fangame based on one of the hottest shooting game series to come out of Japan, the Touhou Project! Enemies come at you from all directions with relentless hails of bullets! Fight back with a well-timed Danmaku Rush to tear your way through bullets and enemies alike! Not that great at bullet hell games? That's okay! We've got you covered with a Practice Mode that lets you practice boss fights, and a Tutorial Mode that holds your hand and walks you through the basics of how to play a bullet hell shooting game."
Blastful – February 23
"Blastful is a fast-paced arcade shoot-em-up."
Buster's Quest: Trials Of Hamsterdam – February 23
"Buster's Quest is a classic action-puzzle game focused on solving increasingly complex puzzles. Play as Buster or Busterina as you traverse lands filled with cute cuddly enemies determined to stop you at all costs. Collect hamsterballs, shoot enemies and get the fastest times as you climb the online leaderboards. Learn enemy quirks to quickly vanquish them and progress to the next level. With over 150 levels, the challenge to save your significant other has never been so daunting."
Curse Of The Dead Gods – February 23
"You seek untold riches, eternal life, divine powers — it leads to this accursed temple, a seemingly-infinite labyrinth of bottomless pits, deadly traps, and monsters. Your greed will lead you to death, but that is not an escape. Rise to fight again. Delve deeper again. Defy the malignant deities that linger in this place."
Death Tales – February 23
"Embark on an epic adventure, playing as a new reaper of death gone rogue! Protect your harbinger of doom with cool equipment and deadly spells. You can learn powerful attacks, perfect for shuffling your enemies off this mortal coil. Complete quests for a cast of quirky characters, who will force you to make difficult choices in this grim yet richly illustrated 2D world. Play alone or with a friend in local co-op and serve up a buffet of death upon your enemies together!"
Heavy Metal Machines – February 23
"Heavy Metal Machines is a one of a kind free-to-play multiplayer vehicular combat game where players engage in 4v4 intense battles, controlling lethal vehicles in post-apocalyptic arenas."
Horned Knight – February 23
"Horned Knight is a challenging 2D action-platformer where you must overcome all fears, enemies, and traps as the Hero Knight. Rewrite destiny, with your trusty sword, young Knight – the realm depends on it!"
Persona 5 Strikers – February 23
"Join the Phantom Thieves and strike back against the corruption overtaking cities across Japan. A summer vacation with close friends takes a sudden turn as a distorted reality emerges; reveal the truth and redeem the hearts of those imprisoned at the center of the crisis!"
Taxi Chaos – February 23
"Horned Knight is a challenging 2D action-platformer where you must overcome all fears, enemies, and traps as the Hero Knight. Rewrite destiny, with your trusty sword, young Knight – the realm depends on it!"
We Were Here Too – February 23
"We Were Here Too is an online first-person cooperative adventure set in a fictional medieval castle. A new standalone entry in the We Were Here series, We Were Here Too is all about cooperative discovery, immersion and teamwork through communication. You and a partner must solve puzzles through smart communication and observation. Trapped in different parts of an ancient castle, only your walkie-talkies will allow you to figure out how to escape."
We Were Here Together – February 23
"Embark on a puzzle solving adventure in which you and a partner must prove you can communicate and work together to escape the haunted Castle Rock.
It all begins with an emergency flare lighting up the sky and a distress call waking you from uneasy dreams. Your fellow Antarctic explorers are in trouble, and the two of you left at base camp must work together to launch a rescue mission. If only you knew what you were getting into…"
We Were Here Series – February 23
"Each player has to explore different areas, and every puzzle requires teamwork to solve. Asymmetric puzzles give each partner different information, and challenge players to talk to each other and figure out exactly what information they have and how it might lead to a solution. You and your partner have nothing but your wits, a walkie-talkie each, and whatever you can find on your way."
Active Neurons 3 – February 24
"Active Neurons – Wonders of the World is the third and final installment in the Active Neurons series."
Pumpkin Jack – February 24
"Pumpkin Jack is a Spooky Scary 3D platformer in which you embody Jack, the Mythical Pumpkin Lord! Dive into an Epic Adventure through otherworldly landscapes and help the Evil annihilate the Good!"
Retrace: Memories Of Death – February 24
"When a ghost tour goes horribly wrong, Freya and her friends find themselves in a strange and unforgiving alternate world, one that desires their death. Take the role of Freya as she seeks a way out and discovers the ability to rewind time, giving her a chance to test new paths and make different decisions in a bid for their survival."
Werewolf: The Apocalypse – Heart Of The Forest – February 24
"Explore the myths and monsters of Europe's last primeval wilderness. Play as Maia, who arrives at the ancient Białowieża Forest looking to explore her family history. Discover Rage in an adventure game inspired by the experience of the legendary tabletop roleplaying game Werewolf: The Apocalypse."
Bite The Bullet – February 25 (North America)
"Run, Gun and Eat your way through this roguelite RPG shooter. In a world where every enemy is edible, what you eat and how much you eat drives everything from your waistline to branching skill trees to weapon crafting. Shoot fast. Eat big. Satisfy your appetite for destruction."
Mighty Fight Federation – February 25
"Slam opponents into walls, launch them into the air & follow up with fast, high-flying attacks in this brand new arena fighter. Choose from 13 different characters with unique play styles. Face off in head-to-head matches, team up with other fighters or embrace the chaos of 4-player free-for-all."
Moving Out: Movers In Paradise DLC – February 25
"Dive back in to Moving Out with: 14 new story levels, Four new movers, 10 new arcade levels. Get those bags packed and ready – paradise awaits."
Outriders Demo – February 25
"Outriders is a one to three-player co-op RPG shooter set in an original, dark and desperate sci-fi universe. As mankind bleeds out in the trenches of Enoch, you'll create your own Outrider and embark on a journey across the hostile planet. With rich storytelling spanning a diverse world, you'll leave behind the slums and shanty towns of the First City and traverse forests, mountains and desert in the pursuit of a mysterious signal."
RetroMania Wrestling – February 25
"RetroMania Wrestling is the official sequel to the classic arcade game Wrestlefest that was released in 1991 by Technos of Japan. RetroMania Wrestling will be a "pick up and play" arcade wrestling game with beautiful 2D sprites, incredible backgrounds and fast-paced arcade style game play."
Spooky Chase – February 25
"Spooky Chase is without a doubt a challenging experience. The unique aspect of the game relay on the fact you create your enemy's movement. Creating a new experience for 2D platform games. Every year we play scary games for the Halloween season. Running away from monsters, zombies, ghosts, and the list goes on. This time, you gonna run away from your own past. Watch out for every step you made and DON'T GIVE UP. If it has someone who can defeat you, it is YOU."
The Five Covens – February 25
"In the land of Gaarth there are five families of sorcerers, each with their characteristic abilities. Our character is a young witch belonging to the family that dominates levitation. The villain seeks to control the other powers to establish himself as absolute ruler. To this end, he invites Brenda to his castle with the premise of a meeting as a trick. At the entrance she is caught. Shortly after she wakes up in a dungeon and she must find a way to run away using her skills. At all times we will be supported by our inseparable companion, the crow."
The Lost Cube – February 25
"The Lost Cube is a challenging platformer which takes inspiration from classic titles such as Super Meat Boy and Celeste. The story unravels in a small village nestled somewhere in northern Europe. Each day, a special melody is played upon a magical guitar bringing prosperity upon the land."
Turok – February 25
"Turok is back and no dinosaur is safe! When it was first released in 1997, Turok introduced gamers to a world teeming with cunning enemies, traps, puzzles and deadly weapons all within a vast 3D environment ready to explore. Now the classic game has been restored and enhanced with a new visual engine and exciting new features to sink your teeth into!"
Turok 2: Seeds Of Evil – February 25
"Having defeated the Campaigner, Turok throws the Chronocepter into a waiting volcano to destroy it. Unfortunately the blast awakens an even deadlier force – The Primagen. Once again a Turok is tasked with restoring peace to the land and stopping the Primagen from merging Earth with the nether world."
Yupitergrad – February 25
"Brave dream of VR gaming. Grappling hooks, wacky humor, spatial stunts, motion sickness countermeasures, Dieselpunk adventure, space acrobatics, and out-of-the-box puzzles. Yupitergrad has it ALL."
Assault On Metaltron – February 26
"Metaltron – an energy-rich metallic planet has been invaded by combined forces of humans and orc hordes. Elder Golem chose you to defend Metaltron! First action tower defense game where you power up your towers however you like. Play as Metaltron's Defender Golem and build towers to defend your planet from the invasion. Game offers 40 levels of campaign that can be played solo or in coop and first ever Skirmish mode in tower defense games."
Baobabs Mausoleum Grindhouse Edition – Country Of Woods And Creepy Tales – February 26
"Follow Watracio Walpurgis, our fresh eggplant FBI agent, in this arc of three chapters that unifies the universe of Celery Emblem's Jacob Jazz on the ultimate Baobabs Masoleum Grindhouse Edition."
Blastful – February 26
"Blastful is a fast-paced arcade shoot-em-up."
Linn: Path Of Orchards – February 26
"Step out of your conventional platforming habits and delve into the dynamic and rotating world of Linn, a modern puzzle platformer set in a fantastic and mysterious ancient world. You are in control of Aban, an exotic guardian of nature, on her journey through a lost sky temple. Help Aban on her divine mission to rejuvenate the ancient Tree of Light.
The Child's Sight – February 26
"Discover lost moments through the eyes of a baby, as you explore what remains in the attic. Slowly unraveling the story of what happened to you, while lying in the crib unaware and innocent. With every minute as you explore you will remember more. Horrors will become real and clear. Was it just fear of the unknown that haunts you or is it more?"
That covers all of this week's releases. What are you most excited about?