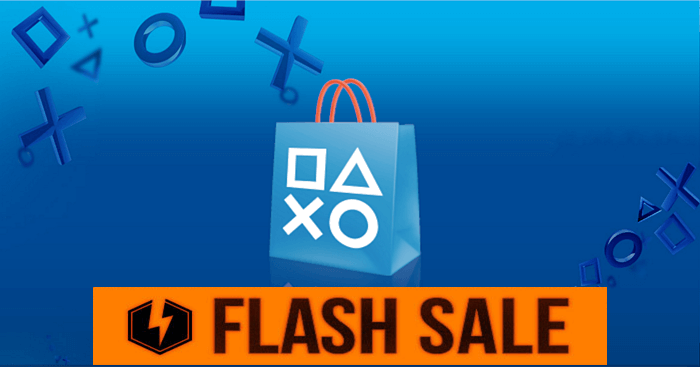 There's a PSN Flash sale happening right now on the North American PlayStation Store! The PSN Flash Sale April 2018 starts now and will end at 8 am PT on April 16, and there's a ton of deals for PS4 games.
There's also some PS3 and Vita bargains too, as well as some movies sure to make you want to sleep with one eye open, gripping your pillow tight!
You'll be able to save big on games, with some up to 70% off like The Evil Within 2, Until Dawn, and Outlast 2.
Check out all the discounts from the PSN Flash Sale on the PlayStation Store.
| Platform | Title | Sale Price | Original Price |
| --- | --- | --- | --- |
| PS4 | 101 WAYS TO DIE | $3.99 | $9.99 |
| PS4 | ALBEDO: EYES FROM OUTER SPACE | $2.99 | $14.99 |
| PS4 | ALIEN: ISOLATION | $8.99 | $29.99 |
| PS4 | ALIEN: ISOLATION - THE COLLECTION | $11.99 | $39.99 |
| PS4 | AMNESIA: COLLECTION | $8.99 | $29.99 |
| PS4 | AMONG THE SLEEP SOEDESCO | $5.99 | $14.99 |
| PS4 | ARIZONA SUNSHINE (VR) | $15.99 | $39.99 |
| PS4 | ASEMBLANCE | $0.79 | $7.99 |
| PS4 | BIOSHOCK: THE COLLECTION | $19.79 | $59.99 |
| PS4 | BLUE ESTATE - THE GAME | $3.24 | $12.99 |
| PS4 | BOUND BY FLAME | $4.99 | $19.99 |
| PS4 | CARMAGEDDON: MAX DAMAGE | $4.99 | $19.99 |
| PS4 | CRYPT OF THE NECRODANCER | $2.99 | $14.99 |
| PS4 | DARKEST DUNGEON | $9.99 | $24.99 |
| PS4 | DARKEST DUNGEON: THE CRIMSON COURT | $7.49 | $9.99 |
| PS4 | DARKEST DUNGEON: THE SHIELDBREAKER | $2.99 | $3.99 |
| PS4 | DARKSIDERS II DEATHINITIVE EDITION | $5.99 | $29.99 |
| PS4 | DAYLIGHT | $2.99 | $9.99 |
| PS4 | DEAD ISLAND DEFINITIVE COLLECTION | $13.99 | $39.99 |
| PS4 | DEAD NATION | $4.49 | $14.99 |
| PS4 | DEADLIGHT: DIRECTOR'S CUT | $5.99 | $14.99 |
| PS4 | DECEPTION: THE NIGHTMARE PRINCESS | $19.99 | $49.99 |
| PS4 | DETENTION | $5.19 | $12.99 |
| PS4 | DYING: REBORN ULTIMATE BUNDLE | $9.99 | $24.99 |
| PS4 | ENIGMATIS: THE GHOSTS OF MAPLE CREEK | $3.74 | $14.99 |
| PS4 | GUNS GORE AND CANNOLI | $3.99 | $9.99 |
| PS4 | HOME - A UNIQUE HORROR ADVENTURE | $1.99 | $4.99 |
| PS4 | INSIDE | $7.99 | $19.99 |
| PS4 | INSIDE & LIMBO BUNDLE | $8.99 | $29.99 |
| PS4 | IRON CRYPTICLE | $3.99 | $9.99 |
| PS4 | KILLING FLOOR 2 | $11.99 | $29.99 |
| PS4 | LAYERS OF FEAR: MASTERPIECE EDITION | $6.89 | $22.99 |
| PS4 | LIFELESS PLANET: PREMIER EDITION | $7.99 | $19.99 |
| PS4 | LIMBO | $1.99 | $9.99 |
| PS4 | MORDHEIM: CITY OF THE DAMNED | $9.99 | $39.99 |
| PS4 | MURDERED: SOUL SUSPECT | $3.99 | $19.99 |
| PS4 | MY NIGHT JOB | $2.39 | $7.99 |
| PS4 | NIGHTMARES FROM THE DEEP: THE CURSED HEART | $3.74 | $14.99 |
| PS4 | NIGHTS OF AZURE | $23.99 | $59.99 |
| PS4 | OUTLAST | $5.99 | $19.99 |
| PS4 | OUTLAST 2 | $11.99 | $29.99 |
| PS4 | OUTLAST: BUNDLE OF TERROR (OUTLAST + WHISTLEBLOWER) | $8.69 | $28.99 |
| PS4 | OUTLAST WHISTLEBLOWER | $2.69 | $8.99 |
| PS4 | OVERLORD: FELLOWSHIP OF EVIL | $5.87 | $23.49 |
| PS4 | OXENFREE | $4.99 | $19.99 |
| PS4 | OXENFREE BUNDLE: GAME + DYNAMIC THEME | $5.49 | $21.99 |
| PS4 | OXENFREE BUNDLE: GAME + DYNAMIC THEME + AVATARS | $5.99 | $23.99 |
| PS4 | PLAGUE ROAD | $1.99 | $19.99 |
| PS4 | PLANTS VS. ZOMBIES GARDEN WARFARE 2: STANDARD EDITION | $7.99 | $19.99 |
| PS4 | PREY | $19.99 | $39.99 |
| PS4 | SAINTS ROW: GAT OUT OF HELL | $5.99 | $14.99 |
| PS4 | SCHOOL GIRL/ZOMBIE HUNTER | $15.99 | $39.99 |
| PS4 | SHELTERED | $3.74 | $14.99 |
| PS4 | SOMA | $8.99 | $29.99 |
| PS4 | STYX: MASTER OF SHADOWS | $7.49 | $29.99 |
| PS4 | STYX: MASTER OF SHADOWS + STYX: SHARDS OF DARKNESS | $14.99 | $59.99 |
| PS4 | STYX: SHARDS OF DARKNESS | $12.49 | $49.99 |
| PS4 | THARSIS | $3.74 | $14.99 |
| PS4 | THE BUNKER | $5.99 | $19.99 |
| PS4 | THE COUNT LUCANOR | $5.99 | $14.99 |
| PS4 | THE ESCAPISTS: THE WALKING DEAD | $4.99 | $19.99 |
| PS4 | THE EVIL WITHIN 2 | $29.99 | $59.99 |
| PS4 | THE EVIL WITHIN DIGITAL BUNDLE | $11.99 | $29.99 |
| PS4 | THE INVISIBLE HOURS | $11.99 | $29.99 |
| PS4 | THE LAST OF US: LEFT BEHIND STAND ALONE | $3.99 | $9.99 |
| PS4 | THE LAST OF US REMASTERED | $7.99 | $19.99 |
| PS4 | THE PARK | $3.89 | $12.99 |
| PS4 | THE TOWN OF LIGHT | $7.99 | $19.99 |
| PS4 | UNTIL DAWN | $5.99 | $19.99 |
| PS4 | WHISPERING WILLOWS (GAME AND THEME) | $3.74 | $12.49 |
| PS4 | WHITE NOISE 2 | $3.99 | $9.99 |
| PS4 | ZERO ESCAPE ZERO TIME DILEMMA | $15.99 | $39.99 |
| PS4 | ZERO ESCAPE: THE NONARY GAMES | $19.99 | $49.99 |
| PS4 | ZOMBI | $7.99 | $19.99 |
| PS4 | ZOMBIE ARMY TRILOGY | $14.99 | $49.99 |
| PS3 | ALICE: MADNESS RETURNS | $4.99 | $19.99 |
| PS3 | ALIEN BREED TRILOGY | $5.74 | $22.99 |
| PS3 | ALIEN: ISOLATION | $8.99 | $29.99 |
| PS3 | BIOSHOCK | $3.99 | $9.99 |
| PS3 | BIOSHOCK 2 | $3.99 | $9.99 |
| PS3 | BIOSHOCK INFINITE | $5.99 | $19.99 |
| PS3 | BLOODRAYNE | $3.49 | $9.99 |
| PS3 | BLOODRAYNE 2 | $3.49 | $9.99 |
| PS3 | BOUND BY FLAME | $4.99 | $19.99 |
| PS3 | CASTLEVANIA CHRONICLES (PSONE CLASSIC) | $2.39 | $5.99 |
| PS3 | CASTLEVANIA: LAMENT OF INNOCENCE | $3.49 | $9.99 |
| PS3 | CASTLEVANIA: SOTN (PSONE CLASSIC) | $3.49 | $9.99 |
| PS3 | CONTRAST | $2.49 | $9.99 |
| PS3 | DEAD ISLAND - FRANCHISE PACK | $8.99 | $29.99 |
| PS3 | DEAD ISLAND GAME OF THE YEAR | $5.99 | $19.99 |
| PS3 | DEAD ISLAND RIPTIDE - COMPLETE EDITION | $4.99 | $19.99 |
| PS3 | DEAD ISLAND RIPTIDE | $4.49 | $14.99 |
| PS3 | DEAD NATION | $2.39 | $7.99 |
| PS3 | DEAD SPACE 2 ULTIMATE EDITION | $7.49 | $29.99 |
| PS3 | DEAD SPACE 3 ULTIMATE EDITION | $7.49 | $29.99 |
| PS3 | DEAD SPACE ULTIMATE EDITION | $6.24 | $24.99 |
| PS3 | DEADLY PREMONITION: THE DIRECTOR'S CUT ULTIMATE EDITION | $3.99 | $19.99 |
| PS3 | DEADLY PREMONITION: THE DIRECTORS CUT | $3.99 | $19.99 |
| PS3 | ESCAPE DEAD ISLAND | $4.49 | $14.99 |
| PS3 | FATAL FRAME | $3.49 | $9.99 |
| PS3 | FATAL FRAME II: CRIMSON BUTTERFLY | $3.49 | $9.99 |
| PS3 | FATAL FRAME III: THE TORMENTED | $3.49 | $9.99 |
| PS3 | FINAL EXAM | $2.49 | $9.99 |
| PS3 | HELL YEAH! | $5.99 | $14.99 |
| PS3 | I AM ALIVE | $5.99 | $14.99 |
| PS3 | MANHUNT | $3.49 | $9.99 |
| PS3 | MURDERED: SOUL SUSPECT | $1.49 | $14.99 |
| PS3 | PAINKILLER HELL & DAMNATION | $1.99 | $19.99 |
| PS3 | RESIDENT EVIL 3: NEMESIS (PSONE CLASSIC) | $1.79 | $5.99 |
| PS3 | RESIDENT EVIL 2 (PSONE CLASSIC) | $2.09 | $5.99 |
| PS3 | SAINTS ROW GAT OUT OF HELL | $5.99 | $14.99 |
| PS3 | SILENT HILL (PSONE CLASSIC) | $2.39 | $5.99 |
| PS3 | SIREN: BLOOD CURSE EPISODES 1-12 | $6.99 | $19.99 |
| PS3 | SIREN | $3.49 | $9.99 |
| PS3 | SYBERIA | $3.74 | $14.99 |
| PS3 | THE DARKNESS II | $7.99 | $39.99 |
| PS3 | THE HOUSE OF THE DEAD 4 | $3.99 | $9.99 |
| PS3 | THE HOUSE OF THE DEAD III | $2.79 | $6.99 |
| PS3 | THE RAVEN - LEGACY OF A MASTER THIEF | $4.49 | $29.99 |
| PS3 | YAKUZA DEAD SOULS | $7.99 | $19.99 |
| PS VITA | A ROSE IN THE TWILIGHT | $7.99 | $19.99 |
| PS VITA | CRYPT OF THE NECRODANCER | $2.99 | $14.99 |
| PS VITA | DEAD NATION | $2.39 | $7.99 |
| PS VITA | HOME - A UNIQUE HORROR ADVENTURE | $1.99 | $4.99 |
| PS VITA | HTOLNIQ: THE FIREFLY DIARY | $3.99 | $9.99 |
| PS VITA | MARY SKELTER: NIGHTMARES | $11.99 | $39.99 |
| PS VITA | MEGATAGMENSION BLANC + NEPTUNE VS ZOMBIES | $11.99 | $29.99 |
| PS VITA | MURASAKI BABY | $4.49 | $14.99 |
| PS VITA | PLAGUE ROAD | $1.99 | $19.99 |
| PS VITA | RESIDENT EVIL REVELATIONS 2 | $11.99 | $29.99 |
| PS VITA | SEVERED | $4.49 | $14.99 |
| PS VITA | THE COUNT LUCANOR | $5.99 | $14.99 |
| PS VITA | TRILLION: GOD OF DESTRUCTION | $5.99 | $29.99 |
| PS VITA | WHISPERING WILLOWS (GAME AND PS4 THEME) | $3.74 | $12.49 |
| PS VITA | YOMAWARI: NIGHT ALONE | $7.99 | $19.99 |
| PS VITA | YOMAWARI: NIGHT ALONE / HTOLNIQ: THE FIREFLY DIARY | $11.99 | $29.99 |
| PS VITA | ZERO ESCAPE: THE NONARY GAMES | $15.99 | $39.99 |
Movies
| Title | SD Sale Price | SD Original Price | HD Sale Price | HD Original Price |
| --- | --- | --- | --- | --- |
| 31 | $5.99 | $9.99 | $5.99 | $12.99 |
| 10 CLOVERFIELD LANE | $8.99 | $12.99 | $8.99 | $14.99 |
| 28 DAYS LATER | $4.99 | $14.99 | $4.99 | $14.99 |
| 8 FILMS TO DIE FOR: BASTARD | $7.99 | $9.99 | $7.99 | $9.99 |
| 8 FILMS TO DIE FOR: LUMBERJACK MAN | $7.99 | $9.99 | $7.99 | $9.99 |
| 8 FILMS TO DIE FOR: MURDER IN THE DARK | $7.99 | $9.99 | $7.99 | $9.99 |
| 8 FILMS TO DIE FOR: RE-KILL | $6.99 | $9.99 | $6.99 | $9.99 |
| 8 FILMS TO DIE FOR: SUSPENSION | $6.99 | $9.99 | $6.99 | $9.99 |
| 8 FILMS TO DIE FOR: UNNATURAL | $7.99 | $9.99 | $7.99 | $9.99 |
| 8 FILMS TO DIE FOR: WICKED WITHIN, THE | $7.99 | $9.99 | $7.99 | $9.99 |
| 8 FILMS TO DIE FOR: WIND WALKERS | $7.99 | $9.99 | $7.99 | $9.99 |
| ABCS OF DEATH COLLECTION | x | x | $7.99 | $17.99 |
| ABRAHAM LINCOLN: VAMPIRE HUNTER | $4.99 | $14.99 | $4.99 | $14.99 |
| ALLELUIA! THE DEVIL'S CARNIVAL | $5.99 | $9.99 | $5.99 | $12.99 |
| AMERICAN PSYCHO | $4.99 | $7.99 | $4.99 | $9.99 |
| ANNABELLE (2014) | $7.99 | $9.99 | $9.99 | $12.99 |
| ANNABELLE 2-FILM COLLECTION | x | $14.99 | $14.99 | $19.99 |
| ANNABELLE: CREATION | x | $9.99 | $9.99 | $12.99 |
| BEETLEJUICE | $7.99 | $9.99 | $9.99 | $12.99 |
| BETTER WATCH OUT | $3.99 | $9.99 | $3.99 | $12.99 |
| BLADE | $5.99 | $9.99 | $5.99 | $12.99 |
| BLAIR WITCH | $7.99 | $14.99 | $7.99 | $14.99 |
| BRIDGE OF SPIES | $9.99 | $14.99 | $9.99 | $19.99 |
| CALL, THE (2013) | $7.99 | $9.99 | $7.99 | $12.99 |
| CHEMICAL PEEL | x | $5.99 | $5.99 | $7.99 |
| CLOVERFIELD | $8.99 | $12.99 | $8.99 | $14.99 |
| CLOWN | $5.99 | $7.99 | $5.99 | $9.99 |
| CONGO | $8.99 | $9.99 | $8.99 | $12.99 |
| COOTIES | $5.99 | $7.99 | $5.99 | $9.99 |
| CREEP 2 | $5.99 | $9.99 | $5.99 | $12.99 |
| CUJO | $8.99 | $9.99 | $8.99 | $12.99 |
| CURSED | $4.99 | $5.99 | $5.99 | $7.99 |
| DAYBREAKERS | $5.99 | $7.99 | $5.99 | $9.99 |
| DEADLY BLESSING | x | $5.99 | $5.99 | $7.99 |
| DELIVER US FROM EVIL | $6.99 | $9.99 | $6.99 | $12.99 |
| DEVIL'S DUE | $7.99 | $14.99 | $7.99 | $14.99 |
| DON'T BE AFRAID OF THE DARK | $6.99 | $9.99 | $6.99 | $12.99 |
| DON'T BREATHE | $9.99 | $12.99 | $9.99 | $12.99 |
| EVIL DEAD (2013) | $8.99 | $9.99 | $9.99 | $12.99 |
| EVIL DEAD 2 | $4.99 | $7.99 | $4.99 | $9.99 |
| EXORCISM OF MOLLY HARTLEY, THE | $7.99 | $14.99 | $7.99 | $14.99 |
| FINAL DESTINATION, THE (2009) | $5.99 | $9.99 | $5.99 | $12.99 |
| FINEST HOURS, THE | $9.99 | $14.99 | $9.99 | $19.99 |
| FLIGHTPLAN | $5.99 | $9.99 | $9.99 | $14.99 |
| FLY, THE | $4.99 | $14.99 | $4.99 | $14.99 |
| FREDDY VS. JASON (2003) | $5.99 | $9.99 | x | $12.99 |
| FRIDAY THE 13TH (2009) | $4.99 | $9.99 | $4.99 | $12.99 |
| FRIGHT NIGHT | x | $9.99 | $9.99 | $12.99 |
| FROM HELL | $5.99 | $14.99 | $5.99 | $14.99 |
| FURY, THE | $7.99 | $12.99 | x | x |
| HALLOWEEN PUSSY TRAP! KILL KILL | $5.99 | $9.99 | $5.99 | $12.99 |
| HAND THAT ROCKS THE CRADLE, THE | x | $9.99 | $9.99 | $14.99 |
| HAPPENING, THE | $7.99 | $14.99 | $7.99 | $14.99 |
| HILLS HAVE EYES 2, THE | $7.99 | $14.99 | $7.99 | $14.99 |
| HILLS HAVE EYES, THE | $5.99 | $14.99 | $5.99 | $14.99 |
| HONEYMOON | $5.99 | $9.99 | $5.99 | $12.99 |
| HOSTEL: PART III | $7.99 | $9.99 | $7.99 | $12.99 |
| HOUSE OF 1,000 CORPSES | $4.99 | $7.99 | $4.99 | $9.99 |
| I AM LEGEND (2007) | $7.99 | $9.99 | $9.99 | $12.99 |
| IN TIME | $7.99 | $14.99 | $7.99 | $14.99 |
| INFERNO (2016) | $9.99 | $12.99 | $9.99 | $12.99 |
| INSIDIOUS | $8.99 | $9.99 | $9.99 | $12.99 |
| INSIDIOUS: CHAPTER 2 | $8.99 | $9.99 | $9.99 | $12.99 |
| INSIDIOUS: CHAPTER 3 | $8.99 | $9.99 | $9.99 | $12.99 |
| IT (2017) | $9.99 | $14.99 | $9.99 | $19.99 |
| IT / THE SHINING: TWO FILM COLLECTION | x | | $21.99 | $19.99 |
| IT FOLLOWS | $5.99 | $7.99 | $5.99 | $9.99 |
| JASON GOES TO HELL (1993) | $4.99 | $9.99 | $4.99 | $12.99 |
| JASON X (2001) | $4.99 | $9.99 | $4.99 | $12.99 |
| JENNIFER'S BODY | $4.99 | $14.99 | $4.99 | $14.99 |
| JESSABELLE | $6.99 | $7.99 | $6.99 | $9.99 |
| JOHN CARPENTER'S THE FOG | $4.99 | $5.99 | $5.99 | $7.99 |
| JOY RIDE | $5.99 | $14.99 | $5.99 | $14.99 |
| KILL YOUR FRIENDS | $4.99 | $9.99 | $4.99 | $12.99 |
| KILLERS | $3.99 | $7.99 | $3.99 | $9.99 |
| KING KONG | $8.99 | $9.99 | $8.99 | $12.99 |
| KNOCK KNOCK | $5.99 | $7.99 | $5.99 | $9.99 |
| LAST EXORCISM | $4.99 | $5.99 | $5.99 | $7.99 |
| LAST EXORCISM PART II, THE | $7.99 | $9.99 | $7.99 | $12.99 |
| LEPRECHAUN | x | $4.99 | $4.99 | $5.99 |
| LEPRECHAUN ORIGINS | $4.99 | $5.99 | $5.99 | $7.99 |
| LET THE RIGHT ONE IN | $6.99 | $9.99 | $6.99 | $12.99 |
| LIGHTS OUT (2016) | $7.99 | $9.99 | $9.99 | $12.99 |
| MAGGIE | $6.99 | $7.99 | $6.99 | $9.99 |
| MEMOIR OF A MURDERER | $4.99 | $9.99 | $4.99 | $12.99 |
| MIDNIGHT MEAT TRAIN | $4.99 | $5.99 | $5.99 | $7.99 |
| MIRRORS | $7.99 | $14.99 | $7.99 | $14.99 |
| MY BLOODY VALENTINE | $4.99 | $5.99 | $4.99 | $7.99 |
| NIGHTMARE ON ELM STREET, A (2010) | $5.99 | $9.99 | $5.99 | $12.99 |
| PHANTASM: RAVAGER | $3.99 | $9.99 | $3.99 | $12.99 |
| PHANTASM: REMASTERED | $3.99 | $9.99 | $3.99 | $12.99 |
| POLTERGEIST | $8.99 | $9.99 | $8.99 | $12.99 |
| POLTERGEIST | $7.99 | $9.99 | $9.99 | $12.99 |
| PYRAMID, THE | $6.99 | $9.99 | $6.99 | $9.99 |
| REPO: THE GENETIC OPERA | $5.99 | $7.99 | $5.99 | $9.99 |
| RIGOR MORTIS | $4.99 | $9.99 | $4.99 | $12.99 |
| RINGS | $8.99 | $14.99 | $8.99 | $14.99 |
| SAW | $4.99 | $7.99 | $4.99 | $9.99 |
| SCARY MOVIE | $5.99 | $7.99 | $5.99 | $9.99 |
| SCARY MOVIE 3 | $4.99 | $5.99 | $5.99 | $7.99 |
| SCREAM | $4.99 | $7.99 | $4.99 | $9.99 |
| SCREAM 2 | $5.99 | $7.99 | $5.99 | $9.99 |
| SCREAM 3 | $5.99 | $7.99 | $5.99 | $9.99 |
| SEE NO EVIL 2 | $4.99 | $5.99 | $4.99 | $7.99 |
| SHADOW OF THE VAMPIRE | x | $3.99 | $3.99 | $5.99 |
| SHINING, THE | $5.99 | $9.99 | $5.99 | $12.99 |
| SHUTTER | $7.99 | $14.99 | $7.99 | $14.99 |
| SILENT HILL | $6.99 | $7.99 | $7.99 | $12.99 |
| SINISTER | $4.99 | $7.99 | $4.99 | $9.99 |
| SIXTH SENSE, THE | x | $9.99 | $9.99 | $17.99 |
| SLEEPY HOLLOW | $9.99 | $19.99 | $9.99 | $19.99 |
| SOUTHBOUND | $6.99 | $9.99 | $6.99 | $12.99 |
| STRAW DOGS (2011) | $6.99 | $9.99 | $6.99 | $12.99 |
| SUPER 8 | $8.99 | $9.99 | $8.99 | $14.99 |
| SUPER DARK TIMES | $6.99 | $12.99 | $6.99 | $14.99 |
| TEXAS CHAINSAW | $4.99 | $7.99 | $4.99 | $9.99 |
| TEXAS CHAINSAW MASSACRE, THE (2003) | $5.99 | $9.99 | $5.99 | $12.99 |
| THE BAY | x | $5.99 | $5.99 | $7.99 |
| THE BLAIR WITCH PROJECT | $5.99 | $7.99 | $5.99 | $9.99 |
| THE CABIN IN THE WOODS | $4.99 | $9.99 | $4.99 | $12.99 |
| THE COLLECTION | $4.99 | $5.99 | $5.99 | $7.99 |
| THE CONJURING 2-FILM COLLECTION (2PK) | x | x | $14.99 | $19.99 |
| THE DESCENT | $4.99 | $7.99 | $4.99 | $9.99 |
| THE DEVIL'S REJECTS | $4.99 | $7.99 | $4.99 | $9.99 |
| THE EYES OF MY MOTHER | $5.99 | $9.99 | $5.99 | $12.99 |
| THE HAUNTING IN CONNECTICUT | $4.99 | $5.99 | $4.99 | $7.99 |
| THE LAST EXORCISM | $4.99 | $5.99 | $4.99 | $7.99 |
| THE LAST SHIFT | $5.99 | $9.99 | $5.99 | $12.99 |
| THE OTHERS | $5.99 | $7.99 | $5.99 | $9.99 |
| THE POSSESSION | $4.99 | $5.99 | $5.99 | $7.99 |
| THE RELIC | $8.99 | $9.99 | $8.99 | $12.99 |
| THE RING | $8.99 | $9.99 | $8.99 | $14.99 |
| THE RING 2 (RATED/UNRATED) | $8.99 | $9.99 | $8.99 | $12.99 |
| THE UNSPOKEN | $4.99 | $5.99 | $4.99 | $7.99 |
| THE VATICAN TAPES | $5.99 | $7.99 | $5.99 | $9.99 |
| THE VOICES | $5.99 | $7.99 | $5.99 | $9.99 |
| THE WAILING | $4.99 | $9.99 | $4.99 | $12.99 |
| TRAIN TO BUSAN | $3.99 | $9.99 | $3.99 | $12.99 |
| UNBREAKABLE | x | $9.99 | $9.99 | $17.99 |
| V/H/S COLLECTION | $12.99 | $24.99 | $12.99 | $29.99 |
| VICTOR FRANKENSTEIN | $7.99 | $14.99 | $7.99 | $14.99 |
| VILLAGE, THE | x | $9.99 | $9.99 | $17.99 |
| WAR OF THE WORLDS (1953) | $8.99 | $9.99 | $8.99 | $14.99 |
| WAR OF THE WORLDS (2005) | $8.99 | $9.99 | $8.99 | $14.99 |
| WARM BODIES | $5.99 | $7.99 | $5.99 | $9.99 |
| WES CRAVEN PRESENTS: DRACULA 2: ASCENSION | x | $5.99 | $5.99 | $7.99 |
| WHAT WE DO IN THE SHADOWS | $5.99 | $9.99 | $5.99 | $12.99 |
| WISH UPON | $7.99 | $14.99 | $7.99 | $14.99 |
| WRONG TURN | $4.99 | $14.99 | $4.99 | $14.99 |
| WRONG TURN 2 | $7.99 | $14.99 | x | x |
| WRONG TURN 4 | $6.99 | $9.99 | $6.99 | $9.99 |
| XX | $6.99 | $12.99 | $6.99 | $14.99 |
| YOU'RE NEXT | $4.99 | $7.99 | $4.99 | $9.99 |