Before I begin, I would like to note that I was inspired to write this article after reading a thread on popular gaming forum, Neogaf. The original StarCraft being one of my favorite games of all-time, I can only wish and hope that Blizzard Entertainment would consider a port of the sequel to the PS3. This feature will explain why the PlayStation 3 is a perfect match for StarCraft II and what rumors lead me to believe that Blizzard is already developing for consoles.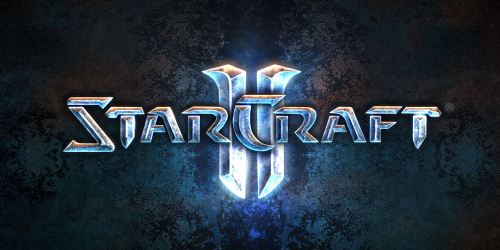 However, in the end, you have to look at it for what it is. Blizzard has only announced StarCraft II for PC and Mac, and stated they have no plans as of yet to port it to other platforms. It's only a fanboy's dream that there will ever be a Real Time Strategy title as great as StarCraft II for the PlayStation 3. Keep your fingers crossed, and maybe, just maybe, Blizzard will grace us with their presence on the PS3.
To get started, here is a quick list of reasons why the PlayStation 3 is a good home for StarCraft II:
– The free and flexible PlayStation Network
– Keyboard/mouse support
– Built-in hard drive
Now many people may feel strongly against a PS3 version, pointing out the history of StarCraft ports, and the last attempt done on the N64. However, since then, consoles have evolved, providing mouse and keyboard support for many of their games. One of the reasons the port of the original StarCraft was such a flop was due to the awkward controller configuration of the N64. With the PlayStation 3, gamers can find different brands of keyboards and mouse both affordable and easy to configure to the system.
The idea would be to have StarCraft II bundled with a keyboard and mouse, similar to that of Warhawk with the Jabra Bluetooth headset, or The Eye of Judgment with the PS Eye. Also, there could be a separate version sold, with just the game by itself, for those who already have a keyboard and mouse. The reason I would say to have StarCraft II require a mouse and keyboard is simple, you CAN'T play an RTS (Real Time Strategy) properly without them.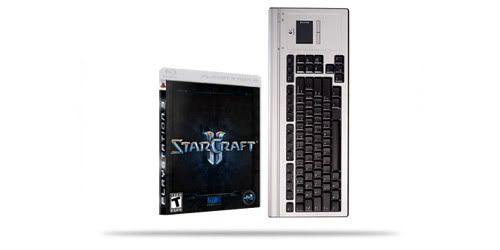 An example of a great keyboard and mouse set up that could come bundled with the game is the Logitech Cordless Mediaboard (shown above) built specifically for the PlayStation 3. Using Bluetooth technology the mediaboard allows for quick set up and the ease to move anywhere the gamer need be when playing. Also, as you see in the image above, there is a touch pad built into the keyboard making a table or hard surface for a mouse unnecessary.
Moving on.
In my opinion, one of the best features about StarCraft was its map editor, also known as StarEdit. This program gave users the ability to create their own maps, developing campaigns or multiplayer scenarios using terrain tools and trigger commands. Having this tool created unlimited playability for both online and offline players as every time you played the game, you could have a different experience. With StarCraft II, I can only expect that Blizzard has evolved what they provided in StarEdit to something similar or greater than what is provided in their WarCraft 3 map editor.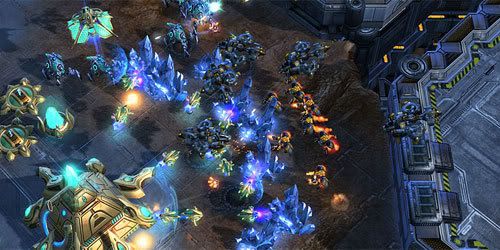 Now what does the map editor have to do with the PlayStation 3? If Blizzard could provide something similar to what Epic Games did with Unreal Tournament 3, StarCraft II could allow users to develop, download, and install new maps onto their PS3 hard drive.
In addition, having a built in hard drive gives gamers the ability get the latest patches. A great thing Blizzard has always been known for is their continuous support for their games, with the original StarCraft having a total of 20 patches (v1.07-v1.15.2). If there are bugs, unit balancing issues, or new features they wanted to add, Blizzard can count on every PS3 user having hard drives to install the newest updates.
Furthermore, according to SCEA, the open platform policy of PlayStation Network would allow Blizzard the freedom they want in the development of online/network services. This means that Blizzard could essentially provide BattleNet over the PSN, with custom settings specific to PS3 users. So whether it be a new patch or permitting gamers to host their maps and mods online, Blizzard could run a modified version BattleNet through the flexibility of the PlayStation Network.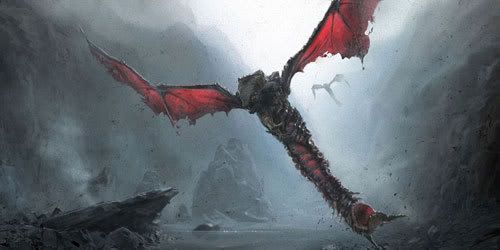 So after looking at why the PlayStation 3 fits the mold for StarCraft II, you may ask, does all this even matter? Is it even possible that Blizzard is developing for the PS3? Sadly, all that has been officially announced is PC and Mac versions, however, there is plenty of evidence to make us believe that if not StarCraft II, Blizzard is definitely working on something for console platforms.
To begin, let's start with something small. Back in July of 2006, Blizzard posted a job listing for a Senior Producer. In the job description it was asked that the person have experience in shipping at least one AAA game in a producer role for Xbox, Xbox 360, PS2, PS3, or GameCube. Then underneath that, Blizzard posted a preferred plus for job, asking that the producer have localization experience on a shipped console title; Xbox 360, PS3, or Wii production experience.
If you look at the date for the job posting, this would have been during the pre-production of StarCraft II. Now Blizzard has stated they have three projects in the works, two of which are announced (StarCraft II, WoW Expansion), and an unannounced title (rumored to be called "Hydra").
In January 2007, a statement made by Itzik Ben Bassat, VP of Business Development for Blizzard, helps us to believe that Blizzard wants to do more than just PC and Mac developement.
"…We're talking with Microsoft, we're talking with Sony and we're evaluating whether we want each project to be more than PC or not. As consoles provide something increasingly similar to a PC-style online experience, they become closer to what Blizzard is all about," he said.
Now if you look at Blizzard Entertainment's history you will see that they have not always been a PC only developer. Such titles as WarCraft II and Diablo were ported to the PlayStation. Even StarCraft was apparently on its way to the PS1, but Blizzard pulled back and moved it to the N64. Up until Diablo II and WarCraft 3, Blizzard developed for multiple platforms, including everything from the SNES (The Lost Vikings and Blackthorne) to the PS2 and Xbox (StarCraft: Ghost).
Lastly, the recent Activision Blizzard merger may help push console development for Blizzard's future titles. In the official press release, Robert Kotick, Activision's Chairman and Chief Executive Officer, stated how the merger would help strengthen Activision Blizzard to become the world's largest and most profitable publisher.
"With Blizzard's successful franchises, such as World of Warcraft, StarCraft and an exciting pipeline of yet-to-be announced titles, Vivendi Games' and Blizzard's management team will join with Activision's strong and experienced leaders to become an even more powerful force for innovation in online and offline interactive entertainment across a wide range of platforms," he said.
So even though that may be a stretch, Blizzard is now part of a much bigger organization, they may look at entering the console market to open up new opportunities. Also, with a reported $1.51 billion in 2007 game sales for World of WarCraft alone, it's not like Blizzard doesn't have the money to fund multiplatform development. Yet another thought could be that Blizzard focuses on PC and Mac support, while Activision and other studios provide the ports. It is folly to think that Vivendi and Activision Blizzard wouldn't capitalize on the console market.