The November issue of evergreen U.K. multiformat gaming magazine Gamesmaster has been released prematurely to subscribers and within it lies an information blowout regarding Resident Evil: Revelations 2, Capcom's much-hyped sequel to the cruise ship-orientated original.

The Gamesmaster team sat down with the game's producer Michiteru Okabe to tease out the first concrete details of the highly-anticipated sequel.

Here's a rundown of the tantalizing details within:

– Claire Redfield – sister to Chris of Resident Evil 1, Code Veronica, 5, and 6 fame – will return as the chief protagonist, her first formal appearance in over ten years (not counting spin-offs). It's also mentioned that she's now a hardened veteran, given her near-endless exploits with the undead.

– Barry Burton's daughter – yes, you read that correctly – Moira will be joining Claire throughout the main campaign, which is playable in both co-op or single-player.

– As presumed from the recent release of concept art, the game will take place in an abandoned detention facility on an island and will be full 1080p and a strong 60fps.

– The game's events nestle themselves between that of Resident Evil 5 & 6.

– Claire's style is more combat-focused, whilst Moira is tasked with healing, flashlight-holding and general support. Additionally, Claire's death is the only one that will activate a 'Game Over' screen.

– The game begins with both characters waking up from an abduction of sorts.

– Gameplay will be far more survival-horror-orientated, much like the first Revelations. Fan feedback was imperative to the development of the game, and Okabe reiterates by saying, ''the project has been finding the line between listening to fan feedback and also doing something different to confound expectations.''
– In terms of new enemies, the game will feature an ''afflicted'' type, which are different to conventional zombies. They'll be lightning quick and heavy-handed, but can be circumvented stealthily rather than being tackled head-on.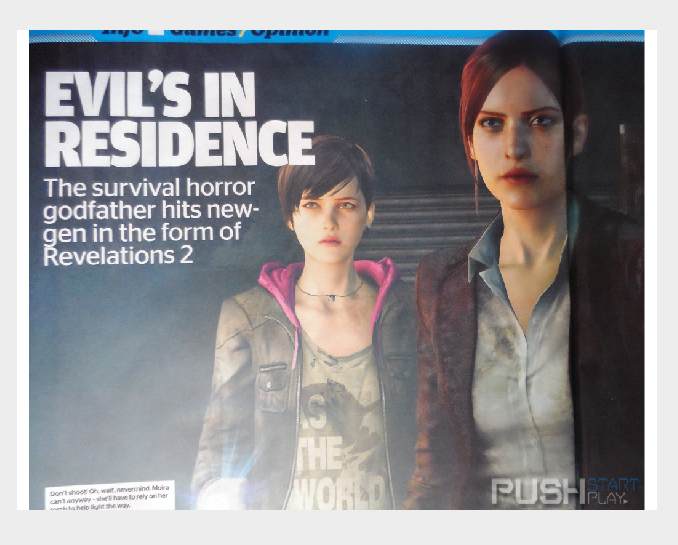 Hit the jump for more scans from Gamemaster (uploaded thanks to the folks over at Push-Start-Play) & check out how to purchase its latest issue here.

Resident Evil: Revelations 2 is scheduled for a 2015 release on PS4, PS3, Xbox One and Xbox 360.
Are you looking forward to tackling the undead once again? Let us know in the comments section below and stay tuned to PSU for all the latest news regarding Resident Evil: Revelations 2.