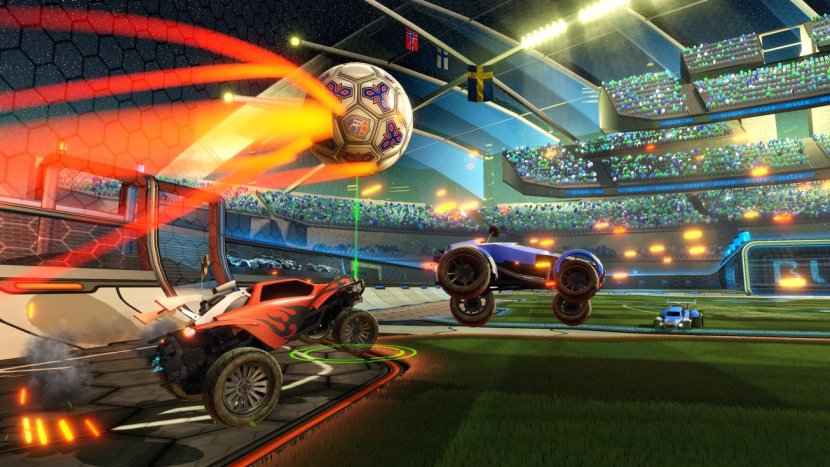 The Rocket League Rocket Pass is due to be available in Psyonix's vehicular soccer video game soon. Launching on all platforms, including PS4 and Xbox One, the Rocket Pass gives players new ways to get rewards.
How Does The Rocket League Rocket Pass Work?
Each time you play a match online, you earn points and move up tiers, unlocking rewards for each tier. Each pass will only last a certain amount of time and new rewards will be introduced in future passes. In Rocket Pass 1 the first items have been revealed.
What Is the Rocket League Rocket Pass Price?
The Rocket Pass is free. However, there is a paid option. If you play Rocket League and don't buy the pass, you can still earn up to 29 rewards. However, if you purchase the Rocket Pass Premium you can earn up to 70 rewards. These include card, goal explosions, XP bonuses and more.
The price of Rocket Pass is 10 keys. You can purchase keys in-game or use existing ones. You will also be able to purchase items individual or via tier bundles.
Rocket Pass 1 Tier Rewards
Maverick
Cloudburst I
Soccer Nebula
10% Party XP boost
Jolt Bangle I
Laser Wave I
Troublemaker I
Mage Glass I
Dr Thrash (Octane)
5% XP boost
Supernova I
1 Key
Phoenix Wings
Circuit Pro (Maverick)
Capacitor I
Muscle Car
Bobcat (Breakout)
Title – Crossbar Hero
Cloudburst II
Shark Attack
Laser Wave II
TroubleMaker II
5% XP Boost
1 key
Maverick G1
Jolt Bangle II
Title – Salt Miner
Templar (Dominus)
Phoenix Wings II
Capacitor II
Sushi Roll
5% XP Boost
Go-Kart
Gale-Fire (Maverick)
Partly Cloudy (Universal)
1 key
Mage Glass II
5% XP Boost
Title – The Fabulous
Shark Tooth
Troublemaker III
Metallic Flame
Dot Matrix
Supernova II
10000 XP
Jetstream (Maverick)
Hoagie
1 key
Title – Trade Minister
5% XP Boost
Capacitor III
Phoenix Wings III
Trash It!
10000 XP
Laser Wave III
Title – The Calculator
Jolt Bangle III
Troublemaker IV
Mage Glass III
5% party XP boost
Cloudburst III
1 key
Title – Captain Crunch
Motormouth
5% XP boost
Capacitor IV
1 key
Supernova III
Rocket Labs
Maverick GXT
When Is The Rocket League Rocket Pass Release Date?
Rocket Pass 1 launches on September 5 and will run until November 26. So you've got plenty of time to move up those tiers and unlock items. You can also upgrade to the Rocket League Rocket Pass Premium at any time.