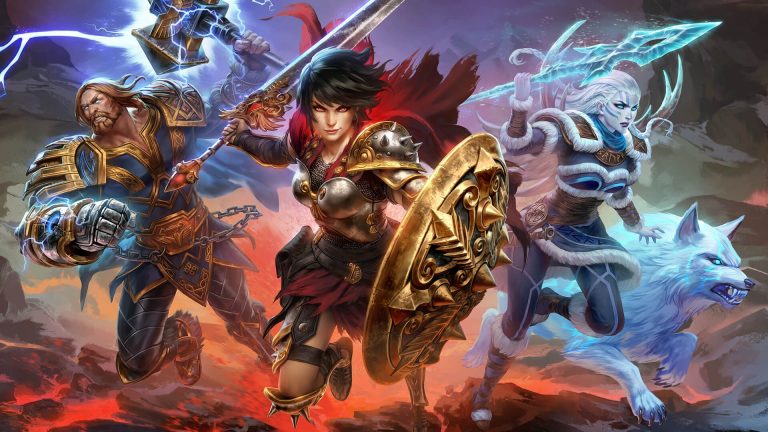 Hi-Rez Studios has lifted the wraps off the Smite update 12.29 patch notes for your viewing pleasure, which includes support for the Houses at War content. This brings a bunch of new goodies to the game including extra God Skins .
Related Content – Sony PS5 Complete Guide – Everything Explained On PlayStation 5 For New Users
---
NEW GOD SKINS
House Phoenix Amaterasu
House Unicorn Change
House Dragon Yu Huang
House Jackal Anubis
Momo Ratatoskr
Catlas Atlas
Twilight Sky Jing Wei
Lucid Nightmare Sun Wukong
BONUS BALANCE SKINS – LIVE OCTOBER 4
Necro Fumes Agni
Bioslicer Tsukuyomi
Tacosura Bakasura
King of Hearts Zeus
UPDATE RELEASE SCHEDULE
September 20 – Houses at War Update
Houses at War Battle Pass
New Odyssey: Soaring Isles Skins
SMITE Nights!
SCC Avatars
October 4 – 9.9 Bonus Update
New Odyssey Skins
Taco Time Chest
More to come!
9.9 SMITE NIGHTS
SMITE NIGHT

Week 1 – Joust the Two of Us
Week 2 – Classic Conquest
Week 3 – Corrupted Arena
Week 4 – All Out Slash
Rewards:

Week 1:

Bubble Party Fountain Skin
SMITE NIGHT Avatar Chest

Week 2:

SMITE NIGHT Voice Pack Chest
Pick Your Own God Chest

Week 3:

SMITE NIGHT Emote Chest
SMITE NIGHT Cosmetic Chest

Week 4:

SMITE NIGHT Skins Chest
3 day Account Booster

Milestone:

Forge of Power Recall
SMITE NIGHT Skins Chest
HOUSES AT WAR BATTLE PASS
Battle Pass: Houses at War (600 Gems)
Battle Pass: Houses at War Plus (1200)
Paid Track Items:

House Dragon Yu Huang
House Phoenix Amaterasu
House Unicorn Chang'e
House of the Unicorn Avatar
Houses at War Loading Frame
House of the Unicorn Loading Screen
House of the Phoenix Loading Screen
House Phoenix Announcer Pack
House of the Unicorn Recall Skin
House of the Phoenix Ward
House at War Jump Stamp
House of the Dragon Level Up Skin
House of the Unicorn Global Emote

Free Track Items

House Jackal Anubis
House Phoenix Avatar
House Dragon Avatar
Enemy Felled Death Stamp
Victorious Player Title
Ballad of War Music Theme
QUALITY OF LIFE
SMITE Roadmap Update

As we finalize plans and resources for Year 10 we've had to shift some of our roadmap for the end of the year.
Specifically, this means that the God originally planned for the end of the year will not be launching as originally scheduled. This God will be shifted further into the future or potentially pivoted to be an entirely different God. It will not be one of the first gods of the next year.
The major features for the upcoming updates are:
September Update

9.9 Volcanic Chaos Conquest (this current update)

October Update

9.10 New God
A highly requested character from an underpopulated pantheon will be arriving as SMITE's newest Guardian, completing the cycle of a Season 9 god in every Class.

November Update

9.11 Runescape Crossover Event
Our first crossover with another game brings one-of-a-kind cosmetics and Runescape inspired progression systems for those cosmetics.

December Update

9.12 New PvP Adventure Mode
We visit the realms of the Norse pantheon for this unique take on SMITE PvP combat.

January Update

10.1 SMITE's 10th Year Celebration Gameplay Update + New God
Jan 13th-15th: In Person SWC
Jan 15th: The SMITE Year 10 Keynote revealing all the new content for SMITE's 10th year
The launch of a new year is upon us and it's the big 1-0. This update will bring many exciting things that we can't reveal yet, but we do want players to know that a new God will be launching here.

February Update

10.2 New God
Another new God launch will quickly follow the first of next year. This will be a unique occurrence and the following gods will be more spaced out.

All of these Updates will have a variety of additional features and content not mentioned here, but this should give everyone a good idea of the upcoming God schedule and the main features launching in between each God. Thank you for your understanding and support. We are all very excited for the return of in-person SWC and the launch of SMITE's Ten Year Anniversary!

General

Added 80 additional Exclusive skins to the Awesome Chest

God Avatars

Unlock these Avatars by playing as the god, allied with the god, or against the god a total of 3 times
Avatars available this update:

Artio
Cernunnos
Cu Chulainn
Da Ji
Discordia
Ganesha
Hachiman
Kuzenbo
The Morrigan

SCC Avatars

Cosmetic Avatars for all of the SCC teams will be added for direct purchase. To celebrate their arrival these items will be discounted for this Update only!

Eldritch Hounds
Athenian Sages
Kaolin Wardens
Xibalba Storm
Yomi Tanuki
Anansi Weavers
Highland Ravens
Gilded Gladiators
Hex Mambo
Niflheim Wargs
Styx Ferrymen
Aaru Scorpions
BUG FIXES
UI

Fixed an issue with the choose your own roll Favor purchase option for the Voice Pack chest. This chest will be returning in 9.9
Fixed an issue with the Earn Free Rewards not playing automatically after watching an Ad
Fixed an issue with the EOML screen displaying Battle Pass icons on the Progress tab
Fixed an issue with the in game God icons showing Undefined tooltip boxes

Odyssey

Fixed an issue where Consoles couldn't navigate to and start the Egyptian Barge voyage Quest on Sobek Isle
Fixed an issue with the Odyssey Start Voyage button text being blank

Custom Games

Fixed an issue where players couldn't increase the Team Size on the Jade Corruption Joust Map due to the map being changed for Duel

Localization

Fixed some item tooltip issues for Relic Dagger, Eye of the Jungle, Spiked Gauntlet, Berserker's Shield, and Transcendence for Localized clients
Updated the name of Bun Hatz for Localized clients
Updated the Support role text for Conquest on the Spanish client

General Gameplay

Fixed an issue with the Season 9 Caster Announcer Pack being too quiet

Gods

Shiva

Fixed an issue where he could sometimes become invisible to enemies and allies

Ishtar

Adjusted the ability text of her 1st Ability to clearly show the effects that it gains from ranking the ability up
Fixed an issue where after getting knocked up as she landed from Jolt, her bow would disappear

Lancelot

Fixed an issue where he could be grabbed by Fenrir's ultimate ability while mounted

Discordia

Fixed an issue with a missing texture on her Bad Apple skin

Skadi

Fixed an issue where her Husky Handler skin was appearing as the Default skin

Nu Wa

Fixed an issue with the VGS voice line of Enemies Incoming on her Fairy Dust skin

Hades

Fixed an issue with the VGS voice line of Defend Middle Lane on his Crow of Torment skin

Amaterasu

Fixed an issue where she wasn't entering into the correct posture after activating her Heavenly Reflection ability

Atlas

Fixed an issue where Nike's passive Laurel was on his cheek instead of above his head

Ganesha

Fixed an issue where his ultimate ability would continue to slow players even after they cleansed the effect and left the area

Items

Lono's Mask, Rangda's Mask

These items and the lower tiered items now have the proper UI art to indicate they are starter items and upgrades. This is shown through a special border that all starter items have.
BALANCE LIVE WITH THE 9.9 UPDATE – SEPTEMBER 20
Game Modes
Ranked Modes
Players in Masters and Grandmasterswill reset to Diamond 1 and 2750 MMR
This will apply to Ranked Conquest, Ranked Joust, and Ranked Duel
No changes made to god leaderboards
No other changes will be made to players at lower ranks
Conquest
As Season 9 rolls on, we have another new iteration of the Conquest map! The Volcanic Chaos update will bring new Polynesian environment art to the map, as well as some balance and gameplay mechanics. Indra's Scepter returns to this map as a reward to a new contestable camp in the Duo Lane, located directly behind the Gold Fury. This means that players can now earn the benefits of the Scepter as well as the Trebuchets, as the Obelisk gameplay flow is unchanged. In addition to this new objective, we are also changing the Gold Fury's reward. This specific type of Fury will now continue to spawn throughout the entire match, and will have a unique reward: Erinyes' Vengeance – which will give players an additional defensive buff to the Towers they defend. Finally, we have adjusted a variety of Jungle Camp stats to make them more difficult to kill. The only exception being the red buff, who's special "Berserk" ability will be nerfed noticeably.
Environment

The Fire Giant's area has been reworked into a Polynesian themed Volcano.
Players in the duo lane will also notice a new tropical beachy scene on the outside of the map, just north or south of the Knight's Keep, behind their Tier 1 towers.

Obelisks

Obelisks have been re-themed in Polynesian style, and Lost Knights in the Jungle have been replaced with weary monsters that hold the Offerings, and the Chalices have been replaced with Bubbles with a jungle crab happily floating inside.

Gold Fury

Added Gold Fury into the pool of Furies that can spawn past 20 minutes
Awards Erinyes' Vengeance when slain (previously, Draugr's Boon)

Standing under an allied Tower or Phoenix will boost its Physical Power and reduce its damage taken by 7%. Stacks up to 3 times.

Duo XP Camps

Merged into one contestable Naga Camp
The Naga now drops Indra's Scepter for the team that scores the last hit
Naga

Increased base Health from 500 to 850
Increase base Physical Power from 28 to 34
Increased base Gold Reward from 24 to 33
Increased base XP Reward from 40 to 60

Indra's Scepter

Lifetime reduced from 4 to 3 minutes
Maximum targets reduced from 5 to 3
Damage dealt to Gods now deals 2% of current Health instead of maximum Health
Damage dealt to Minions reduced from 100 to 20/40/60 (Scales every 3 minutes)
Reduced HP5 aura from 25 to 10

Solo XP Camps

The Nagas in each camp have been replaced with Lesser Scorpions

Increased base Gold Reward from 24 to 30
Increased base XP Reward from 40 to 45

Damage Camp

Damage Buff Holder

Increased Physical Power from 18 to 24
Increased Physical Power scaling from 4 to 6
Decreased Manticore Berserk Physical Power scaling from 75% to 55%
Reduced Berserk activation threshold from 45% to 30% Max Health
Reduced Berserk maximum duration from 10 to 5 seconds

Damage Buff Guards (Minis)

Increased Physical Power from 10 to 12

Mana Camp

Mana Buff Holder

Increased base Physical Power from 18 to 24

Speed Camp

Speed Buff Holder

Increased Max Health from 675 to 700
Increased Physical Power from 18 to 24
Decreased Physical Protection from 6 to 4
Increased Magical Protection from 4 to 6

Speed Buff Guards (Minis)

Increased Physical Power from 10 to 12
Decreased Physical Protection from 5 to 2
Increased Magical Protection from 2 to 5

Void Camp

Void Buff Holder

Decreased Max Health from 775 to 700
Increased Physical Power from 18 to 24

Support Camp

Support Buff Holder

Decreased Max Health from 480 to 440
Increased Physical Power from 12 to 14

Support Buff Guards (Minis)

Increased Physical Power from 6 to 8

Harpy XP Camps

Elder Mid Harpy

Increased Max Health from 580 to 600
Increased Physical Power from 18 to 20

Elder Duo Harpy

Increased Max Health from 580 to 620
Increased Physical Power from 18 to 22

Duo Harpy

Increased Max Health from 210 to 225
Increased Physical Power from 12 to 14

Elder Back Harpy

Increased Physical Power from 14 to 18

Back Harpy

Increased Physical Power from 8 to 10
DIVINE RUIN
Mages have been a bit behind the curve lately, especially in the early game. We knew 9.5 would bring some big shifts, and we wanted to make sure players fully explored the depth of those changes before making too many adjustments that could be lead to more early game burst damage. After a few months we can see that flat Magic Pen is still underperforming, so we are increasing it. This is still going to be a long way from the amount of burst players experienced before 9.5, and it has the potentially to balance Mages in a positive way against Tanks and Hunters who are running the show currently.
Increased Magical Penetration from 12 to 15
SPEAR OF THE MAGUS
Increased Magical Penetration from 12 to 15
SPEAR OF DESOLATION
Increased Magical Penetration from 12 to 15
SPHINX'S BAUBLE
There are a few items from the Mid Season update that are still looking to find their footing. Sphinx's Bauble's change in direction is looking much healthier, so we are going to slowly buff it up. The penalty for owning it will now be less harsh, making this even more alluring for Supports.
Decreased Protection Debuff from 15% to 10%
MAGI'S SHELTER
Of the two Magi's, this one has fallen quite behind. However, this one clearly has a lot of potential to protect allies from CC. We are increasing the radius and the duration of the friendly buff to increase its chances of making a difference in a fight.
Increased the range that this item's passive can buff an ally from 25 to 40
Increased Duration of the ally buff effect from 5s to 8s
THE HEAVY EXECUTIONER
This item is just a bit too heavy. Similarly to the other Mid Season items, we are decreasing the potency of the negative effects of this item. The range of gods who can pick this up will increase with this change, and we might see some new build paths open up entirely.
Increased your God's Attack Speed Cap from 1.75 to 1.9 while using this item
SOVEREIGNTY
This next nerf is an interesting one, and it brings many ripple effects with it. Sovereignty has become a go-to solo lane item because of its stat effectiveness, which we want to discourage, and thus the nerf. However, we do not want this to affect Supports negatively, so we are buffing the HP regen sources from their starter items as a way to compensate for this nerf. We are also making a few more changes to Solo Lane items which will be explained below.
Decreased Passive Effect Aura's HP5 from 35 to 25
SENTINEL'S GIFT
Increased Healing per assist from 12 to 15
BENEVOLENCE
Increased HP5 from 7 to 10
WAR FLAG
Increased Health and Mana restored per passive trigger from 15 to 18
SOUL EATER
We are looking to create some more shifts in the Solo Lane, so Soul Eater is being nerfed along with Sovereignty. Both of these items bring high Health Sustain, which can be dangerous in large amounts. We also want to introduce some new options to Solo lane, so Blackthorn Hammer, Warrior's Axe, and Breastplate of Vigilance (Glyph) and being buffed to see if we can diversify the builds within this role a little more.
Increased the Stacks it takes to evolve this item from 75 to 100
Decreased Passive Ability Lifesteal from 25% to 20%
BLACKTHORN HAMMER
Increased Physical Power from 25 to 30
WARRIOR'S AXE
Increased Passive God Damage and Self Heal from 20 to 30
BREASTPLATE OF VIGILANCE
Increase Basic Attack Damage Reduction Aura Range from 40 to 60

The FX for this Aura will not reflect this change, but the Aura will be 60 Units in-game
MULAN
First up this month, its the Warriors! Mulan has fallen behind in the recent months, but we want to be careful in bringing back her lane pressure, as her early game damage can still be quite potent. Instead she will be getting some later game buffs to her mobility. She will also be getting an increase in the 3rd strike of her Ultimate, which players often consider cancelling out of entirely. We want to incentivize people to use the full ability, or make a more heavy tradeoff if they choose not to.
GRAPPLE
Decreased Cooldown from 16/15.5/15/14.5/14s to 14s
DIVINE MASTERY
Increased Base Damage on the Arrow shot from 150/200/250/300/350 to 175/225/275/325/375
NIKE
We have seen this goddess move closer and closer to victory, but she isn't quite there yet. Nike has a unique potential to shut down hunters, especially in the late game. We are decreasing the cooldown of Barrier Formation to help her play to this strength even more.
BARRIER FORMATION
Decreased Cooldown from 15 to 15/14.5/14/13.5/13s
AO KUANG
We have a few Jungler buffs up next! The dragon king has slumbered for long enough! We are bringing back Ao Kuang in a big way with some heavy changes to his basic attack chain. He will now do noticeably more damage with those attacks without sacrificing any animation time. We are also increasing the Power Scaling on Wild Storm to improve his ability damage along with his basic attack damage.
GENERAL
Increased Magical Power Scaling on the the 2nd and 3rd hits of the hit chain from 50% to 70%
Written as: 1/.7/.7/1x damage and 1/.5/.5/1x swing time
WILD STORM
Increased Magical Power Scaling from 40% to 50%
AWILIX
Next up is Awilix. Her passive provides some interesting gameplay constraints and a powerful effect, but the current duration is quite strict. We are increasing that duration to ensure she gets to use the effect. Her signature ability is her Ultimate, which hard counters leap abilities. We are decreasing the cooldown of this ability at all ranked to make her an even stronger counter pick into the right comp.
INITIATIVE
Increased the duration of the physical power buff from 2.5s to 4s
GRAVITY SURGE
Decreased Cooldown from 90/85/80/75/70 to 80/75/70/65/60
NE ZHA
Ne Zha tends to be an all or nothing Jungler. For this update we want to give him more opportunities to follow up his strong engage potential. We are decreasing the cooldown of Armillary Sash, which is his primary lockdown and mobility, but thats not all. We are also making a significant adjustment to how his Ultimate works, to make sure that Ne Zha receives the Protections buff from this ability while traveling, and still gets it even if he misses his target.
ARMILLARY SASH
Increased Base Damage from 70/120/170/220/270 to 90/140/190/240/290
Decreased Cooldown from 14s to 12s
WIND FIRE WHEELS
Increased the protections after landing from 20/25/30/35/40 to 30/35/40/45/50
This ability now provides 30/35/40/45/50 Protections for 4s on fire, even if missed or cleansed.
Updated Tooltip to include that the target and enemies in the landing zone are knocked up upon landing
SUSANO
Watch out Aphro mains, your boy Susano is getting some changes. We are using the new Non-Conquest tech to shift Susano. He generally seems to be behind the curve in Conquest, and we are giving him some damage scaling, as well as increased potency of his ultimate to help him in this mode. However, Susano often performs much better in non-conquest modes and has become a frustration risk, so he will be getting a nerfs in those modes across his damage and cooldowns.
WIND SIPHON
Increased Physical Power Scaling from 60% to 75%
TYPHOON
Increased Initial Base Damage when refiring Typhoon Immediately from 175/225/275/325/375 to 195/245/295/345/395

(Increased Base Damage on fully charged Typhoon from 215/280/345/410/475 to 235/300/365/430/495)

Decreased Cooldown from 100s to 90s
NON-CONQUEST BALANCE
+5% longer non-Ultimate cooldowns
+5% longer Ultimate cooldown
-5% God Damage
KUKULKAN
As we move on to Mages, we have a few tweaks to make. Mage Itemization is going to play a big role in this Update's changes, so we are being careful with most of these gods. We are in a stacking meta yet Kukulkan is still lower than usual, so we are bringing up the base damage on Zephyr. This ability can be hard to confirm and accounts for a lot less of his total damage, and we want to properly reward players for mastering its use.
ZEPHYR
Increased Base Damage from 60/105/150/195/240 to 85/130/185/220/265
RA
The 9.5 changes have had some interesting effects on Ra. As a healer he had potentially to climb up in the ranks but that is not what happened. Ra does have some utility but he actually heavily relies on his damage output. Now we all know that Ra ult is one of the most satisfying abilities in the game, and we want to help Ra better scale into the late game and make big plays by increasing its damage scaling.
SEARING PAIN
Increased Magical Power Scaling from 100% to 115%
VULCAN
Now this is one spicy meatball. Vulcan has received a few buffs over the years but continues to struggle, so we are making a pretty impactful functionality change. Vulcan's Backfire ability will no longer be affected by Cripples. Over time, we have introduced more abilities in the game with "incidental movement" that are not treated as dashes, and thus not crippled. It feels only natural that Backfire should be included in this sub-category.
BACKFIRE
No longer counts as a movement ability (can be fired when crippled)
INFERNO CANNON
Decreased Cooldown from 15s to 13s
Decreased Mana Cost from 65/70/75/80/85 mana to 50/55/60/65/70
SCYLLA
Another mage who thrives in burst metas is Scylla. She has experienced a noticeable downturn since 9.5, but we still want to be careful in buffing her, so we are focusing on a change that helps her kit flow better. Scylla's Crush provides a debuff, but the way this was previously handled made it harder to use effectively with the rest of her kit. We are extending the duration slightly to make this play more possible.
CRUSH
The Slow that applies for 1s after hit will now also apply the Max Rank Debuff of 15% Magical Protection Reduced
AH PUCH
And last but not least we have Ah Puch. Historically known for his ability to excel in non-Conquest modes, who better than him for this new tech?! Ah Puch is seeing a damage buff to his Fleeting Breath to help his consistent poke and lane clear, and also getting a duration buff on his most-zoning-of-all-Ultimates. However, in Non-Conquest he is going to get an even longer cooldown on that Ultimate.
FLEETING BREATH
Increased Damage per Tick from 30/35/40/45/50 to 30/40/50/60/70
EMPTY THE CRYPTS (REVERT)
Increased Duration from 5s to 6s
NON-CONQUEST BALANCE
Increase Ultimate Cooldown Penalty from 10% to 15%
KUZENBO
Last update we focused a lot of changes toward Supports and Guardians, but we do have one fella who missed the boat. Kuzenbo swam his way into this update and is getting some buffs to reward the effort. For this pass on him we are focusing on the Ultimate, giving him some mitigation to ensure he doesnt put his life at too much risk, and also increasing the damage.
WATER BOWL
Update Description to specify how this interacts with the new "True Hard CC" category and to include the cooldown on losing stacks
WATERY GRAVE
Increased Damage after the first spin from 50% to 60% (decreased the decrease from 50% to 40%)
Kuzenbo now gains 10% damage mitigation while this ability is channel
RAMA
And finally we get to Hunters. This class has in general been performing quite well, but we have still noticed a few Hunters falling behind. Rama is getting some improvements to his lane clear and early game mana management, and also getting some damage back on that iconic Ultimate.
BRAMBLE BLAST
Increased Initial Damage from 60/95/130/165/200 to 70/105/140/175/210
Increased Area Damage from 6/10/14/18/22 to 8/12/16/20/24
NEW SKIN VOICE ACTORS
Twilight Sky Jing Wei: Kristen McGuire
Catlas Atlas: Craig Lee Thomas
Momo Ratatoskr: Brenna Larsen
House Phoenix Amaterasu: Maggie Roberts
House Unicorn Chang'e: Callie Ray | Rabbit: Sean Chiplock
House Dragon Yu Huang: Paul Guyet
Lucid Nightmare Sun Wukong: Beau Marie
Tacosura Bakasura: Luis Bermudez
Neco Fumes Agni: Timothy Banfield
Bioslicer Tsukuyomi: Michael Kovach
King of Hearts Zeus: Craig Lee Thomas