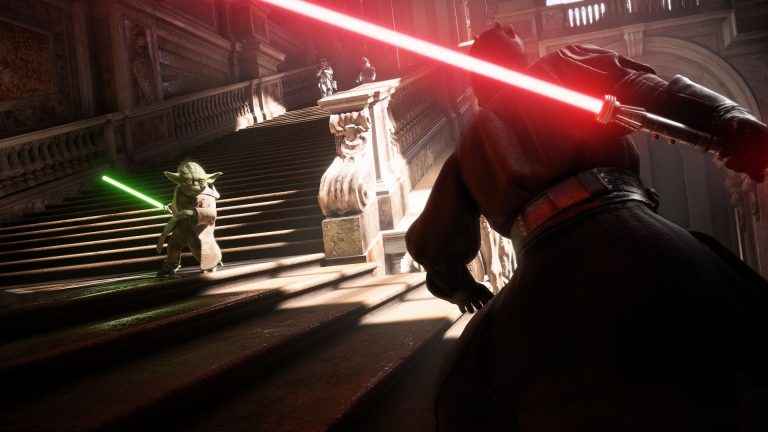 The Star Wars Battlefront 2 1.36 update patch notes have been revealed by DICE, with the latest update for the sci-fi shooter now available to download for PlayStation 4 at roughly 800MB. The Star Wars Battlefront 2 August update is largely geared towards gameplay fixes, so don't expect anything too major for the patch.
Star Wars Battlefront 2 1.36 Update Patch Notes
Backend stability fix for transitioning to the Capital Ship phase when playing Naboo – Capital Supremacy
Fixed an issue with the "Charged and Ready" milestone not tracking when playing with the TX-130.
Obi-Wan Kenobi is not affected by Kylo Ren's "Pull" ability while performing "All-Out Push".
Fixed an issue that would still occasionally allow AT-ST rockets to kill Heroes in one shot.
Star Wars Battlefront II was released on PlayStation 4, PC, and Xbox One in November 2017, and attracted heaps of controversy over its use of microtransactions. In the end, EA temporarily removed them from the game and re-implemented them months later, albeit slightly modified.
Despite the initial backlash however, DICE has attempted to keep things ticking over with a flurry of updates for Battlefront II, resulting in a more robust experience than what we had at launch.
Get the full lowdown on Star Wars Battlefront 2 straight from EA below:
Forge a new path as Iden Versio, commander of Inferno Squad—an Imperial special forces unit equally lethal on the ground and in space. Encounter many of Star Wars ' greatest characters in a story of revenge, betrayal, and redemption that spans 30 years.

Hurtle between the rooftops of Theed in a speeding starfighter, cut swaths through armies of Clones with Darth Maul, and build your legacy on the battlefield. Your Star Warsfantasies come to life in Star Wars Battlefront II's multiplayer.
Read our review of Star Wars Battlefront II here. The next video game instalment in the Star Wars series, Star Wars Jedi: Fallen Order, is due for release on November 15.