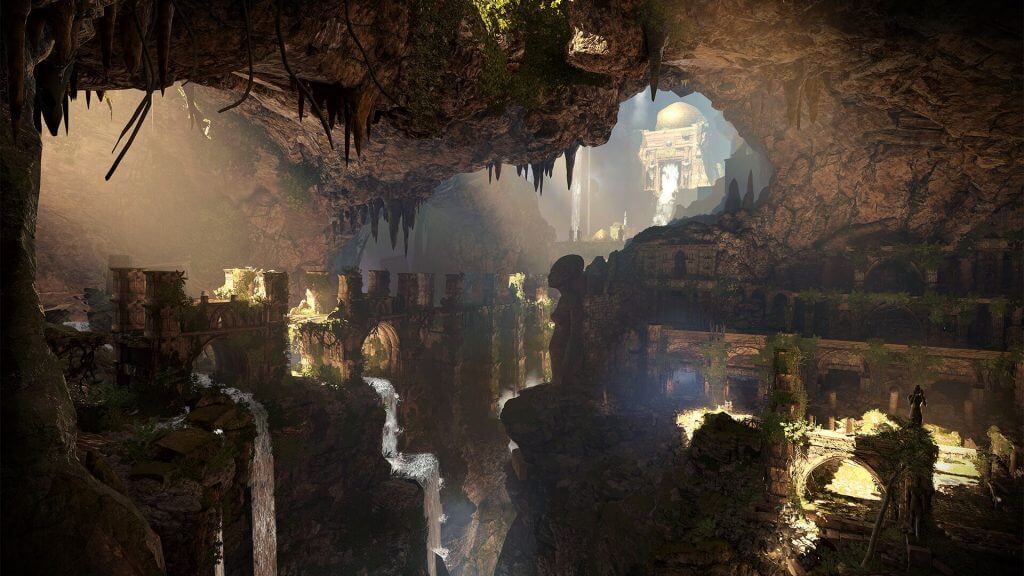 Strange Brigade The Sunken Kingdom DLC, is out now on PS4, Xbox One, and PC.
The second part of a trilogy of DLC expansions (following on from the release of The Isle of the Dead on the 9th October) that is set to conclude later this year.
Embark on an Adventure to a Mythical Underground City – Strange Brigade The Sunken Kingdom DLC
The Sunken Kingdom is set within the corridors and courtyards of a mythical underground city. At the centre of which lies a stunning temple inhabited, rather unfortunately for the game's group of "unflinching uncoverers of mystery", by hordes of "deadly, cave-dwelling nasties".
Which sounds rather apt, given that today is Halloween (or so I'm informed).
The DLC can be bought as a standalone purchase from the PlayStation Store for £5.59/$6.99, or downloaded as part of the Strange Brigade Season Pass. The latter of which will set you back a not unreasonable £28.99/$34.99.
Introducing a Brand-New Adventurer
Alongside The Sunken Kingdom, developer Rebellion has also released a brand-new adventurer.
Available in the Japanese Naval Officer Character Expansion Pack, Hachiro Shimizu comes equipped with a Mikhailov-38 rifle, Marchador TT pistol, Shock Grenade special item, and the Decaying Demon Blast amulet power. Players can acquire his services for £6.39/$7.99 or as part of the aforementioned Season Pass.
Strange Brigade has also received another, free update which introduces new content for Horde Mode, in the form of the Chamber map, and Score Attack via Cut-Throat Caverns and Forsaken City II.
Finally, the game itself is currently available at a discounted price of £29.99 on the UK PlayStation Store. Making it the perfect time to try out this truly spiffing co-op shooter if you haven't already.