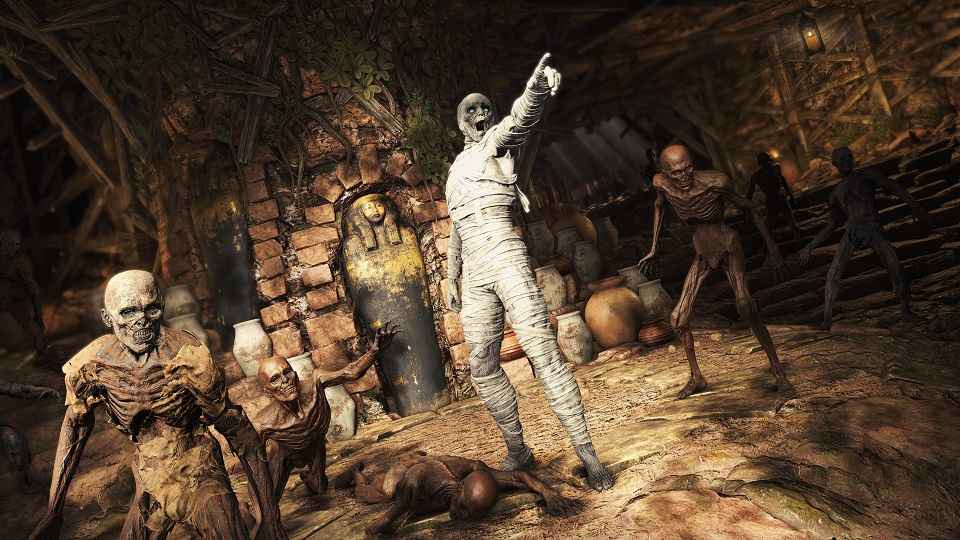 Having released an update yesterday introducing an extreme difficulty level and photo mode, Rebellion has now launched the third and final part of its Strange Brigade The Thrice Damned DLC.
Known as "The Great Pyramid of Bes", today's DLC is described by Rebellion as a "thrilling finale" to the campaign. One which brings the action to "a perilous pyramid full of terrifying traps". Wherein lies "a troublesome teleporter to the afterlife" and various "old foes seeking revenge".
"Sounds like the climax to this terrifying tale will be anything but a walk in the park for our heroes!" We're inclined to agree.
Strange Brigade The Thrice Damned DLC Introduces a Brand-New Character
As with the previous two expansions, The Great Pyramid of Bes brings with it a brand-new character in the form of Anjali Khan.
A seemingly agile fighter, if the trailer's anything to go by, Anjali comes equipped with a devastating cluster grenade and Spear of the Ice Age special. The latter of which allows her to freeze enemies in place before dispatching them at her leisure.
Accessing The Thrice Damned
Each individual chapter in The Thrice Damned DLC can be purchased for £5.79/$6.99, for those who're only interested in unlocking specific characters or want to see what the it's like before committing to the full trilogy.
Although it's worth noting that PSU's Laddie Simco had a whale of a time with Episode 1, Isle of the Dead. Describing it as "a must buy for fans of the game".
The Season Pass, meanwhile, which includes not only The Thrice Damned but all post-launch content, will set you back £28.99 in the UK; that's $34.99 in the US.