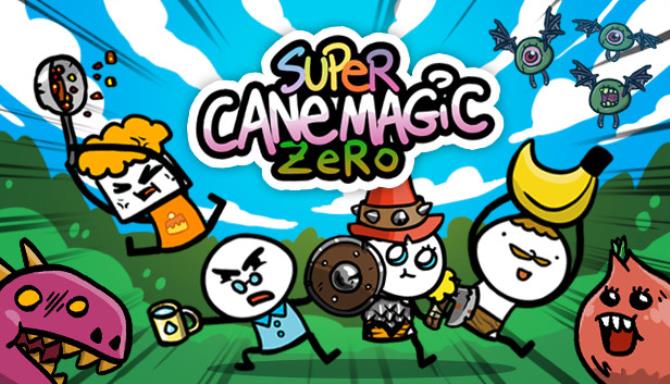 Super Cane Magic ZERO will be releasing on the PlayStation 4 later this month. So, it has an amazing name, sure, but what's the game all about?
Developed by Super Evil, Super Cane Magic ZERO is a comedy action-RPG that has been available on Steam in Early Access since 2015. You start your adventure as Dude, Dudette and many other uncanny characters, and then set off to find the dog, restore the Internet and save the world of WOTF! You can also look forward to experiencing the game solo or in local co-op, acquiring precious loot, eating bombs and battling through ludicrous dungeons.
The game has been developed in collaboration with the Italian cartoonist Sio, popular for his comic books and his hilarious videos on YouTube.
Here is an early access trailer for your viewing pleasure.
Super Cane Magic ZERO Game Details
We have managed to scrape together a bit of information from the game's Steam page. Bear in mind though this is based on the Early Access release and likely to change for the PS4 version.
Story Mode with local co-op up to 4 players

This campaign is the core of the game, an action RPG adventure built to be played alone or in local co-op up to four players. Super Cane Magic ZERO story is full of enemies, traps, secrets and loot, and features 31 different levels, including huge overworlds and handcrafted dungeons!

Local PVP Arena Mode

Unlock many characters during your adventure and use them to battle your friends in the Arena mode! Fight in 6 different stages in local multiplayer. Each arena features different rules, guaranteed to trigger the highest levels of competitiveness. No friendship is strong enough to survive these battles!

Procedurally Generated Dungeons

During the campaign, you will be able to unlock access to three different dungeons with procedurally generated levels. Survive the deadly rooms and defeat all the enemies. The current version includes one of the dungeons, with two more coming very soon.

Character Progression

Characters in Super Cane Magic ZERO can believe to lots of crazy stuff. The belief system subverts combat and exploration rules and also works as character progression. Find the wizards and unlock new beliefs! Defeat your enemies to increase your level, collect hundreds of items and find the rarest, super weird loot!

Crazy Characters

During your adventure in the world of WOTF you will be able to unlock more than 15 playable characters. Are you going to summon explosive bacon or will you shoot lasers from your eyes?
What do you think of this wacky new PS4 title? It all sounds rather fun and a little bit insane, right? Is it something you think you would be interested in?
Let us know in the comments section below.