While traveling within the World of Warcraft, especially in these tough times, is truly mythical. Though the journey is challenging and may seem never-ending, you have lots to discover. There are multiple-themed expressions along with a crowd of fans who are extremely passionate about the game. However, what's all the fuss about?
It's probably an amusing experience packed with startling adventures of the World of Warcraft. While starting the adventure, you would certainly feel overwhelmed to play the game. Numerous mounts in every chapter and a sequence of quests seem perfect to make your gaming experience packed with fun.
Though mounts are entertaining and thrilling, getting them is equally arduous. You have options to use "Buy WoW Mount Here" options available at various mount boosts services. However, if you choose to get the work done on your own, then this article has some great tips. Let's begin and help you explore the dynamic mount tips.
What Are WoW Mounts?
While playing World of Warcraft, you need to choose a character that will go up the levels as you jog it from here to there. At times, while shifting to a different questing area or Quest Hubs, you can assume that your character is going to stay intact for a longer run.
After visiting certain numbers of Quest Hubs, the feature of Flight Points will open up that will make your travels even quicker. Flight points are quite specific and won't help you switch seamlessly to the new Quest Hubs. Therefore, you need something to make your travels exclusive.
With mounts, you will have a reliable steed or colt that will expedite your movement speeds. Ultimately, users will have the ability to ride and fly these stunning mounts and explore the amusing world of warcraft and Quest Hubs even more quickly.
Many mounts are account-wide that indicates the mount ridden by one character can be used on your different characters as well. That's pretty cool and convenient. There is a great variety of mounts, including Class, Faction, and Race-specific mounts. So, whichever mount you have, with the account-wide application, your character will be able to pursue the right criteria to achieve the boost.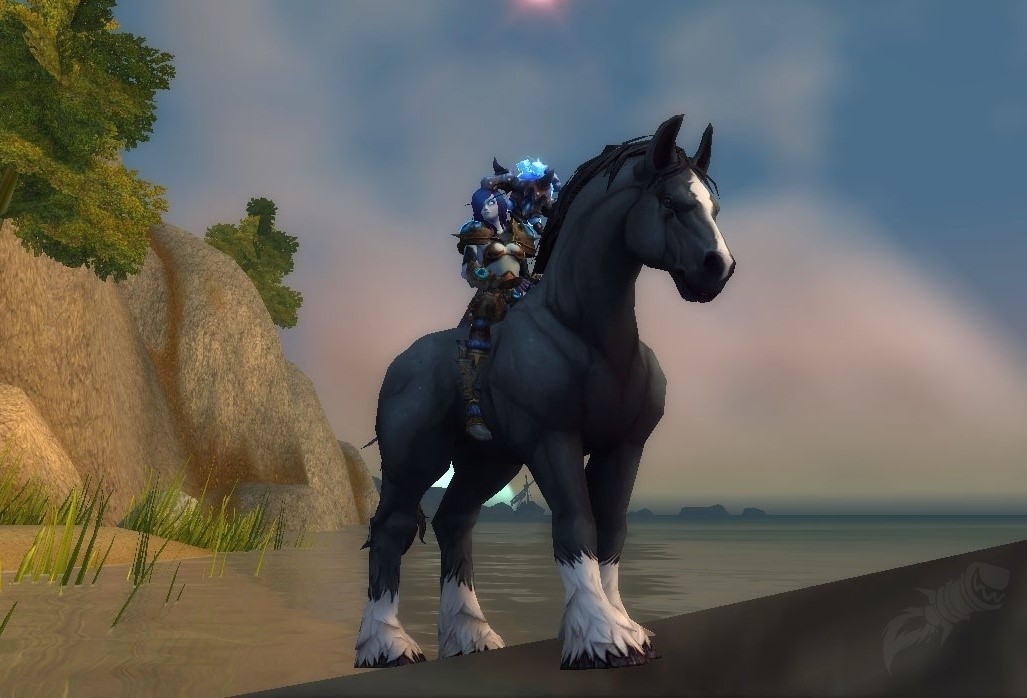 Always remember that mounts are functional in the exterior areas of the game. And within buildings and monuments, you will stay dismounted. To see if you can mount or not, check the mount icon and ensure it's not dimmed. If it's dimmed, then you are out of mounting capacity. World of Warcraft has certain zones where you cannot ride, and in certain areas, you won't be able to fly.
Accessing Mounts Made Easy
While traveling in the World of Warcraft, mounts offer the smoothest medium of transportation. It's not just their speed but their exotic and fierce appeal. Commanding these ferocious beasts seems quite powerful and tremendous. Now, you can buy the mounts through the Mounts and Pet windows for currencies and points.
Another exclusive way to access the mounts is by summoning them. However, not all the characters have this exclusive skill. Only if your character is a paladin, warlock, or death knight, then can you learn to summon these classic beasts in the form of the class perk.
Humanoids like Alliance Worgen persist in the racing skill of Running Wild, which will help your character reach level 20. Moreover, inspired by ancient Celtic cultures, the Druids can shape themselves in various forms and enhance their speed. Obviously, the mounted movements are extremely quicker than general running and walking.
World of Warcraft has numerous mounts, and each has its own unique features. For instance, the Burning Crusade would allow you to discover the flying mounts within a few areas and hence improvise the speed. The Cataclysm further enables your characters to enable flying mounts in various areas of Azeroth.
Tips to Consider While Getting Mounts in WoW
Now, here are some quick tips you should consider while collecting the mounts in World of Warcraft:
If you are willing to get the WoW mounts quickly, then the best option is choosing boost services. However, there is also a trick to it. Firstly, don't go to the camp rares and turn your route to class mounts. You can also choose to rep farming faction mounts.
Check the raid drops, mounts available from achievements, purchase, and dungeons. You need to further place your alts beside the raids and dungeons concerning daily quest givers or choose rare spawn locations to position your alts to reduce travel time concerned with farming.
The next tip is to learn the riding skills as only then would your character be able to use the mounts. You can get riding skills by taking the training from Riding Trainers and Azeroth. World of Warcraft has a huge list of riding skills along with the location and the cost involved with each training.
As mentioned, various mounts are account-wide. Moreover, until and unless you are a new player, you will have the skills along with a ground mount ready to use once you have reached level 10. In case you don't have any mount, then the tip is to begin by unleashing the racial mounts. You can find these at particular vendors for your faction.
To explore the riding training, you need to reach a particular level. With the increase in the riding skills, the speed of the character would also improve. Here are the riding skills you can unleash with each level:
Level 20: Apprentice
Level 40: Journeyman
Level 60: Expert
Level 70: Artisan
Level 80: Master
With exclusive riding skills, you will be able to pump up your mount in the future. People say "there is no shortcut for success" is true, but there are smart plays and strategies to make your game foolproof. Get the right mount for your quests and make your journey in World of Warcraft quick and easy.