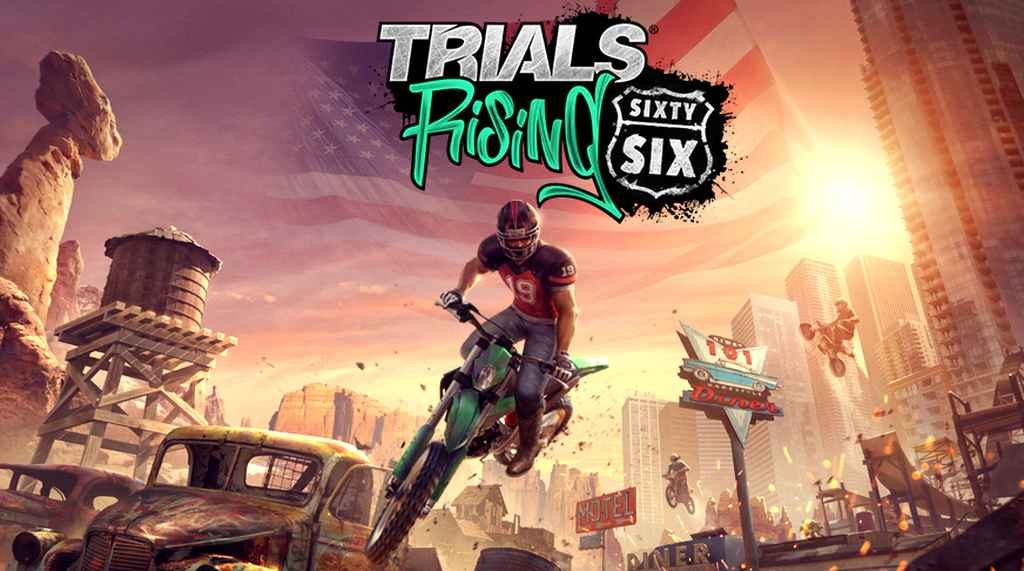 Ubisoft has announced that Trials Rising Sixty-Six, the first DLC expansion for its highly addictive 2.5D platform racing game, releases today on all major platforms.
Anyone who already owns the £15.99/$19.99 Trials Rising Expansion Pass (which includes the forthcoming Crash and Sunburn expansion, the Stuntman Rider Pack, and Samurai Item Pack) will be able to download Sixty-Six at no extra cost. However, it's also available as a standalone purchase.
24 Brand-New Tracks – The Trials Rising Sixty-Six Expansion
The expansion itself, inspired by America's legendary Route 66, offers those who have successfully completed League 3 in the base game another 24 tracks in which to test their skills/demonstrate their superiority over their friends in virtual trials racing/try not to shatter their DualShock 4 against the nearest wall after plummeting off the side of the Grand Canyon for the 90th time in five minutes.
Additionally, the Sixty-Six expansion features two brand-new Final Stadiums and Skill Games, as well as a bunch of supplementary contracts, Golden Squirrel collectibles, and a thematically-appropriate American Football outfit.
Check out the trailer embedded below to see some of this new content in action.
Away from today's DLC update, meanwhile, publisher Ubisoft has also revealed that Private Multiplayer is now available to all Trials Rising players, whether they own the season pass or not, at no extra cost. Happy days.
Trials Rising released on the PS4, Xbox One, Nintendo Switch, and PC on the 26th February 2019. Receiving typically positive reviews from publications across the globe for its finely-tuned mechanics, hugely satisfying level design, and endlessly amusing ragdoll physics.
Source: Ubisoft